Beginner's Guide to Surviving a Professional Golf Outing: What to Wear & What to Bring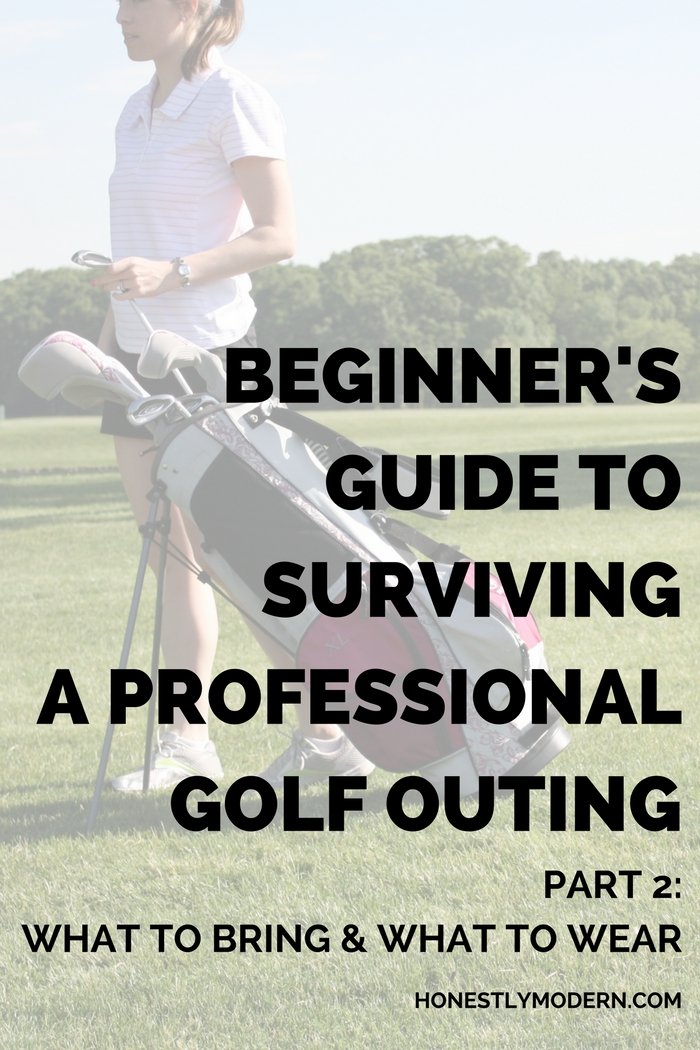 So remember I told you the story about the partner at my firm asking me to play golf with him and two clients? After I nervously accepted the wonderful invitation, I arrived home that evening, grabbed my phone, and headed straight to my closet. First off, what the heck was I going to wear?! And next, what did I need to bring?!
Luckily for me, I had anticipated this day and used some airline points to buy a very introductory set of golf clubs. Now, the time had finally arrived to wipe off the many inches of dust that had collected on the clubs since I set them in the corner to await their maiden voyage on the course.
I headed to my closet to (obviously) find something to wear.
And I grabbed my phone to call my Dad, a ringer on the greens, to figure out what I needed to have stocked in my bag for tee time. I knew some of the crazy golf etiquette but wanted to be sure I didn't miss anything significant and feel foolish.
Also Check Out Parts 1 and 3
Part 1: The Jargon
Part 3: Q&A – What if…?
What to Wear
Collared Shirt: Nearly all courses will require this. And if you're out with colleagues and/or clients, it can't hurt to be a little more conservative than necessary even if it's not specifically required by the course's dress code.
Shorts / Skort / Pants: Depending on the weather, shorts or a skort may be more appropriate, but pants or capris will suffice. Expect that jeans are not allowed. You can make do with a nice pair of khaki (beige or colored) pants, capris, or shorts. An athletic skirt designed for golf would work as well, though most of us don't typically have one of these hanging out in our closet.
As you can see below, Joanna from Coastal Closet shared a great example of a nice skort that works for the golf course. Just be sure any shorts or skort are not too short. You'll want to be sure you can bend over, swing a golf club, and pick up a ball or club from the ground comfortably without exposing anything inappropriate. For reference, my shorts are probably borderline on length. They have worked fine at less conservative courses. But if the event is being held at a particularly fancy or conservative club, you may be safer banking on khakis or capris to avoid a fashion faux-pas.
Jacket: Only necessary if the weather doesn't cooperate. A light windbreaker or pullover will be best. Below, Joanna has a great example from her visit to the Masters. And we both opted for shades of pink to keep us warm in the morning sun.
Golf Shoes / Tennis Shoes: If you own a pair of golf shoes (designated as such because they have spikes on the soles to help grasp the ground as you swing), then by all means sport them proudly. But I suspect most of us don't have a readily available pair of golf shoes, so a pair of relatively clean tennis in good condition will work just fine. (FYI: What I refer to as "tennis shoes" M calls "sneakers." I hate the word "sneakers" but, for those of you who consider tennis shoes to be only for tennis, that's not my intention here. Any pair of cross-trainer, running, gym shoes will be fine.) Joanna has a great pair of golf shoes, but I don't play enough to make that investment worthwhile, so I always wear shoes similar to what I shared in the photos above and below.
** The guidelines above are general. If you're unsure, I'd always suggest checking with the course personal or event coordinator to be sure there are no specific rules like a required length of shorts or skirt or specific shoes you must wear. **
What to Bring
Balls: These may or may not be provided. Although a good golfer might only bring two to four balls, I always bring six to eight because all balls I own seem to have a magnetic attraction to water. It really doesn't matter where the water is, my ball will find it!
Tees: You can likely buy these at the Pro Shop. One pack should be fine. I typically use two to three throughout the round. You could theortically use the same one for the entire round. But you may break one or two, leave one or two at the previuos hole, who knows. They aren't too expensive, so I'd throw an extra one or two in your bag just to be safe.
Clubs: If you have a set of your own, you're ahead of the game. But if not, most places have rentals available. If you do need to rent a set of clubs, I'd suggest letting the person who invited you know in advance. It shouldn't be a problem, but it may take a few extra minutes to get them. Further, there are different clubs for men and women (women's are generally just a tad shorter). It also matters if you are left or right handed, so be sure to get the correct set based on your dominant hand.
Cash: Often times, a snack and drink cart will meander around the course and offer refreshments to players. If you anticipate wanting something to eat or drink (or may need to buy something for your client), have some cash available to pay and tip the drink cart driver.
A Few Outfit Ideas to Fit In With the Crowd and Respect the Dress Code
I wore this pink top (jacket that later became a striped shirt when I got warm) and black shorts for a casual outing with some female co-workers. Misery loves company, so if you're a "less than professional" golfer and want to read about my not-so-stellar round, stop on over and hear a bit about my day on the links. You might find it comforting.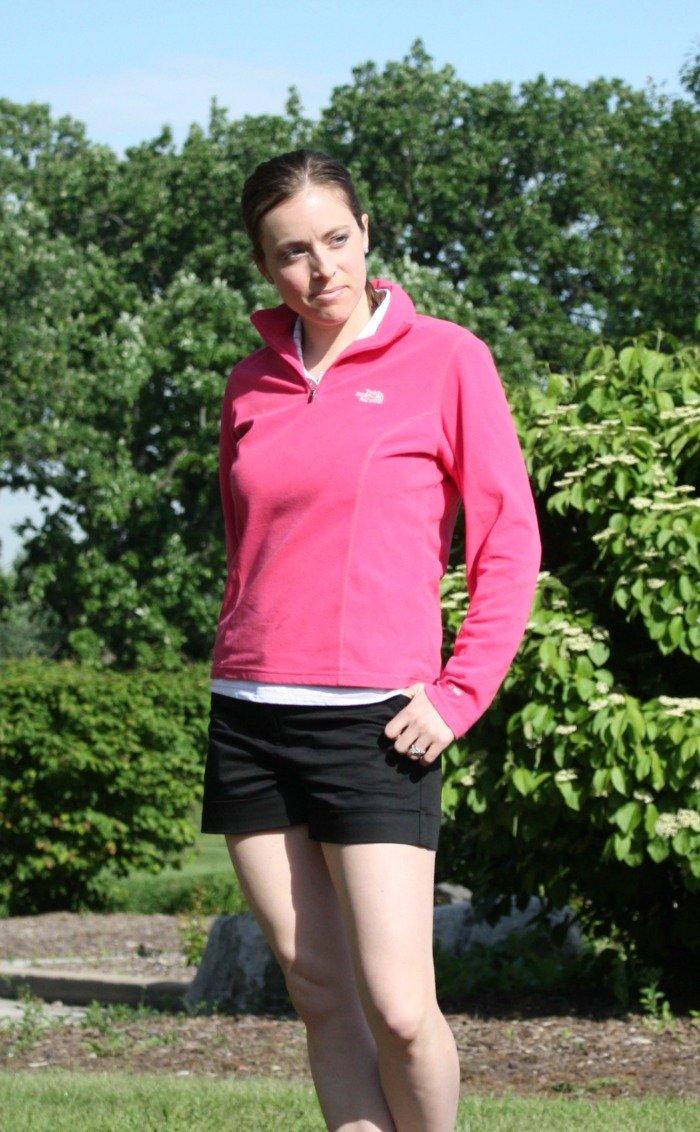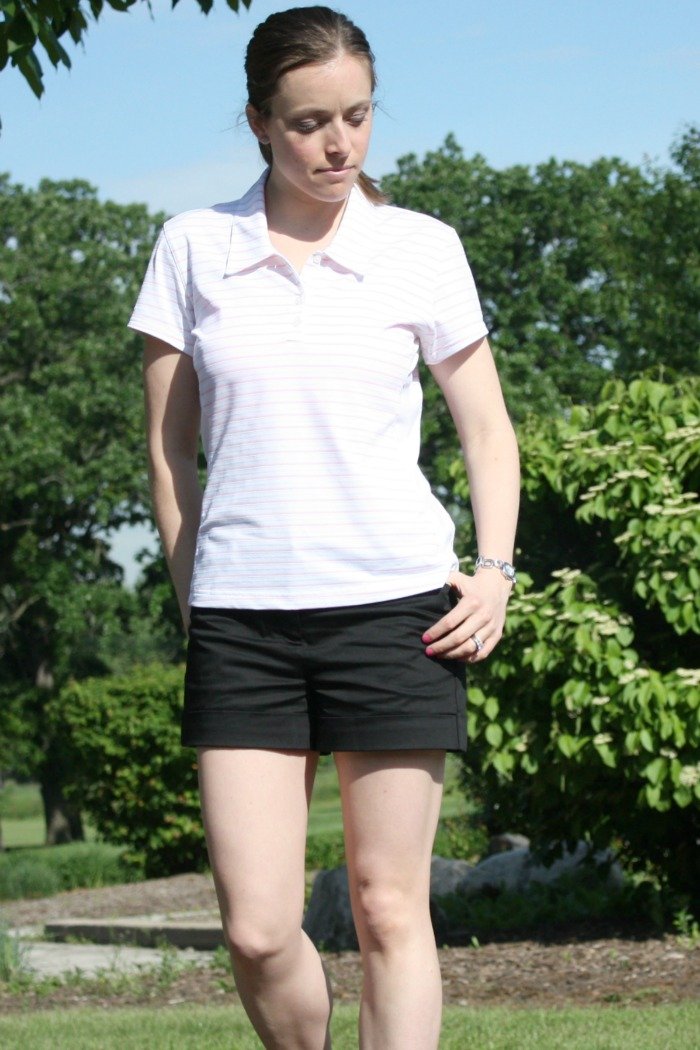 I wanted to share a few other outfits I pieced together from closet, so enjoy some inspiration from the comfort of my own balcony. I wore the teal khakis and white and pink striped shirt to a golf outing event last year, where my boss was kind enough to buy each of us a golf shirt. With his more-than-generous gift, my collection of golf shirts doubled… to two!
And last, but certainly not least, Joanna from Coastal Closet shared a great golf outfit she kindly gave me permission to share with you today. She says she has golfed since she was six and it's a regular pastime for her family. So if you want to learn how to play (and not just what to wear and what to bring), head on over and shoot her an email. That would be far beyond my scope of even "pretend expertise".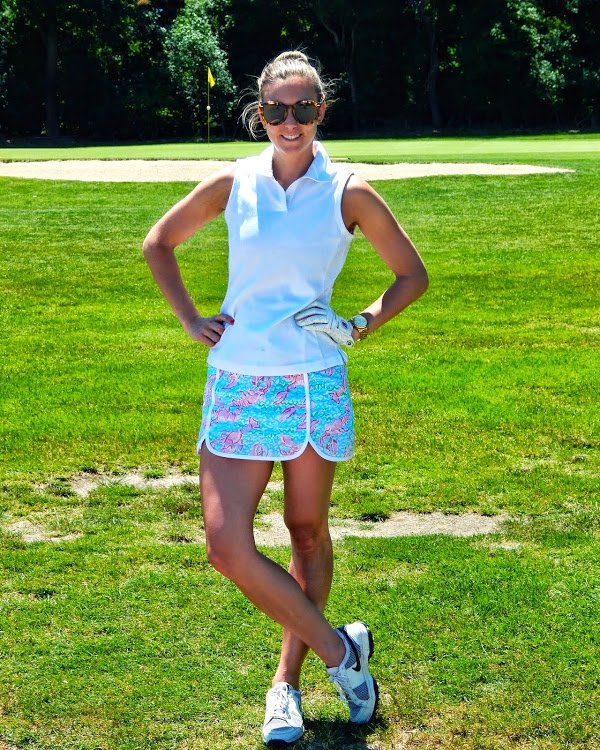 Original Post
Although she sported this outfit as a spectator and not a player, her jacket would work perfectly for a brisk morning on the fairway, club in hand.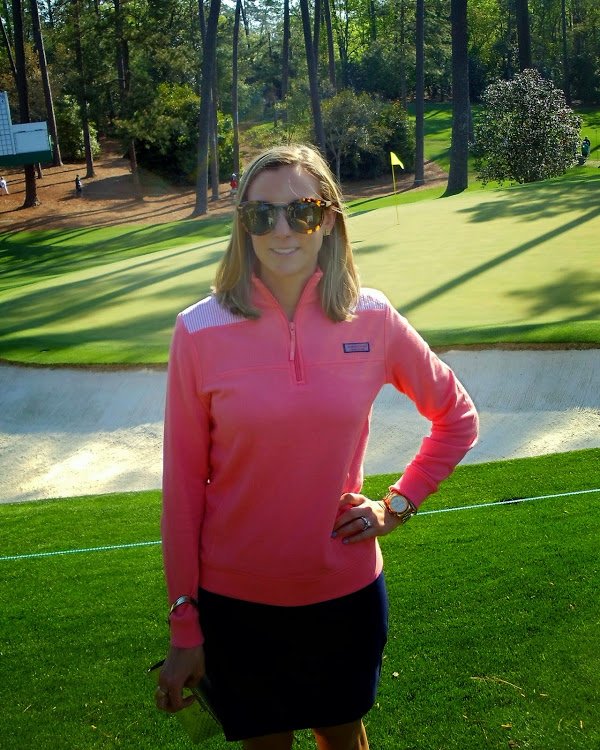 Original Post
Thanks to Joanna for sharing her great looks with us!