Pumpkin Recycling | 10 Sustainable Ways To Dispose of Pumpkins After Halloween
Before you throw your pumpkins in the trash, consider these 10 sustainable ways to dispose of pumpkins after Halloween. Pumpkins are organic matter, just like our food scraps, and don't belong in the landfill. Check out the list below to find ways to keep your pumpkin out of the trash.
You've carved the pumpkin. You've worn the costume. You've collected all the candy. Halloween has officially passed and now it's time to move on from the glowing jack-o'-lanterns. But don't throw those pumpkins into the trash!
Every year, we throw away over 1 billion (yes billion… with a B!) pounds of pumpkins that languish in landfills and contribute to climate change. Pumpkins, like all food scraps, do not belong in the trash. Organic waste, including pumpkins, does not properly break down in oxygen-deprived landfills. Consequently, the anaerobic decomposition process of food scraps in our landfills releases methane, a potent greenhouse gas, into the atmosphere to continue warming our planet at an unsustainable rate.
Pick the pumpkins from the patches with your people. Carve the cute and frightful faces to make glowing jack-o-lanterns to decorate your front steps. But after Halloween, please don't trash the pumpkins. There are so many ways to recycle pumpkins that are better for you, your community, and the planet.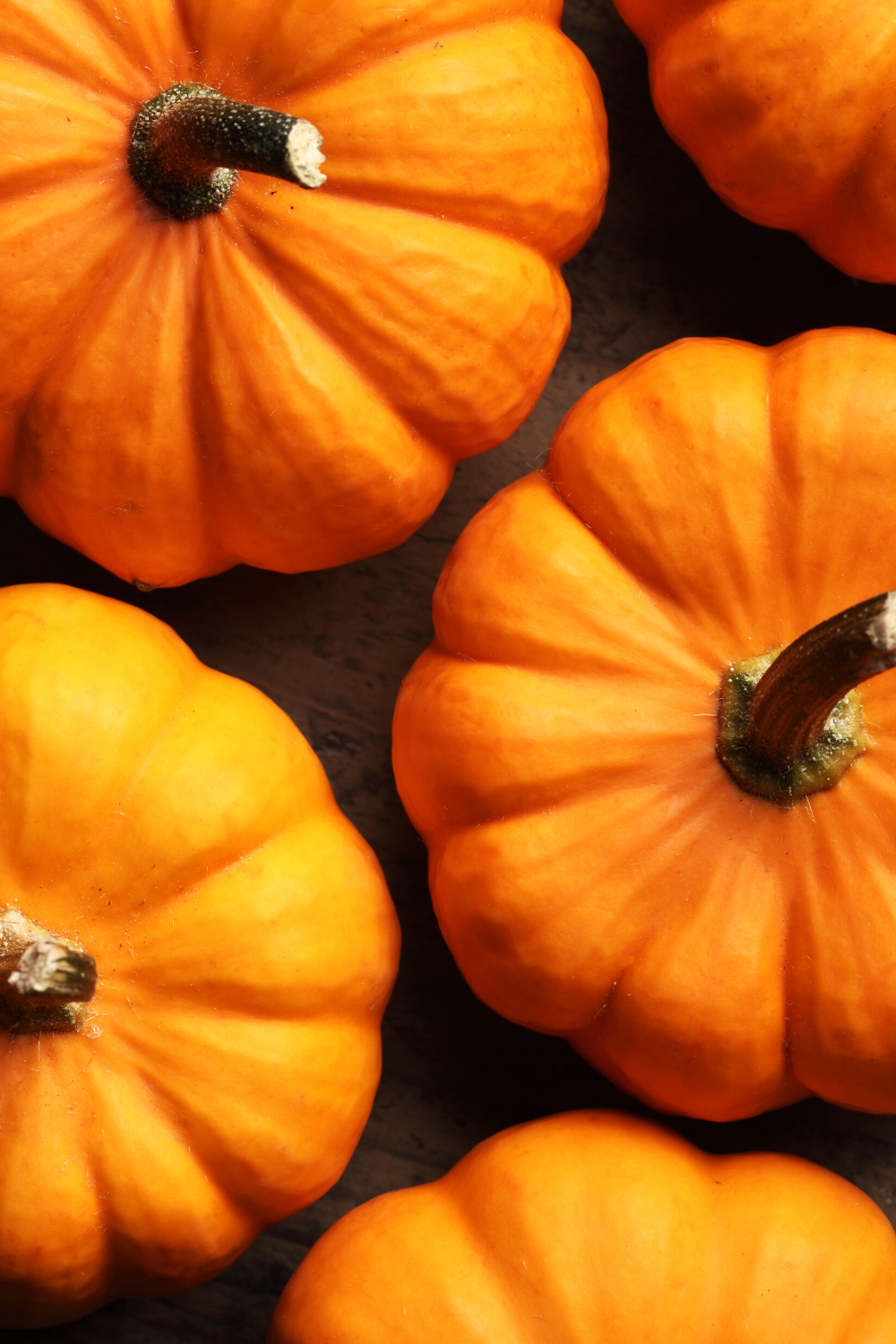 10 Ways to Dispose of Pumpkins Other Than the Trash
We've compiled ten ways to recycle pumpkins and repurpose pumpkins to prevent throwing them in the garbage cans. Some of the following ways to dispose of pumpkins work for all pumpkins while others work best for carved or even rotting pumpkins.
No matter the condition of your Halloween pumpkins, there's a better alternative for them than the landfill. Not even your pumpkins want to be buried under a pile of trash.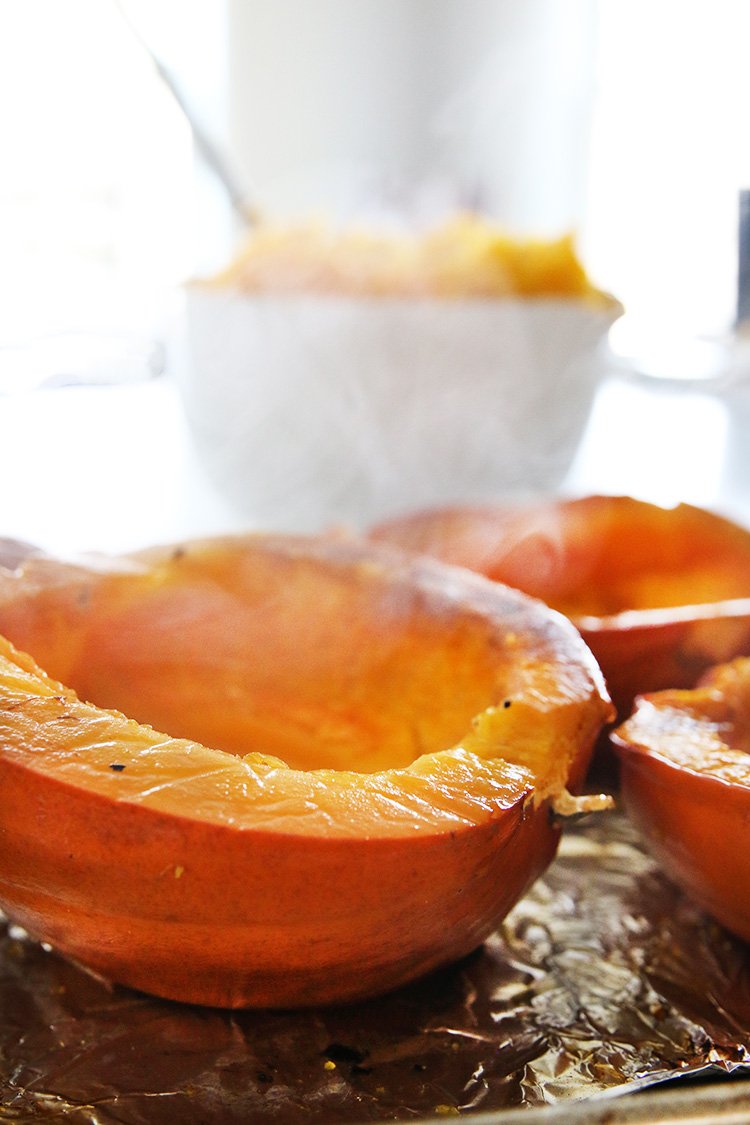 How To Recycle Whole Pumpkins
If you have a whole pumpkin that you used to decorate for Halloween or the fall season, don't let it go to waste after you are done using it. Provided you haven't carved it or painted it yet, pumpkins are a great source of food. Even if you don't eat it, someone else is sure to turn it into a decadent pumpkin-spiced culinary creation.
1. Bake Your Pumpkins To Make Pumpkin Puree
Cut the pumpkin in half and bake it in the oven to make pumpkin puree. With the puree, you can make a variety of recipes from baked goods like pumpkin-spiced muffins and pumpkin chocolate chip cookies to pumpkin and tomato soup, pumpkin mushroom farrotto, and sausage and apple pasta in a pumpkin cream sauce. These vegan and gluten-free pumpkin spice pancakes look delicious too.
Did you know that some types of pumpkins are much tastier than others? Some pumpkins are bred for ornamental value, like the ones we often use for jack-o-lanterns. These types of pumpkins are sturdier and last longer, but their flesh is not as sweet and delicious.
Mary Jane Duford of Home For The Harvest suggests choosing "an heirloom type of pumpkin such as Cinderella Pumpkin, Fairytale Pumpkin, or Jarrahdale Pumpkin. These beauties were bred not for their ornamental value, but for their delicious smooth taste." She shared 20+ gourmet culinary varieties of pumpkins perfect for baking that also work well to decorate for the fall and Halloween seasons.
If you have a Jack-o-lantern type pumpkin, consider using the pumpkin puree to make homemade pumpkin-spiced liqueur. The tougher texture of the pumpkin flesh won't matter in this type of recipe.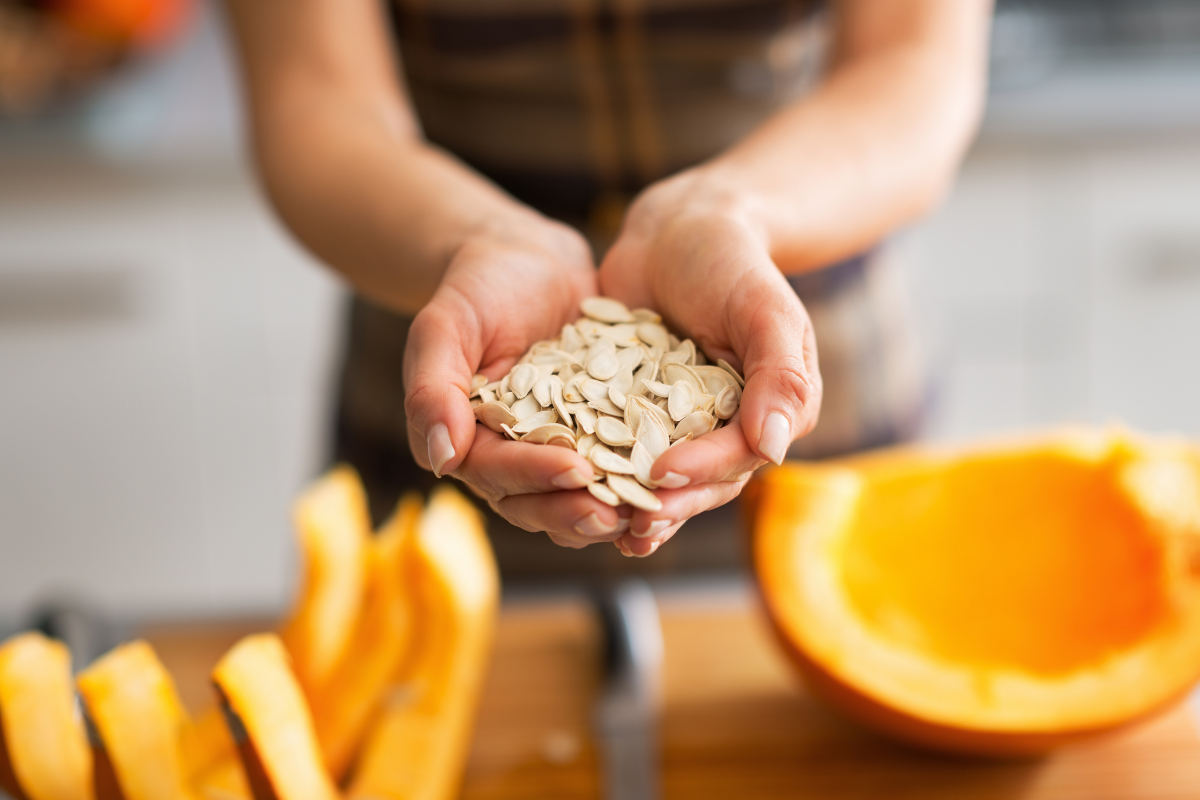 2. Roast Pumpkin Seeds As a Snack
Whether it's during the carving process or right before you transform your pumpkin flesh into pumpkin puree, scrape out the pumpkin seeds for a wholesome snack. Clean them from the stringy flesh, let them dry, season them as you wish, and roast them in your oven. Roasted pumpkin seeds are a great crunchy snack for any time of year, but they're perfect for the autumn season.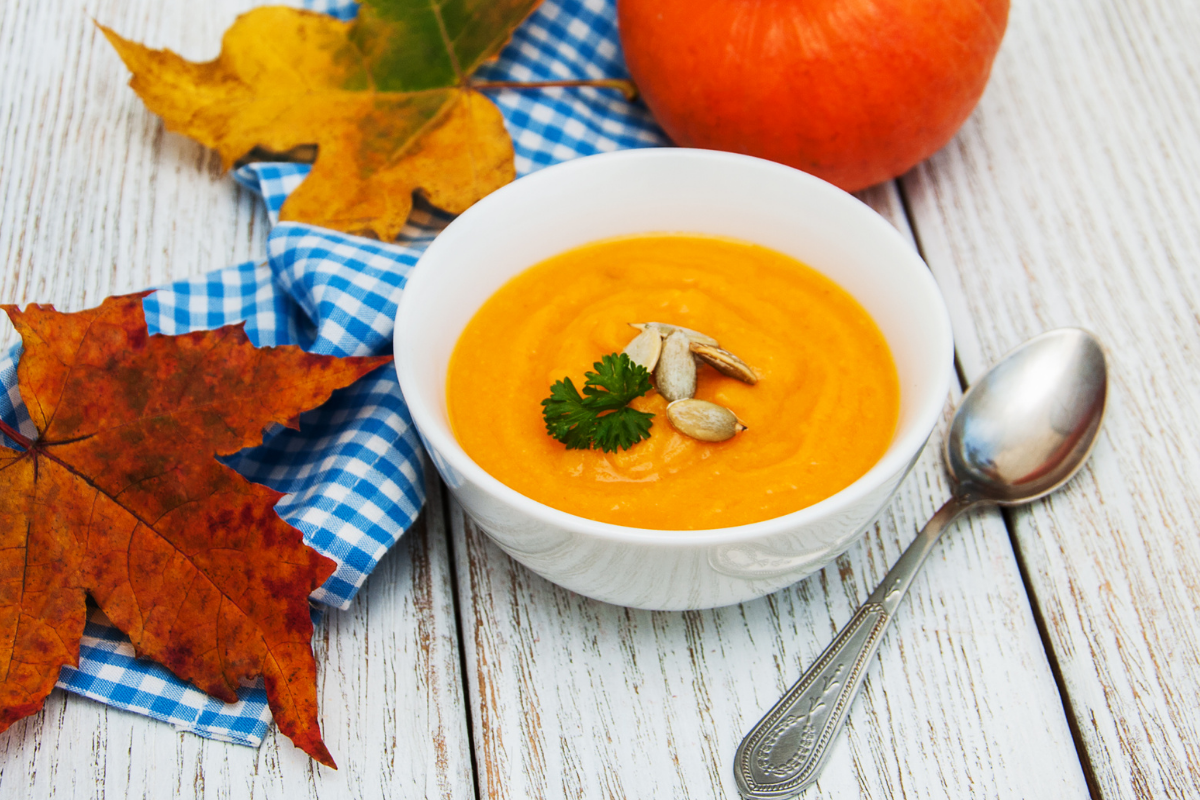 3. Donate Your Pumpkin to a Food Pantry
If your pumpkin is still in good condition and not yet carved or damaged, donate it to your local food pantry or food cupboard. Pumpkins are delicious and nutritious. If you can't use it in your kitchen, another person in your community surely can.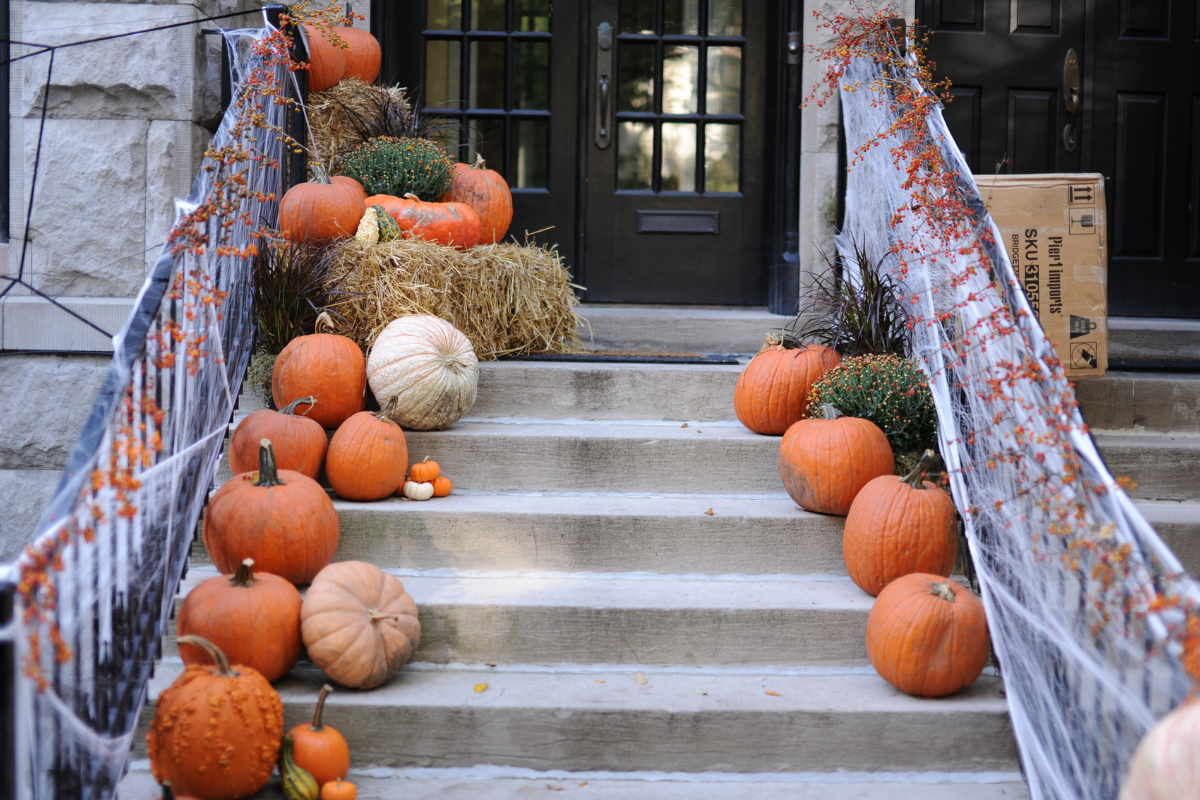 4. Give It Away on a Community Gifting or Swap Group
You knew I would mention your Buy Nothing or local swap group, right? If it's still in good condition, you could also gift it to a neighbor (through a group or informally). Offer it up and surely someone else will put it to good use in baked goods or savory dishes. Maybe they even have a compost pile that will eat it right up if it's already carved or even rotting.
On that note, I need to offer up my compost bins as a home for my neighbors' post-Halloween pumpkins this year. We've got plenty of space and several bins that need lots of green to go with all the compost browns this time of year.
5. Use Your Pumpkin as a Planter
If your pumpkin is still in good shape, use it as a festive planter. It won't last too long, but it's perfect for a couple of weeks to hold a seasonal plant like a mum. Clean it out like you're preparing it for carving. Add some soil (and maybe even a bit of compost) to the inside of the pumpkin and top it with a few flowers such as mums.
Alternatively, plant some hearty seeds or starters in the pumpkin, such as carrots, squash, or garlic, that can overwinter in your area. Once the pumpkin starts to rot a bit, bury the pumpkin in your garden or yard where you hope the vegetables will grow the following year.
With the help of soil microbes, the pumpkin will decompose in the dirt over the winter. The energy produced by the decomposing pumpkin will keep the soil warmer and healthier to give your seeds a good chance at making it through the cold weather. Hopefully next spring you'll find a mini harvest popping out of last fall's pumpkins. Isn't that such a fun idea?!
How To Dispose of Carved Pumpkins
Uncarved pumpkins last a really long time. But once you carve pumpkins and let oxygen into the fleshy part of the pumpkin, the microbes and bacteria will get to work breaking down the seasonal squash. Even though you probably don't want to bake a pumpkin that sat on your front stoop for a few weeks, there are several options for carved pumpkins as alternatives to your garbage can.
6. Collect Pumpkins For Animal Feed
Local Farms + Zoos | Provided your pumpkin isn't covered in mold, many farms and zoos can use carved pumpkins for animal feed. Reach out to a local farm or zoo to see if they accept your pumpkins. Some might even have fun programs to go along with a larger collection event. Apparently, big cats and elephants even like to play with pumpkins, so zoos may take the pumpkins as toys instead of food too.
Animal Rescue Organizations | Sarah Reidenbach is a veterinarian in Northern California and founder of Ruthless Kindness, a small farm animal rescue. She says, "Our favorite time of year is between Halloween and Thanksgiving when people donate their leftover pumpkins to our animals. Most farm animals love pumpkins, from sheep to pigs to chickens, and several others. When you donate your pumpkins to a nonprofit rescue, you're saving the rescue a lot of money on food, so you're making a valuable donation."
She also mentions that it's helpful to drop off the pumpkins at the organization, if possible, because many non-profit organizations that accept pumpkin donations for animals do not have the capacity to pick up pumpkins throughout the community.
Backyard Chickens | Raising chickens is growing in popularity, even in urban areas. Frank Hyman, the author of Hentopia, encourages people to give their pumpkins to a neighbor who has backyard chickens. He shares that "We've recruited our neighbors to donate their Halloween pumpkins to our chickens. The chickens gobble them up and turn them into eggs, which we then share with the neighbors. Can't beat a system like that." If you have backyard chickens, be sure to let your neighbors know you're happy to take their pumpkins if you could use the extra feed for your birds.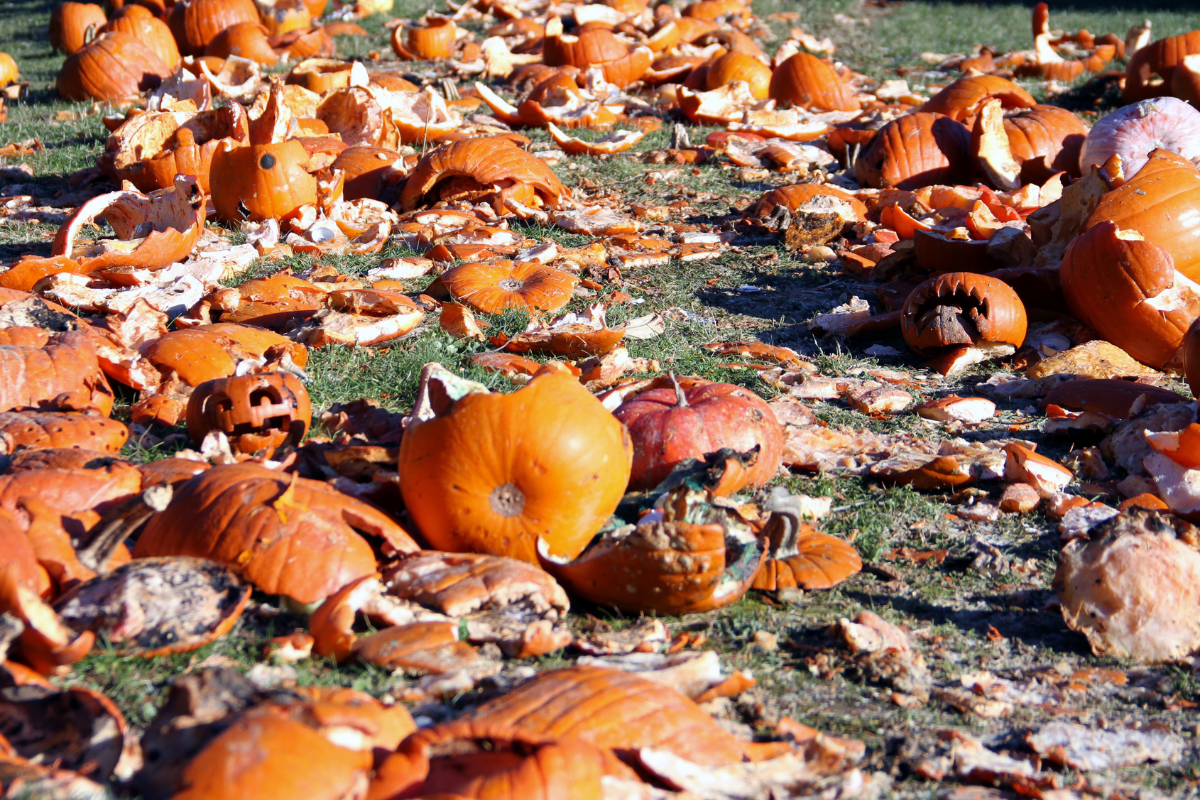 7. Organize a Pumpkin Smash Event
See if a local farm or community location is hosting a pumpkin smash event. The farm may be able to use the pumpkins for their animals. If not for feed, many farms have robust composting operations and might be able to use the pumpkins in their compost. Reach out to see if you can use their space to host a pumpkin smash event on their property and help them collect the pumpkin remains for their compost.
It might be a bit of work for the farm to set up this type of event, so they may need to charge a small fee for their time and resources to host and collect the pumpkin. But if the event has other sources of revenue, like a food truck with shared revenue, it would be a win-win-win event for everyone (and for the environment).
SCARCE, an organization in Illinois that helps local organizations incorporate more sustainability initiatives into their communities, hosts a pumpkin smash event each year. Last year, they collected and composted over 150 tons of pumpkins (most of which would have landed in a landfill). They also offer a free Pumpkin Smash hosting guide on their website if you're interested in setting one up in your own community.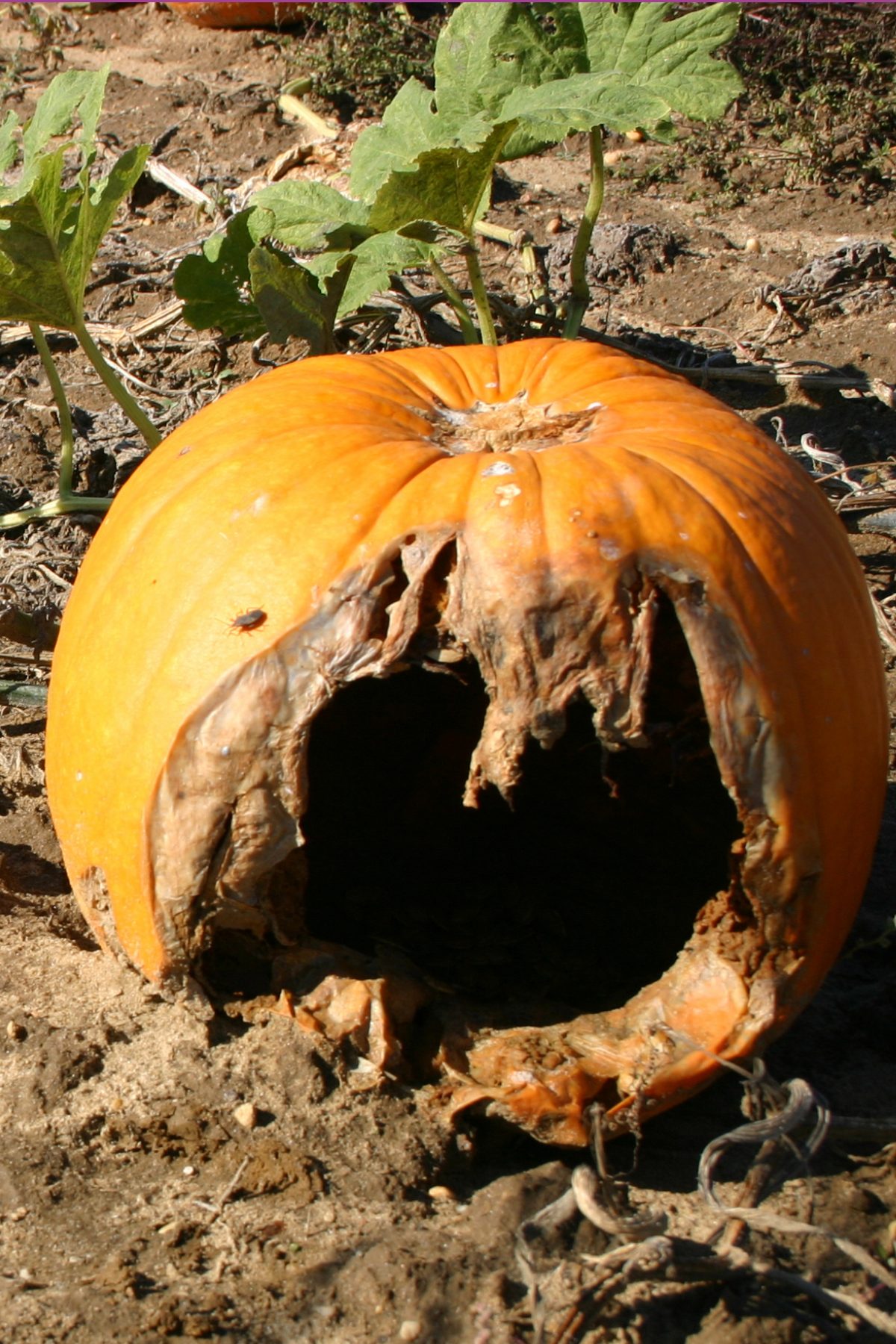 How To Dispose of Rotting Pumpkins
Once your pumpkin starts rotting, it's no longer edible (obviously), and it's probably going to stink. However, there are still plenty of options to find a home for your post-mortem pumpkin other than the trash.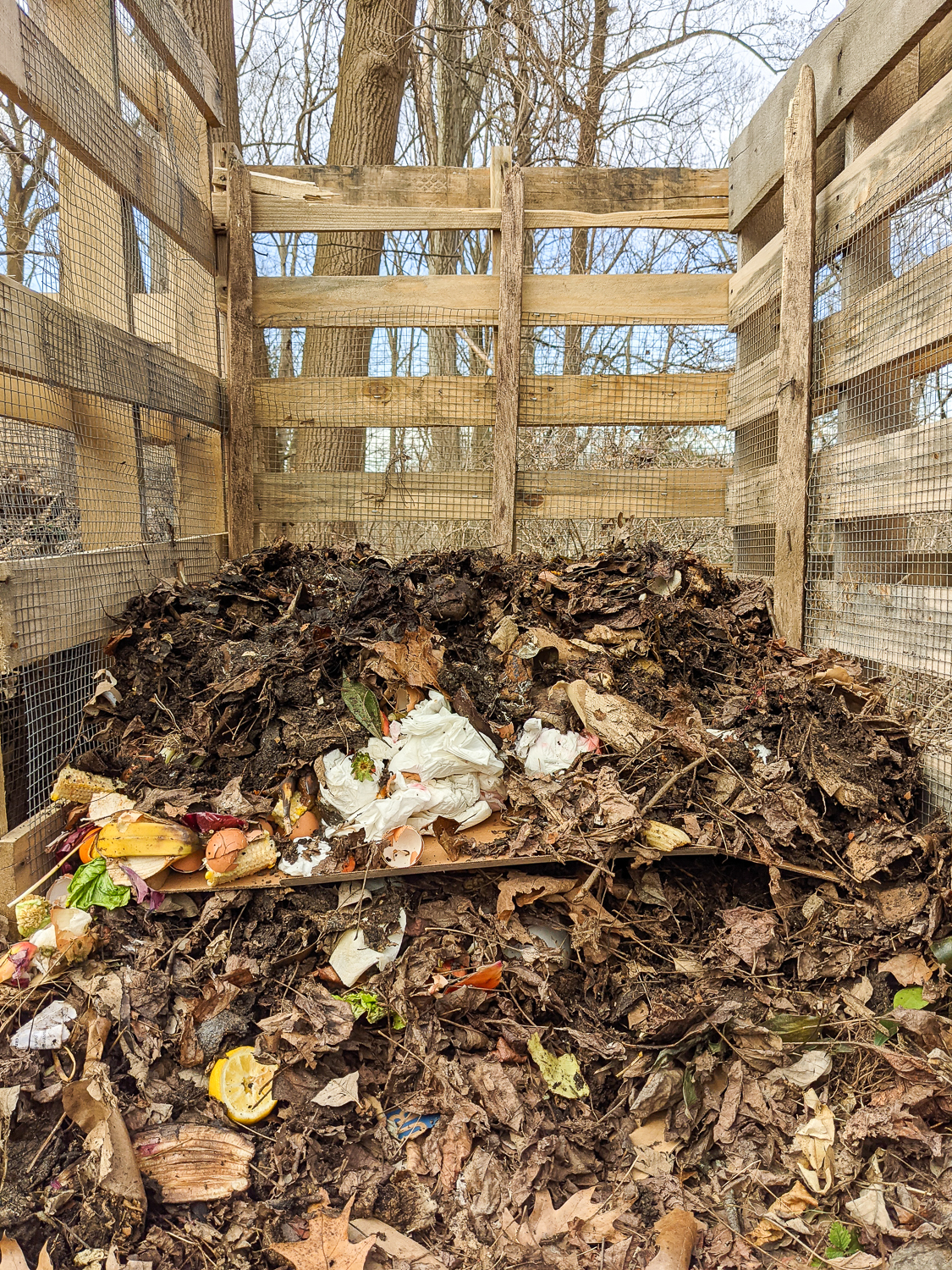 8. Compost Pumpkins
Obvious but important, don't forget you can always compost your pumpkin. We included pumpkins in our Interactive Can I Compost…? Tool, as they are one of many Halloween items you can compost at home.
Compost At Home | Be sure to break your pumpkin open before composting. A whole pumpkin will take a very long time to break down, and it will decompose much faster if you cut it into at least a few pieces (if not more) before adding it to your compost heap.
Pumpkin Leaf Mold | Although you may not have a formal compost system set up at your home, you can make pumpkin leaf mold in any old corner of your property. Duford says "One of the best ways to keep pumpkins out of landfills after Halloween is to add them to autumn leaf mold. Leaf mold is a type of compost made in autumn from fallen leaves. While traditional leaf mold is made only with leaves, pumpkin can make a wonderful addition to this nutrient-rich plant food. Leaf mold develops quickest when the leaves are shredded into smaller pieces. To help speed along the process, cut up the pumpkin into a few pieces and toss the pieces in amongst the layers of leaves."
Compost With Neighbors | If you don't have your own compost system, check out ShareWaste to see if you have a compost host in your area. Most compost hosts are happy to collect pumpkins and other produce scraps to feed their compost piles. Community gardens might also be willing to accept your post-Halloween pumpkins if they have the capacity to process the extra food scraps.
Feed Your Soil | Elizabeth Waddington, a sustainable garden designer for Horticulture Magazine and sustainability consultant, suggests you can compost pumpkins even if you have a small yard or don't compost on your own already. She says "Even in a city garden, wildlife will appreciate a feast. Break your pumpkin into little pieces and bury them just below the surface of the soil to provide a feast for earthworms, bugs, and other soil life. You can feed the creatures in the soil, and the soil itself."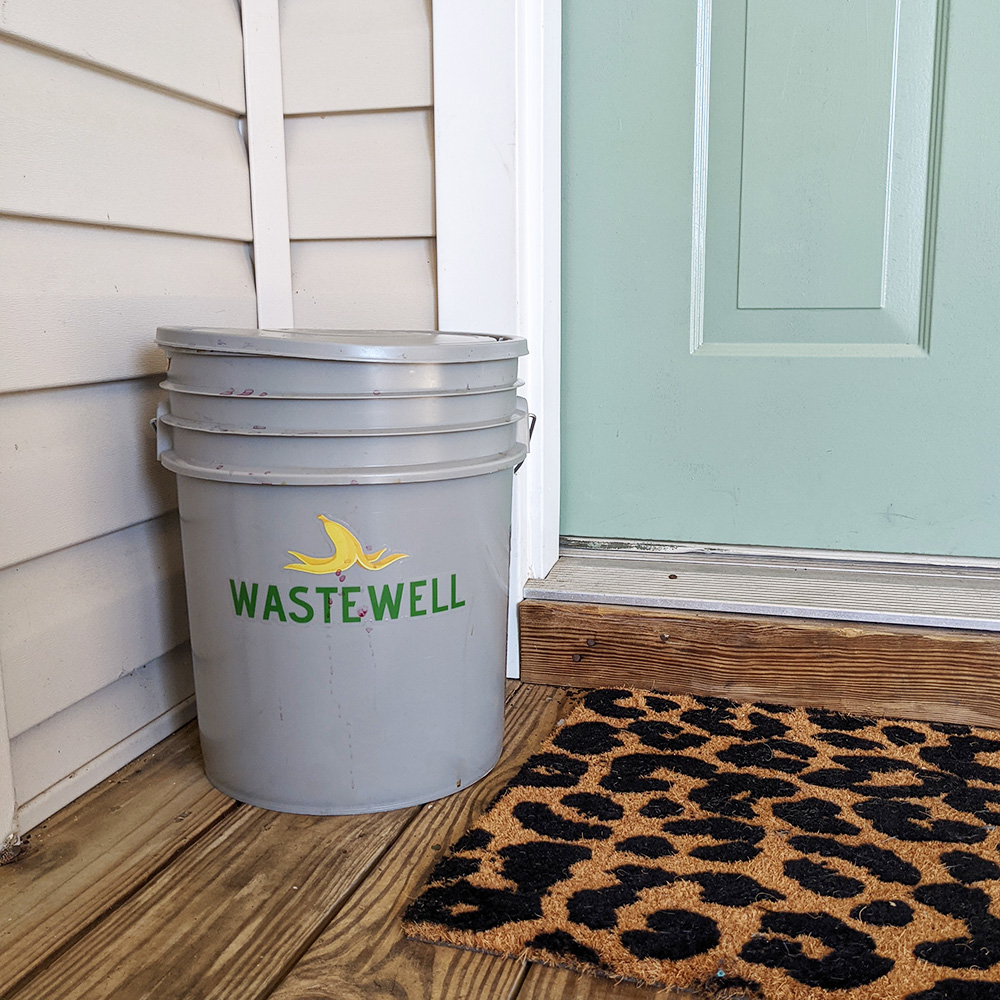 9. Find A Service That Collects Pumpkins To Compost
Do you have a compost collection service in your area? Maybe there is a curbside composting company that visits and collects pumpkins at a local farmers' market? Do a bit of research to see if you can drop off your pumpkin at a community collection site or through a collection service. Some services only collect pumpkins from their customers, but they may be able to create a special drop-off location for a small fee if you ask.
Pro tip from the owner of a curbside composting company: If you have a neighbor that uses a curbside composting company, maybe they can sneak your pumpkin into their collection scraps for the week. Don't tell the service I told you that.🙂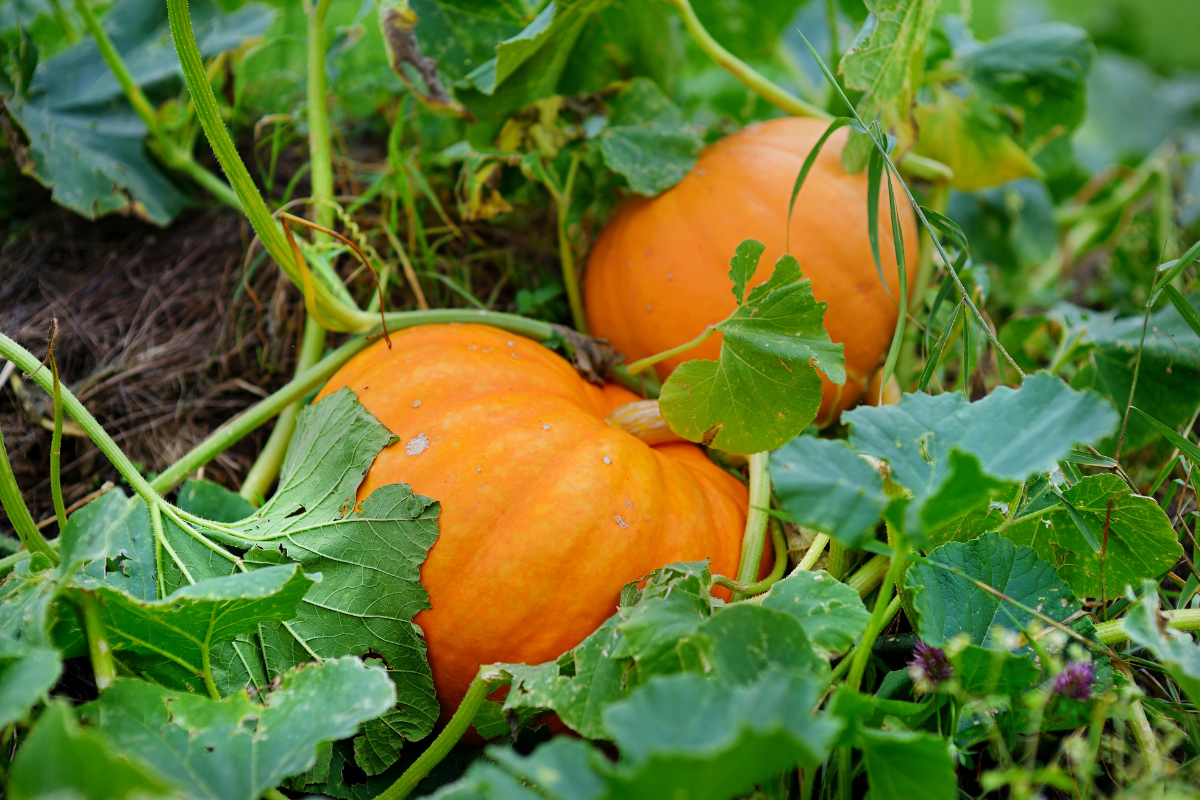 10. Bury Your Pumpkin By Itself
Whether it's whole or in pieces, fresh or rotting, bury your pumpkin in your yard and see what happens next year. Worst case, you have healthy soil under that little plot of dirt. Best case, the seeds grow into pumpkins for next year that you can bake, carve, and use as decorations. What a great way to share with your kids a hands-on activity about the circle of life.
As you prepare to bury the pumpkin, also consider checking out this pumpkin lifecycle activity for kids. It's a free printable to help you young learners understand how pumpkins grow and know what to expect when you bury your pumpkin after Halloween.
Host a Pumpkin Collection
No matter the condition of the pumpkins, host a collection event for your local area to collect pumpkins. Maybe your child is a girl scout or boy scout and their troupe could host a collection event in the community. Your kids could even host a collection event for your nearest neighbors.
Depending on the quality of the pumpkins, you can donate them to a food pantry, a local farm or zoo, or a compost collection. It's a little extra effort on the part of your family, but you'll ensure a lot of pumpkins end up in the right home (and not languishing in the landfills).
While we don't want to throw away all the fun traditions from Halloween for the sake of going green, we also don't want to throw away the pumpkins! There are so many alternatives to throwing your pumpkins in the trash. Hopefully one of these ways to recycle pumpkins will work for you and your family.
Do you have any other ideas I missed? I'd love to hear them. Leave them in the comments so we can all learn from and be inspired by them.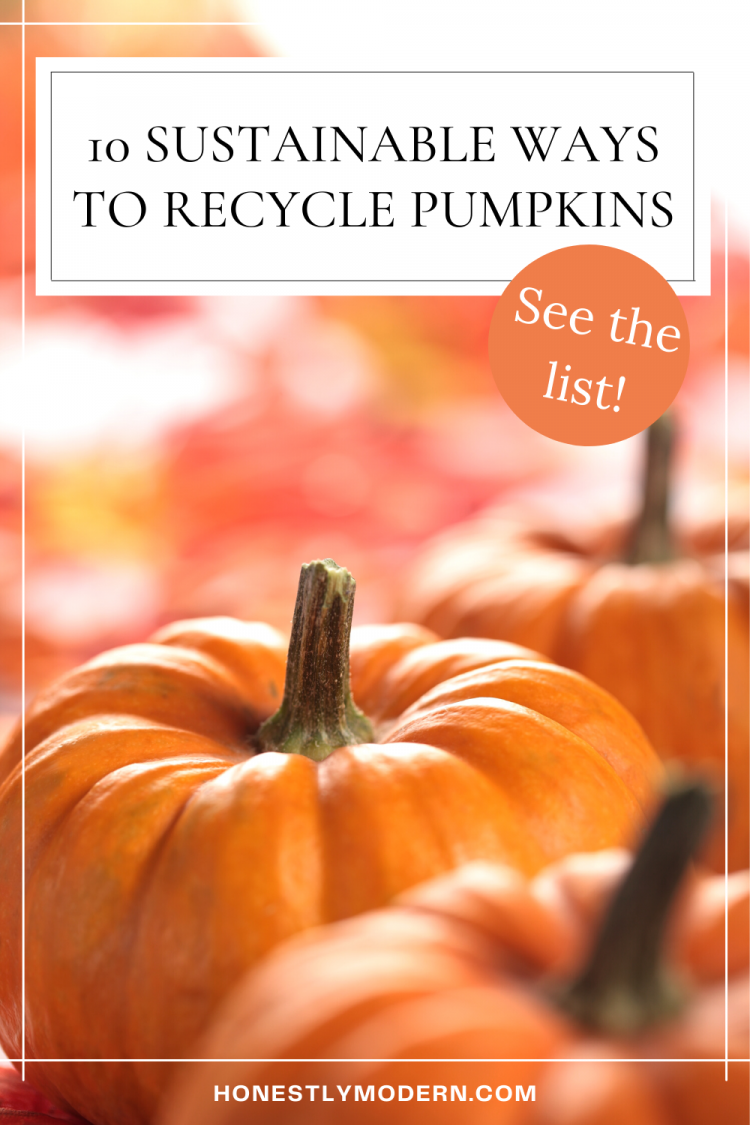 About The Author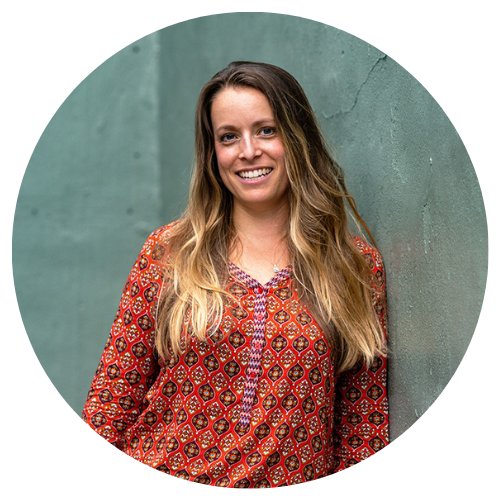 Jen Panaro
Jen Panaro, founder and editor-in-chief of Honestly Modern, is a self-proclaimed composting nerd and an advocate for sustainable living for modern families. In her spare time, she's a serial library book borrower, a messy gardener, and a mom of two boys who spends a lot of time in hockey rinks and on baseball fields.
You can find more of her work at Raising Global Kidizens, an online space to help parents and caregivers raise the next generation of responsible global citizens.