All You Need to Know about Caring for your Bras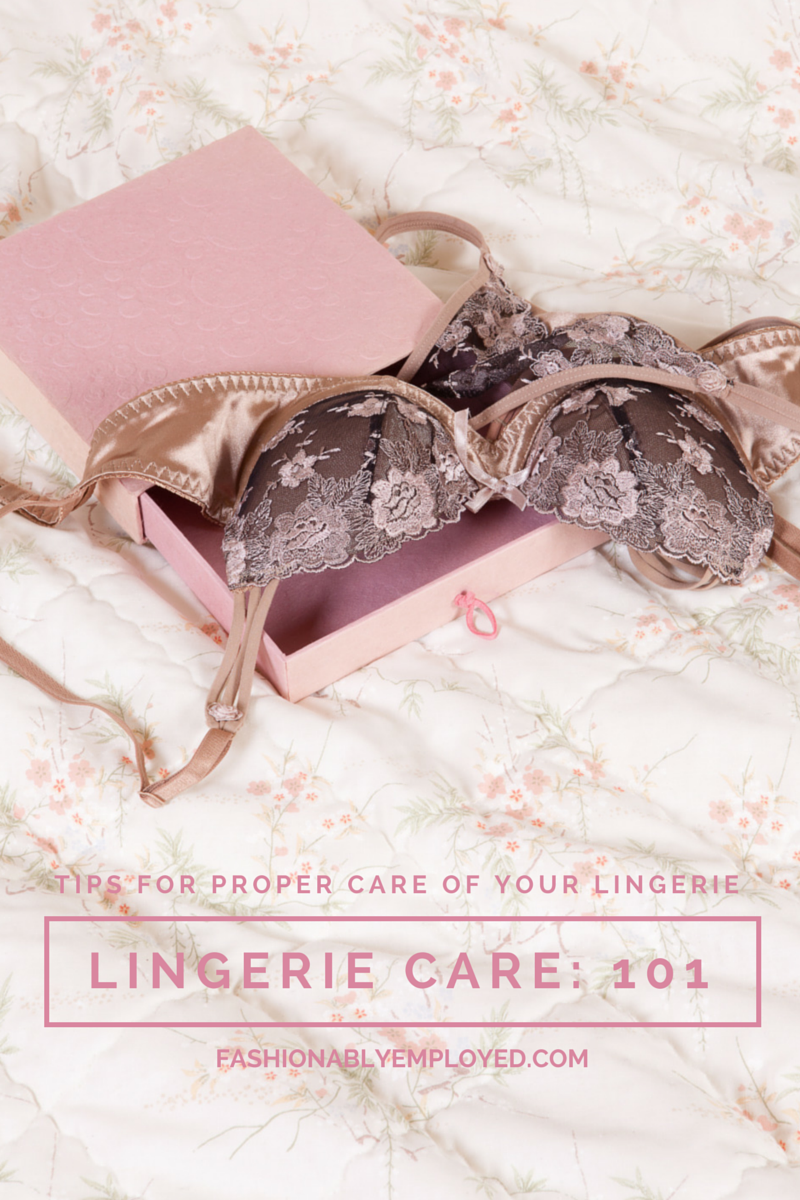 With all the money we spend on lingerie or undergarments, which can sometimes get pretty expensive, it only makes sense to take great care of them. Given the delicate fabrics of which many of them are made, it behooves us to give a little extra effort to care for them properly and make them last.
Recently, I shared about ThirdLove, a new undergarment company that's been my go-to recently. I absolutely love the 24/7 t-shirt bra, have purchased it in both colors, and await more colors being added to the line.
Let's get down to business. Once you've made your investment in your lovely lingerie that surely will bring with it confidence and comfort no matter what else you're wearing, it's bound to need a wash or two on occasion.
When to Wash
How often you wash your undergarments I'll leave up to you. But the experts recommend after every few wears (unless of course you got all gross and sweaty in them, in which case, it's time for a wash no matter what).Having a healthy collection of bras from which to choose each morning also extends the life of your intimates. Obviously, a wide collection means each one gets less frequent wear and, consequently, remains in good condition longer. But rotating between several bras also gives the elastic in each one time to retract and reshape before being reworn, making it last for more uses as well.
Machine or Hand Wash
Due to the delicate nature of the fabrics, hand washing is always a more delicate option. Check the tags on your specific articles, however, because many can be washed in the machine.
Hand Wash
To hand wash, ThirdLove recommends the following on their blog:
Pre-love. Dab any stains with mild soap and water and gently rub.
Splish Splash. Soak for a few minutes, then gently work the suds into the fabric and rinse.
The Roll Technique. To get rid of excess water, gently roll your lingerie in a towel.
Lay Flat. Lay your bras and panties out to dry on a towel.
When handwashing, use cool to lukewarm water. The water shouldn't be too hot as that can damage the fabric.
Machine Wash
If you elect to wash in the machine instead, be sure to run the wash on the delicate cycle using cooler water, use a mesh lingerie bag, and close all clips and hooks before washing to prevent stretching and damage. Also, don't wash these delicate pieces with heavier items like jeans and sweatshirts or fill a load too full. The increased weight of the heavier items in the load can damage the shape and material of the bras. Damage to the fabric and elasticity of the bras can impact the way they fit, leaving you with intimates that don't support "all the right junk in all the right places" (yes, that's a Meghan Trainor "All About That Bass" reference).
Detergent
Options for detergent for washing delicate items abound. Woolite gets mixed reviews. Some say it's too harsh, though I've used it without issue. For more delicate options, consider Dreft, Ivory Snow, and Forever New as well as other baby detergents or baby shampoos.
No matter what detergent you use, however, don't use bleach. The chemicals are far too harsh for the delicate fabrics.
Jillee from One Good Thing recommended a homemade formula for handwashing that sounds perfect. She suggested mixing:
one cup hot water
one teaspoon baby shampoo
one to two drops of essential oils
I love that this option keeps the mixture simple but also allows you to select whatever scent suits your fancy depending on what essential oi(s) you choose. What a great idea!
Drying
Hang or lay flat all your delicate pieces to air dry. The heat of the dryer breaks down the elastic in the pieces. Find a nice hidden corner in your house to let them air dry. Or if you're a bit of an exhibitionist, hang those pieces right in your window for your neighbor to admire. (Ha. Just kidding. Though that's really up to you.)
Laying the pieces to dry flat is preferred. But if you're hanging them to dry, hang them over the middle (between the cups) and not by the straps to prevent the straps from stretching.
Storing
These little intimates are so darn fragile they're even particular about how they relax when they're off-duty. Stored in your drawers, bras should be stacked, especially those with molded cups. Folding one cup inside another can lead to bumpy cups (never a good look) and a generally shortened life. For those of you with a bra drawer that looks like it just got hit by a natural disaster, the experts encourage finding a method for that madness. But as always, to each his own!
A Last Little Nugget
For those of you who made it to the end of the post, I saved the best for last. I've summarized above for a quick and easy read some tips on caring for your bras. But Jolie provides a much more detailed (and slightly funnier) narrative on the whole issue, so consider stopping on over to read what she has to say. It's a bit of a long read, but I think you'll find it to be a good addition to the summary I provided here.
I'd love to hear any other comments or suggestions you have! Any great tips you'd love to share?