How To Bake a Whole Pumpkin
Does the idea of baking a whole pumpkin seem hard or intimidating? It's actually really easy. It's also a great way to incorporate some healthy food in a zero waste way into our kitchens. Check out this really simple tutorial about how to bake a pumpkin no matter your level of kitchen skills!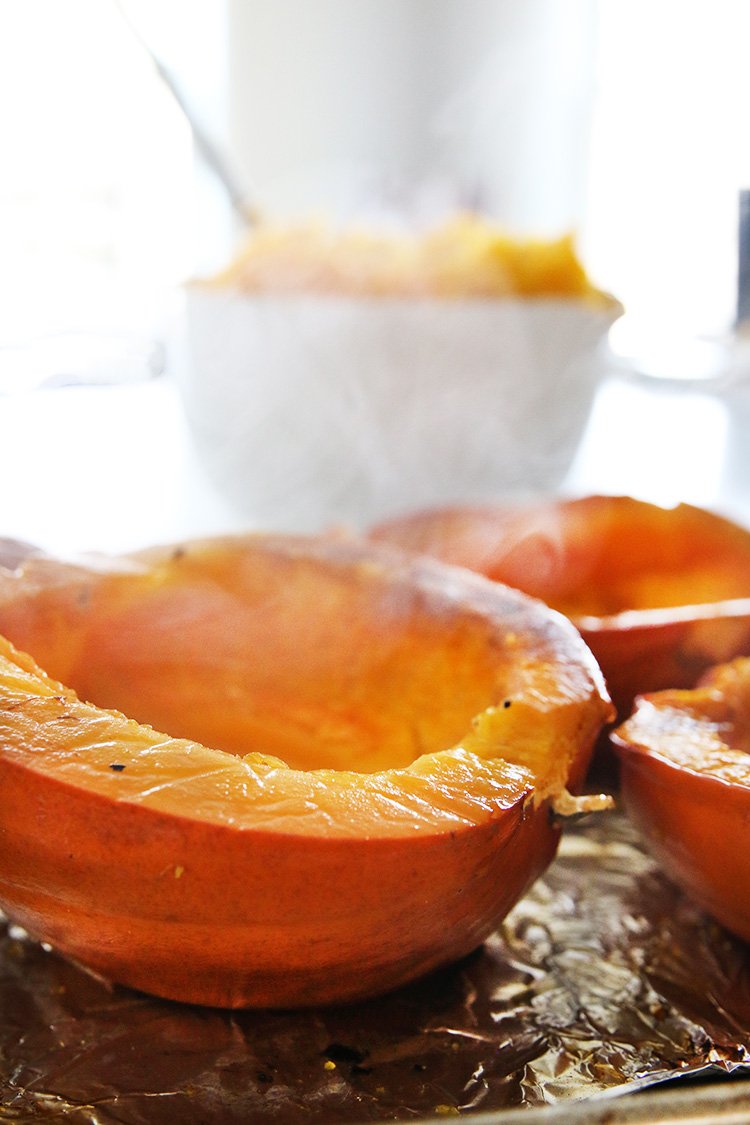 Do you know how to bake a whole pumpkin? Up until recently, the idea sounded rather overwhelming to me. A bit of internet research enlightened me about just how easy it is. My confidence got the best of me, and I bought 14 pumpkins a couple of weeks ago, enamored by the prospect of zero waste pumpkin everything and the unbeatable price of $0.50 per pumpkin.
When I bought the pumpkins, I knew they would remain in my garage for a few weeks before I could cook them. The garage allowed them to stay cool and fresh. Last Saturday morning, I dove into the giant pile of pumpkins screaming my name and spent a few hours baking the heck out of them to store in my freezer for many months.
I washed. I cut. I baked. I rotated. And finally I scraped ten full glass jars of pumpkin flesh out of the skins and into my hands.
Although it took me a bit to complete, I am so pumped to have fresh pumpkin that will likely last us for several months. I used three jars already to make this pumpkin soup and a batch of these pumpkin chocolate chip cookies. Both turned out wonderfully.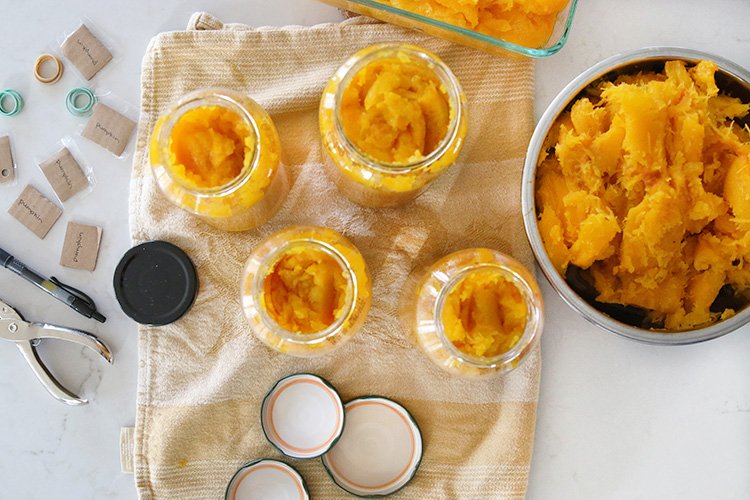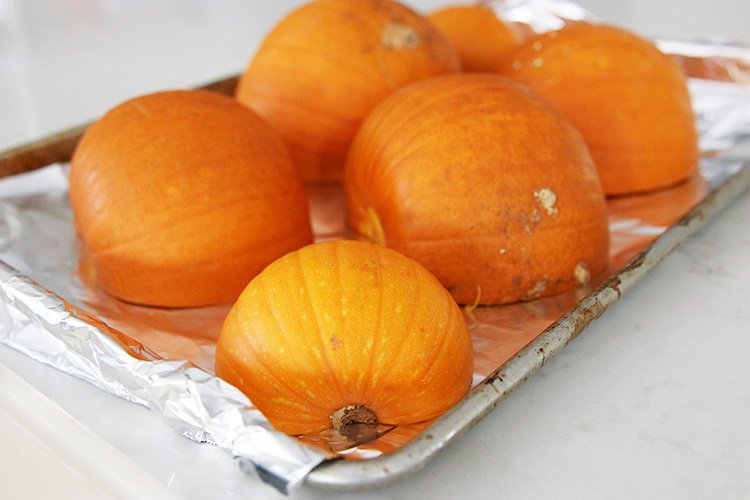 If you have never cooked fresh pumpkin, it's really quite simple. Smaller pumpkins tend to be better for baking and cooking; they have more flavor and are less stringy on the inside than larger pumpkins. The oven does most of the work for you.
Check out the recipe below and let me know if you try it. If you do, I'd especially love to hear what you made with the pumpkin. I'm always on the hunt for new recipes from things I grow in our garden!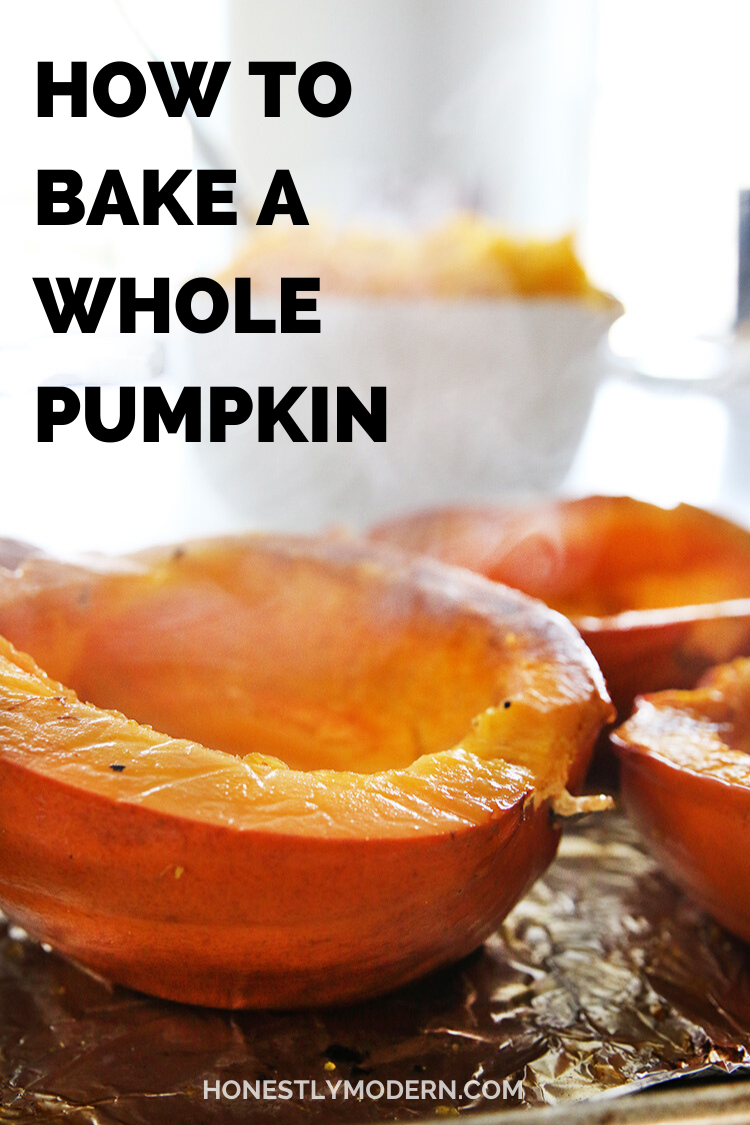 Preheat oven to 425°F
Wash pumpkin and slice it in half.
Cover a baking sheet with foil, parchment paper or a silicone making mat.

Lay pumpkin on baking sheet skin side up. This let's the flesh of the pumpkin steam in the oven without getting dried out.

Bake for about one hour or until the flesh of the pumpkin is soft.

Remove from oven and allow to cool for 5-10 minutes.
Scoop the flesh from pumpkin and discard the skin (hopefully you can compost it!)

To freeze, if desired, place in an airtight container after the pumpkin cools. If you're using a glass jar, be sure to leave space at the top so the glass doesn't break when the pumpkin freezes, as it will expand slightly while freezing.