8 Easy Tips For Eco-friendly Holiday Cards
Looking for eco-friendly holiday card alternatives? Check out these tips and ideas for more sustainable holiday cards to celebrate the season this year.
This week, we received our first few holiday cards from friends. I love receiving holiday cards, and I enjoy sending them too.
When we first became parents, I struggled with the idea of sending holiday cards. They felt wasteful and expensive. And so much work?! They aren't exactly eco-friendly.
But once I started receiving them, I came to appreciate them a lot! I knew that I wanted to find a way to make them as eco-friendly as possible. They brought me enough joy that they were worth the "imperfect" zero waste choice.
I've said many times that living a low waste life isn't about perfection but about finding eco-friendly habits that are sustainable for the long haul. For me, sending and receiving holiday cards is my jam.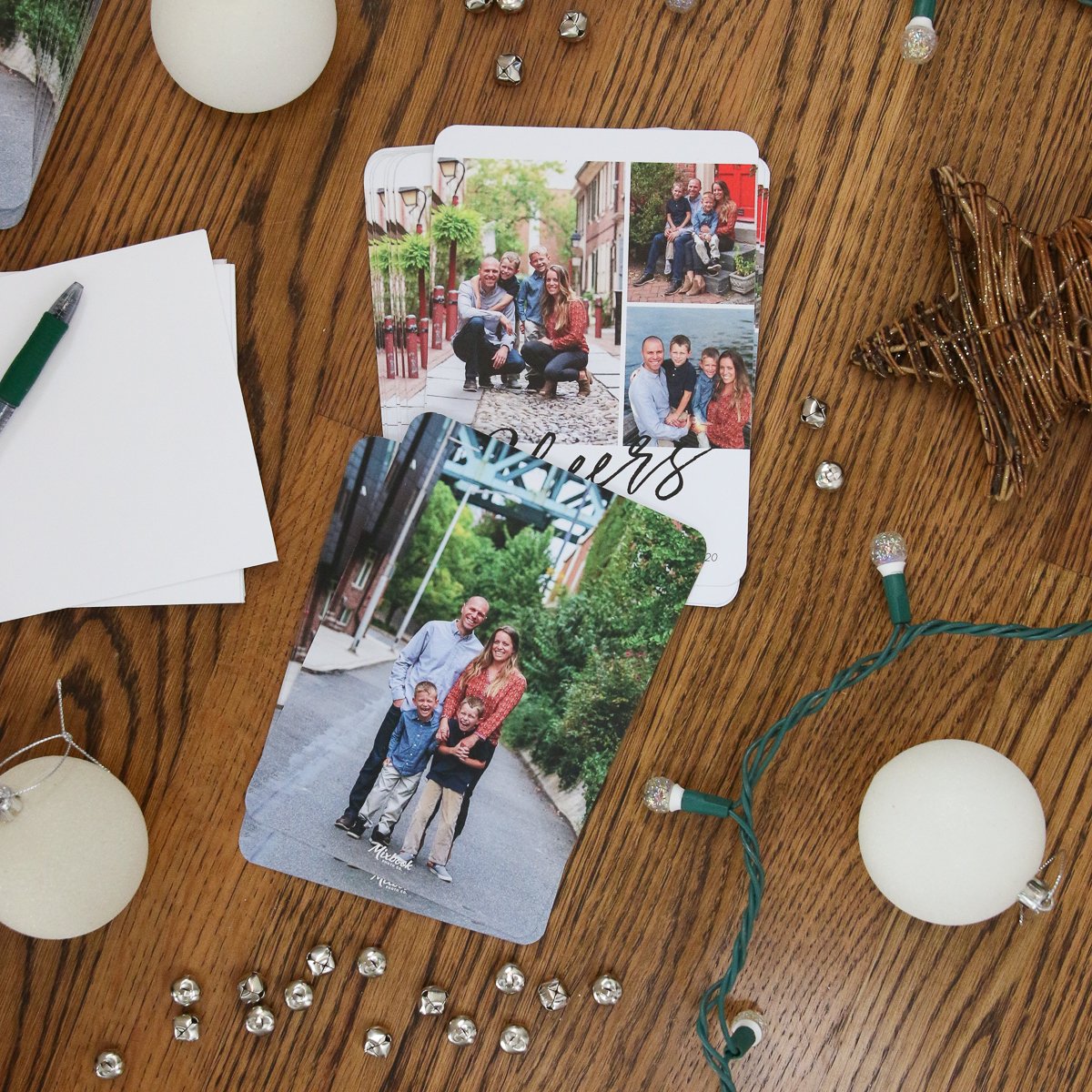 8 Tips For Eco-Friendly Holiday Cards
Over the years, we have incorporated a few elements into our holiday card habit to make it as eco-friendly as possible while still enjoying it to it's fullest. Here are a few ways to help you celebrate the holidays with more eco-friendly holiday cards.
Order Eco-Friendly Holiday Cards From Paper Culture
Paper Culture is a holiday card and photo book company that uses sustainable materials for the products, offsets their carbon footprint with carbon credits, and plants a tree with each order. Pretty neat, right?
Unfortunately, I didn't learn about Paper Culture until recently. I used Mixbook this year, which also has lots of great designs and has been our go-to company for holiday cards for a few years now. If you can, purchase your holiday cards through a company that prioritizes environmental concerns throughout their business model.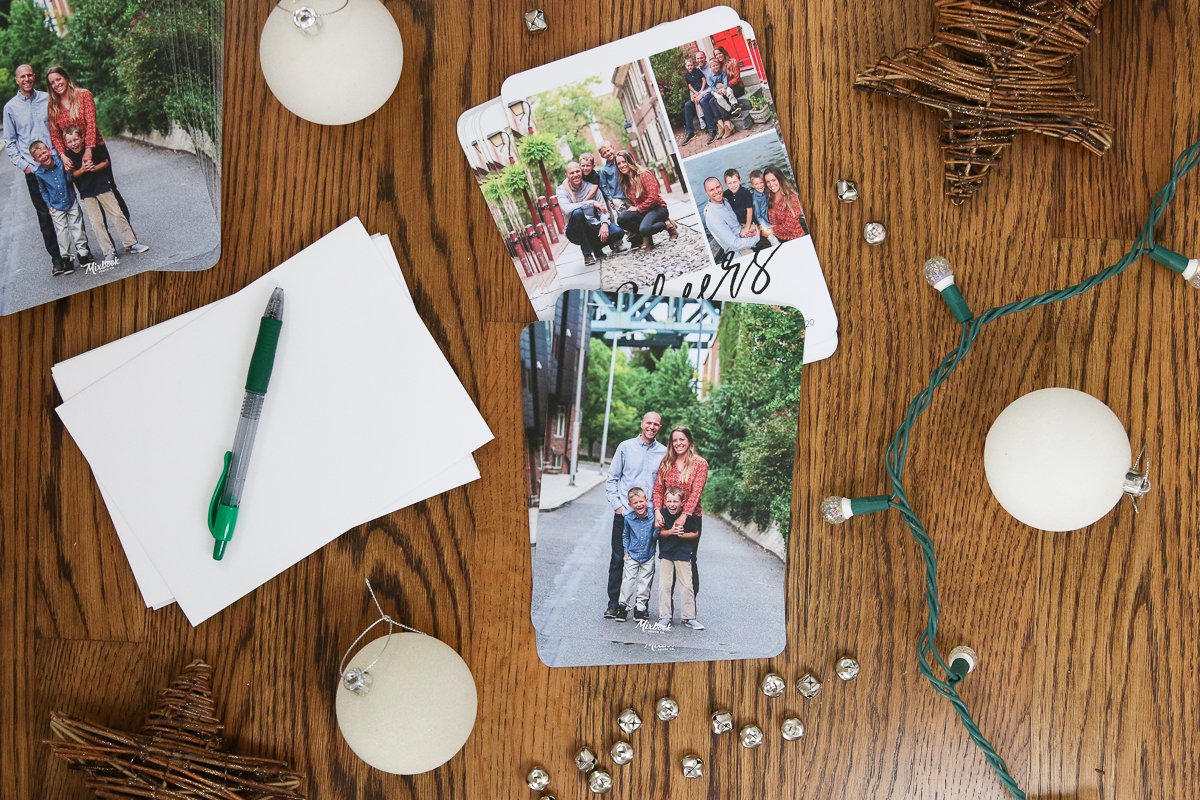 Check Out Eco-Friendly Holiday Cards From Green Field Paper Company
If you prefer holiday cards without photos, Green Field Paper Company has some really neat options. Green Field Paper Company creates all sorts of paper from sustainable materials other than virgin trees, and they have an entire holiday collection of cards and more.
They even have holiday cards, ornaments, and gift card holders that have wildflower seeds embedded in them so you can plant the paper after you've used it. Isn't that pretty neat?
Order Only The Holiday Cards You Need
Before ordering, put together your list of card recipients and only order enough cards for those to whom you plan to send holiday cards. Each year, we order a handful of extra cards that we end up passing out to new friends or unexpected additions to our list. But we are pretty diligent about not ordering extras.
Holiday cards are expensive, so ordering extra holiday cards not only waste paper resources but it also is a waste of money! If you're really ahead of the game (like we are not), having a list of recipients before you order also means you can ask the company to add addresses to the envelopes for you. Some companies will even do this for free.
Holiday Cards With No Foil or Non-Paper Embellishments
I always choose a holiday card template that has no foil or other non-paper embellishments. Not only do these elements often make the card more expensive, but it also means they may cause issues in the recycling process or compost breakdown.
Of course, it will depend on exactly how the cards are made, but sticking to simple paper cards helps ensure the cards don't have to end up in the trash (if you aren't saving them for holiday decorations next year as we do).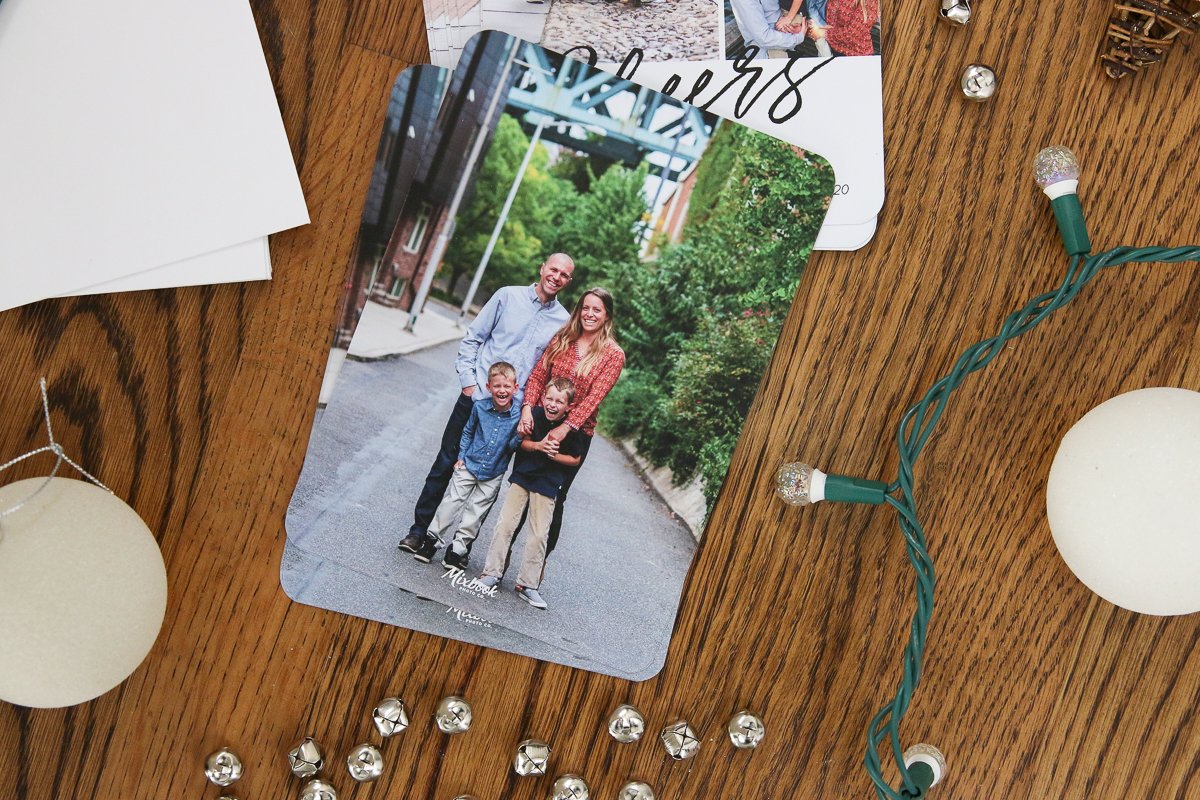 Keep Them & Make A Keepsake Photo Collection
Don't throw away your holiday cards. Hold on to them and turn your holiday cards into decorations for future years. Each year, we collect all our holiday cards from that year and turn them into a holiday card bundle with a simple binder ring. Go check out all the details for this simple holiday card DIY (I mean… really simple!), and then enjoy your holiday cards for many seasons to come.
Opt For Digital Holiday Cards
I really love tangible holiday cards. I like that we can look back at them regularly, and they don't get lost in the digital clutter of my messy email inbox.
However, there are many companies that offer great digital holiday cards. Check out a company like Paperless Post. We have seen friends use Paperless Post for wedding invitations as well, and they are really nice.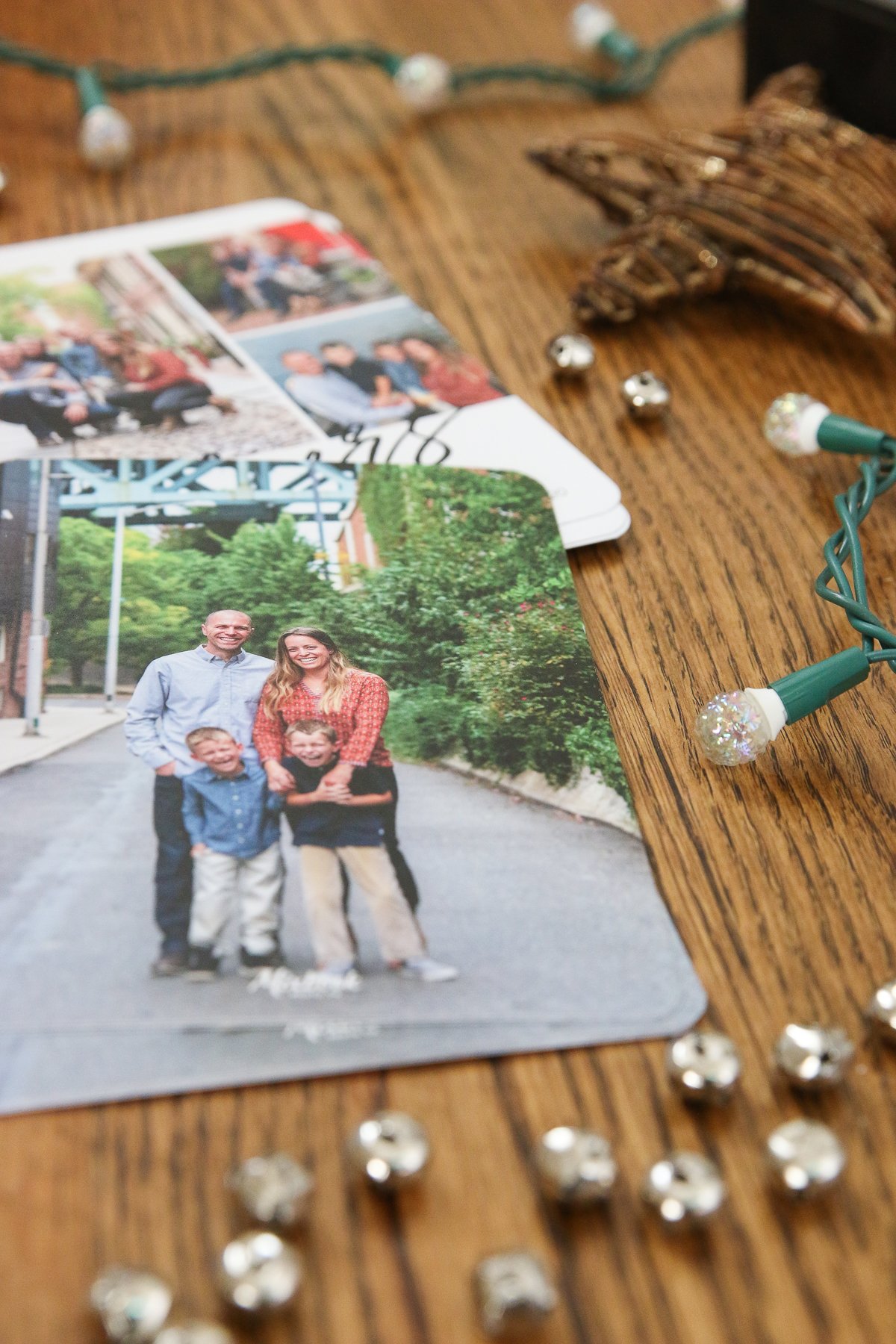 Recycle or Compost Holiday Cards You Receive
If you don't want to hang on to them, recycle or compost holiday cards instead of sending them to the landfill. Paper is an organic material (i.e. it's made of trees, right?), and organic waste in landfills causes all sorts of environmental trouble. Do Mother Nature a big favor and avoid throwing holiday cards in the trash.
Use Free Return Address Labels
Do you receive free address labels in the mail? I get them from about a billion different charities throughout the year. Sometimes I wonder how they even got my name. None-the-less, I'm happy to receive the free address labels that I use each year for our holiday cards.
Skip investing in a special return address stamp or buying your return address label stickers. The most eco-friendly option is to use what you already have (the junk mail that isn't so junky!).
How do you do holiday cards? Do you love them as much as I do?
If You Like Eco-Friendly Holiday Cards, You Might Also Like
5 Eco-friendly Subscription Boxes For Gifting
How To Repurpose Greeting Cards As Upcycled DIY Gift Tags
10 Fun & Easy Ways To Reuse Cardboard Boxes