6 Easy-to-find Secondhand Christmas Items For Thrift Store Newbies
Looking to save some loot this Christmas season on all the holiday goodies? You've heard rumblings about thrift stores and their wares, but… where do you start? Isn't it messy and dirty? Maybe it feels like a bit much? Give me a chance to convince you otherwise.
This holiday season, consider these easy-to-find secondhand Christmas items, even if you're not a seasoned thrift store shopper. I'll tell you exactly what to look for and where to find it to overcome that overwhelm and take advantage of some of the amazing Christmas accessories already available (for less money!) without buying anything new.
You're driving down the street right past the local charity shop and… you don't even notice because thrift stores just aren't really your thing. I get it. They're a little overwhelming if you wander in without a plan.
Hold up though. Let me encourage you to take a U-turn (when it's safe) and reconsider meandering into the dubious secondhand market. I think I can help you out, even if you're a thrift store newbie.
Allow me to lead the way to snagging some sweet Christmas supplies while also saving money and doing a solid for Mother Nature. Did you know that about 2/3 of the items donated to thrift shops end up being sent overseas or thrown away because they receive way too much volume to sell? You're helping keep items out of the landfill when you buy them from thrift shops before they get tossed.
Furthermore, there are already enough people tearing down trees for all that wrapping paper (to the tune of 4.6 million pounds of wrapping paper every year), and half of that lands right in the trash.
Did you know most wrapping paper is not recyclable (unless you use something like this compostable wrapping paper)? Shiny or coated wrapping paper or wrapping paper with embellishments or glitter on it is not typically recyclable, so it all ends up in landfills and incinerators.
Dip your twinkle Christmas toes in the thrift shop
Give me a chance and trust me on this one. If there's a place to start dipping your toes into the secondhand shopping soiree, Christmas accessories are a great spot to start.
Now that you're sitting in the parking lot of the thrift shop, curious about what lies ahead, let me remind you of the purpose of our mission. Each year, especially around the holiday season, waste increases by 25% (that's an extra 2,887,500,000 pounds of garbage each year).
When we choose to get some of our Christmas supplies secondhand (and often still in new packaging), we're choosing to make an intentional decision to consume fewer virgin (or new) resources and make the most of the mountains of holiday goodness already flooding our homes and markets. It's less consumption of new resources and fewer items headed to the trash, not to mention it's almost certainly less expensive. Win-win-win. It's a Christmas triple threat (the good kind!).
Facts dished out, let's get back to the parking lot. Before you head into the thrift shop, be armed with a list and a plan. I've done the heavy lifting for you below, giving you the inside scoop on what common Christmas items are pretty easy to find (and usually in good condition) at your average charity shop.
These stores typically sort and shelve holiday items together (especially when they're in season) so you should be able to head right into the store, wish list in hand, and make a beeline for the Christmas section. I bet you can shop and be back in your car faster than walking to the holiday section always at the very back of Target! I love you Target, but for the Christmas accessory haul, you're not my ride or die.
Do you have your wish list at the ready? Do you know if you need wrapping paper, holiday decor, extra bows, or ribbons? (Hint: It's the same list you'd make if you were stopping by Target or the dollar store. You know the drill.)
Upon entering the thrift shop, scan through for the things on your list. If it still feels like a lot, stick to the list I gave you below (ignore what you want from it), and don't let the plethora of possibilities distract your perusing. You can do this.
Let your first foray into festive thrifting be focused and manageable. Let's dive into the details of how even thrift store newbies can score some easy-to-find secondhand Christmas items to reduce waste and save money this holiday season.
6 Easy-to-find Secondhand Christmas Items For Thrift Store Newbies
In the list below, I've included items that are generally easy to find (meaning they are often available at thrift shops) and they tend to be in good condition. Finding these items won't require much sifting or experience to garner a bit of success.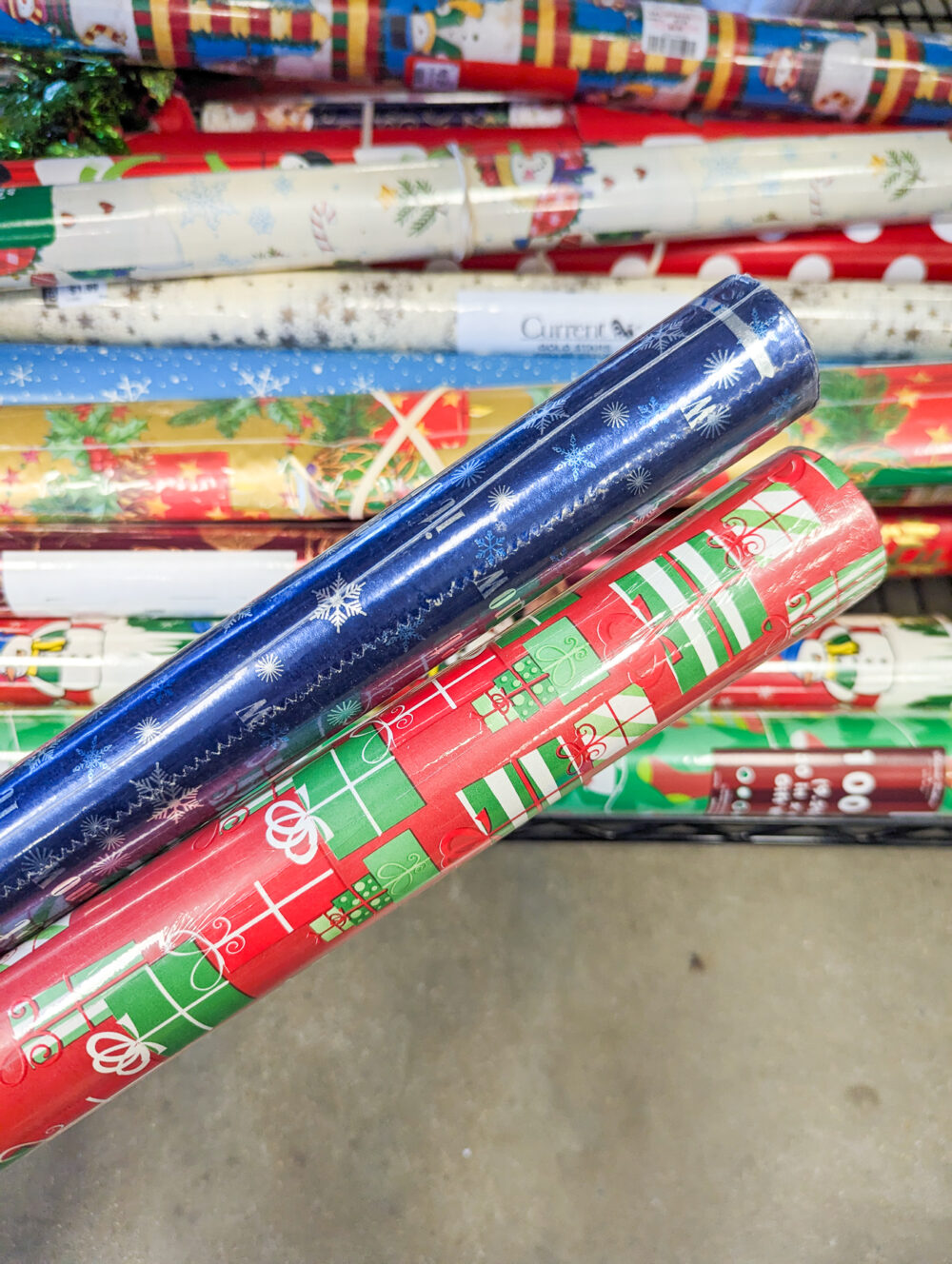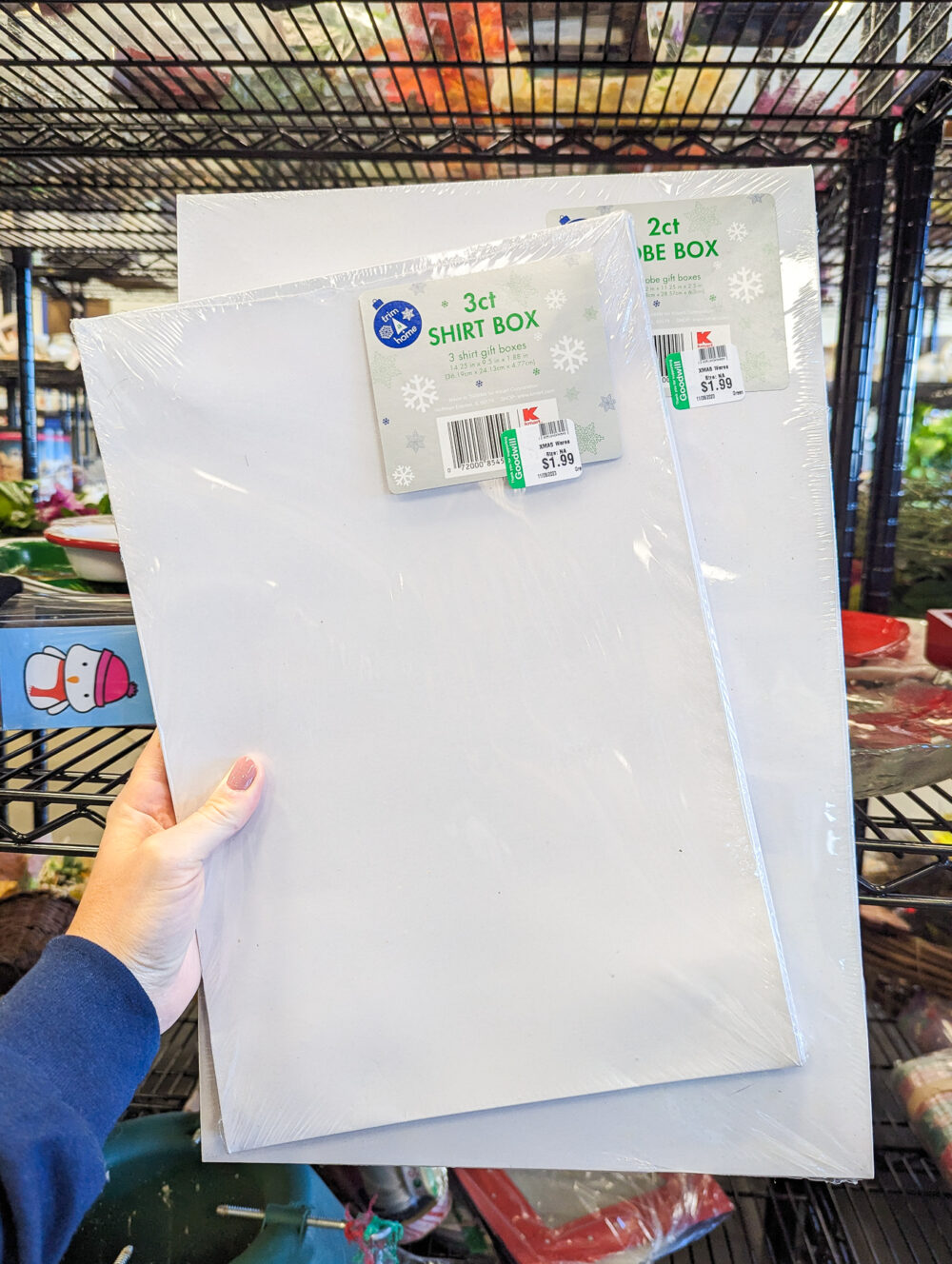 Gift wrap – gift boxes, gift bags, and holiday wrapping paper
If there is one thing you definitely don't need to buy brand new this year, it's gift wrap. There are so many amazing ways to wrap gifts using materials already available. You might have shipping materials at home that will work great (like brown kraft paper in shipping boxes, tissue paper from shoe boxes, and gift bags and boxes from last year).
But if you don't already have things you can use at home, thrift shops have tons of these available. As you walk down the aisles, you'll find lots of gift bags and gift boxes. They're often in nearly-new condition. Sometimes they are packaged together so you buy them in lots of 5 or 10. I also find lots of holiday tins that can be great for wrapping all sorts of gifts too.
See what you can find. And know that the people opening the presents (especially if it's your kids) aren't going to care if the wrapping paper is "just pretty nice" or "stunningly beautiful." They're going to mindlessly rip it to shreds in search of the actual present. So don't let perfection get in the way of a good deal and sustainable gift wrapping.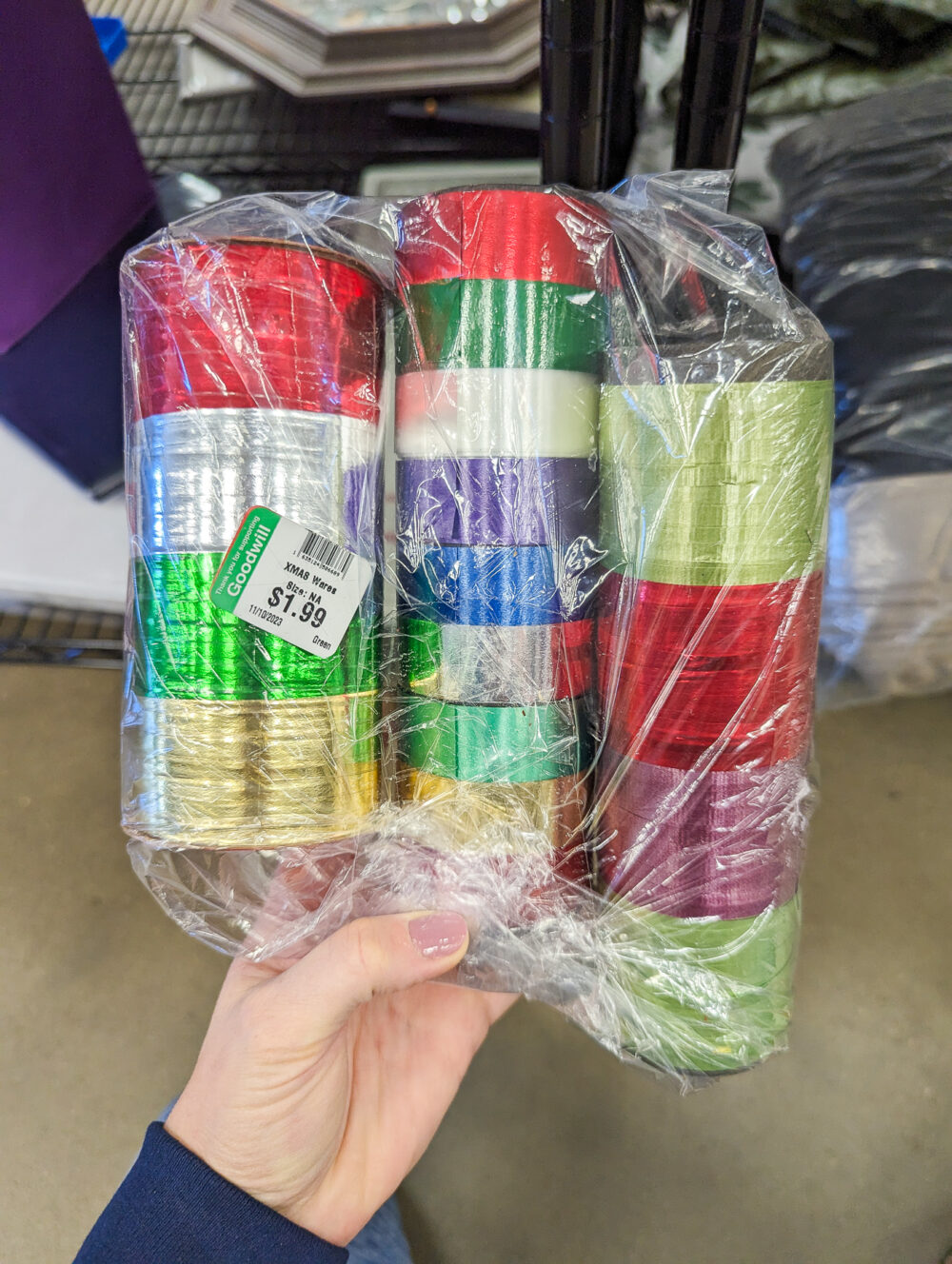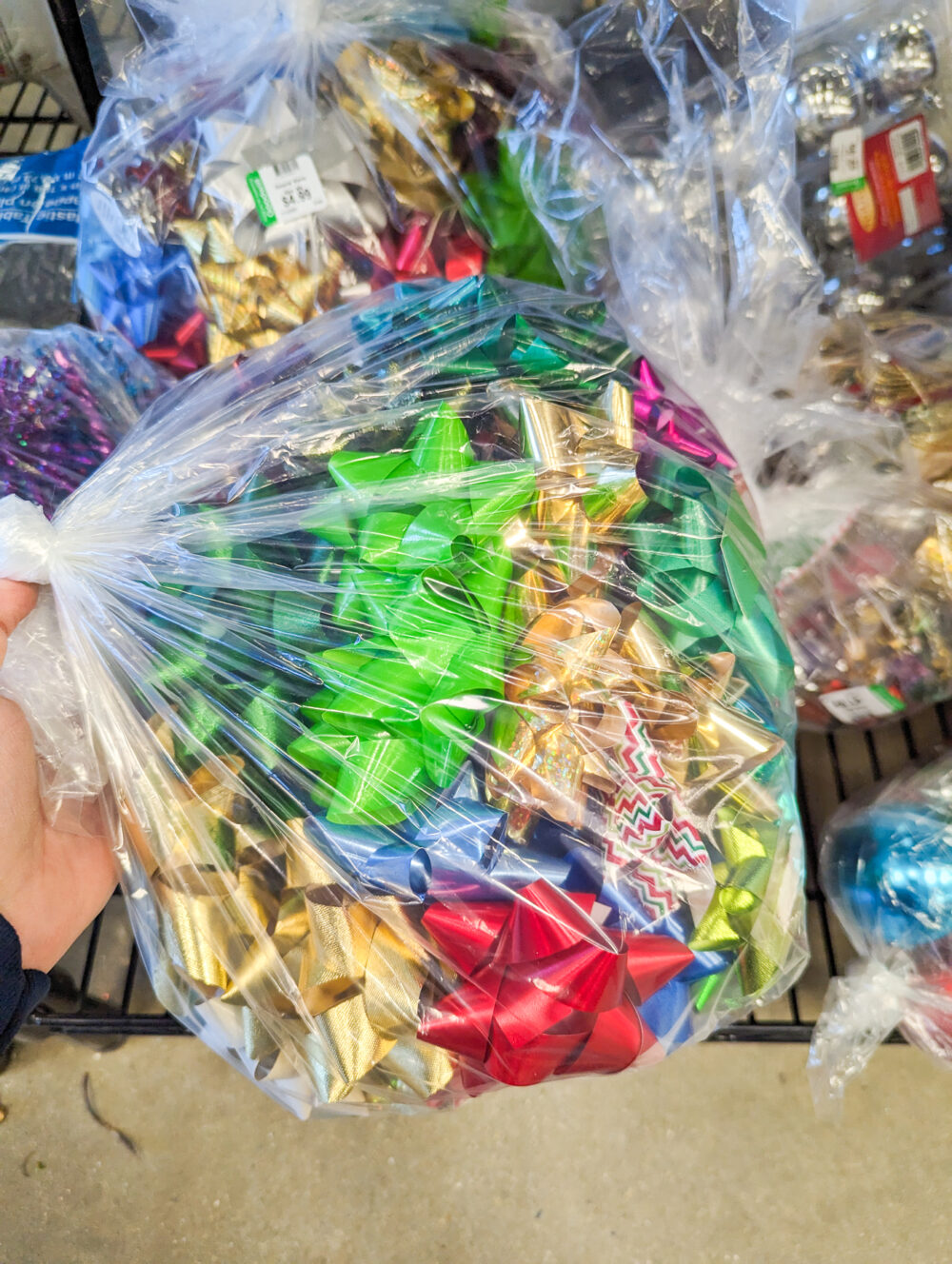 Gift wrapping accessories – bows and ribbons
Thrift stores always have tons of bows and endless spools of ribbon. Most of the bows are still in their packaging, so they're basically new. Sometimes, I've seen bows that are really designed for wreath and garland decoration, but they can work for gift wrapping just fine. Keep your mind open about how these types of things can be used and get creative.
As far as ribbon, I find so much ribbon at thrift stores, especially around the holidays. Some spools are brand new while others are half-used. But even if they are half-used, that doesn't make the remaining ribbon any less valuable.
Check the price and make sure you're comfortable paying for the amount you're receiving. You should be able to find lots of different types and styles in all sorts of colors. Definitely don't spend money on expensive new ribbon when the thrift shop will have more than enough to fill your needs.
Artificial holiday wreaths
If you want to include artificial holiday wreaths in your decor, you should have no trouble finding these. I see them at just about every store and for every season. They should be in the Christmas section if you want ones specifically for this season. I have seen them in so many different styles, and you can always add or remove some pieces if there's one small thing you want to change about it.
Ugly Christmas sweater
If there's one thing I would encourage you not to buy new, it's an ugly Christmas sweater. You're literally buying something because you think it's ugly and you'll probably only wear it once. What a waste!! Not to mention that the cheap ones at big box stores are certainly made from synthetic fibers (i.e. plastic and made from fossil fuels). You can do better!
Hit up the sweater aisles and scan quickly for the holiday ones. Isn't the point of wearing ugly holiday sweaters an ode to the actual vintage ones, anyway? You will definitely find something to fit the bill.
Thrift store clothes, especially those vintage old sweaters, have a reputation for smelling like… I don't know, thrift stores. If the sweater has that unique scent, you can wash it out or just let it air out outside for a couple of days (even if it's cold – just be sure it doesn't rain or it's in a covered area).
I've had some sweaters that need a refresh from time to time. I let them sit out on our back porch on a drying rack for a couple of days (including overnight) and they were totally fine.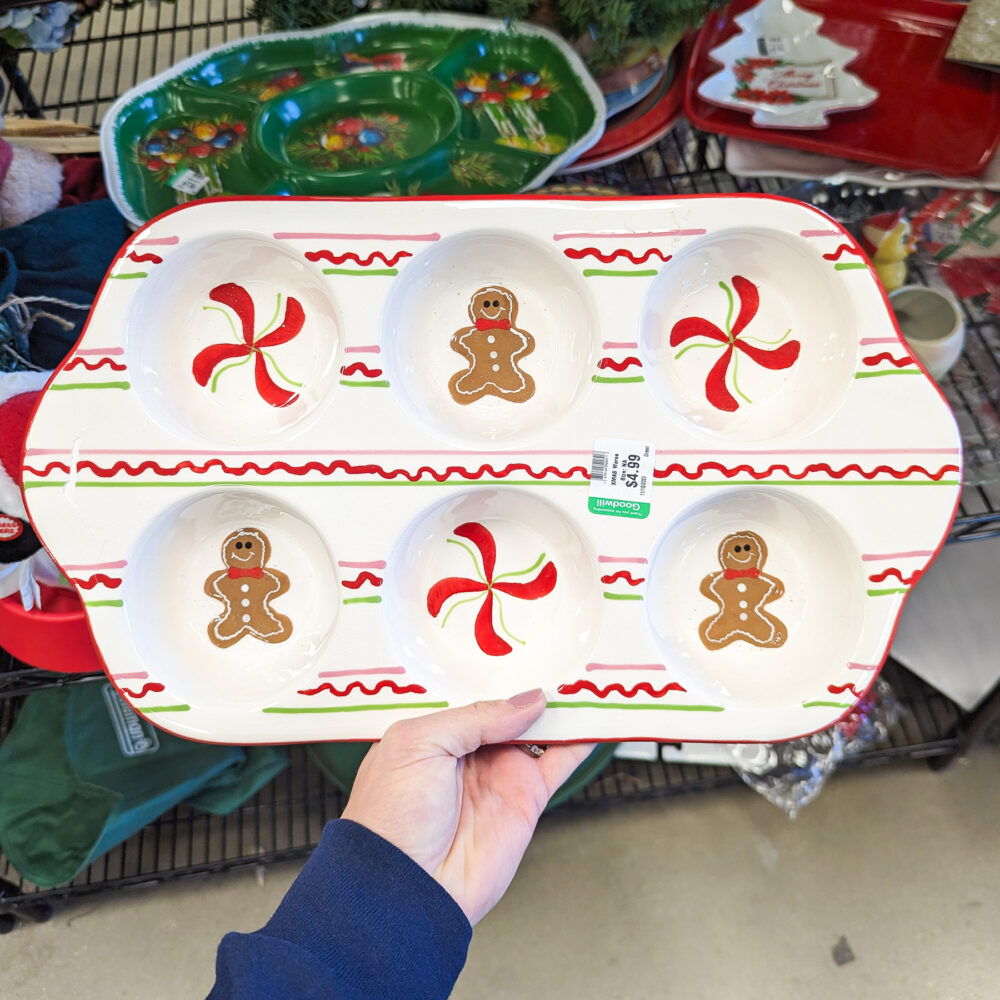 Decorative Christmas serving plates, dishes + chargers (if you want them)
Do you set a fancy table for a holiday dinner? There are tons of holiday-themed plates and charges at many thrift shops. These are super easy to clean, so you don't have to worry about that secondhand stigma.
You don't even have to have them all match. Get a few different styles and designs that complement each other and make the look intentional. There's an old Japanese practice called Wabi Sabi that honors the benefits of imperfections. Embrace Wabi Sabi and style your dinner table in a unique and fun way, even if all the settings aren't exactly identical.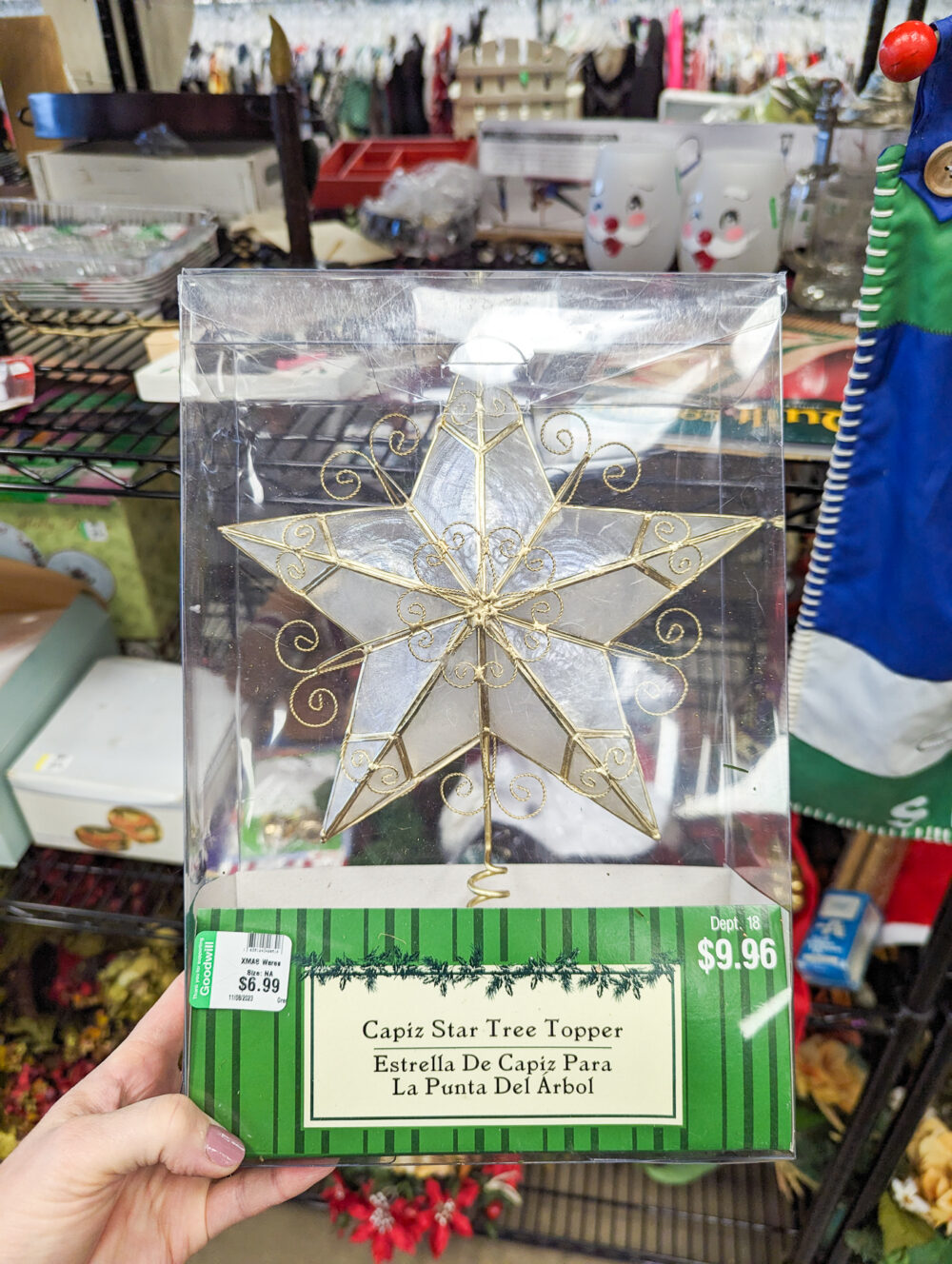 Christmas ornaments
Need some new shiny ball ornaments? Did your kids break them all last year? Thrift shops have tons of these around the holidays. I've seen brand-new, unopened boxes and containers of ornament balls, as well as mixed collections, bagged up to be sold in a lot. If these are on your shopping list, definitely check your local thrift shop first.
Plenty more; those are just the easiest to find
There are so many other things you can find at thrift stores as you try to host a sustainable holiday season. Choosing thrift shops over big box stores is good for your budget and the planet. Many thrift shops have charitable arms so your purchases give back to your community.
Thrift store shopping also embraces the circular economy, a core tenet of sustainable living. During a season laden with so much waste but focused on community and generosity, choosing more sustainable options that also protect our planet and our communities just makes sense.
I have faith in you and your adventure. Even if you're new to thrifting, give yourself a chance to find some of these items secondhand. We all start somewhere, and this is a great place to get comfortable making the most of the abundance already available in our communities.
If you like this post, you might also like
5 Super Simple Tips for Sustainable Holiday Decorations
Sustainable DIY: 5-Minute Zero-Waste Rustic Tablescape
Easy DIY Christmas Table Decorations: Upcycling Ideas for an Eco-friendly Holiday
About The Author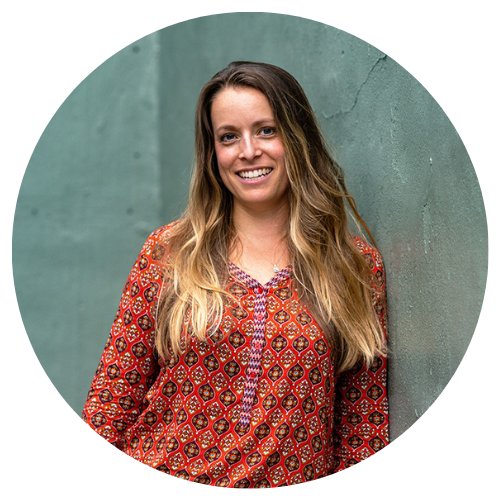 Jen Panaro
Jen Panaro, founder and editor-in-chief of Honestly Modern, is a self-proclaimed composting nerd and an advocate for sustainable living for modern families. In her spare time, she's a serial library book borrower, a messy gardener, and a mom of two boys who spends a lot of time in hockey rinks and on baseball fields.
You can find more of her work at Raising Global Kidizens, an online space to help parents and caregivers raise the next generation of responsible global citizens.