11 Quick Sustainable Christmas Hacks
Looking for ways to reduce holiday stress and save money while also doing a solid for the planet? Check out these quick and easy sustainable Christmas hacks to help you out this holiday season.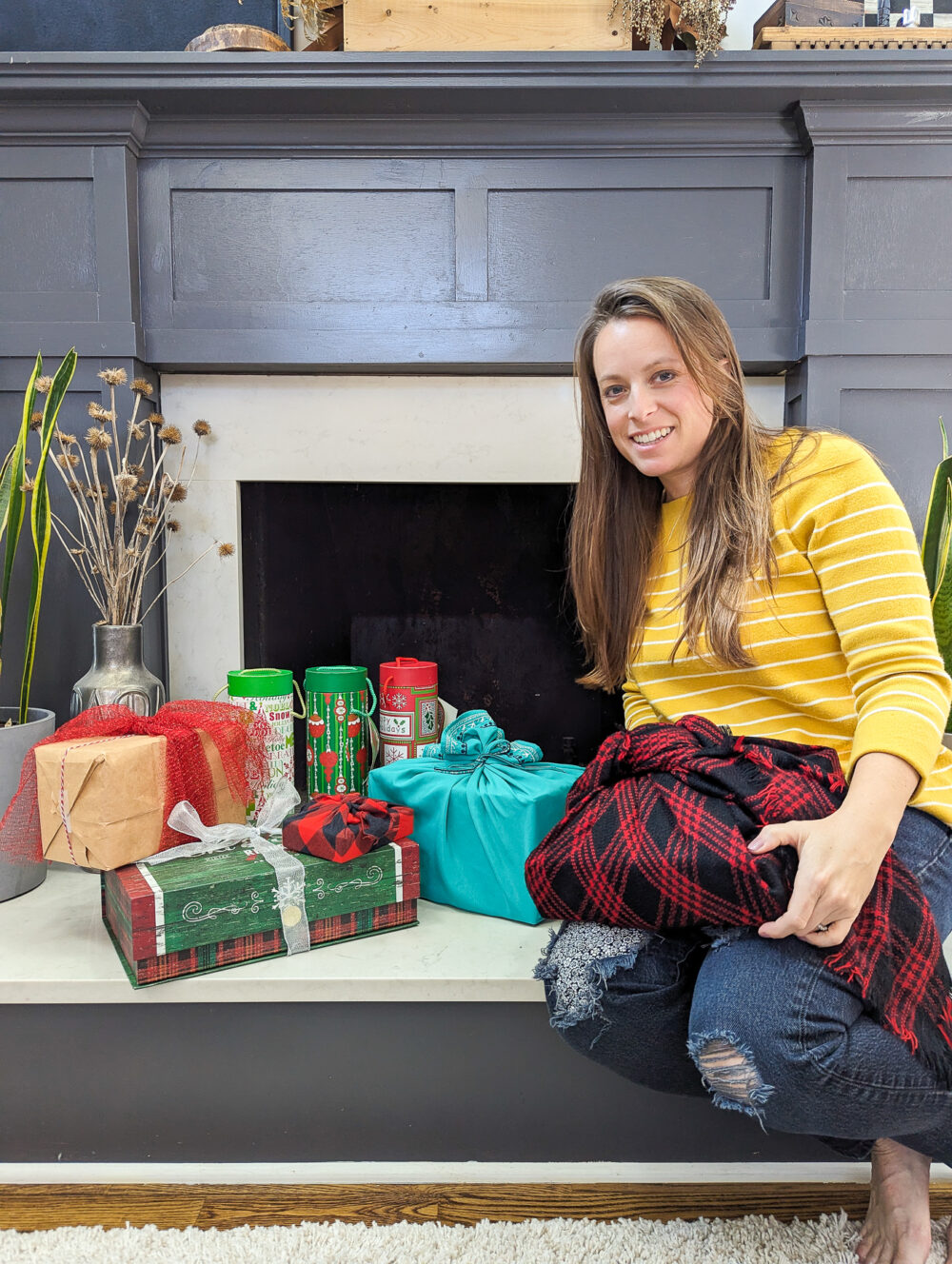 The season is upon us.
The season of magical moments and family memories and perfect photos and all. the. things. But the anticipation of gift grandeur and garlands melts away in the heat of the stress, chaos, and stuff all too often. And needing all these things is precisely what leads the holiday season to see a 25% increase in waste this time of year.
From wrapping paper and paper plates to a plethora of plastic holiday decorations we buy on a whim and mountains of packaging piling up in our garbage bins, the most wonderful time of the year is also the most wasteful time of the year. And all that waste is a lot of work to deal with!
It's easy to overlook the impact of so much waste, but everything we buy that we can't (or simply don't) compost or recycle ends up lingering in landfills or heading to incinerators. Everything in the landfill sits there for hundreds of years. Or items sent to incinerators are burned, and the pollution from that burning seeps into the air. Think about the chemicals released from burning things like plastic. And why would we burn things like food waste when there are so many better alternatives to manage them in productive ways that are better for the planet?
Some waste management plants claim to be "green" because they transfer the energy from burning trash into energy communities can reuse. They sometimes have designations as "renewable energy" or "waste-to-energy" plants. While it is better to capture energy from burning trash than simply let the fumes fly up into the air, that doesn't make it good. And it certainly doesn't make it good for the planet or our communities. And it doesn't address the mountains of waste left over after burning.
11 Quick Sustainable Christmas Hacks
Instead of getting caught up in all the hype of the cutest holiday decorations trending this season or worrying about buying your family all the gifts they could ever dream of, let's focus on the simpler side of the holiday season that really matters. To get you started, here are a few holiday hacks for moms that can help you save money, reduce the stress of all the festivities, and show a little love to the planet too.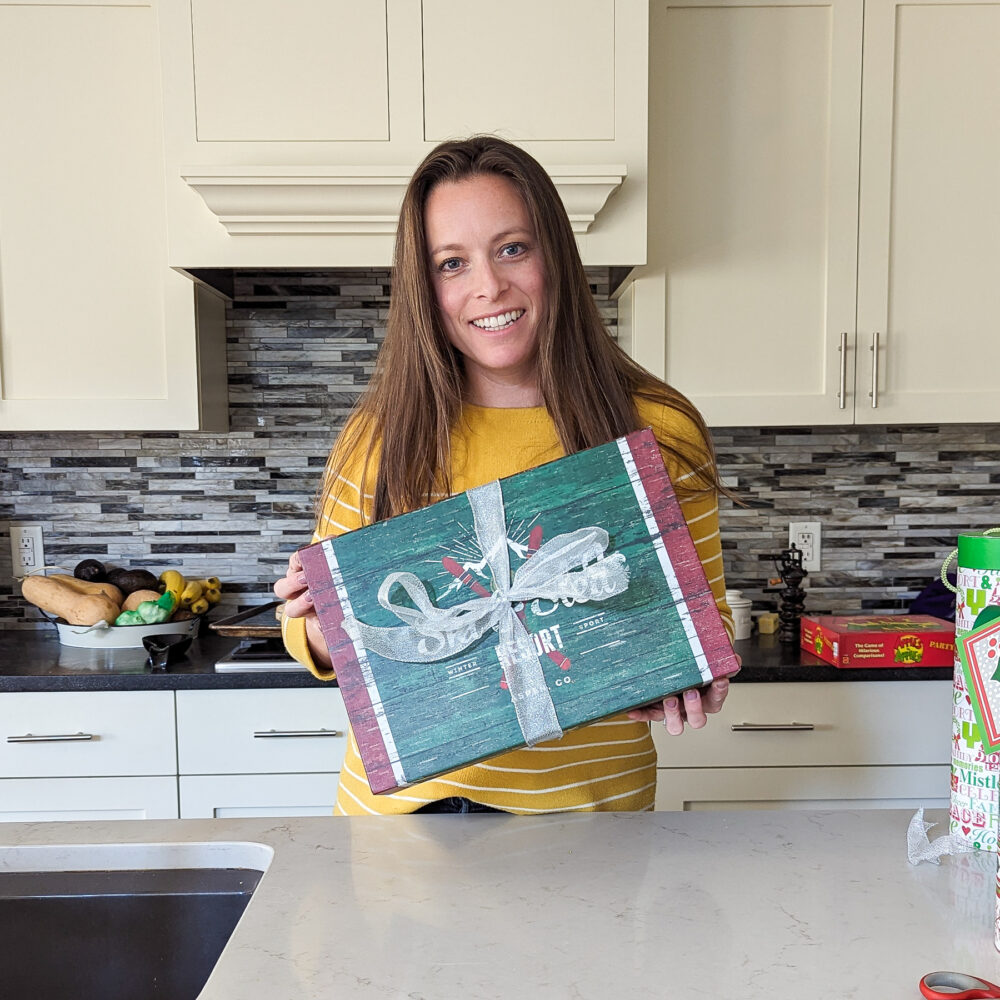 Wrap gifts in holiday boxes
Take advantage of the design and holiday themes already on holiday gift boxes and tins. Set your gift in the box, maybe add a bit of repurposed tissue or shipping paper if needed to keep an item safe, and you're all set. You can add a quick ribbon if you'd like. Thrift shops have tons of these boxes and tins, and you can reuse them from year to year. It makes wrapping all those gifts a snap.
Save the tissue paper
Do you know that tissue paper you get in so many packages? I definitely find it wrapped around things like handbags and shoes. Instead of tossing that out or even recycling or composting it, save it to reuse in your gift bags. It's the perfect size to tuck on top of whatever you're throwing in the gift bag.
Even if it's a little wrinkled, you crinkle it up when you put it in the bag anyway, so no one will ever know it's reused. Or maybe you want to brag about your holiday hack. It's a great conversation started to share ways to make our holiday season a little more eco-friendly for all.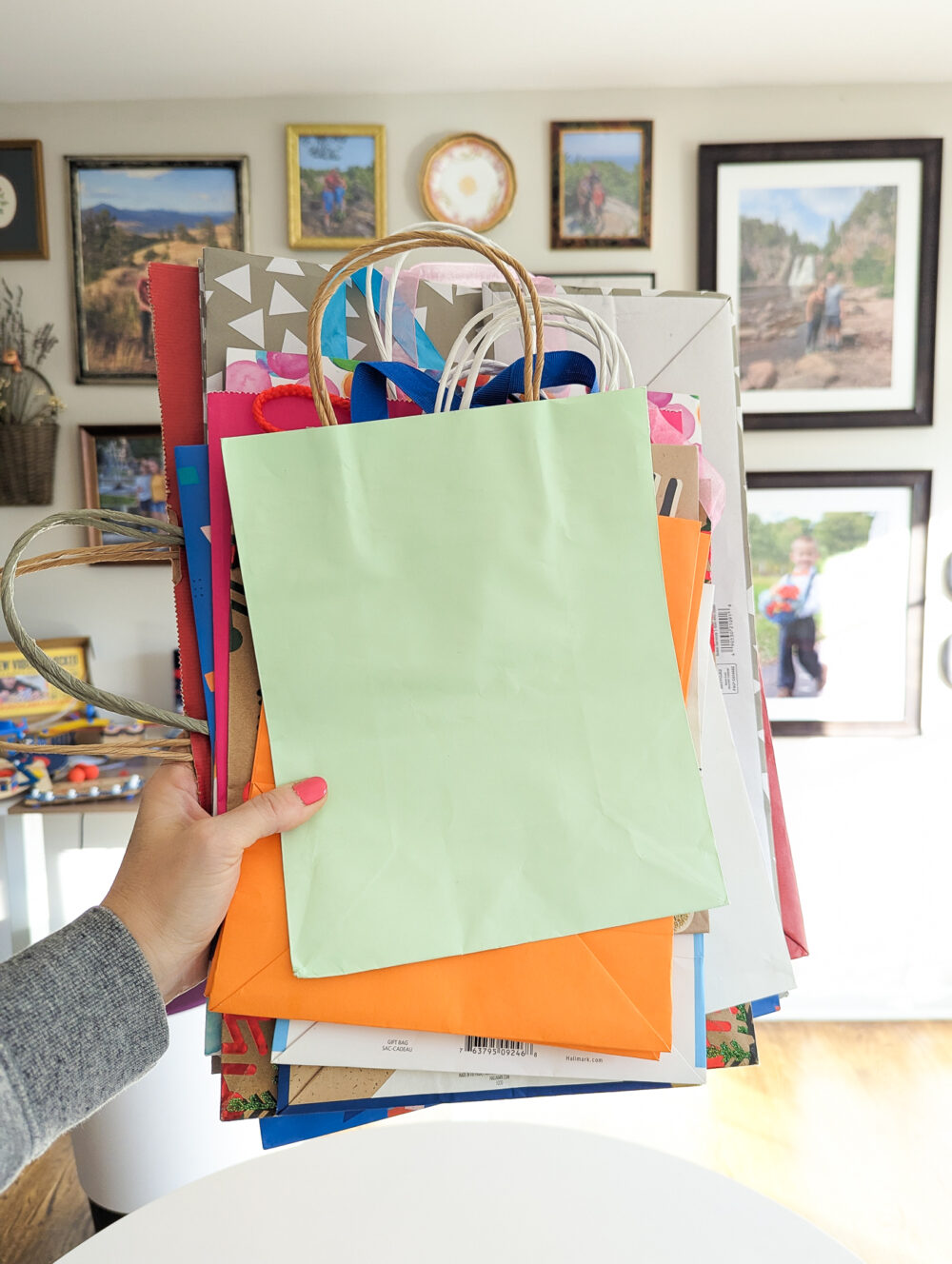 No names on gift bags
Before you write anyone's name on that gift bag, set down that Sharpie. Skip writing the name on the bag so whoever receives the gift can use the bag again and pass it forward. Add a quick handmade card (a super simple one is totally fine) to be sure the recipient knows who the gift is from. That gift bag is worth way more than a single use, so don't spoil the party by putting a name on it and making it more likely to end up in the trash.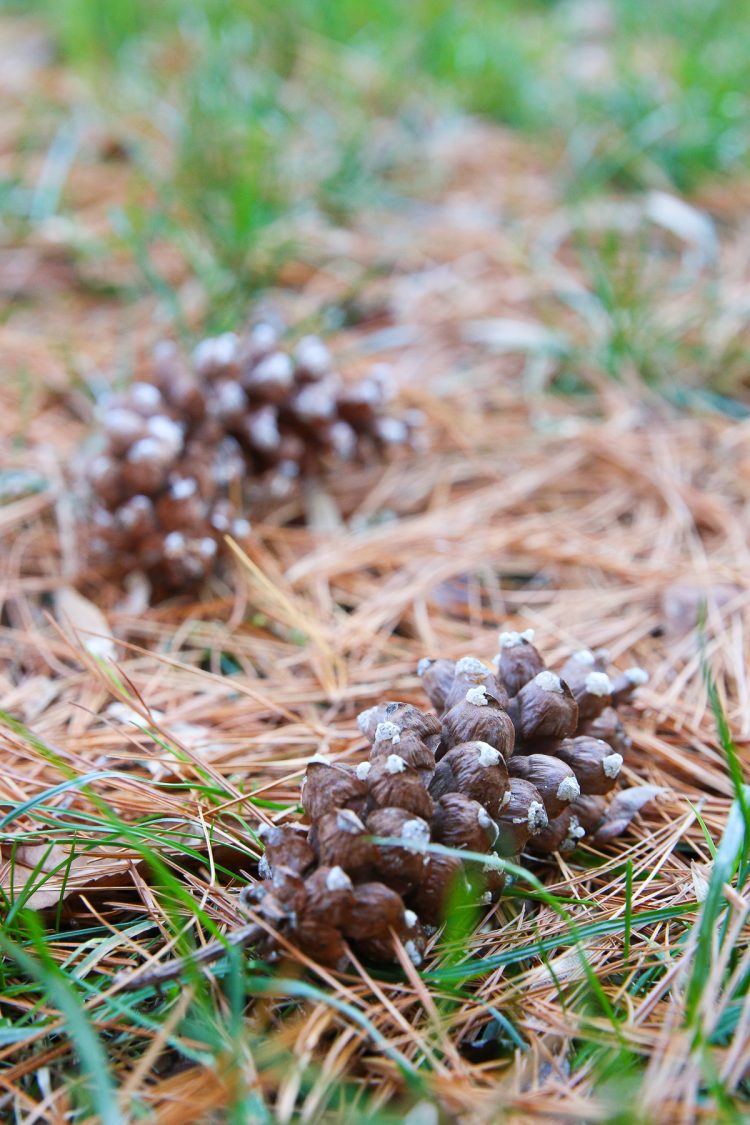 Pinecones from the park (or your yard)
With so many artificial pinecones gracing the shelves of big box stores, why not pick a few up off the ground for free instead? Whether in your yard or at a local park, just grab a few to finish off your holiday decorating without spending a fortune on the fake ones. I mean, inflation these days is… wooohh.
They can be a little sticky if the sap starts to sneak its way out of the crevices of the cone. You can always heat them up on a cookie sheet (with a little compostable parchment paper underneath them) to melt the sap out before you use them as holiday decor. At the end of the season, keep them for next year or toss them back out into your yard or compost bin and let nature take care of the rest.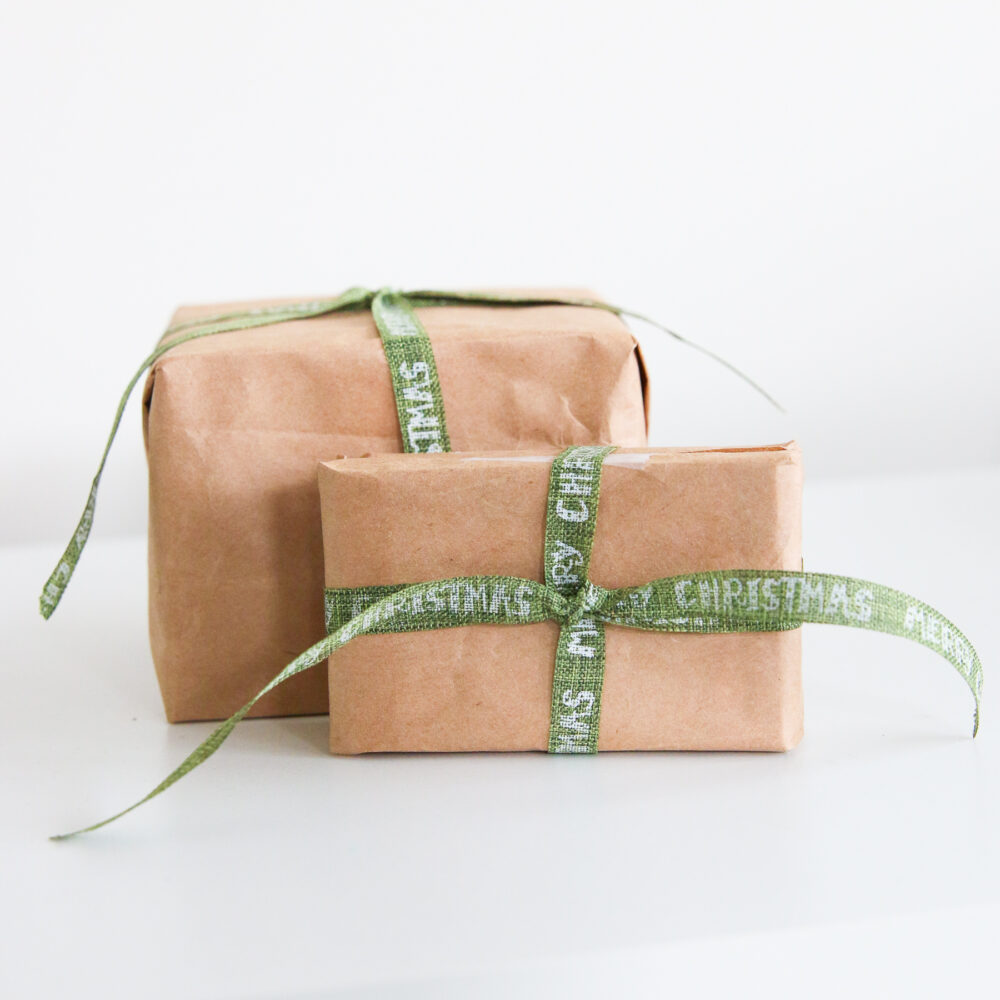 Wrap with shipping material
I'm probably not making an Evil Knievel leap to assume that you'll have lots of packages and shipping material rolling into your home this holiday season. So much shopping happens online. I get it – I do the same thing. Don't put those boxes and brown paper into your trash bin. Save them to wrap packages.
The brown kraft paper is perfect for beautiful minimalist wrapping. Don't worry if it's a little wrinkled. It's all part of the look. You can even add some painted decorations like these to give it a more colorful or festive vibe.
Best of all, you can recycle or compost all the wrapping when you're done. Did you know that a lot of store-bought wrapping paper isn't recyclable or compostable? And you definitely shouldn't burn it in your fireplace because it's often covered in plastic coating or plastic embellishments (like glitter).
Skip spending on single-use wrapping and use all those materials showing up on your doorstep for free. The possibilities of using shipping materials to wrap gifts are endless.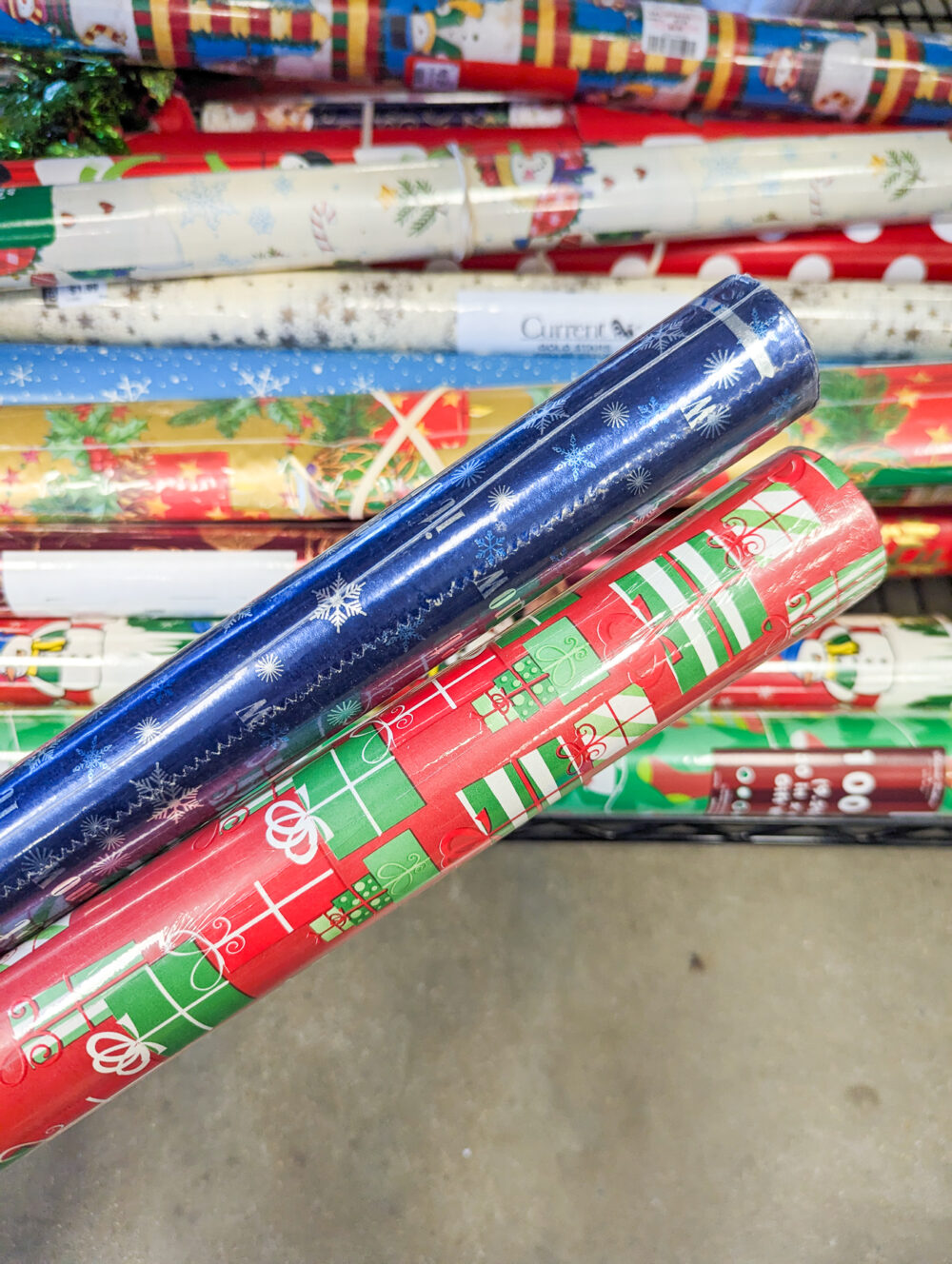 Hit up a thrift shop for holiday gift wrap
Don't be afraid of the thrift store, especially if you go with a very specific wish list in mind. Head into the shop and go straight to the Christmas section. Skip everything else. Don't get distracted or overwhelmed. Find some gift bags, some ribbons, and some bows and bounce. Holiday gift wrap is one of the easiest secondhand Christmas items to find on thrift store shelves!
Choose Paper Culture for holiday cards
Paper Culture is a great photo printing company that has tons of gorgeous holiday cards in all sorts of styles. I've used them for the last two years and have been more than pleased. The company uses more sustainable materials and has a tree planting program to make them a bit better for the planet than your standard photo printing partners.
Related Reading: 6 Ways To Repurpose Holiday Cards
Use cylinder-shaped wine gift boxes for all sorts of gifts
This was new to me this year. I had a bunch of secondhand classic LEGO bricks I planned to give to my older son this year, and I wasn't sure how to wrap them. I stumbled on these holiday-themed wine gift containers at Goodwill and knew they'd be perfect. Even if you buy them new, save and reuse them!
Cut up old shirts or sheets for fabric wrapping
It's not that hard, I promise. Before throwing away old shirts, consider if you can cut out a square or rectangle (maybe from the back or the front) and use it as fabric wrap for smaller gifts.
If you want clean lines and have a sewing machine, you can sew up the edges to create clean hems along the sides. You could also do this with a simple needle and thread (I've done it with embroidery thread and regular sewing thread would work as well). If you prefer more organic edges, leave them as is. Just know that certain fabrics will fray while others will not if you don't sew the edges.
If you're comfortable in a secondhand shop, scan through the shirt section or the sheets section at a thrift shop for shirts and sheets in plain fabrics or holiday fabrics (plaid is my jam). Plaid fabrics are great for the holidays. And sheets give you an option to make larger fabric wraps for bigger gifts.
Look for refurbished or open-box versions of gifts
Just because it's not new doesn't mean it's not good as new. Purchasing refurbished or open-box items, especially for things like electronics or small appliances, can save you money and prevent those items from going to waste. We got my son a refurbished 3D printer for the holidays this year, and it looks totally brand new. I would never have known it was refurbished were it not for the qualification on the website when I ordered.
Skip what you don't love
It's not really even a hack, it's just a good idea. If you don't enjoy a particular holiday traditional, don't do it. Don't waste your time, energy, or money on something that doesn't actually bring joy and fulfillment to you and your family.
Elf on the Shelf feel stressful? Skip it. Are cookies for Santa too much? Ditch it. Perfectly wrapping every gift with just the right holiday accessories to keep up with the Jones? Who cares about the Jones?!! Wrap gifts in whatever works for you and what you have available. Do what feels manageable, brings your family together, and actually matters to you.
I'm sure there are tons of fun holiday hacks that I missed that also help us help the planet. Can you think of any to add? Share them in the comments!
About The Author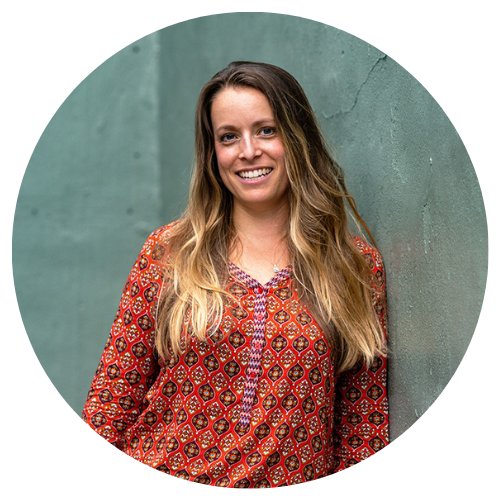 Jen Panaro
Jen Panaro, founder and editor-in-chief of Honestly Modern, is a self-proclaimed composting nerd and an advocate for sustainable living for modern families. In her spare time, she's a serial library book borrower, a messy gardener, and a mom of two boys who spends a lot of time in hockey rinks and on baseball fields.
You can find more of her work at Raising Global Kidizens, an online space to help parents and caregivers raise the next generation of responsible global citizens.