6 Ways To Repurpose Holiday Cards
Do you collect holiday cards from family and friends each year? Don't throw them in the trash. Try one of these simple and eco-friendly ways to repurpose Christmas cards and holiday cards. They're fun to look back on in later years, and they make affordable and low-waste holiday decorations for years to come.
Each holiday season, I love admiring all the holiday cards we receive from friends. Although the updates are small and I could track them down on social media, it's nice to get a little note or touchpoint from friends past and present free of any personal data-driven algorithms.
Because I enjoy receiving cards, I'm also happy to send them to many of our friends and family. I think the process can feel a little stressful, but it's worth the connection and a great excuse to update our address book each year.
Over the years, we've held onto our holiday cards. We put them together with simple binder rings to create little portfolios from each year. I've also seen others do some really neat things with holiday cards to continue to enjoy them beyond the year they receive them.
If you've got holiday cards landing in your mailbox this year, consider one of these fun and easy ways to repurpose holiday cards as home decor and holiday decorations.
6 Ways To Repurpose Holiday Cards
Holiday Card Mini Portfolio
Each year, we collect all of our holiday cards from friends, punch a hole in the corner, and connect them with a metal binder ring. It's the simplest trick, and such an easy way to hang on to holiday cards from years past.
When it's time to pull out the holiday decorations, we always enjoy looking through prior year holiday card collections to remember old friends and see how much people (especially young kids) have changed.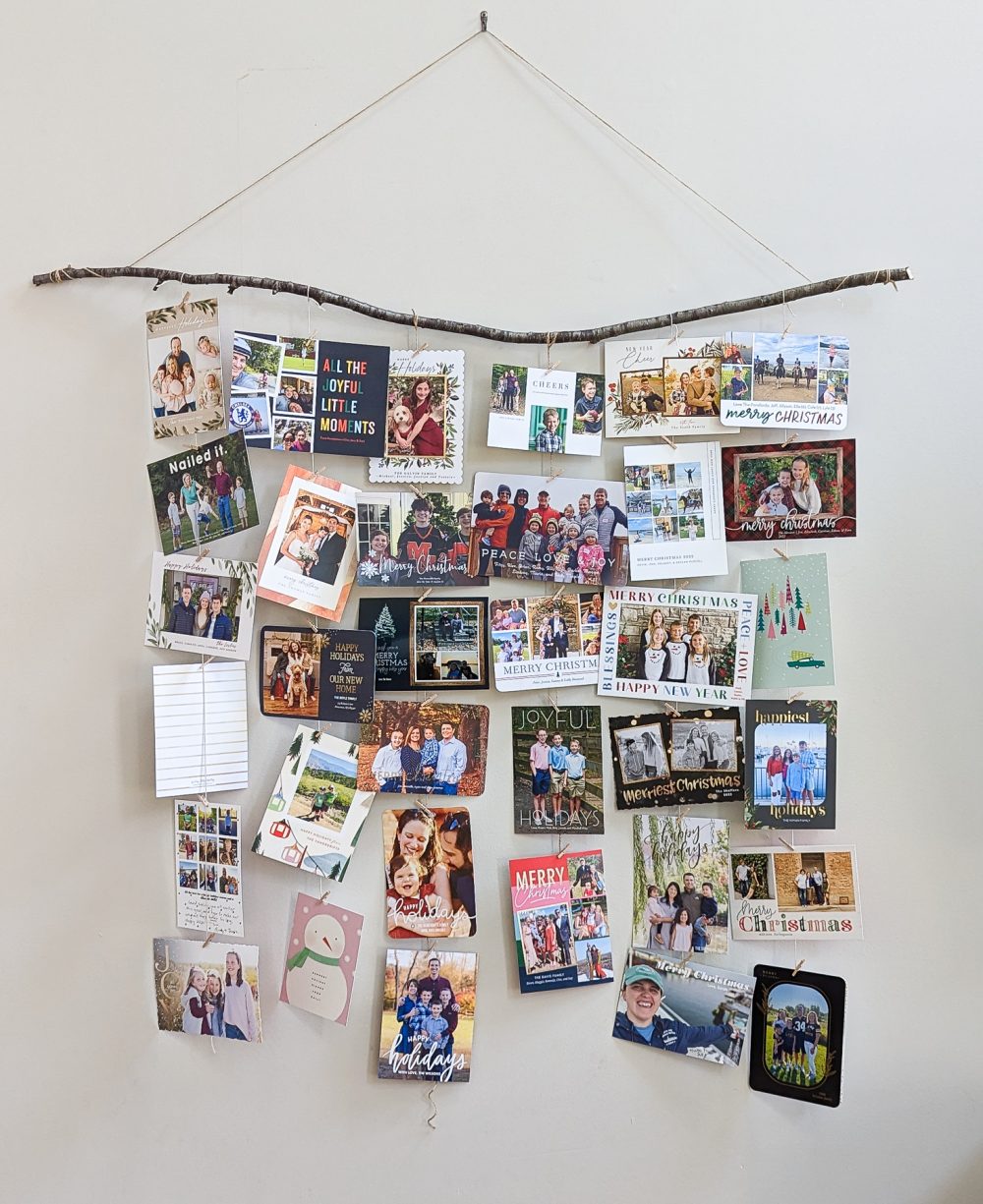 Holiday Card Photo Display
If you prefer not to cut up your holiday cards or want a seasonless option, create a holiday card photo board or hanging display. You can pin cards on a cork board, hang them from mini clothespins on lines of string, or even slip them under strips of ribbon on a fabric-covered photo board. You can leave these up all year or only bring them out around the holidays as a seasonal decoration.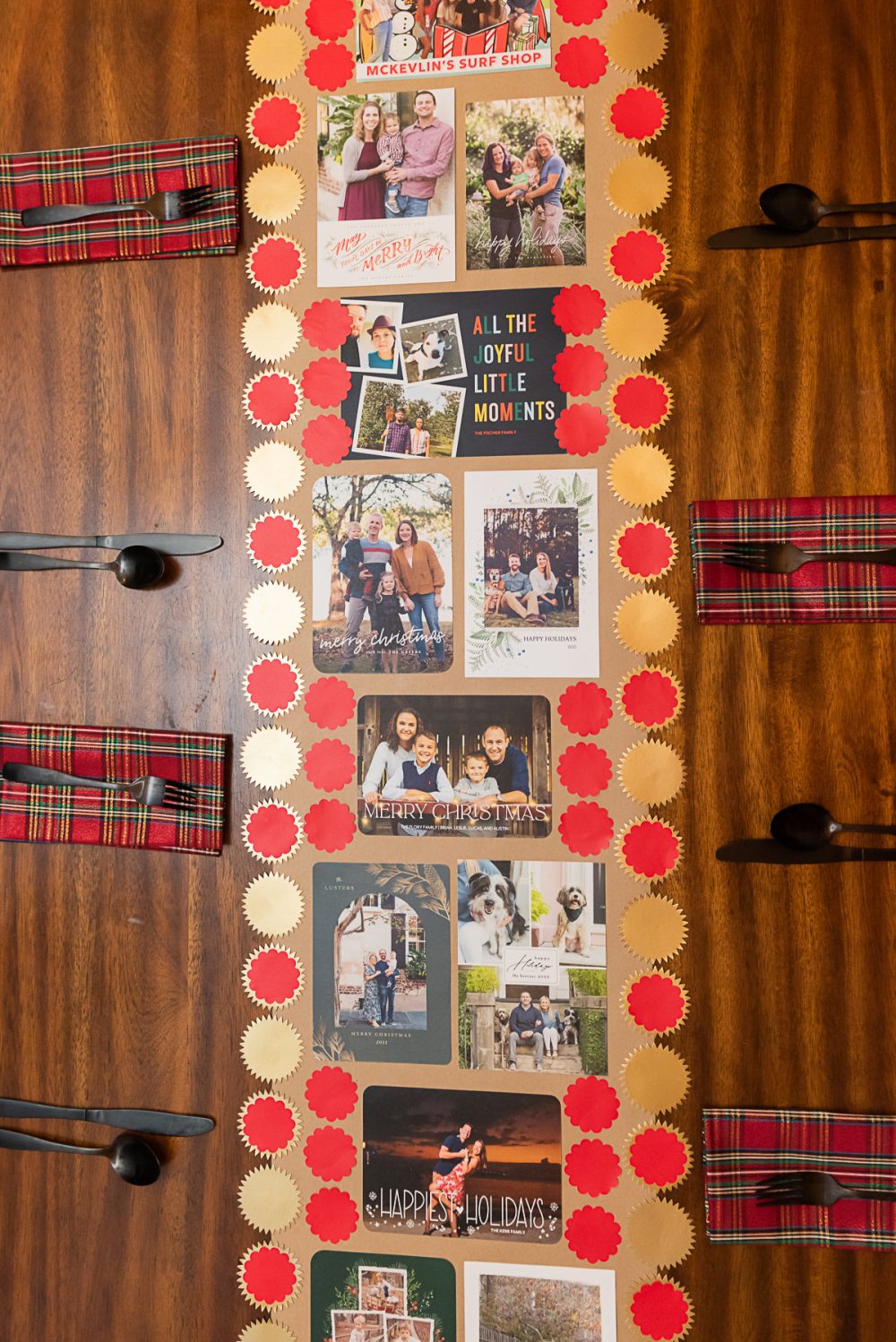 Holiday Card Table Runner
Tape holiday cards to a backing or punch holes on the sides and tie them together with twine to create a holiday table runner made. It's probably a better decoration when you're not using the table and best removed when you sit down to eat as it would be a bit of a bummer if you spilled on the photo cards. But do what works best for you. At the very least, setting holiday photo cards on the table to peruse is a great conversation starter. For a full tutorial, check out these DIY holiday table runner step-by-step instructions.
Holiday Ornaments
Turn holiday cards into tree ornaments for future years. Use holiday cookie cutters to trace shapes around the most important parts of the cards. Cut out the shapes, and punch a hole in the top of the card. Thread twine or a ribbon through the punched hole, tie the twine, and hang it on your tree for zero-waste Christmas tree decorations. This is also a great project to use odds and ends of repurposed or upcycled twine and ribbon.
Holiday Card Valentines Day Banner
Hang on to your holiday cards for a few extra weeks and turn them into an inexpensive and low-waste Valentine's Day garland. Cut each card into a heart shape, punch holes in the sides, and string them together. And… you're done.
You can see more details and examples from Jess at Thoughtfully Sustainable. She included instructions, a printable outline for tracing those perfect hearts, and a few ideas about how to sustainably dispose of the cards when you're finally ready to move on.
DIY Holiday Placemats
Cut out the important elements or phrases from holiday cards you received and create a collage on a piece of paper or cardboard. You could even use the inside of an empty cereal box as the base for the DIY holiday placemat.
After adding all of your desired decorations, cover with self-adhesive, laminating paper or strips of clear packaging tape to make the placemat spill-proof and water-resistant. If you're using packaging tape, do your best to eliminate bubbles or air pockets to ensure that liquids and food remnants do not get under the tape.
Do you have other ways to repurpose family holiday cards? If so, share them in the comments so more of us can try them out at home.
If You Like Ways to Repurpose Holiday Cards, You Might Also Like
11 Tips for Eco-friendly Holiday Cards
Review of Paper Culture Eco-friendly Holiday Cards
Low Waste Holiday Table Setting (Reese)
About The Author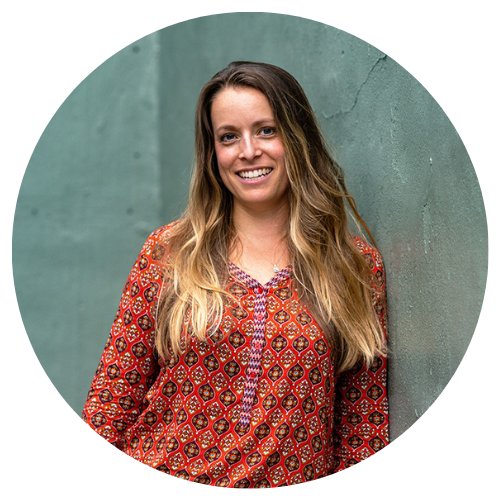 Jen Panaro
Jen Panaro, founder and editor-in-chief of Honestly Modern, is a self-proclaimed composting nerd and an advocate for sustainable living for modern families. In her spare time, she's a serial library book borrower, a messy gardener, and a mom of two boys who spends a lot of time in hockey rinks and on baseball fields.
You can find more of her work at Raising Global Kidizens, an online space to help parents and caregivers raise the next generation of responsible global citizens.