Best Ever New Year's Brunch Casserole with Wildgrain Sourdough and Good Luck Salsa
Are you looking for the perfect New Year's Day brunch casserole? Are creative, delicious ways to use your Wildgrain box? You'll love this tasty make-ahead casserole with "good luck" salsa!
This post contains affiliate links and is created in partnership with Wildgrain and Apogee Agency. #WildgrainNewYear #sponsored
Get $10 off your first order with code HONESTLY10
When it comes to New Year's Day, my favorite tradition is a hot, hearty brunch with loved ones. Y'all people who enjoy running headfirst into freezing bodies of water are on your own, but you're invited over to thaw out over this delicious, savory brunch casserole afterward.
And, as all superstitious Southerns know, what you eat on New Year's Day is just as important as those outlandish resolutions you made the night before! The theory is that eating "good luck" food on New Year's Day will bring health, wealth, and happiness in the year ahead.
So, what are good luck New Year's foods?
The answer, of course, varies by region and culture. Grapes, pomegranates, noodles, fish, rice, lentils, oranges, and honey make the list in various parts of the world, but in the Southeastern United States, the answer is simple:
Black-eyed peas (to bring pennies)
Greens (to bring dollars)
Cornbread (to bring gold)
Pork (to bring progress)
Most often, these ingredients are served in the form of hoppin' John next to collards and cornbread, especially in the Lowcountry. As Southern Living explains, "Hoppin' John is a hearty African-American dish made by slowly simmering black-eyed peas with pork and vegetables." The first printed recipe for the dish dates back to 1847, and you can learn more about hoppin' John via the History Channel. To learn more about Gullah Geechee food traditions, check out Nourish episode 6.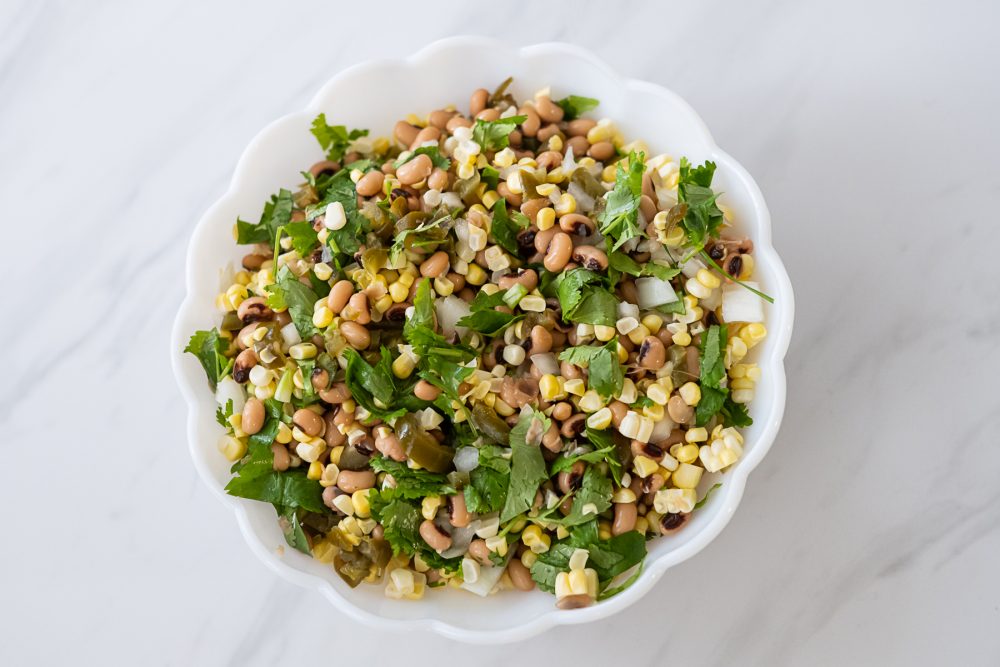 Now, I'm not particularly superstitious, and I'm also not a huge hoppin' John connoisseur. I am a massive Wildgrain fan, and their products are incredibly versatile, especially when you're feeding a crowd.
However, if you're hosting a New Year's Day brunch in the South (and in the alleged birthplace of the hoppin' John), you better make sure black-eyed peas, greens, corn, and pork make it to the table in one form or another. Enter part two of this recipe: The Good Luck Salsa!
Alas, I'm getting ahead of myself. Let's start with what we're making: A yummy, veggie-heavy breakfast casserole starring delicious Wildgrain sourdough bread and farm-fresh eggs.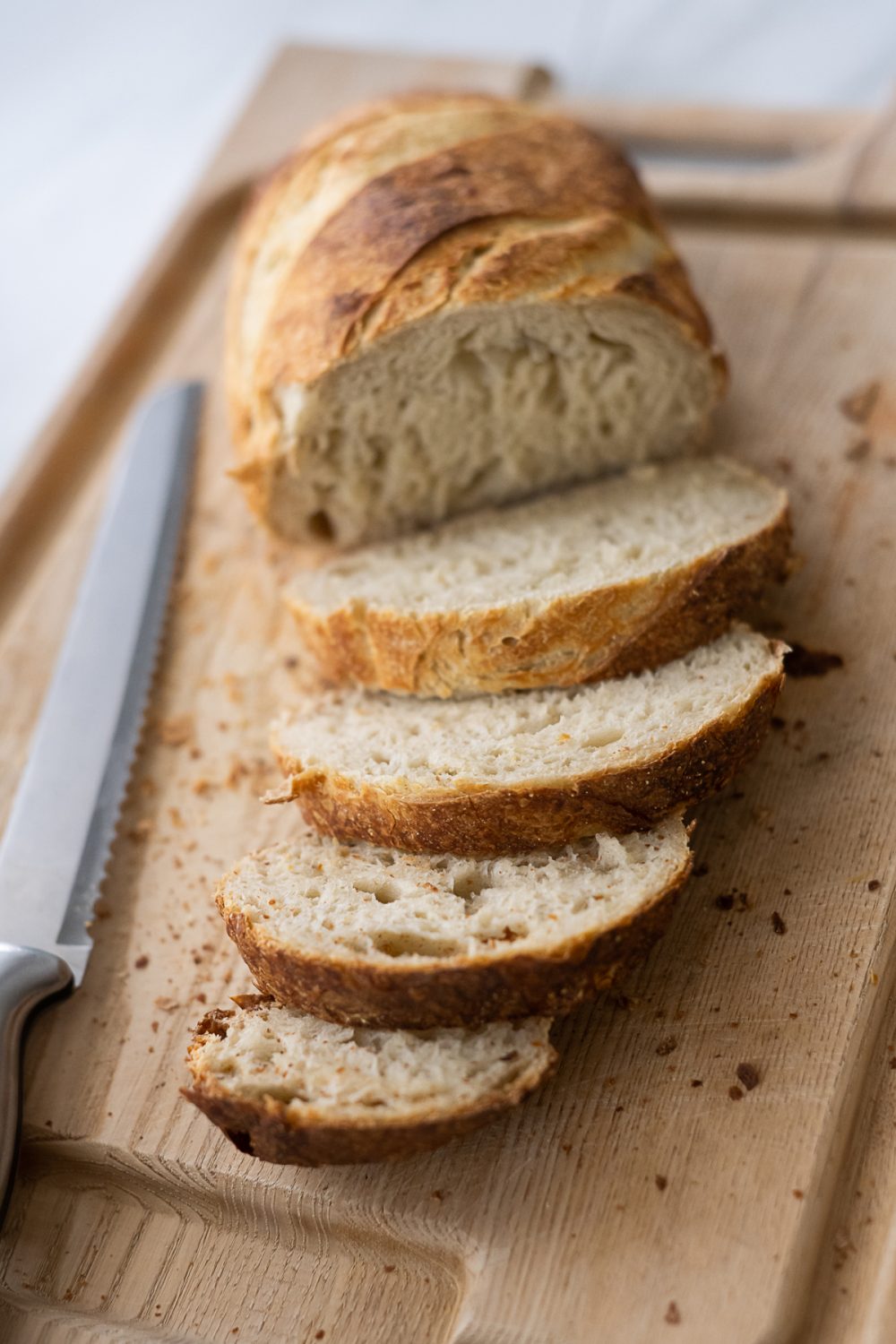 Why use Wildgrain bread?
Wildgrain is simply a cut above. Their products are outstanding, and you can use them in so many different recipes.
Wildgrain focuses on clean, simple ingredients and artisanal processes with nutritional benefits.
Wildgrain partners with small businesses and artisanal bakeries to help repair the broken food system.
Sourdough bread also contains less gluten, lactic acid, and prebiotics for a healthy gut.
Additionally, every Wildgrain box is chock-full of parbaked artisan breads and fresh pastas, and they're delivered right to your door in low-waste packaging.
Get $10 off your first order with code HONESTLY10
What sets this New Year's brunch recipe ahead of the rest?
You can (and should) assemble it the day before.
It uses delicious and nutritious Wildgrain sourdough bread for the base.
It feeds 12.
It's versatile.
Each hot, hearty serving comes piled high with extra veggies and crispy bacon.
How can you lessen your environmental impact when making this recipe?
Opt for produce without plastic packaging, or shop at your farmer's market.
Compost your veggie trimmings and egg shells.
Buy local and humanely raised eggs and meat whenever possible.
Finally, remember to take your reusable bags to the store.
Use the bacon as a condiment! (And, if you're interested in reducing your impact as a carnivore, we have tons of ideas for you.)
Important things to know before you start this recipe:
This recipe is best when assembled at least several hours before baking, and you can definitely leave it covered in the fridge while you enjoy New Year's Eve festivities.
Pull the casserole out for 10-30 minutes before you put it in the oven. Putting very cold glassware directly into a hot oven can cause it to shatter.
The leftovers will reheat beautifully… if you have any.
You can definitely make this spicier (and saltier!) than I wrote the recipe. If you're feeding a heat-loving crowd, up the amount of sauce from the can of chiles in adobo or opt for spicier pickled jalapenos in the Good Luck Salsa!
You can sautee the corn for 5 minutes before adding it to the salsa if you want a sweeter, richer flavor, or you can leave it raw for extra crunch. I've made it both ways, and both were delectable.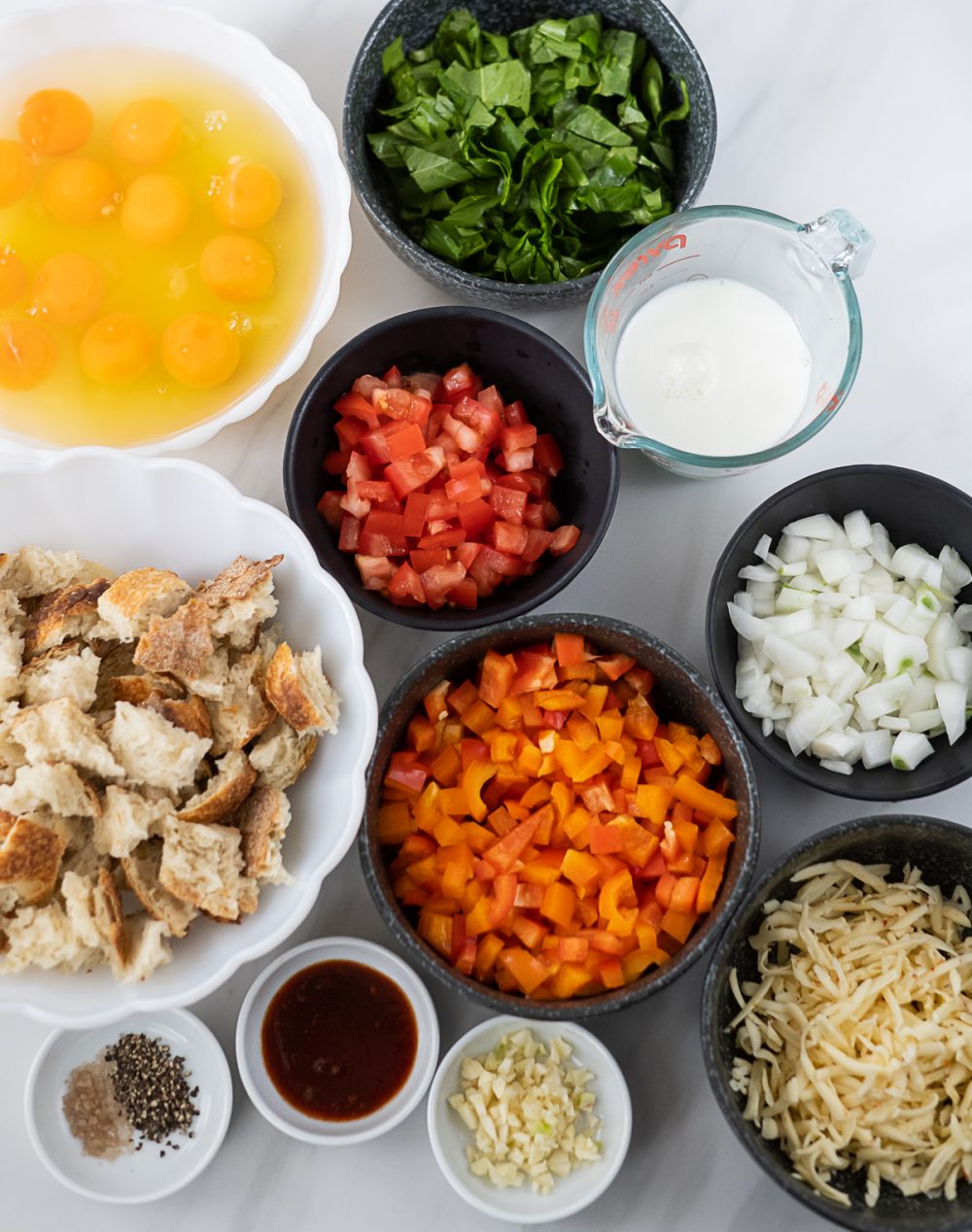 Ingredients for Best Ever New Year's Brunch Casserole with Good Luck Salsa:
For the Brunch Casserole:
4 cups of crusty sourdough bread (preferably Wildgrain bread), torn into pieces
12 large eggs
⅔ cup of whole milk
1 cup of shredded Gouda or Havarti cheese (I use the chipotle or pepper varietals for extra flavor)
2 teaspoons of sauce from a can of chiles in adobo sauce (NOT the actual peppers, unless you're starting your new year with an involuntary cleanse)
¼ teaspoon of salt
¼ teaspoon of pepper (we love to use coarsely ground smoked pepper)
1 teaspoon of olive oil
½ a large onion, chopped
2-3 large garlic cloves, minced
2 cups chopped red pepper (about 1.5 peppers)
1 cup seeded and diced Roma tomatoes (about 2-3)
1 cup of greens (such as kale or dandelion greens) torn into bite-sized pieces
Butter to grease the baking dish
For the Good Luck Salsa (Make this the morning of your brunch so it's not cold on top of hot eggs.):
4 ears of corn, kernels cut from the cob
2 cans of black-eyed peas, drained and rinsed
½ cup chopped mild pickled jalapeno slices
½ cup of white or Vidalia onion
⅔ cup of chopped cilantro (optional)
8 ounces of bacon
Instructions for Best Ever New Year's Brunch Casserole with Good Luck Salsa:
Generously grease a glass 8" x 11" (or 9" x 13") baking pan with butter.
Layer the bottom of the baking pan with the torn bread.
In a large mixing bowl, combine the eggs, milk, shredded cheese, adobo sauce, salt, and pepper and whisk until well blended.
In a large pan, sautee the onion in the olive oil over medium heat until softened and beginning to become translucent, about 1-2 minutes.
Add the garlic and stir constantly until fragrant, about 1 minute.
Then add your tomato and pepper and cook until soft, about 5 minutes.
If your veggies are particularly juicy, strain them in a kitchen sieve over a bowl.
Spoon the cooked vegetables over the layer of bread in the casserole evenly.
Ladle the egg mixture over the bread and vegetables evenly and let the dish rest in the refrigerator, covered, for several hours or overnight.
When you're ready to eat your casserole, pull it out of the refrigerator and let the dish warm while you pre-heat the oven to 375 degrees Fahrenheit and make the salsa.
To make the salsa, you can either use the corn raw or saute it over medium heat in olive oil for 5 minutes. This is a personal preference on how you prefer the taste and texture of corn.
Then, combine the corn, black-eyed peas, jalapenos, onion, and cilantro in a medium bowl until well combined.
Uncover the casserole and put it in the oven for 40-50 minutes or until the edges are crisp, the center isn't "jiggly", and a toothpick or knife inserted into the center comes out clean.
While the casserole cooks, cook your bacon until crispy and roughly chop. Set aside in a small bowl. Let the casserole cool and "set" for about 10 minutes before serving.
Serve squares of the casserole with a generous portion of Good Luck Salsa and top with bacon crumbles, if desired. Enjoy!
All photos from Reese Moore Photography.
If you enjoyed Best Ever New Year's Brunch Casserole with Wildgrain Sourdough and Good Luck Salsa, you may also enjoy:
10 Low-Waste Meal Ideas for your Wildgrain Box
14 Ways to Reduce Your Environmental Impact Without Giving Up Meat or Doing Meatless Monday
How To Make A Whimsical, Garden-inspired Vegetarian Charcuterie Board in Less than 45 Minutes
About the Author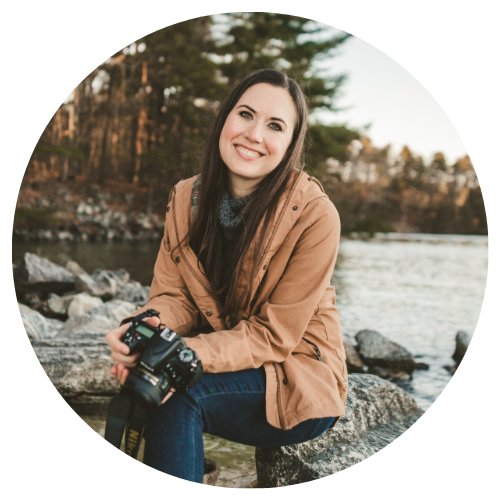 Reese Moore
Reese Moore is a photographer, content creator, and pickle connoisseur who divides time between Charleston and Lake Lure. When she's not behind the lens shooting stunning images for Reese Moore Photography, Reese loves to spend her time wandering the woods with her dog Gatsby or adventuring with her husband Logan in their Airstream Basecamp.
New Year's Brunch with Good Luck Salsa
Try this easy and delicious brunch casserole with good luck salsa to start the new year.
Ingredients
4 cups of crusty sourdough bread (preferably Wildgrain bread), torn into pieces
2 large eggs
⅔ cup of whole milk
1 cup of shredded Gouda or Havarti cheese (I use the chipotle or pepper varietals for extra flavor)
2 teaspoons of sauce from a can of chiles in adobo sauce (NOT the actual peppers, unless you're starting your new year with an involuntary cleanse)
¼ teaspoon of salt
¼ teaspoon of pepper (we love to use coarsely ground smoked pepper)
1 teaspoon of olive oil
½ a large onion, chopped
2-3 large garlic cloves, minced
2 cups chopped red pepper (about 1.5 peppers)
1 cup seeded and diced Roma tomatoes (about 2-3)
1 cup of greens (such as kale or dandelion greens) torn into bite-sized pieces
4 ears of corn, kernels cut from the cob
2 cans of black-eyed peas, drained and rinsed
½ cup chopped mild pickled jalapeno slices
½ cup of white or Vidalia onion
⅔ cup of chopped cilantro (optional)
8 ounces of bacon
Instructions
Generously grease a glass 8" x 11" (or 9" x 13") baking pan with butter.
Layer the bottom of the baking pan with the torn bread.
In a large mixing bowl, combine the eggs, milk, shredded cheese, adobo sauce, salt, and pepper and whisk until well blended.
In a large pan, sautee the onion in the olive oil over medium heat until softened and beginning to become translucent, about 1-2 minutes.
Add the garlic and stir constantly until fragrant, about 1 minute.
Then add your tomato and pepper and cook until soft, about 5 minutes.
If your veggies are particularly juicy, strain them in a kitchen sieve over a bowl.
Spoon the cooked vegetables over the layer of bread in the casserole evenly.
Ladle the egg mixture over the bread and vegetables evenly and let the dish rest in the refrigerator, covered, for several hours or overnight.
When you're ready to eat your casserole, pull it out of the refrigerator and let the dish warm while you pre-heat the oven to 375 degrees Fahrenheit and make the salsa.
To make the salsa, you can either use the corn raw or saute it over medium heat in olive oil for 5 minutes. This is a personal preference on how you prefer the taste and texture of corn.
Then, combine the corn, black-eyed peas, jalapenos, onion, and cilantro in a medium bowl until well combined.
Uncover the casserole and put it in the oven for 40-50 minutes or until the edges are crisp, the center isn't "jiggly", and a toothpick or knife inserted into the center comes out clean.
While the casserole cooks, cook your bacon until crispy and roughly chop. Set aside in a small bowl. Let the casserole cool and "set" for about 10 minutes before serving.
Serve squares of the casserole with a