5 Sustainable Habits That Worked For Us in 2022
Although it's taken us many years to slowly transition habits to more eco-friendly alternatives, I feel like we are getting in the groove. In many ways, sustainable living has become second nature.
My kids don't think twice about things like composting or getting things secondhand. My husband is better about using leftovers than I am, and the kids know the fridge is the first place we look to use up food we already have before shopping for new items.
Over the last year, we've implemented a few new habits that have worked for us (and maybe could work for you too). Here are a few eco-friendly living habits that we will carry into 2023.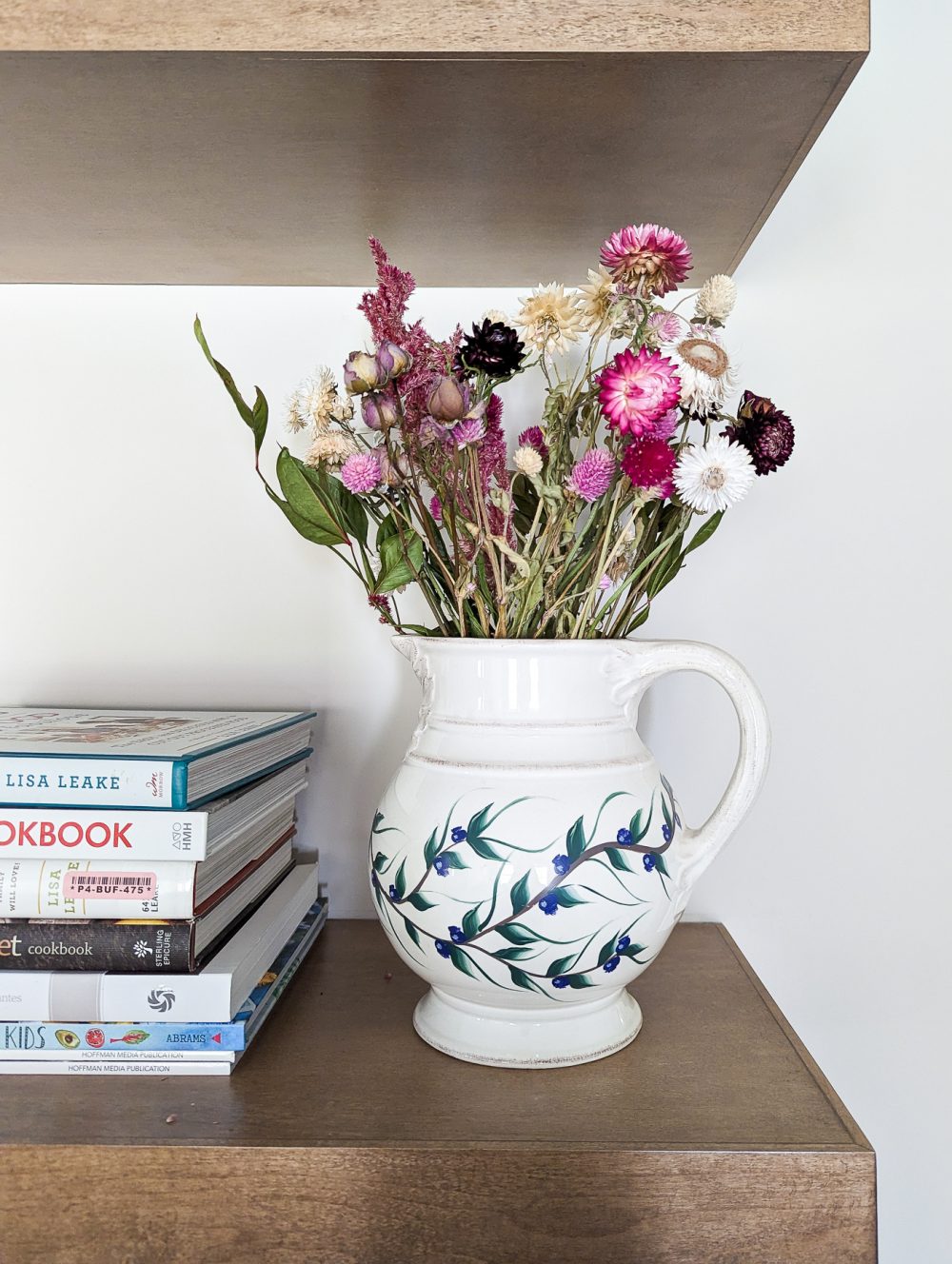 Quit Amazon Prime
After a year or so of slowly finding alternatives to Amazon, I canceled the automatic renewal for Amazon Prime. Not surprisingly, Amazon makes it a bit tedious to find the toggle to turn off automatic renewal. But we haven't missed Amazon Prime one bit.
We occasionally purchased items from Amazon for delivery and used Amazon Prime media, but we didn't use much else. We have plenty of other things to watch on TV (including Netflix and YouTube TV), and we found equivalent alternatives for getting everything else we needed during the year (with one exception).
In 2022, I made one purchase from Amazon. I needed brown paper grocery bags to use as liners for WasteWell buckets and couldn't find a small enough lot of them from another vendor. Because I am passing along the business to someone else, I didn't want to purchase more than I needed. Amazon was the only option I could find that met my needs (and the quality of the product I ended up getting was far inferior to the vendor I used previously but only sold in larger quantities – big surprise…).
Because the purchase was large enough, it qualified for Prime shipping. I didn't pay any shipping costs despite not having Amazon Prime. Even if I had paid to ship, it would have been less than the annual Prime membership, so I would still be ahead.
Not having Amazon Prime not only saves us money on the annual subscription fee we no longer pay but it also reduces impulsive purchases we otherwise would have made from Amazon. I know canceling the subscription reduced impulse purchases because it's changed my purchasing behavior on several occasions. I've thought to buy something from Amazon and then ended up getting it for free in our Buy Nothing group or bought it secondhand on Facebook Marketplace for less than the Amazon price.
If you're ready to save money and support businesses that are better for the planet, consider canceling renewal on your Amazon Prime subscription. You'll probably save quite a bit of money not buying things impulsively because it's not "too easy" to "Buy Now." You'll also likely spend more time finding the things you need in your own community.
Shop Secondhand First
This is admittedly not a new thing we just started, but we've gotten much more consistent about shopping for things secondhand before trying to buy them new. When we need new things, I often start searching at thrift stores or on Facebook Marketplace (and when it makes sense, I may request it in our Buy Nothing group).
For clothes, I always start at online resale sites like thredUP or Kidizen. I haven't spent a ton of time on Poshmark yet, but maybe that will be my next step to build on this habit in 2023. I know friends who really like Poshmark and have had great success finding pieces on the site.
While I've long shopped for clothes secondhand, this year I've gotten much better at shopping secondhand for things like home decor, storage solutions, gifts, and furniture. Clothes felt like an easy place to start, and we leveled up our secondhand shopping skills in 2022.
Composting Pick Up and Drop Off
After composting at home in our own bin for several years (and then starting my own curbside compost company), I started including more pick up and drop off of compost in my composting routine. A few people drop off compost in our ShareWaste compost bin, and we even dropped our scraps at a community compost site we found on ShareWaste while we were on vacation over the summer.
I've also been using curbside compost pick-up services more in 2022 so we can compost things like dairy, meat, and bioplastics that don't really break down in our backyard compost well. I keep many of the produce scraps in our own bin, especially during the summer when they break down more quickly. But the curbside pick-up services help keep even more food waste out of our trash (and is a composting shortcut when I don't feel like managing the compost bin in the winter).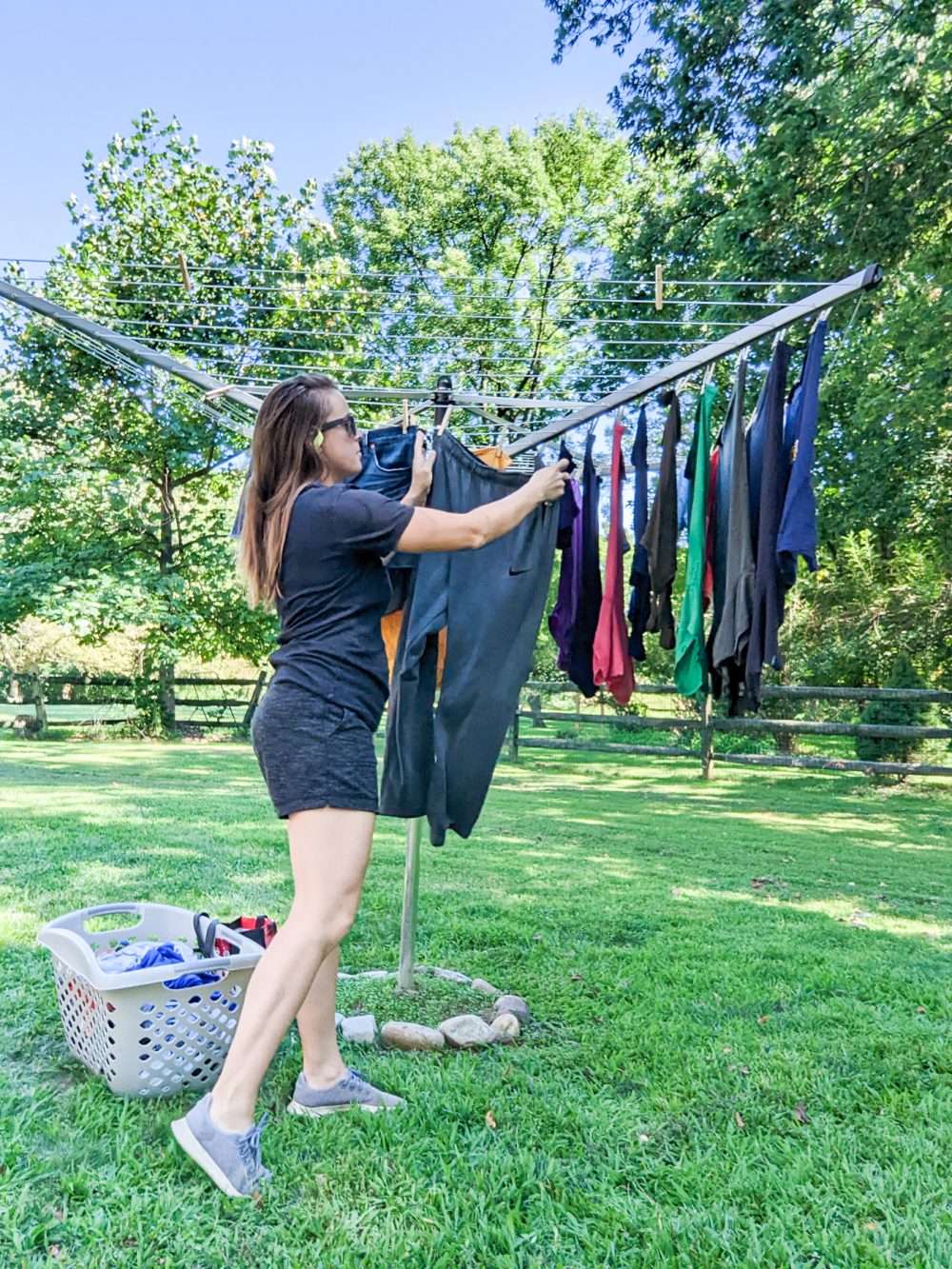 Line Drying Our Clothes
I contemplated buying a rotary clothesline for a long time (well over a year). I saw so many friends buy one but wondered if I would actually use it myself. It turns out that I really love it! Not only does it really speed up the laundry cycle (especially in the summer), but I just enjoy the process.
With each load of clothes, I pop outside and spend 10-15 minutes in the quiet of my yard. My boys aren't the least bit interested in helping (unless I ask them to – and sometimes bribe them). But I don't really mind because it's a nice, quiet break.
Every time I hang clothes to dry, I think about all the moms hiding out in bathrooms to get a few minutes of peace and quiet and appreciate that hanging clothes outside is another way to get those moments of alone time in a busy day of life.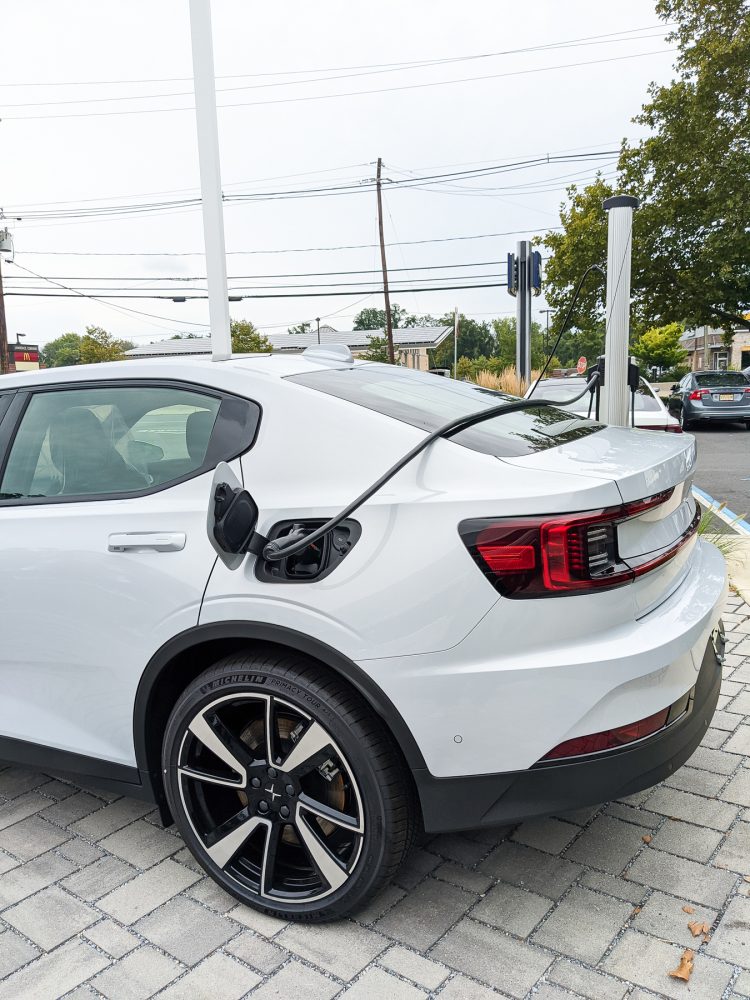 Using Time of Use Electricity
When we got our electric vehicle in the spring, we switched to time-of-use electricity pricing from our local utility. Instead of paying a flat rate for power any time of the day, we pay varying rates for different parts of the day and days of the week. Essentially, we pay a premium from 2-6 pm Monday through Friday when demand on the electricity grid is the highest. We pay less than the average rate at all other times of the day and week.
Not only does this lower our overall electricity cost (because we have the flexibility to avoid using most of our appliances from 2-6 pm during the week), but it also helps normalize the demand on the electricity grid. I'll share more details in an upcoming post about time-of-use electricity pricing, but normalizing the demand on the grid helps reduce the use of "peaker" power plants (which are more expensive and tend to use dirtier types of energy). Time of use electricity pricing is good for our budget and good for the planet.
Do you have any eco-friendly living habits that worked well for you in 2022? Tell us about them!
About The Author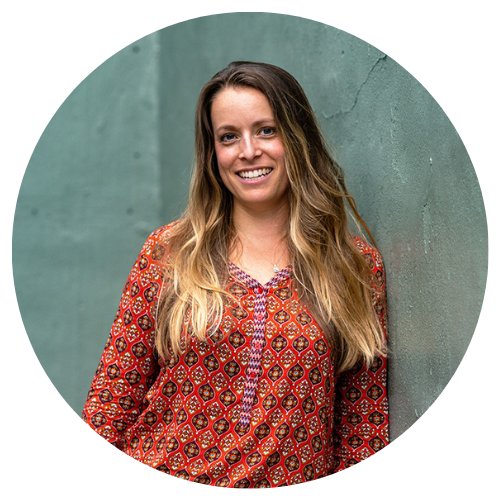 Jen Panaro
Jen Panaro, founder and editor-in-chief of Honestly Modern, is a self-proclaimed composting nerd and an advocate for sustainable living for modern families. In her spare time, she's a serial library book borrower, a messy gardener, and a mom of two boys who spends a lot of time in hockey rinks and on baseball fields.
You can find more of her work at Raising Global Kidizens, an online space to help parents and caregivers raise the next generation of responsible global citizens.