10 Low-Waste Meal Ideas for your Wildgrain Box
Are you thinking about signing up for Wildgrain? Are you looking for low-waste meal ideas? We've put together 10 delicious meal ideas for your next Wildgrain box!
This post contains affiliate links.
Get $10 off your first order with code HONESTLY10
Is pasta your love language? Is a snack of cheese and toast your favorite way to treat yourself? Would you rather receive flour than flowers? Have you ever gasped in horror at the idea of giving up carbs?
If you answered yes to any of the above: 1) We're going to be friends, and 2) receiving a box from Wildgrain is better than Christmas morning.
Each consciously packaged box from Wildgrain is chock full of tasty sourdough bread, pasta, and artisan pastries, that are good for you and also give back.
Did you know the fermentation process in sourdough bread has several health benefits? The fermentation process digests the majority of the gluten in the bread, contains lactic acid (which helps your body absorb nutrients), and contains gut-healthy pre-biotics.
And, on a feel-good note, Wildgrain supports the best small bakeries in the country and donates 6 meals to The Greater Boston Food Bank for each membership.
As with any subscription box, however, my concern is always the amount of trash it will generate through packaging, etc. I was thrilled to note the eco-friendly box, cardboard insulation, and reusable freezer packs. The dry ice did come in two plastic bags, but really, that's not bad compared to food items packed in styrofoam and layers of plastic both via delivery and the grocery store.
So, to help get you started on your Wildgrain low-waste journey, I'm sharing 10 low-waste, delicious meal ideas that you can make with your Wildgrain box!
Get $10 off your first order with code HONESTLY10
Notes: To skip the produce stickers and minimalize your produce packaging waste, shop at your local farmer's market or consider signing up for a CSA share.
If you're trying to avoid buying a million bottled seasonings and sauces, try selecting a high-quality and versatile salt and pepper. We're currently addicted to smoked salt and pepper; they add so much depth to every meal, and the tins are recyclable and reusable.
10 Easy Low-Waste Meals to Make with Wildgrain Bread & Pasta
Apple, Egg, and Cheese Breakfast Sandwich
Real talk: I could eat this every morning for the rest of my life.
Cut two slices off your freshly baked loaf of Wildgrain bread (I used the seasonal cranberry pecan loaf), spread one piece with a piece of smooth and creamy cheese, and pop it back in the oven just until the cheese is melty. Then add mandolin-sliced MacIntosh apple for a tart crunch, and top the whole mess with a fried egg, some salt, and coarsely ground pepper.
Compost: The apple core and eggshell
Recycle: N/A
Trash: The produce sticker and the cellophane from the bread and cheese
Note: I got my cheese from the "bits bin" at our local grocery store, where they put the strangely portioned chunks of cheese at a discount versus discarding them.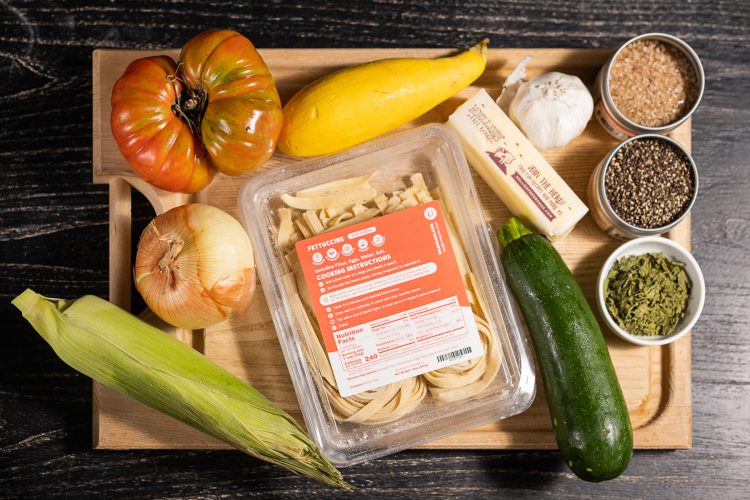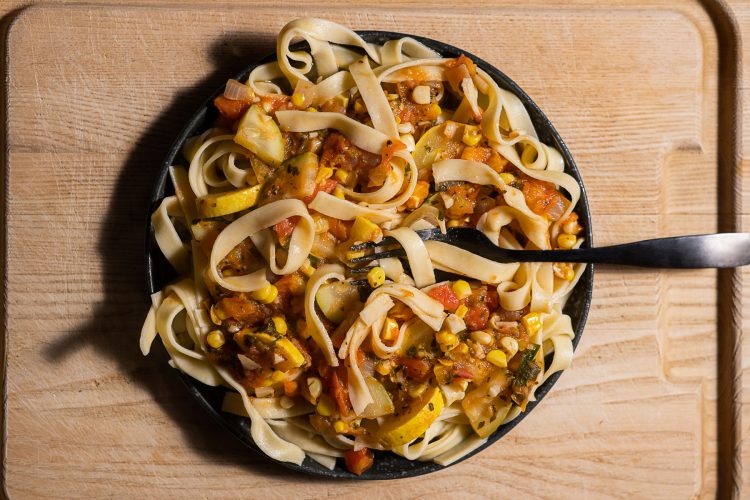 Fresh Tomato Pasta with Squash, Zucchini, and Smoked Black Pepper
Fresh tomato sauce is a go-to in our house. I like to pick juicier tomatoes, like heirlooms, that will release their sugars in the sauce. Sautee some garlic and diced onion until soft, then add the tomatoes, some salt, and a healthy pinch of coarsely ground smoked black pepper.
Cook them down until the tomatoes release their juices (you can cover the pot for a looser sauce), and then throw in thin, quartered slices of summer squash and zucchini and fresh corn kernels until cooked through. Boil the Wildgrain pasta until al dente, strain, and then toss with the sauce. Bon appetit!
Compost: Vegetable trimmings and corn husks
Recycle: Wildgrain pasta container, the cardboard butter box, and salt and pepper tins (eventually)
Trash: Produce stickers and butter wrapper
Fancy French Toast
The quickest way to glow up your family's beloved brunch favorite? Use Wildgrain's artisan bread in your favorite french toast recipe! Because Wildgrain's bread has so much flavor, I skip the spices and vanilla altogether.
For a tasty and healthy topping, try cooking down some blackberries or raspberries over medium heat.
Compost: Eggshells
Recycle: Milk jug (eventually), egg carton (eventually)
Trash: Plastic bread wrapper
Note: U-pick produce is a zero waster's best friend, as I wrote about recently, and this is an excellent use for that Tupperware of frozen summer berries kicking around in your freezer.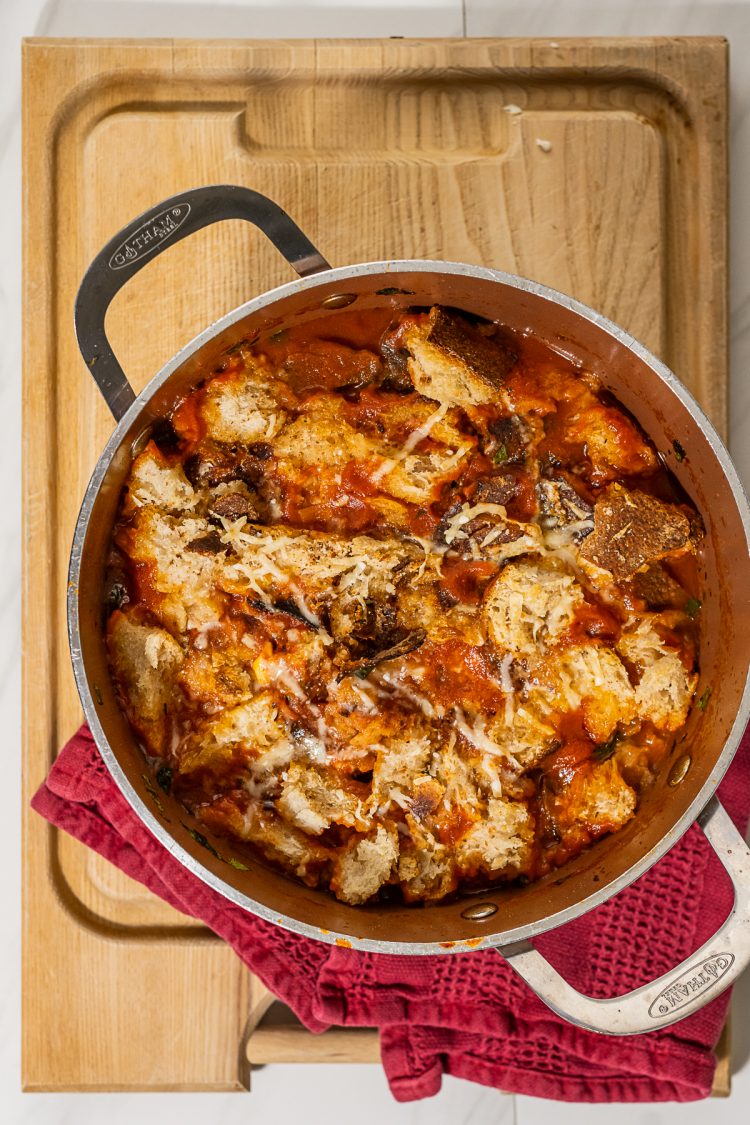 Ribolita, or Italian Bread Soup
On a chilly winter day, nothing is more satisfying than a hot bowl of hearty soup. Ribolita is a classic Italian soup that features a tomato base, veggies, and yummy chunks of bread cooked right into the soup. Top it with croutons and grated parmesan, and watch everyone return for seconds.
This Bon Appetit Simple Ribolita recipe was a hit in our home, and it was all the more delicious for using the loaf of rosemary garlic sourdough from Wildgrain. Throw in whatever vegetables you have on hand, and make sure to include that parmesan rind. Including it in the broth is a great use for potential food waste, and it adds a serious punch of flavor.
Compost: Vegetable trimmings and discarded parmesan rind
Recycle: Tomato can, plastic bread bag, and salt and pepper tins (eventually), olive oil container (eventually), Better Than Bouillon jar (eventually)
Trash: Produce stickers, vegetable tie/rubber band, bread bag clip, cheese cellophane (eventually)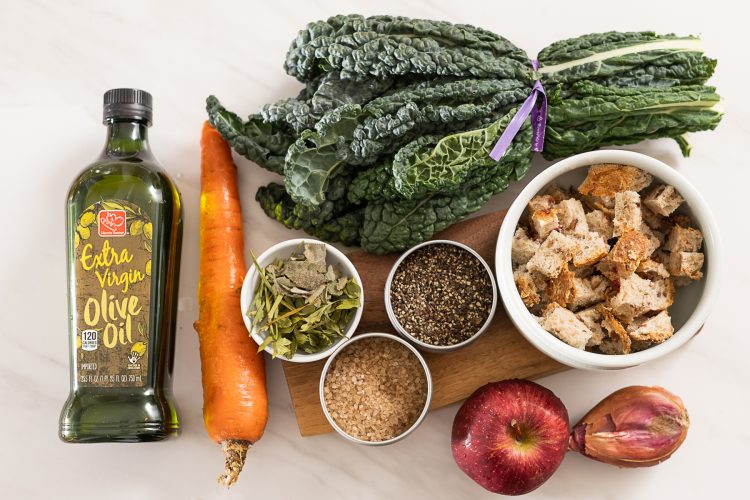 Winter Green Salad with Artisan Bread Croutons
Jazz up that obligatory lunch salad with quick and easy artisan bread croutons from your Wildgrain box. Kale is an easy go-to for low-waste meals because it comes bundled with a small wire, and it's delicious when topped with sauteed shallots, grated carrot, a diced apple… and those delicious Wildgrain croutons!
To capitalize on the best flavors of the season, I roughly cubed the leftover end of my cranberry pecan loaf, tossed it with olive oil and dried herbs from our garden, and some salt and pepper. These croutons were so good, I caught my husband sneaking into the fridge to add more to his salad.
Is this your first time making croutons? You're in good company: it was mine too. I found this homemade crouton recipe super helpful and easy to adapt to my low-waste goals.
Compost: Vegetable trimmings
Recycle: Salt and pepper tins (eventually), olive oil and vinegar containers (eventually)
Trash: Produce stickers, vegetable tie/rubber band, cellophane bread wrapper (though it was thrown out with a previous meal)
Baked Avocado Fries
If you've got a few slices of Wildgrain bread kicking around (I used the end of a loaf of garlic and rosemary sourdough), throw them in the oven until toasty and turn them into breadcrumbs!
Baked avocado fries are TO-DIE-FOR decadent, and they only use a few ingredients. I adapted this baked avocado fries recipe, using fresh Wildgrain breadcrumbs, fresh garlic (add it to the whisked egg), and dried garden herbs in place of the chipotle seasoning.
Compost: Eggshell, avocado pit and rind
Recycle: Salt and pepper tins (eventually), oil containers (eventually)
Trash: Produce sticker
Note: This a gentle reminder that it's best to eat seasonally whenever possible.
Pasta with Caramelized Onions and Bitter Greens
Simple ingredients shine in this satisfying pasta dish. This one is a staple in my home, and we have Martha Stewart to thank for it. Her recipe is pretty spot-on, but I usually opt for Vidalia onions for their natural sweetness and leave out the added sugar. I used dandelion greens in the dish pictured, and they were scrumptious.
Compost: Vegetable trimmings
Recycle: Salt and pepper tins (eventually), oil containers (eventually), Better Than Bouillon jar (eventually), Wildgrain pasta box
Trash: Produce stickers, butter wrapper
Gourmet Stuffing
When it comes to holiday classics, it's always worth the extra time and effort to make each dish from scratch. As an aforementioned carb connoisseur, stuffing is something I look forward to all year round.
Substitute torn chunks of freshly baked Wildgrain sourdough for basic white bread in your nostalgic stuffing recipe, and you'll never go back. You'll love the complementary flavors and richness of the bread. We used the Wildgrain cranberry pecan sourdough, and it was all our favorite Thanksgiving flavors in one simple dish.
Compost: Vegetable trimmings
Recycle: Salt and pepper tins (eventually), Better Than Bouillon jar (eventually), cardboard butter box
Trash: Produce stickers, butter wrapper, cellophane bread wrapper
Grown-up Avocado Toast
As a millennial, I couldn't not include avocado toast on my list of low-waste meal ideas. The bite of the Wildgrain sourdough really complements the creaminess of the avocado, and there are about a million tasty variations on this low-waste dish.
Slice your bread, top with smashed, ripe avocado, and then add your toppings. I love fresh tomato, sliced shallot or onion, a sprinkle of finely diced jalapeno for spice and crunch, and some red bell pepper, but you can easily just do fresh herbs from the garden and salt and pepper.
Compost: Vegetable trimmings
Recycle: Salt and pepper tins (eventually), plastic bread bag
Trash: Produce sticker
Vegetarian Carbonara Pasta
Few things in this world are as satisfying as a big bowl of carbonara, especially when you manage to squeeze an extra serving of vegetables in there. This vegetarian take on a classic carbonara is so tasty, no one will miss the meat!
Try it with farmer's market mushrooms, asparagus, kale, or zucchini – there are a million ways to serve this yummy bowl of Wildgrain pasta.
Compost: Vegetable trimmings
Recycle: Salt and pepper tins (eventually), plastic pasta box
Trash: Rubber bands, vegetable ties, cheese wrapper, butter wrapper
What are your favorite low-waste meals? What are your go-to favorites to make with your Wildgrain box? Leave them in the comments below! And don't forget -> Get $10 off your first order with code HONESTLY10
All photos via Reese Moore Photography
If you enjoyed 10 Low-Waste Meal Ideas for your Wildgrain Box, you may enjoy:
Beginner's Guide to Kernza® Perennial Grain For The Planet
14 Ways to Reduce Your Environmental Impact Without Giving Up Meat or Doing Meatless Monday
6 Easy + Delicious Chickpea Recipes For Plant-Based Beginners
About the Author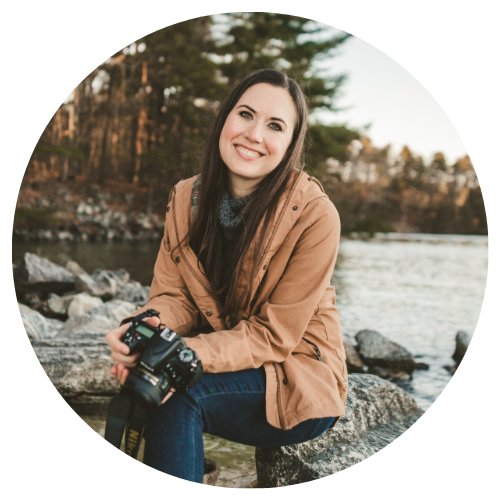 Reese Moore
Reese Moore is a photographer, content creator, and pickle connoisseur who divides time between Charleston and Lake Lure. When she's not behind the lens shooting stunning images for Reese Moore Photography, Reese loves to spend her time wandering the woods with her dog Gatsby or adventuring with her husband Logan in their Airstream Basecamp.