6 Easy + Delicious Chickpea Recipes For Plant-Based Beginners
Looking for more easy and delicious plant-based recipes that the whole family will love? Check out these six yummy recipes that incorporate chickpeas (also known as garbanzo beans) for filling and protein-rich meals. They're easy enough for weeknight menus, don't require fancy ingredients, are great for those just trying out plant-based diets, and tasty enough for the whole family.
Meal planning is not a fun activity for me. It's at the bottom of the list alongside putting laundry away and scrubbing toilets. I have always enjoyed making meals on a whim. But as a mother of two young children and working full time, meal planning is the only way we can alleviate some of the common day stressors of everyday life.
When planning plant-based meals, it is important to ensure we are getting the right nutrition, particularly protein. One of the great things about incorporating more plant-based dishes is the conscious effort to eat more nutritious food. Legumes are a huge staple to a plant-based kitchen. They add great nutrition, do not require a lot of time to cook, and are very versatile.
Chickpeas (also called garbanzo beans) are high in fibre, a great source of plant protein along with other nutrients like iron, magnesium, folate, and more. The bottom line: it's a great addition to a healthy and nutritious meal!
As a plant-based foodie, I always find triumph in discovering a new way to use a legume in my cooking, especially when it's toddler approved. Understanding what spices and flavours to combine them with can actually make the jump to plant-based eating a lot easier.
Sometimes it can feel overwhelming when you are excited to try a vegan or plant-based recipe and it requires a whole bunch of ingredients that you may not necessarily have in your pantry. I also don't enjoy having to buy a whole package of one ingredient only to use it once or twice; it can get wasteful.
Plant-based eating does not require a complete overhaul of your kitchen cupboards. Instead, use the spices you have in your home to get started. Once you become more comfortable and are ready to branch off onto other dishes, then you can make decisions about new ingredients to incorporate.
If you are not comfortable or haven't had much experience cooking with legumes, start with one, try out a few dishes, and move on from there. Today, we're diving into easy and delicious ways to incorporate chickpeas into everyday meals for families. Chickpeas are easy to find in most grocery stores, and the recipes below include spices and ingredients you probably already have in your pantry.
6 Easy + Delicious Chickpea Recipes
Here are some tried and true recipes that use the beloved chickpea in a variety of ways. I will also be demonstrating how each recipe can be used in different ways, making them stretch throughout the week.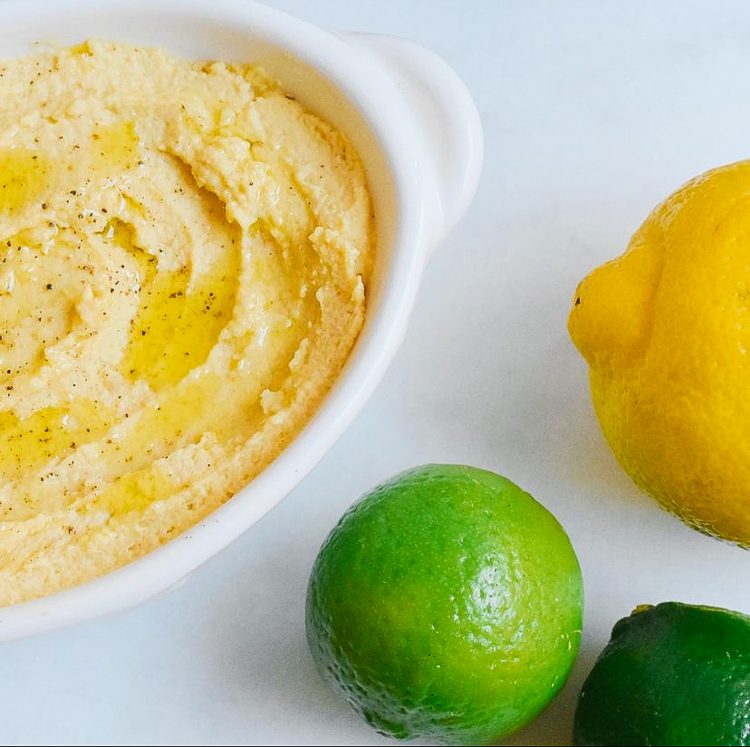 Lemon-Lime Hummus (without Tahini)
This lemon-lime hummus recipe is my go-to side dish, especially since I don't always have tahini in my pantry. The beauty of hummus is that it can be used in a variety of ways. Here are just a few options:
Use as a classic dip for veggies
Spread it on a celery stick and sprinkle a little sesame or hemp seed, such a great snack!
Spread it to on pitas, sandwiches, and wraps. A fantastic swap rather than using mayo.
Add it to cooked pasta as a creamy sauce
Use in pasta salads (instead of mayonnaise)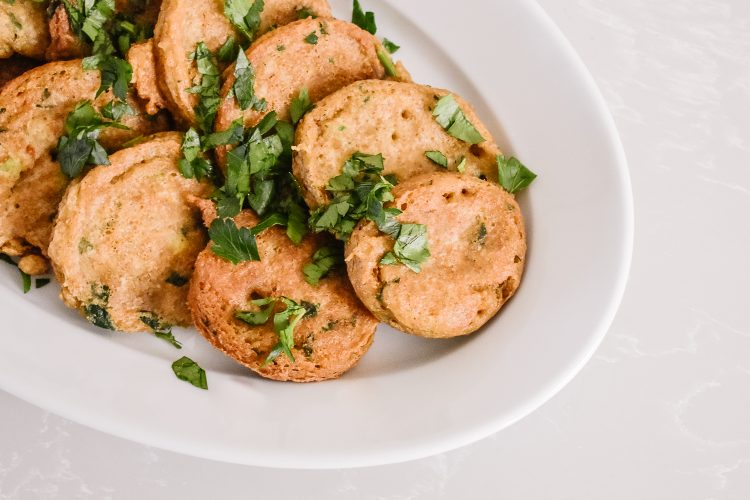 Chickpea Fritters
This fun chickpea fritters recipe is delicious, and even the kids enjoy eating it. We love adding a yummy tzatziki dip along with it, and it is a hit! Accompany these chickpea fritters with a nice green or tomato salad for a complete meal.
One of the great things about chickpea fritters is that you can keep them simple or you can jazz them up with some added ingredients. Here are a few ingredients you can add to your fritters:
Corn
Green onions or scallions
Herbs like cilantro, parsley, or thyme.
Red pepper
Zucchini
Carrot
The possibilities are endless! Add these fritters to a wrap, and you've got a great plant-based protein alternative in your meal.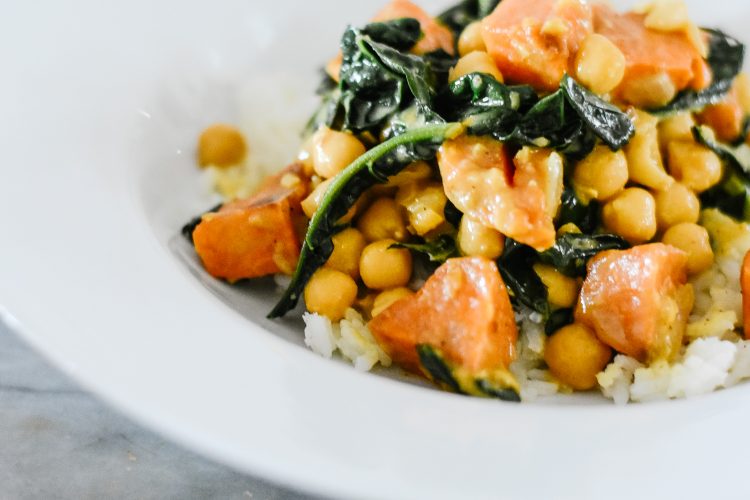 Coconut Chickpea Lime Stew
This coconut chickpea lime stew is probably one of my favourite meals to make. And I'll let you in on a little secret… I am not a huge fan of coconut! I do not enjoy coconut flakes and refuse to bake with them. However, after trying a coconut lime rice dish with a friend, coconut milk became a staple in our pantry.
This dish comes together quickly and you can use any greens you may have on hand. Our family enjoys using jasmine rice, but you can use any rice or even quinoa if you like.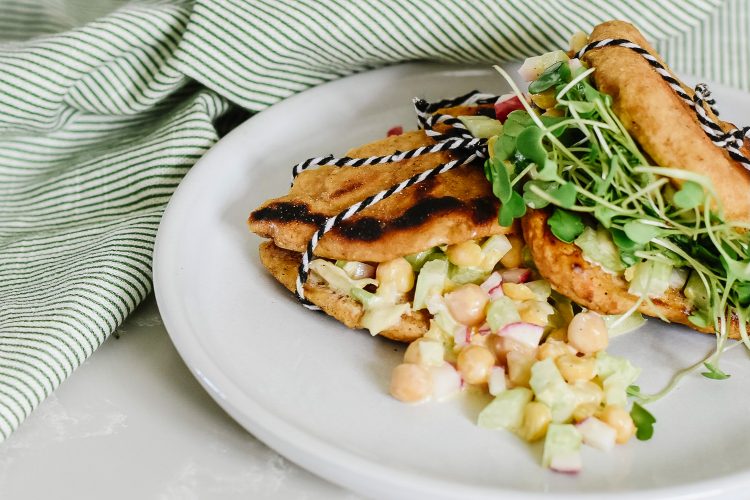 Vegan Chickpea Salad Sandwich
If you enjoy tuna salad or an egg salad, this chickpea salad sandwich will definitely hit the spot. Growing up, tuna salad sandwiches were one of my quick go-to lunch ideas. I added chopped tomatoes, celery, and mayo on a freshly baked bun, and I was in heaven. Nowadays, a can of cooked chickpeas has replaced our canned tuna, and the chickpea salad sandwiches are my jam.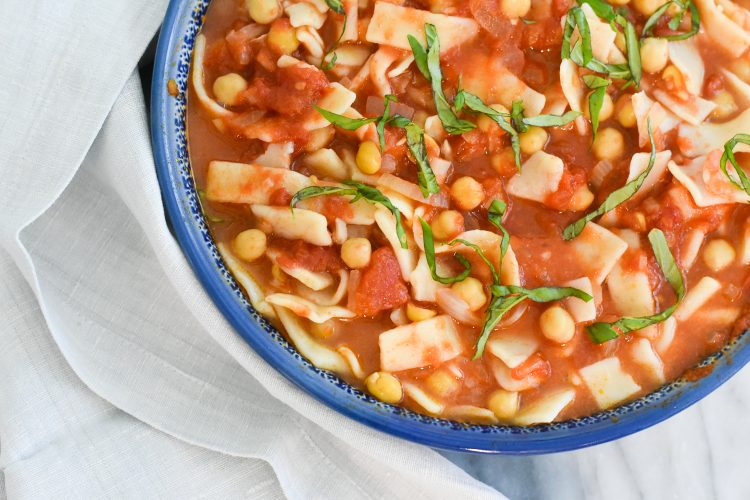 Pasta and Chickpeas in Tomato Broth (Pasta e Ceci)
This is the epitome of peasant cooking in the heart of Italy, particularly where my family resides, in the valleys of Abruzzo. Chickpeas were a common legume grown in the countryside of Italy, and farmers relied on their nourishment after a hard day's work.
Meat was a luxury for farmers. They depended on legumes as an inexpensive yet nutritious staple in their meals. Accompanied with freshly made hand-cut pasta and a tomato sauce combined with pasta water, this dish is nothing short of pure sophistication and flavour.
INGREDIENTS:
1 can of chickpeas or approx. 2 cups of precooked chickpeas
500 ml (16 oz) of tomato sauce (optional: combine crushed tomatoes into sauce for added texture and flavour)
1 small white onion, diced
2 garlic cloves
3 tbsp olive oil
250 g (about 1 cup) Ditali pasta (any short pasta works, about half a pkg for a family of 4)
1 tbsp salt for water (plus a little extra for sauce if necessary)
Optional: pancetta, thinly sliced.
Directions:
In a saucepan, add oil, garlic and onions. Let it slowly sauté until the onions begin to turn translucent.
Add the sauce and let it simmer, lid on for about 15-20 minutes. You may season it with some salt and pepper, if it is not already seasoned.
In a pot, boil water. Add 1 tbsp. salt to flavour the water and add the pasta. Cook the pasta based on the directions.
In a serving dish, add the pasta (save the pasta water), chickpeas and sauce. Add a few ladles of the pasta water; this will add more flavour and create a more stew like dish.
Let the pasta rest for a few minutes, allowing the pasta to absorb some of the pasta water, sprinkle some parmigiano cheese and serve.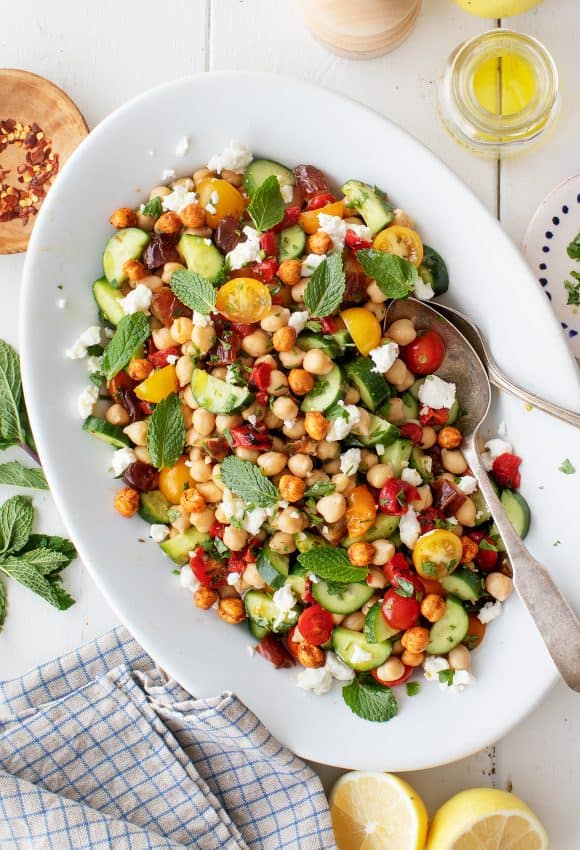 Mediterranean Chickpea Salad
This simple and fresh Mediterranean chickpea salad combines garbanzo beans, cucumbers, tomatoes, and goat cheese with delicious flavors for a salad that's great for a side or hearty enough for a full meal.
I hope you enjoy these delicious recipes and are inspired to utilize chickpeas in your cooking more often.
If You Like Chickpea Recipes, You Might Also Like
How To Make A Whimsical, Garden-inspired Vegetarian Charcuterie Board in Less than 45 Minutes
How To To Build Your Own Plant-Based Charcuterie Boards
Italian-Inspired Eggplant Hummus
About The Author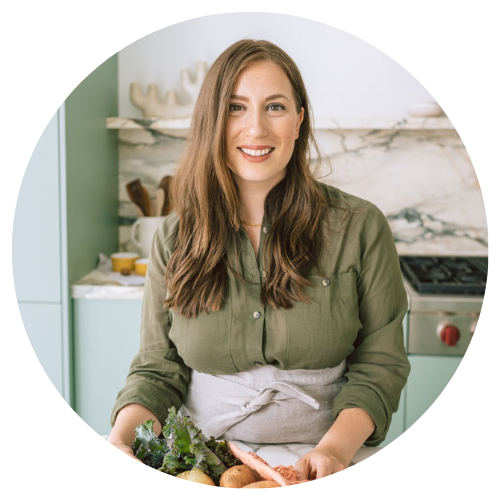 Antonietta Ferretti
Antonietta Ferretti is an elementary school teacher, mother of two, and a food waste advocate living in Toronto, Ontario. Despite living in the city, Antonietta continues to follow the philosophy of her parents' upbringing in the countryside in Italy.
Her passion lies in sharing more plant-based eating habits while being conscious of our relationship with food and our environment. You can find more of her recipes at Simply Pure Simply Fresh.