An Honest + Unpaid Review of the Gabb Watch
Have you heard of the Gabb Watch for kids? We've got one for our boys, and it's been a great safe alternative to more traditional smartphones and devices. Read on for a full review of the Gabb Watch to find out if it's right for your family.
Use code HONESTLY for $25 off your purchase of a Gabb Watch or Gabb Phone.
This post contains affiliate links.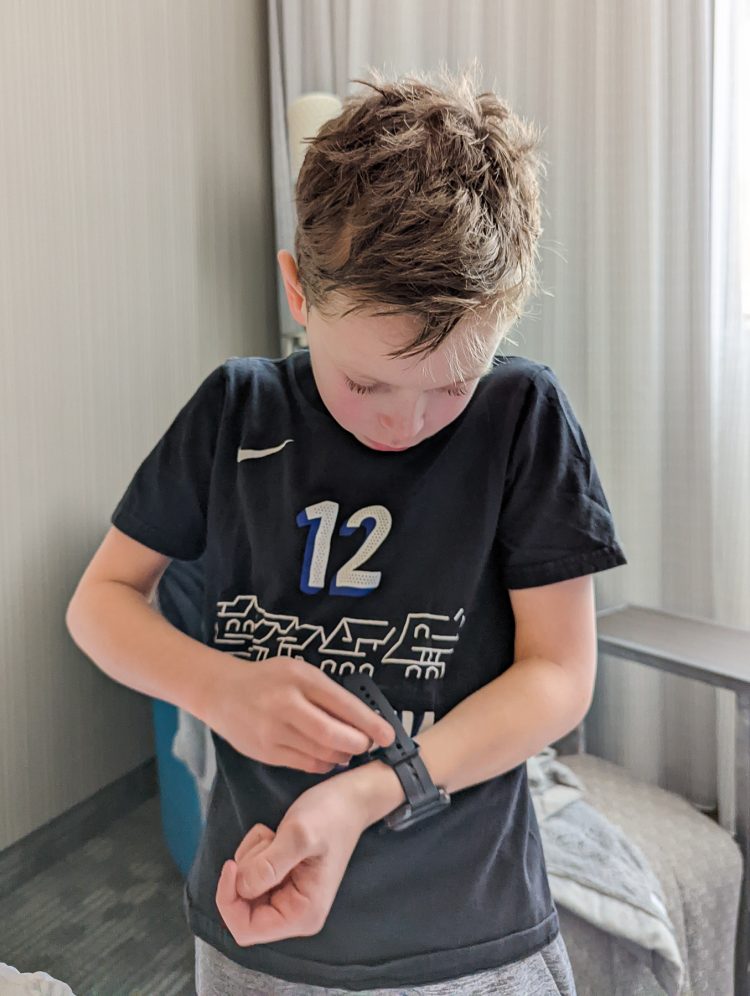 A few times each hockey season, we pack up our car with hockey gear and all the things to spend a weekend in a hotel room with a bunch of tweens and their parents. While hockey is the real highlight, hanging out at the hotel is nearly as fun, especially for the kids.
At nine years old, our hockey-loving son is old enough and responsible enough to hang out in his friends' rooms or public spaces within the hotel without us. On several occasions, we found ourselves walking up and down hotel hallways looking for him, hoping we weren't crossing paths on different floors.
Reluctant to get him a cell phone just yet, we decided to get him a Gabb Watch this year. It's been a perfect compromise to give him some freedom to grow while also staying connected to us.
If you have a child or teen and you're looking for an option to stay connected with them but also let them explore a bit on their own, the Gabb Watch might be just what you're looking for.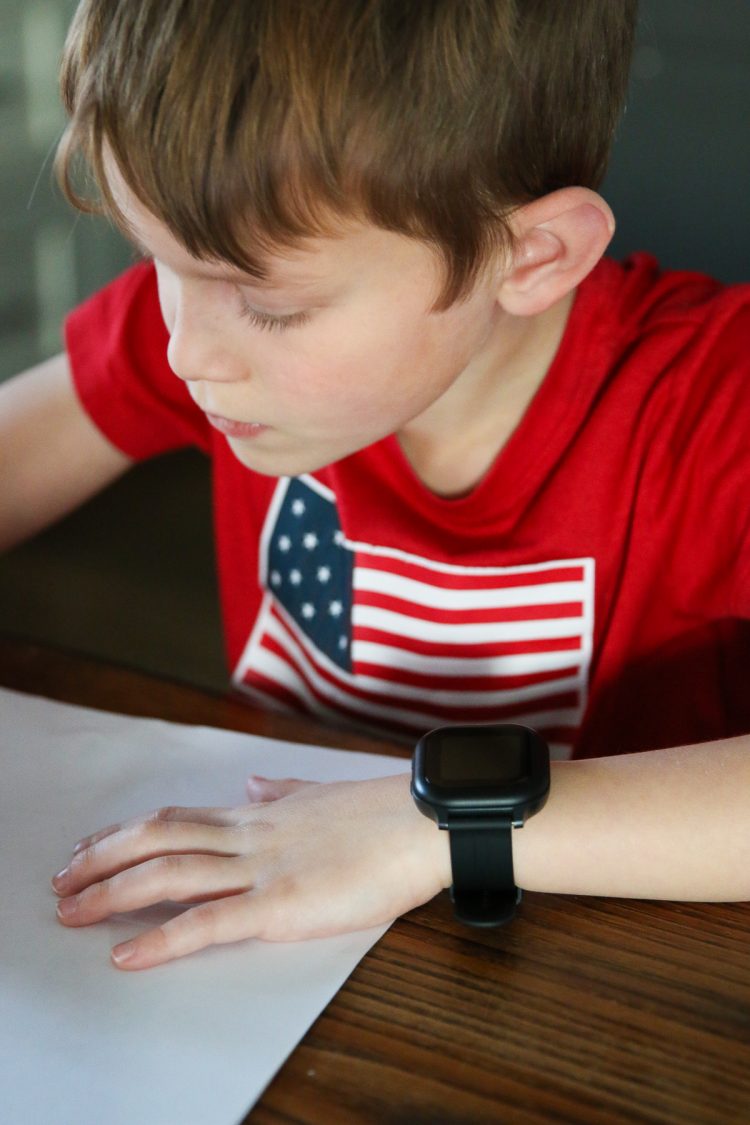 What is the Gabb Watch?
The Gabb Watch is a stand-alone smartwatch that is designed with kids and safety in mind. It intentionally has limited features relative to most smartwatches and smartphones to prioritize the features that kids need to communicate with parents without any other distracting features common on smart devices.
What makes the Gabb Watch different from other smartwatches?
The Gabb Watch is simple and doesn't have a lot of features, which is precisely why I like it and what makes it unique relative to other smartwatches. It has just the features my boys need to communicate with me, their dad, and a few other close family or friends for safety. It has a GPS tracking system so I can see where they are. I especially love that I get notifications when it is turned on and off, so I know if they turn it off when they are supposed to be wearing it.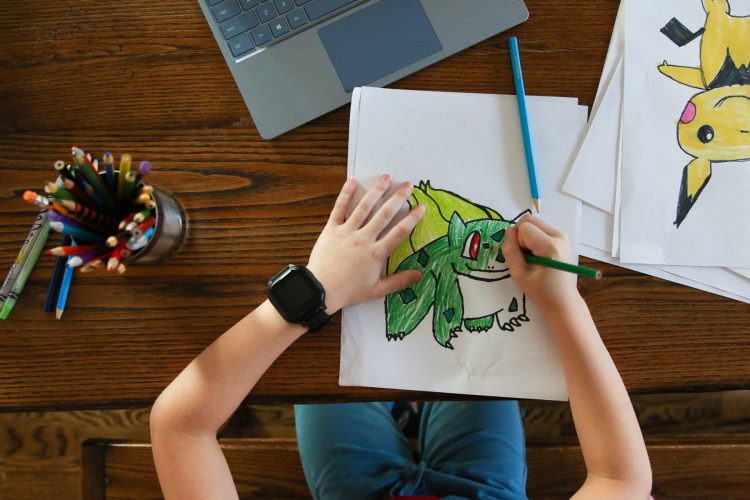 Why My Boys Love the Gabb Watch
My boys absolutely love this thing! My older son, who is nine, has been asking for a phone for a couple of years. Despite hard nos time and again, he persisted, though to no avail. With the Gabb Watch, he gets the freedom that the phone would otherwise offer him.
The Gabb Watch is sleek and looks just like other fancy smartwatches. It's not clunky or childish-looking, so it feels cool and socially relevant.
How does the Gabb Wireless watch work?
In conjunction with purchasing a Gabb Watch, you sign up for a monthly service plan like a cell phone. It's a contract directly with Gabb Wireless, which uses the Verizon Wireless network.
How much does the Gabb Watch cost?
At the time of this post, the watch is $149.99 and a 2-year service contract costs $9.99 per month.
How does the Gabb Watch connect with other devices?
Each device, like a smartphone or tablet, must be connected to the Gabb Watch via the Gabb Wireless app. The Gabb Watch has its own number, but it does not accept calls or make calls to other numbers until the connection is set up through the app. It took us about five minutes to set up the connection between my phone and the Gabb Watch and was pretty straightforward.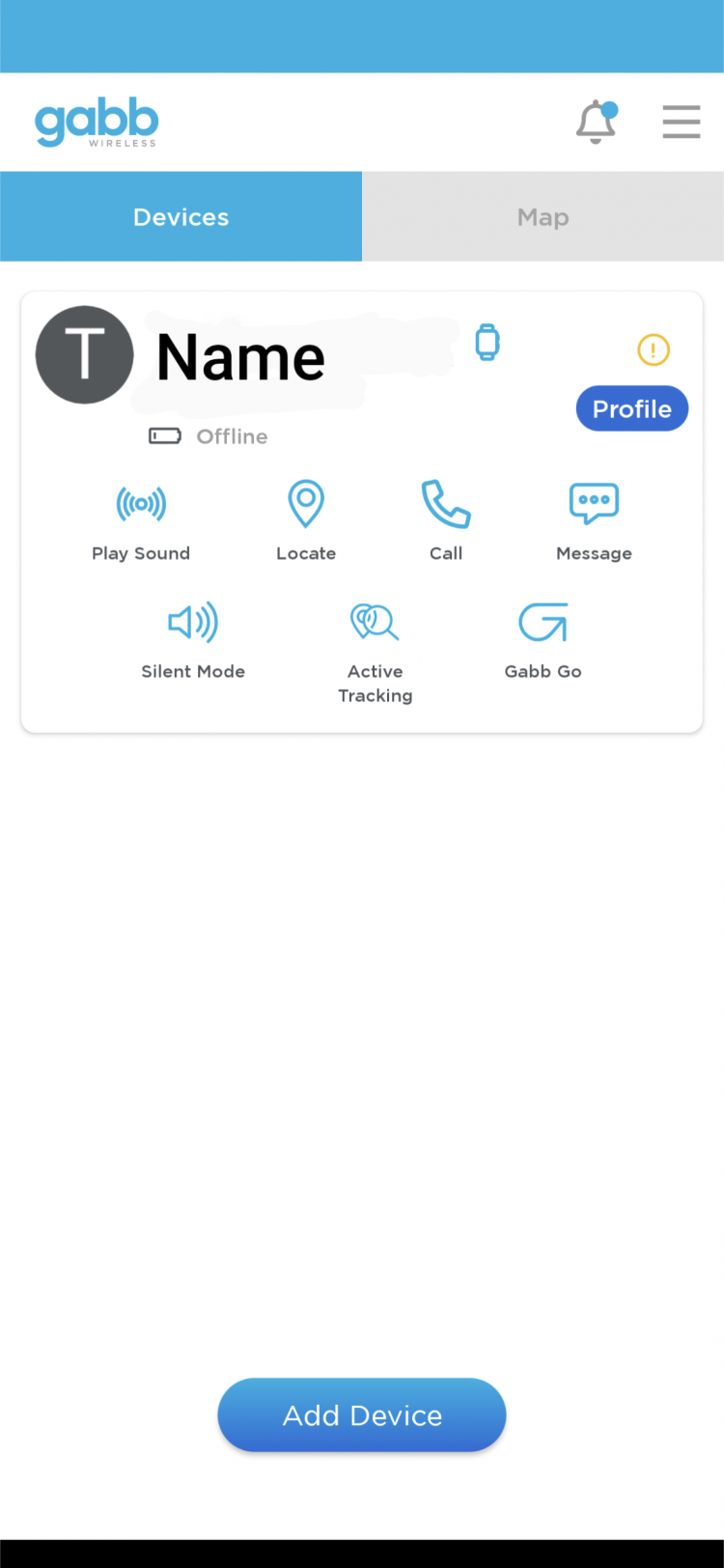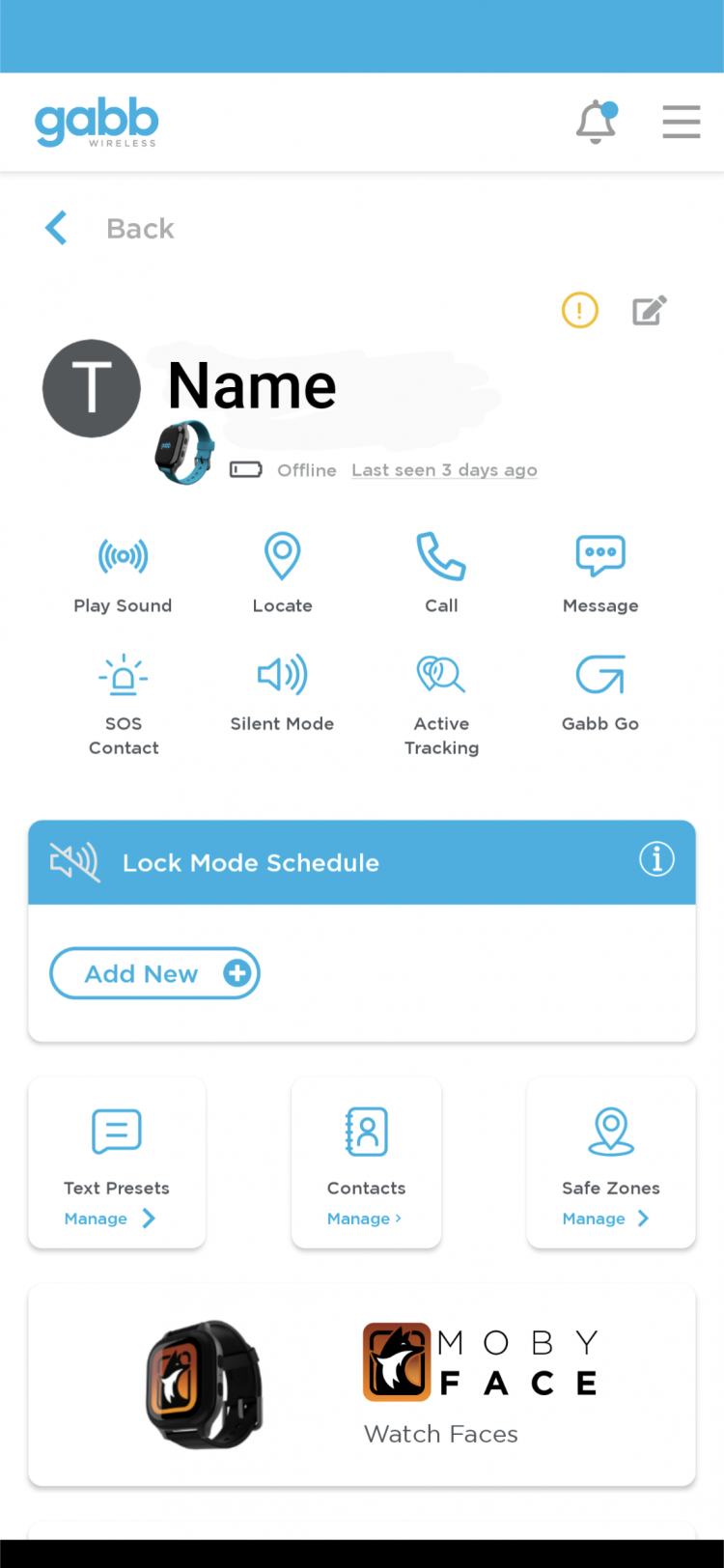 What functions does the Gabb Watch offer?
Send + Receive Text + Voice Messages | The Gabb Watch can send and receive text messages and voice messages but only to and from a pre-approved set of up to ten contacts. The Watch can receive any text message from me, but can only send one of ten pre-programmed texts out to contacts.
The watch comes with ten pre-set text message options, but I can change them using the app on my smartphone. If the boys want to send a message other than the pre-set texts, they can send a voice message that shows up in my texts messages as an audible recording of their voice.
Make + Receive Phone Calls | The Gabb Watch can also make and receive phone calls to and from the ten approved devices. For voice calls, the watch works as a call on speakerphone (similar to other smartwatches). It connects like a regular call with my smartphone through the Gabb Wireless app, so I can answer and talk to them like a standard phone call.
Our boys' watch has its own phone number which makes it easy for me to contact them. Their watch is a saved contact on my phone, so it's easy to call or text just like I do with other contacts.
GPS tracking + Safe Zones | The watch has GPS tracking, so I can find them when they are out and about. I can also set Safe Zones from the app on my phone that notifies me if they leave a certain area. To set the safe zone, I simply select an address and then create a radius around that address. I can set multiple safe zones and enable or disable them as needed.
Stopwatch + Timer + Alarm | As you'd expect, the watch has a time-telling function on the face. It also has a stopwatch, timer, and alarm functions. My boys really like the stopwatch and timer functions. We also use the alarm function to help them remember when it's time to come back home or back to the hotel room.
Lock Mode | The watch has a Lock function that allows parents to control when the child can use it. You can set "Lock Mode" scheduling as well, so you don't have to manually turn Lock Mode on and off. However, our boys don't wear it to school or have it on when they don't need it, so we haven't used that functionality yet.
Durability | So far, it's been really durable for us. It's resistant against sweat, dirt, and sand, which is helpful for our rowdy boys. They do have a screen protector but we didn't purchase it.
Colorful Bands | The standard Gabb Watch comes with a black face and a black band. If you'd like, you can purchase separate colored bands to make it more fun. They also recently released Star Wars-themed bands if your kids are into it. We just use the black bands, and it's been great.
What age range is the Gabb Watch good for?
It probably depends on the maturity level of your child. Our boys are 7 and 9, and we let both of them use it. If your kids are old enough to play in the neighborhood with friends on their own, this will make a great tool for them. As far as maximum age, there's nothing about it that looks childish, so I think it works for all ages that are old enough to take care of it properly.
How often do our boys wear the Gabb Watch?
Although we bought it initially for hockey tournaments, we knew both our boys could use it when playing with friends in the neighborhood, between games in their own sports tournaments, while skiing with friends, and lots of other places where we're comfortable letting them explore a bit without a full-time watchful eye on them. They currently use the watch a few times a month, depending on how many social activities they have.
Did you give the Gabb Watch as a gift?
While everyone can do what's best for their family, we treat the Gabb Wireless watch as a shared family tool and not a gift that belongs to anyone specifically. We did not give the watch as a gift but bought it before a hockey tournament and a skiing day with our boys.
For us, choosing not to buy the watch as a gift made it easier to maintain the expectation that it does not belong to any one person but is just a tool for our home and family. But this will certainly vary by family and circumstances.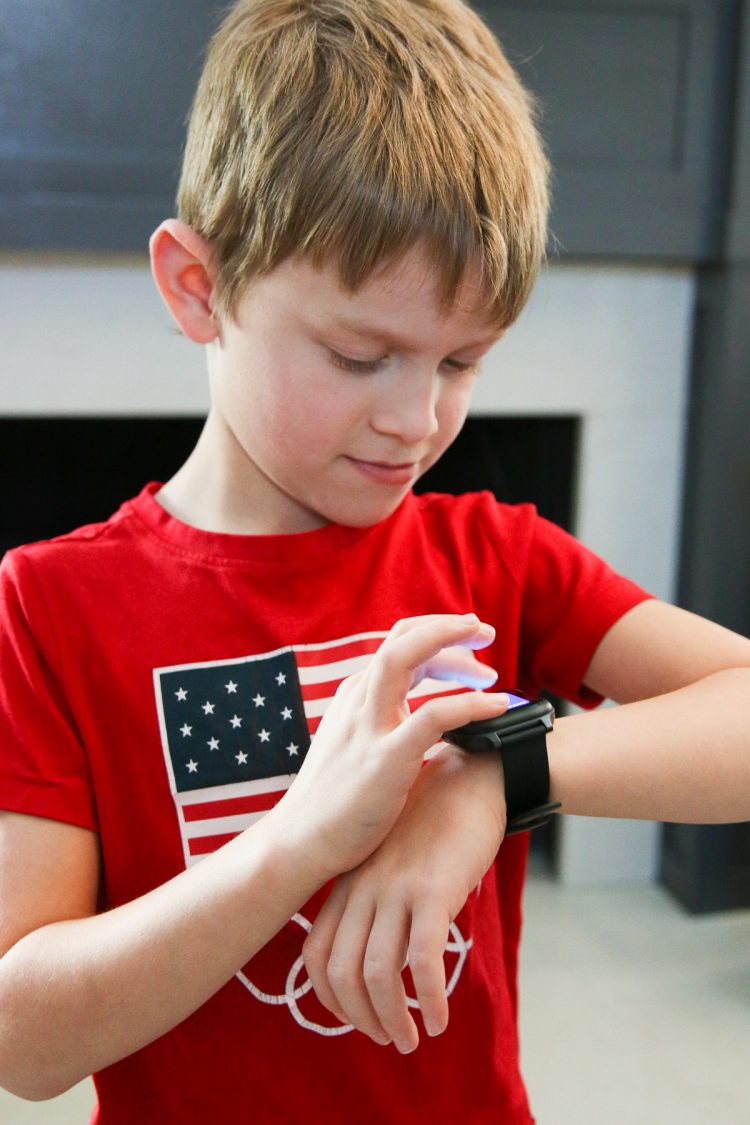 Why did you choose the Gabb Watch instead of the Gabb Phone?
Our boys only use the Gabb Watch when they are away from us and playing with friends. The watch is easy to put on their wrist and doesn't get in the way of playing sports and doing various activities. We didn't want them to have to either hold the phone (which seems especially annoying and distracting for their use cases) or set the phone down and be likely to lose or forget it.
How does the Gabb Watch charge?
The Gabb Watch comes with a charger that plugs into a standard outlet. The watch sits on the charger with four small pegs that connect to the charger. We haven't had any issues with the charger so far.
Final Verdict on the Gabb Watch
Overall, we've been really happy with the Gabb Watch. The boys share the device and use it only when they need it, and it's been really convenient for the boys to have. In fact, we'd love to see their friends get them as well (instead of more traditional smart devices) so they all have similar tools that don't have internet or social media.
If you're in the market for a tool that gives your growing kids a way to communicate with you that's not also burdened with all the 'junk', Gabb Watch is a great option! Even though we haven't made that investment yet, the Gabb Phone is a great choice too. We have some friends who purchased it for their daughter, and they've been happy with it for her thus far.
Use code HONESTLY for $25 off your purchase of a Gabb Watch or Gabb Phone.
Got any other questions about the Gabb Watch? Leave them in the comments, and I'll answer the best I can.
About The Author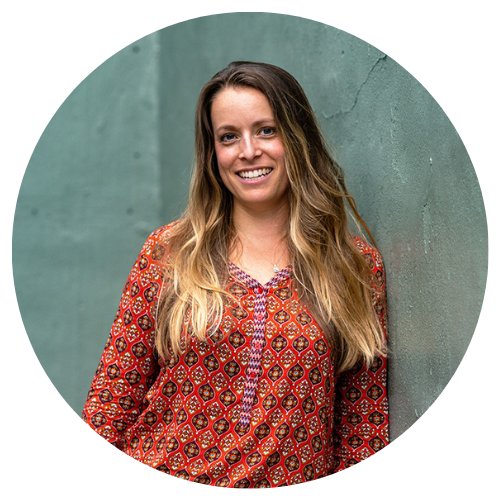 Jen Panaro
Jen Panaro, founder and editor-in-chief of Honestly Modern, is a self-proclaimed composting nerd and an advocate for sustainable living for modern families. In her spare time, she's a serial library book borrower, a messy gardener, and a mom of two boys who spends a lot of time in hockey rinks and on baseball fields.
You can find more of her work at WasteWell, a company that provides composting resources and local curbside compost collection services, and Raising Global Kidizens, an online space to help parents and caregivers raise the next generation of responsible global citizens.