Homemade Dried Apricots From Misfits Market
Have you tried making dried fruit to prevent waste? Dehydrators help reduce food waste by turning fresh fruit into sweet, longer-lasting snacks. Check out this recipe for homemade dried apricots.
Each week, when we receive our Misfits Market produce box, we always get a mixture of produce staples as well as a few interesting things that require creativity to use up. Despite being a somewhat picky eater, I really like the challenge of using up a diverse mix of produce.
For a while, I felt like I was in a bit of a food rut. Incorporating the Misfits boxes into our meal planning spiced up the process and made for much more interesting meals and snacks.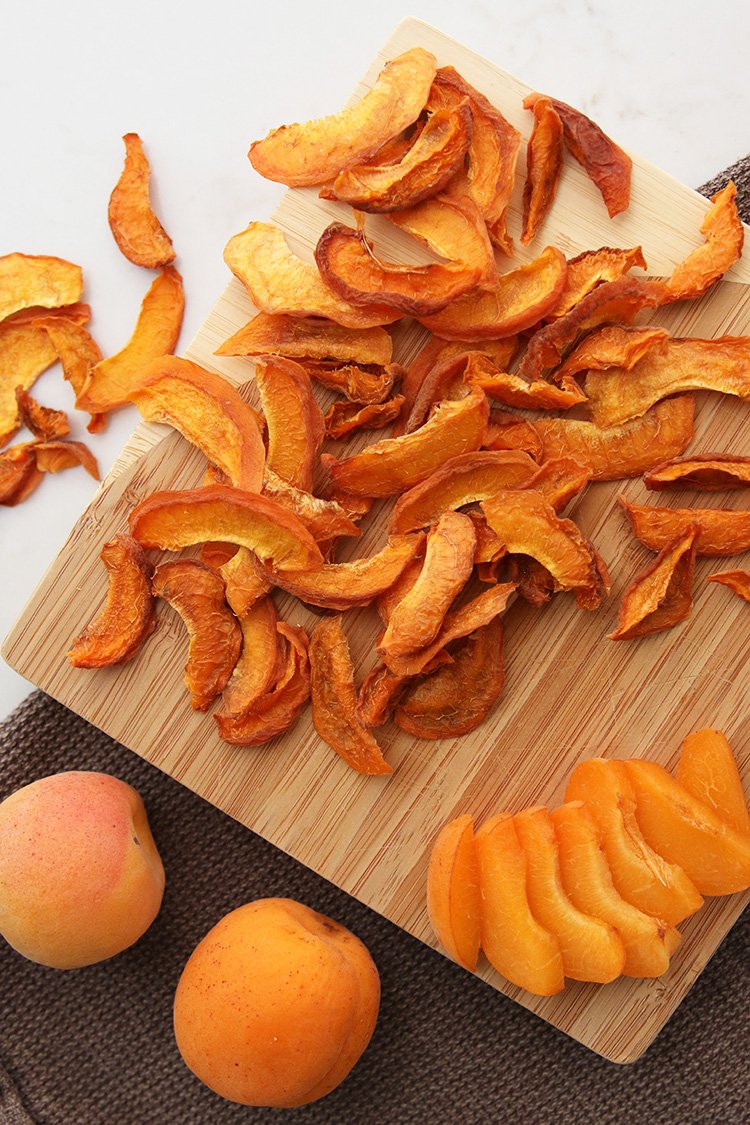 Over the course of a couple of weeks, we received many apricots in our Misfits boxes. I'd never had a cute little apricot, so I wasn't sure what to do with them. Of course, we tried to eat them fresh, but I didn't really love them. Like many foods though, we can find delicious ways to eat just about anything if we experiment with different preparations.
In the case of these apricots, I sliced them up and dried them in our Excalibur dehydrator. Once dried, my husband gobbled up the dried apricots in under 48 hours. Yet again, the dehydrator saved the day and prevented food waste.
I've tried dehydrating a handful of produce items including cucumbers, apples, basil, and apricots. Around the holidays, I think it might be cool to try dehydrating citrus for decoration.
The apples, in particular, were a big hit and are now a staple in my boys' school lunches. They even humblebrag to their friends at the lunch table that the apple chips are homemade. 🙂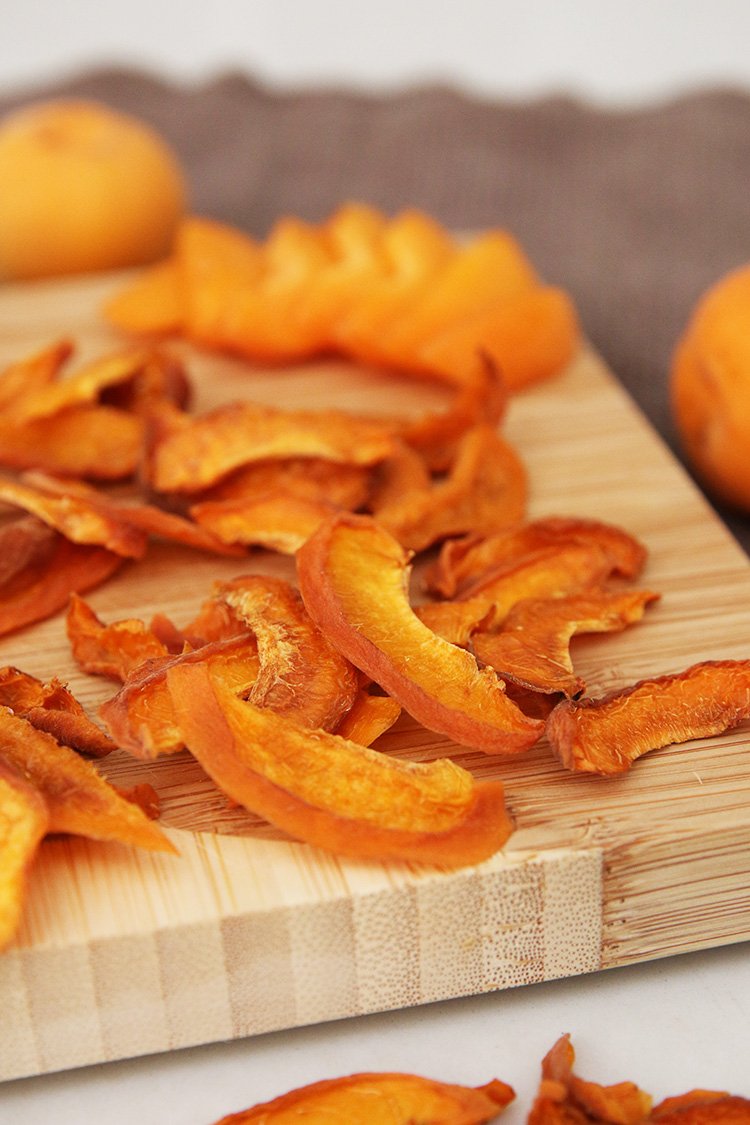 We receive a big variety of produce items from the Misfits Market box. As a somewhat picky eater, receiving this collection of diverse produce wouldn't necessarily seem up my alley. But I really like the creative components of figuring out how to use everything up.
Beyond eating produce at mealtime, we make many versatile sides and snacks to reduce food waste, some of which end up on our fancy low waste leftover charcuterie boards.
Do you make any of your own dried fruit snacks? If so, I would love to see some of your favorite recipes, so please share them in the comments below. I look forward to making them for our family!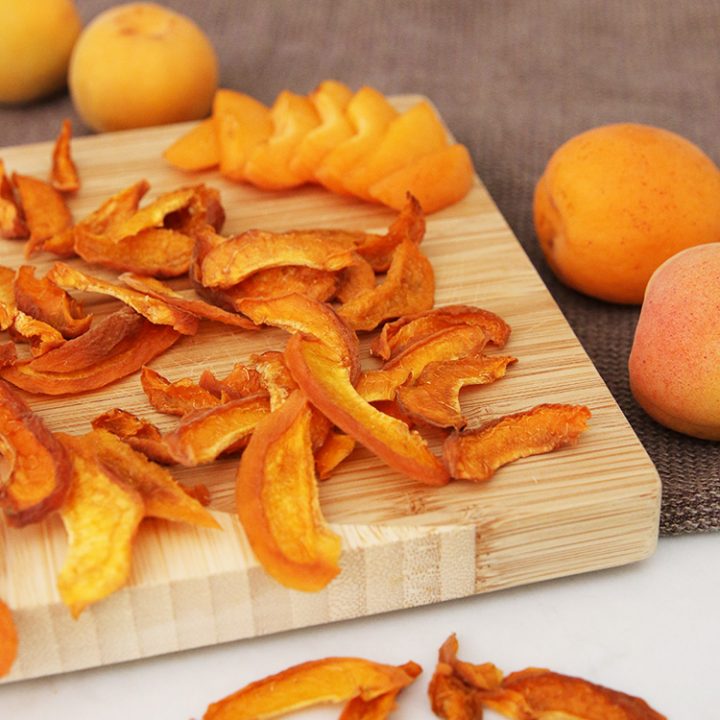 Dried Apricots
Cook Time:
8 hours
6 seconds
Total Time:
8 hours
15 minutes
6 seconds
Super simple homemade dried apricots for a sweet snack that also helps prevent food waste.
Instructions
Remove the pit from each apricot and slice into 1/4" thick slices. This does not have to be perfect.
Lay slices on the dehydrator so they are not overlapping.
Follow instructions on your dehydrator and set it to the temperature for dried fruit. (This is 135 degrees F on our Excalibur dehydrator.)
Allow to dry out in the dehydrator for at least six hours (may be longer depending on how moist the apricots are, the humidity in the room, etc..) until the apricots are no longer moist.
Notes
Use as few or as many as you'd like. We use eight apricots and did not fill the trays in the dehydrator so we could have made more in this batch.
Dried apricots will last for several weeks in an airtight container in a cabinet.
Recommended Products
As an Amazon Associate and member of other affiliate programs, Honestly Modern earns from qualifying purchases.
Nutrition Information:
Yield:

8
Serving Size:

1
Amount Per Serving:
Calories:

17
Total Fat:

0g
Saturated Fat:

0g
Trans Fat:

0g
Unsaturated Fat:

0g
Cholesterol:

0mg
Sodium:

0mg
Carbohydrates:

4g
Fiber:

1g
Sugar:

3g
Protein:

0g
Nutrition information isn't always accurate. Please consult your doctor or health professional for specific recommendations related to this recipe.