How To To Build Your Own Plant-Based Charcuterie Boards
Looking for a fun and delicious plant-based grazing board to share with friends? Check out these tips and a few recipe ideas to make your next vegan charcuterie board vibrant, tasty, and exciting for your guests.
Gathering around the holidays can be a very busy time. As we celebrate the end of yet another whirlwind year while remaining optimistic for what is yet to come, it should be filled with memorable and happy moments. As someone who enjoys hosting family and friends, the preparation and planning can become quite tedious and overwhelming.
Planning out the menu is exciting at first but also a lot of work. When gatherings are meant to be casual and fun, the menu should also reflect the same mood. To throw a casual intimate party, I love using grazing boards to keep it relaxed and fun with less pressure on myself.
Grazing or charcuterie boards (however you would like to distinguish them) have become quite popular over the last few years. I've seen some pretty epic boards on social media that are mouth-watering. I am all for giant platters from which guests can help themselves. This alleviates the pressure of serving food at a particular time or getting up to serve each course.
Traditional Charcuterie Boards
Traditionally, charcuterie boards contain different types of cheeses and cured meats. In the past, many vegetarian versions consisted of some veggie sticks with ranch sauce (nothing wrong with that, but we can do better). As vegetarian and vegan options grow and become more popular, plant-based charcuterie boards are anything but boring. I consider them to be a lot more fun to plan and play around with.
Tips To Create a Plant-Based Grazing Board
If you're looking to create a plant-based charcuterie board or grazing board, here are some tips to consider when preparing one for your next gathering.
Match Textures of Spreads & Breads
For each type of spread or dip, I like to incorporate a particular cracker or bread that fits the spread well. Some people prefer a crunchy cracker with fancy nuts and seeds, whereas others enjoy a soft and chewy naan bread instead. The texture of the spread may inform the type of bread or cracker you choose.
Favorite Bread & Crackers: simple plain crackers, naan bread, pretzels, tortilla chips, or crostini bread.
Include Protein For Nutritional Balance
Despite our love for carbs, great protein options keep your guests satisfied. There are some great vegan cured-style meats or cheeses that you can find at your local grocer, but I like to keep things a little simpler.
This cashew cheese ball is easy to make and spreads like cream cheese. Add herbs and spices or dried cranberries with seeds to add a festive flair. Roasted chickpeas are a healthy alternative that adds a little crunch to the table. Vegan cheeses can be rich in protein based on their chosen ingredients (tofu, etc.), so this could be a good protein addition as well.
Favorite Protein Options: a variety of nuts (almonds and cashews are great), roasted chickpeas, bean dips, hummus, vegan cheeses.
Incorporate Variety For Different Guest Preferences
If you choose to make a plant-based grazing board, be sure to include enough variety to ensure there is something for everyone at your gathering. If your guests enjoy more savoury foods, consider making most of your foods on the savoury side. You may include different flavoured spreads as well as warm and cold variations of spreads for guests to try.
Sometimes it's fun to mix and match different spreads and toppings from the board together. For example, I like to mix a chutney with a little hummus over a crostini. When preparing your grazing board, include a few premade combinations of dips and spreads on bread and crackers to invite guests to create different combinations on your board. These examples also give guests ideas on what pairs well together.
Add Vibrancy + Flavour Using Different Colours
I love grazing boards that showcase bright colours. Add a variety of fruits like red grapes or orange slices along with flavourful dips like this beet walnut dip. Different colours create a more aesthetically pleasing look, help each item on the board to stand out, and likely offer a variety of flavours too.
Colourful Foods To Consider: red grapes, fennel, apple and orange slices, olives, dried fruits, bright coloured spreads like an olive tapenade or roasted pepper hummus, pickled vegetables, and more. The possibilities are endless!
Themed Charcuterie Boards
Sometimes it's easier to create a board around a certain theme. This helps create a focus around which to add items. Here are a few themes to consider that might help make building your grazing board a bit easier. There's definitely such thing as too many options, so a narrowed theme may be easier to work around.
Plant-Based Breakfast or Brunch Charcuterie Board
Create a plant-based breakfast or brunch grazing board with sliced fruits, muffins, bagels, and croissants with fun vegan spreads like dairy-free cream cheese or hummus.
Dairy-Free Dessert Charcuterie Board
How about a dairy-free chocolate fondue board? This one can be really fun to make. Add chocolate-covered fruits, muffins or cupcakes, dairy-free chocolate-covered popcorn, candied nuts, and vegan treats like these dairy-free chocolate cookies or brownies.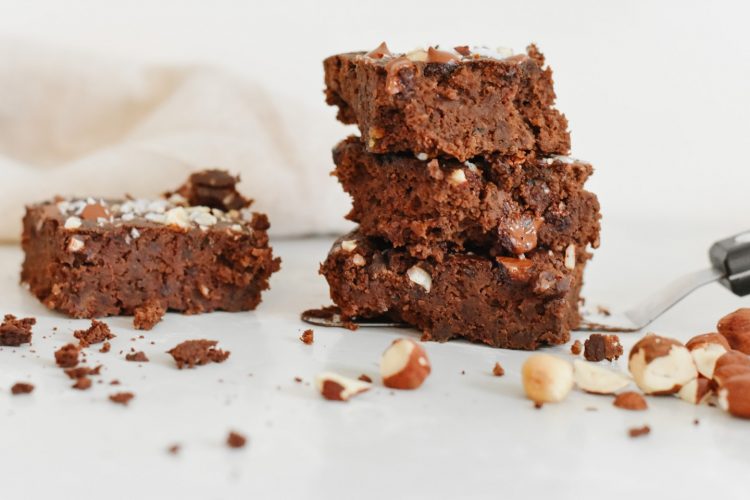 Vegan Cuisine-Themed Grazing Board
How about a charcuterie board where you can build your own meal? You might try a Mexican-themed board and build your own tacos. A nacho-themed board with melted vegan cheese, fresh guacamole, diced tomatoes, and dairy-free sour cream is easy and super fun. Delish!
Some Other Do's and Don'ts About Grazing Boards
After sharing plant-based grazing boards with friends and guests on many occasions, here are a few more tips I've learned to elevate your charcuterie boards.
Create Little Labels
Unless you want to spend the night explaining to your guest what is in each spread, create little labels. It can be as simple as toothpicks with flags on them to fancy mini chalkboard signs. That is up to you!
Shop Your Kitchen To Fill Your Grazing Board
Don't head to the store and spend hundreds of dollars on food you may already have in your pantry. Especially if you've got picky eaters at home, you may already have some foods they will eat that you can add to the platter without buying more than you need.
Shop your kitchen before heading out to the store. Not only will you save money, but it's also a great way to use up odds and ends that might otherwise go to waste.
Know Your Guests' Palette
Being a good host means pleasing your guests first. Know what types of foods your guests do and do not like before creating your charcuterie board.
If your guests have a more savoury tongue, make sure to have enough variety of what they enjoy. Then it's a delight to add in some new combos you want to showcase as well that they may end up loving when they give them a try.
There Are No Rules
The last rule is that there aren't any real rules with charcuterie boards. In fact, not having rules is the best part! With that being said, have fun with them, and remove some of the pressure from planning an elaborate meal and enjoy the night with those you love.
Tasty Vegan Charcuterie Board Ideas
Now that we established the "rules" and that there are no rules, here are some great ideas for a tasty charcuterie board that won't disappoint your guests.
Charcuterie boards don't have to be savoury. In fact, it's fun to add both sweet and savoury boards to the table for guests to enjoy. This also is a great way to plan ahead.
Check out this dessert grazing board from Rainbow Plant Life.
I also love this vegan snack board from The First Mess. It has lots of different colours and mixes a variety of crackers and spreads, as I highlighted above.
I've also made a few of my own plant-based spreads and appetizers that you could add to a variety of vegan or vegetarian grazing boards.
Pear Date Chutney
I love the tanginess of this chutney. It pairs so well with a mild vegetarian cheese or hummus. It is simple to make and tastes even better when made ahead.
Ingredients:
4 ripe pears

½ large white or yellow onion, diced
6-8 medjool dates, pitted and diced
1 cup cup apple cider vinegar
1/2 cup of sugar
Directions:
In a pot, add diced onions, dates, sugar, and apple cider vinegar.
Let it simmer for about 25-30 minutes, stirring occasionally and scraping down the sides.
Let it cool and enjoy it over dairy free yogurt, with some cheese, or on its own with a crostini. Delicious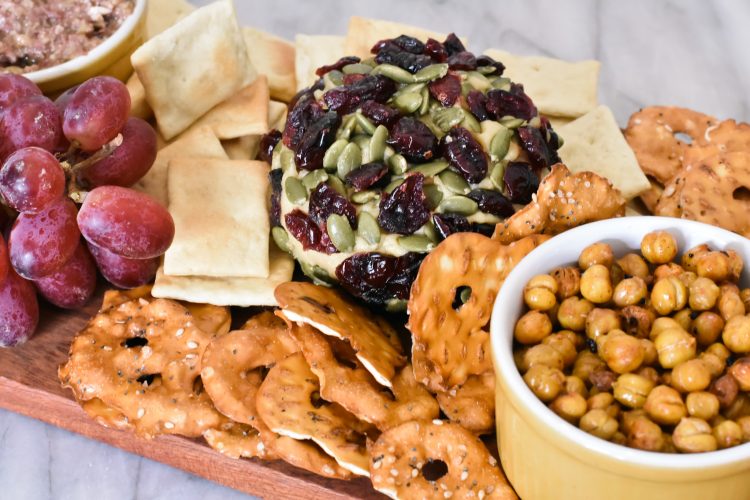 Cashew Cheese Ball
This cashew cheese ball has been my go-to appetizer this year. It comes together so easily and spreads so nicely on a crunchy crostini. Pair it with some dried fruit and nuts and it's a winning combination.
Super Easy Olive Tapenade
I love making this recipe, especially when I have opened jars of sliced olives in my fridge that need to be put to good use. Use what olives you have on hand first.
Ingredients:
½ cup green olives, castelvetrano are my go to
½ cup black or kalamata olives
¼ cup extra virgin olive oil
1 garlic clove
A splash of lemon juice
1 small pickle or a handful of capers
¼ cup of chopped raw walnuts (optional)
Directions:
In a food processor, add the olives, walnuts, garlic clove, lemon juice, and pickle and combine until it forms a textured paste.
While it is pureeing, add the olive oil to combine well. You don't want it to become a paste, you still want texture to it.
Serve on a crunchy crostini and enjoy!
You Might Also Like
6 Easy Tips To Make A Charcuterie Board
How To Make A Plant-Based Christmas Charcuterie Board
15 Plant-Based Thanksgiving Recipes For Families
About The Author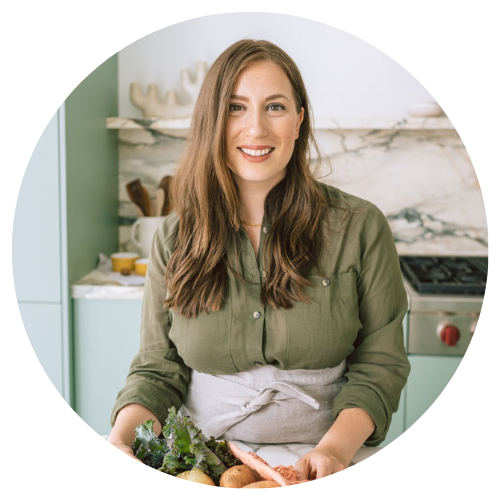 Antonietta Ferretti
Antonietta Ferretti is an elementary school teacher, mother of two, and a food waste advocate living in Toronto, Ontario. Despite living in the city, Antonietta continues to follow the philosophy of her parents' upbringing in the countryside in Italy.
Her passion lies in sharing more plant-based eating habits while being conscious of our relationship with food and our environment. You can find more of her recipes at Simply Pure Simply Fresh.