15 Plant-Based Thanksgiving Recipes For Families
Getting ready for Thanksgiving dinner but looking for some low-waste, plant-based Thanksgiving recipes? We've rounded up more than a dozen recipes that even kids will enjoy to bolster your plant-based Thanksgiving spread.
With Thanksgiving around the corner, meal prepping is on many people's minds right now. Thanksgiving dinner can be a pretty big deal. Many of us look forward to it once the first brisk air touches our cheeks. I look forward to visions of an endless table filled with aromatic wonder and feast for the eyes, including savoury stuffing and fluffy mashed potatoes cratering delicious gravy, each year.
Traditionally, the turkey is the American symbol of a great Thanksgiving feast, but have you ever considered incorporating more plant-based Thanksgiving dishes into your holiday menu? Perhaps you have vegan friends or relatives that will be feasting with you? Maybe you want to cut back on meat consumption?
Thanksgiving can be a special time to be with family no matter what you're eating. If you're up for it, here are some great low waste and plant-based Thanksgiving recipes that will please everyone's palette at your holiday table. From appetizers to dessert, we have you covered for some simple yet flavourful dishes.
Plant-Based Thanksgiving Appetizers
Finger-friendly appetizers, like a great charcuterie board, are a great way to begin a gathering. They are easy to make and keep your guests busy while you prepare the rest of the meal.
Typically charcuterie boards include cured meats or cheese. However, you can easily swap in plant-based appetizers like vegan dips and tasty pickled treats. My favourite charcuterie board addition is olives.
A great charcuterie board combines sweet and savory flavours, varied textures, and a mix of cold and hot food options. Sliced apples, grapes, or even figs are great additions. One of my favourite things to add to a plant-based charcuterie board is fancy artisanal crackers that you normally wouldn't purchase for everyday consumption. To accompany those crackers, here are some tasty plant-based appetizer dips that will please your guests.
Related Reading: 6 Easy Tips To Make A Charcuterie Board
This roasted beet and walnut dip is not only delicious, but also a nutritious option thanks to the beets, walnuts, lemon juice, and roasted garlic included in the recipe.
Pumpkin gives everything a fall and holiday season flair. This delicious pumpkin hummus is no exception. Add to your plant-based charcuterie board appetizer at Thanksgiving to give your spread a pop of bright color and festive flavor.
This yummy spinach artichoke dip is not what you might expect. There's a special veggie hanging out in this dip to make it a bit healthier than its traditional counterpart.
It's in between eggplant season and garlic season, but this eggplant garlic spread is great with crackers or crostini any time of year.
Plant-Based Thanksgiving Mains
Here are some impressive plant-based Thanksgiving main dishes that are not only delicious but won't have you missing your slice of turkey. When choosing a plant-based alternative, it's important to consider swapping a meat dish for another protein such as legumes or soy. This will ensure you are left with a satisfying and filling meal.
One of my favourite plant-based main meals to serve on a holiday is lentil mushroom wellington. This dish impresses guests with its fancy appearance and may have them wondering if you spent hours creating the perfect Thanksgiving main. , However, you easily make these the night before, freeing up time for family and friends or attending to other things that need to get done on the celebration day.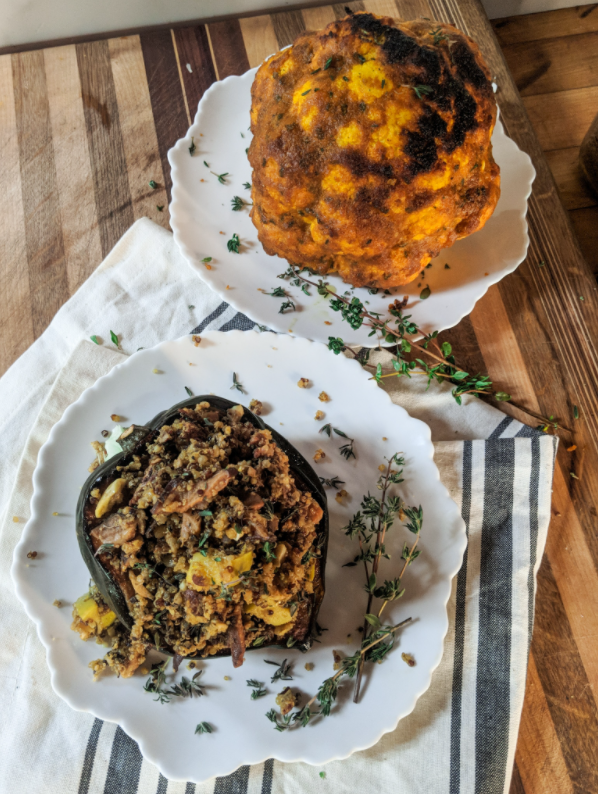 Using local ingredients that are in season is a great eco-friendly option when planning a holiday meal. Winter squash is a delicious and hearty vegetable to use in a variety of meals, along with the ever-so-versatile cauliflower. Try out these two great recipes, stuffed squash and roasted cauliflower from Going Zero Waste, which are definite crowd-pleasers.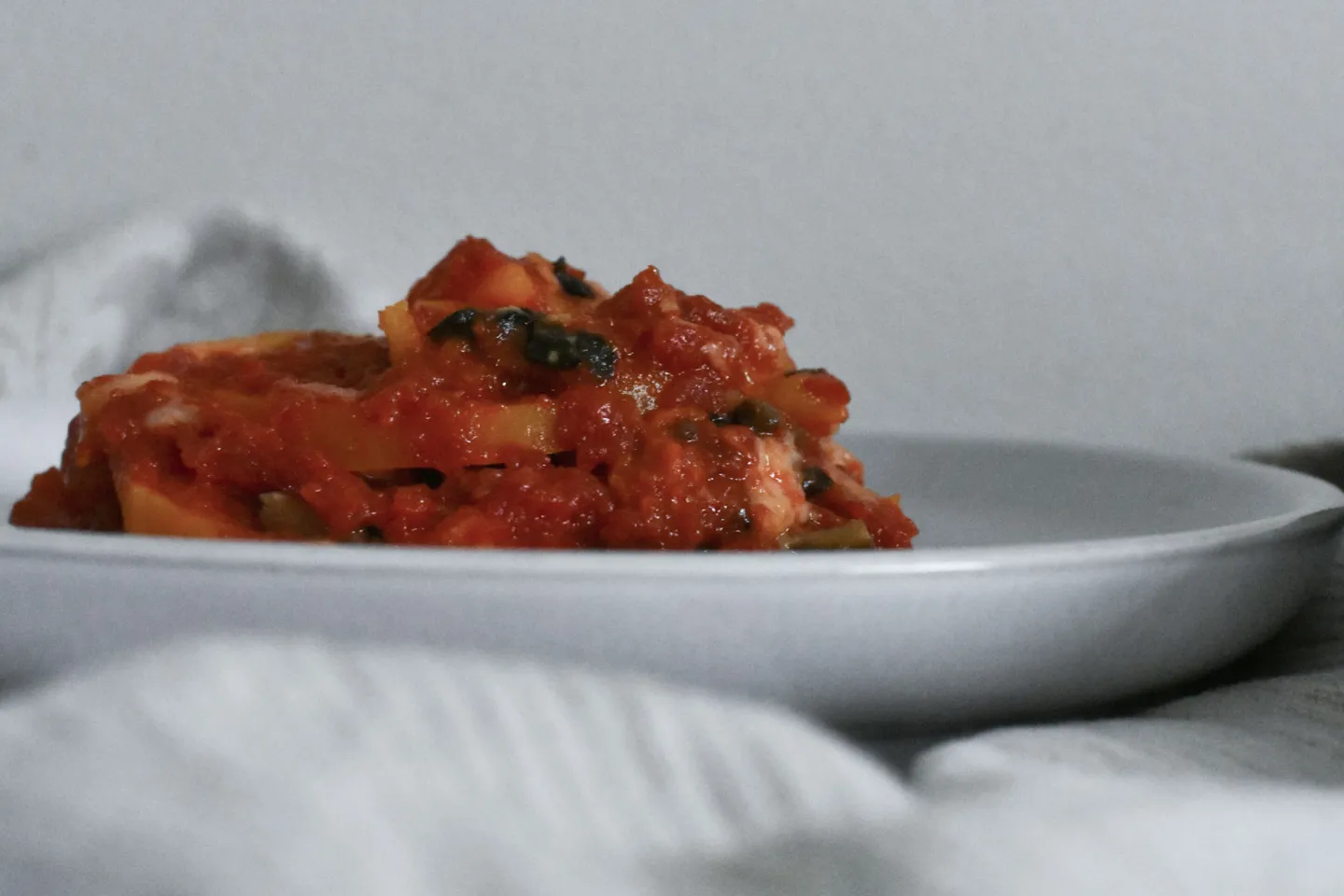 Butternut Squash Lasagna is a winter version of the traditional zucchini layered dish that is well-loved in the summer. The key here is to slice the squash layers to the same thickness so that they cook evenly. A mandoline helps cut consistent layers if you have one. Layer the sliced squash with sauce, sauteed mushrooms, and shredded mozzarella (vegan cheese if you choose) and you've got a hearty dish fit for any holiday.
Sweet Potato Shepherd's Pie is a different approach from the traditional Shepherd's Pie. Replace ground beef with lentils for a plant-based Shepherd's Pie alternative that is still hearty and tasty. You could also combine a russet potato with your sweet potato to add a little starchiness to the top layer.
Plant-Based Thanksgiving Sides
I love a great mashed potato. But let's face it, we are always open to finding new ways to get more veggies into our kids' meals, and this cauliflower mash is a great option for that. Cauliflower is such a versatile vegetable. Combine it with a potato or two, and you won't even notice the cauliflower hiding out in the dish.
Traditionally, gravy is made with juices and trimmings from the turkey or roasted meat of choice. Don't despair about gravy though if you're planning a plant-based Thanksgiving menu. This mushroom gravy is the perfect choice to top the cauliflower mash or adorn any dish for your family's Thanksgiving feast.
​​​​​The beauty about stuffing is that it can be as versatile as you'd like. Stuffing is the ultimate food waste meal. Combine stale bread and leftover veggies (or even meat if your meal is not 100% vegetarian). The possibilities are endless and always taste great. This mushroom herb stuffing is not only tasty but very easy to put together.
Plant-Based Thanksgiving Desserts
Now it's on to dessert. Here are two delicious dessert recipes that use in-season produce. Depending on where you live, you may be able to purchase these ingredients locally, making it a more sustainable choice on the menu.
I love that this almond pulp apple crisp dessert incorporates fruit that would often otherwise end up in the compost. Fruit crisps can include berries or different variations of stone fruit as well, but nothing beats a good ol' apple crisp.
This recipe includes almond pulp, saved from making my own almond milk. But you can easily substitute more oats and flour for almond pulp if you don't have any almond pulp on hand. I also love that this dessert is simple to make just before you're about to eat your meal. Then you can enjoy it freshly baked and warm to end the meal.
Pumpkin Pie is a common Thanksgiving dessert, but I love a good moist cake as a treat. This pumpkin spice cake keeps all the pumpkin spice feels of the festive season in a moist and delicious cake.
If You Like Plant-Based Thanksgiving Recipes, You Might Also Like
How To Make A Plant-Based Christmas Charcuterie Board
21 (+71) Ways To Use Up Extra Tomatoes and Reduce Food Waste
Easy Zero Waste Lunch Leftover Charcuterie Board
About The Author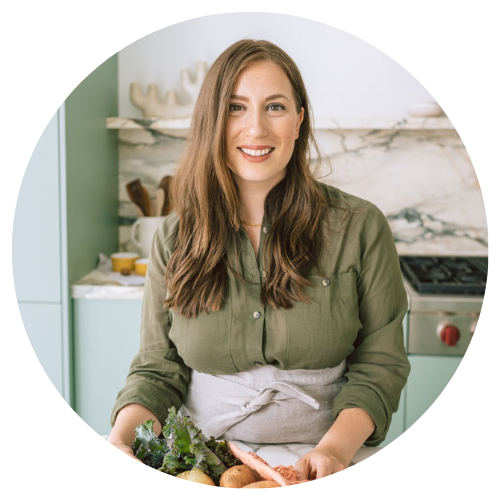 Antonietta Ferretti
Antonietta Ferretti is an elementary school teacher, mother of two, and a food waste advocate living in Toronto, Ontario. Despite living in the city, Antonietta continues to follow the philosophy of her parents' upbringing in the countryside in Italy.
Her passion lies in sharing more plant-based eating habits while being conscious of our relationship with food and our environment. You can find more of her recipes at Simply Pure Simply Fresh.