How To Make A Plant-Based Christmas Charcuterie Board
Have you ever tried to make a charcuterie board for Christmas? It's a great way to use up leftovers and prevent food waste. Check out lots of tips before to learn how to make a plant-based Christmas charcuterie board.
A few months ago, I stumbled on the idea of calling a "miscellaneous leftover platter" a "charcuterie board" for dinner. I know it's not exactly original to serve a variety of leftovers for dinner, and charcuterie boards are all the rage. But I was pleasantly surprised by how much everyone in my family loved eating leftovers when they looked just a little bit fancy.
After my epiphany, we started eating leftover charcuterie boards for dinner once every couple of weeks. It gives the boys a chance to incorporate more variety into their meals and also is a great way to use up all the little bits of leftovers in the fridge. I think they also like the autonomy of being able to choose what they have for dinner from the wide variety of items on the board.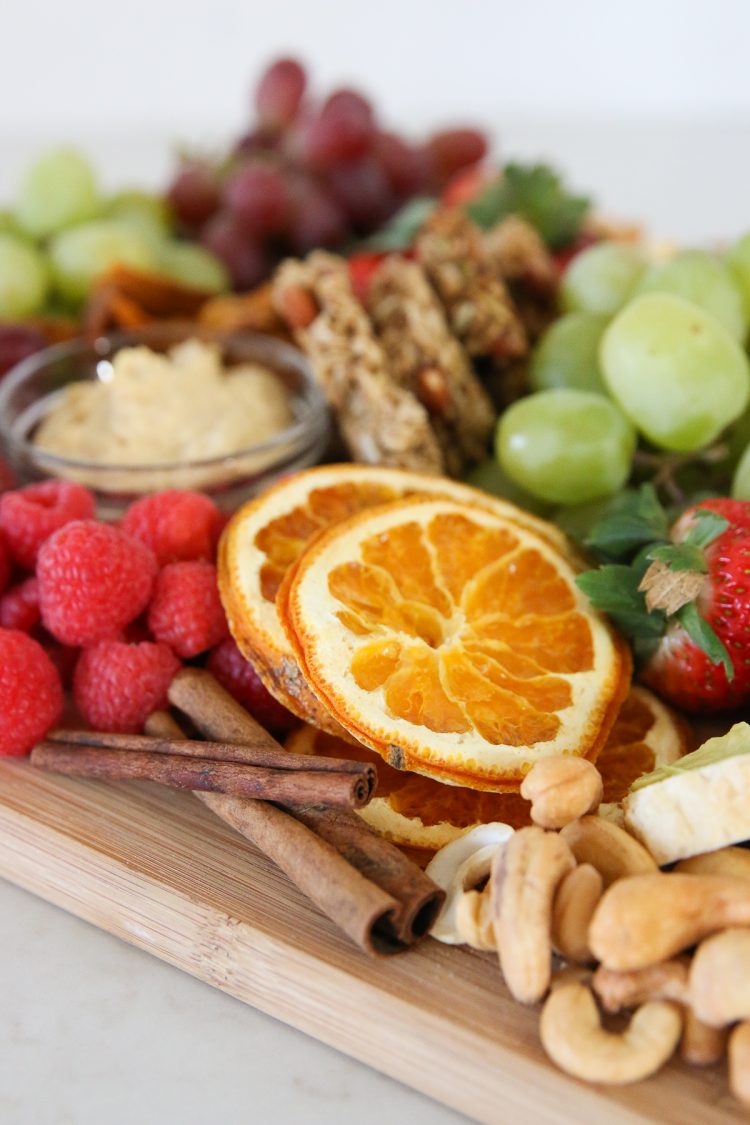 Having built a bit of confidence in my charcuterie board game, I decided to try a special Christmas charcuterie board for the holidays. Wouldn't it be fun to spice it up with a few special things that made our leftover charcuterie board feel just a tiny bit festive?
With the help of my younger son, we put together this kid-friendly and plant-based Christmas charcuterie board. We don't eat entirely plant-based or vegan, but we decided to focus on plant-based items for this board. I'm not opposed to eating meat and dairy products, but it's beneficial for the environment and our bodies to reduce our overall consumption of animal products.
Also, around the holidays, we tend to eat quite a bit of meat for special celebrations, which is yet another reason for us to reduce meat consumption at everyday dinners this time of year. I had plenty of items from our Misfits Market box to use up, so it was a perfect opportunity to focus on fruits, vegetables, and other plant-based snacks.
There are so many options to make a plant-based Christmas charcuterie board for your family or friends. I stuck to foods I knew my boys would eat but tried to incorporate lots of red and green items to match the holiday color theme. I also placed a few dried oranges and cinnamon sticks around the edges that we wouldn't eat but spiced up the festive look a bit.
To be sure we had plenty of protein, I added avocado crostinis and homemade hummus. They were both delicious, and the hummus is perfect to go with all the fresh vegetables.
I added included some leftover edamame from dinner a couple nights earlier. I heated up the edamame on the stove, but you could serve hot or cold as you prefer.
Lastly, I included celery with peanut butter. I planned to make celery and peanut butter reindeer, but… then I lost enthusiasm for all the minute details. If you're up for it, these celery and peanut butter reindeer would be a super cute addition to a plant-based Christmas charcuterie board. They even include homemade vegan googly eyes, which are way out of my league.
A Plant-Based Charcuterie Board?
Before getting into the details, let's just clarify a few things about charcuterie. First, it's tough to pronouce. It sounds like "shar-koo-ter-ee". Next try spelling it. Even spellcheck doesn't like it when it's spelled correctly!
Also, charcuterie is often focused on meats and cheeses, so a plant-based charcuterie board is a bit of nod to breaking molds and using the term more loosely than say… you might find it defined in a dictionary. Let's make life a little spicier than the dictionary!
Now that we've got that out of the way, on to the good stuff.
How To Make A Plant-Based Christmas Charcuterie Board
If you're looking for some fun and easy ways to be festive this holiday season, here are lots of ideas to create a kid friendly, plant-based Christmas charcuterie board for dinner with family and friends.
Tips To Layout a Charcuterie Board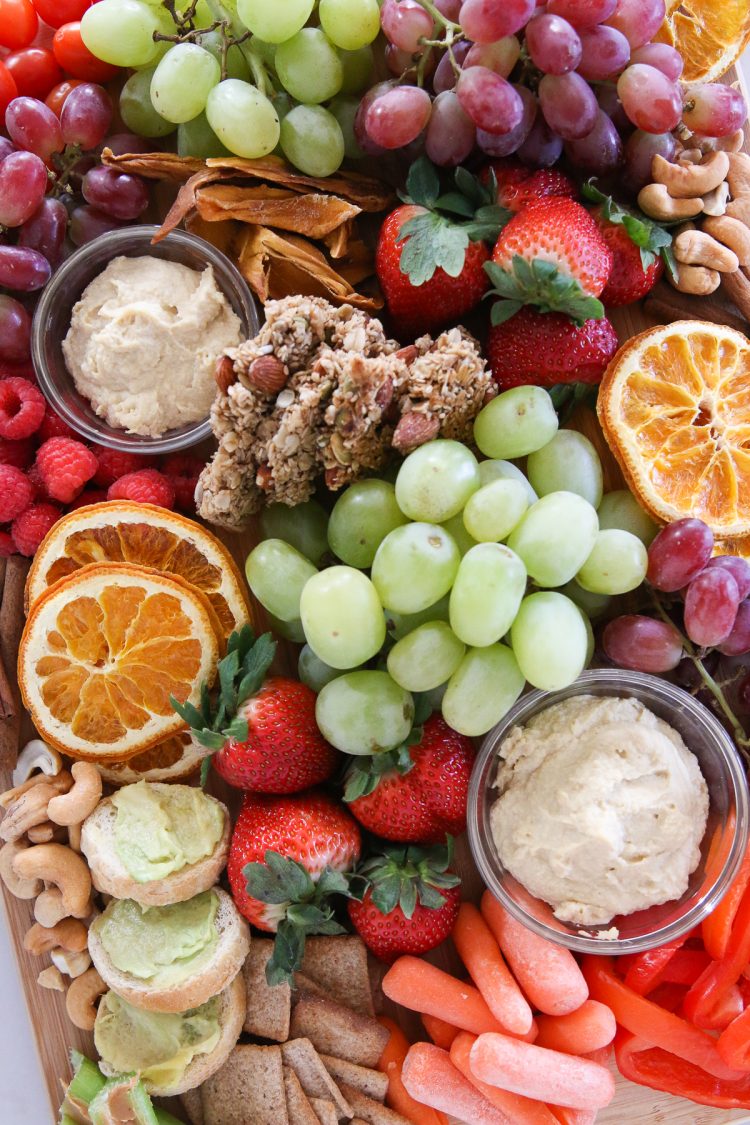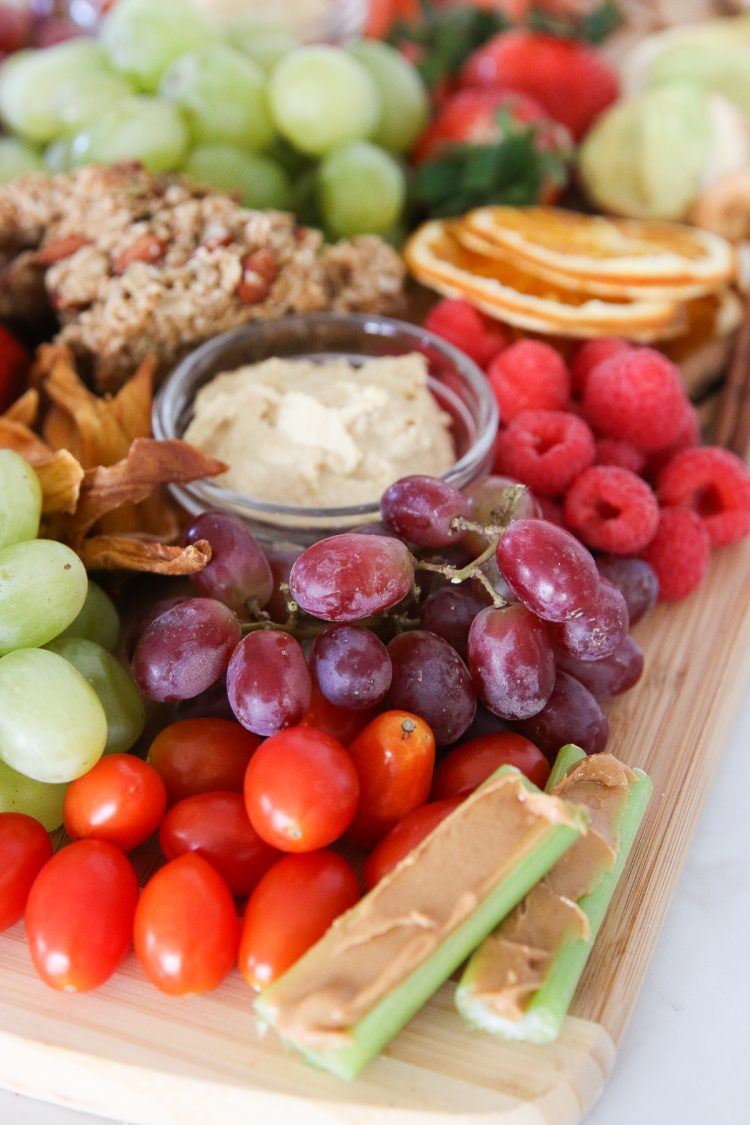 Include a Large Variety of Items
Incorporate lots of different items on your charcuterie board. Your charcuterie board doesn't need to be gigantic if you're only feeding a few people, but mix up the items on the board. It's totally ok to serve a tiny portion of lots of different things. It not only looks better, but it also encourages variety.
Place Larger Items On Your Charcuterie Board First
Start by placing the large items spread around the board. Once those have made their claim for space, fill in the gaps with smaller items. Finish with the little things that will fit into all the nooks and crannies on that board. Having all the spaces filled in helps make the board look prettier and more complete.
Layout Different Colors Next To Each Other
Try to place different colored items adjacent to each other. It looks really great to have a variety of colors spread across the board. Some people go for a rainbow look, in which case it would make sense to have similar colors together, but that's probably only best when your intentional about a rainbow order for placement.
Use Smaller Groups of Items In Multiple Places On The Board
Break up your types of food into small groups. If you want a lot of one type of food on the platter, break that group into smaller groups and place the smaller groups around the board. You can see with our board that I had a lot of grapes. I had a couple groups of red grapes and green grapes instead of putting all of one type of grape in the same place on the charcuterie board.
Mix Up Textures of Food On The Charcuterie Board
As you prepare the charcuterie board, consider the textures of the foods you plan to serve. Mix softer items and harder items. Include some creamy options with crunchier alternatives. Different textures not only create interest on the board and for those enjoying the platter, but also give picky eaters more options to find something they like. (I may or may not be very familiar with picky eaters…)
Try Different Serving Platter Options
We used a simple wooden cutting board for our charctuerie board, but you can really use whatever you have available. Baking trays, cast iron skillets, pizza stones, or even dinner plates will work great to create your Christmas charctuerie board. Don't let the serving dish ruin a fun meal!
Food To Include on a Plant-Based Christmas Charcuterie Board
Options for items to include on your plant-based charcuterie board are endless. We always start by digging through the fridge and using up all the odds and ends that either don't have a home or are nearing the end of life. Even those looks are deceiving, charcuterie boards are an awesome way to use up leftovers and prevent food waste.
Here are a few things we have included and might include in a future plant-based Christmas charcuterie board.
Fruits
Apple slices
Strawberries
Raspberries
Grapes – red and green
Sliced banana
Dried fruits – we often make homemade dried apple slices and dried mango slices
Vegetables
Baby cucumbers
Celery
Red and green peppers
Carrots
Cherry tomatoes
Broccoli
Cauliflower
Olives
Protein Items
Avocado (plain or spread on baguette)
Hummus
Black bean spread
Celery reindeer – celery with peanut butter, pretzels as antlers, and raisins as eyes
Nuts – we used cashews
Crackers and Breads
Mini baguette slices
Ritz crackers
Nilla wafers
Crostini with jam or jelly
Festive Finishing Accessories For A Christmas Charcuterie Board
There are lots of options to add a bit of festive spirit to your board to make it pop. Just a few of these items will go a long way to adding depth and interest to your board without making it a fuss. Try some of these simple finishing touches to dress up your Christmas charcuterie board.
Cinnamon sticks
Peppermint sticks
Rosemary springs
Pine needles
Small pine cones
Cranberries
Do you have any other tips for a plant-based Christmas charcuterie board? I'd love to hear them in the comments!