Chipotle BBQ Pulled Pork Nachos
This shop has been compensated by Collective Bias, Inc. and its advertiser. All opinions are mine alone (any my husband's too). He also claimed the nachos. #VivaLaMorena #CollectiveBias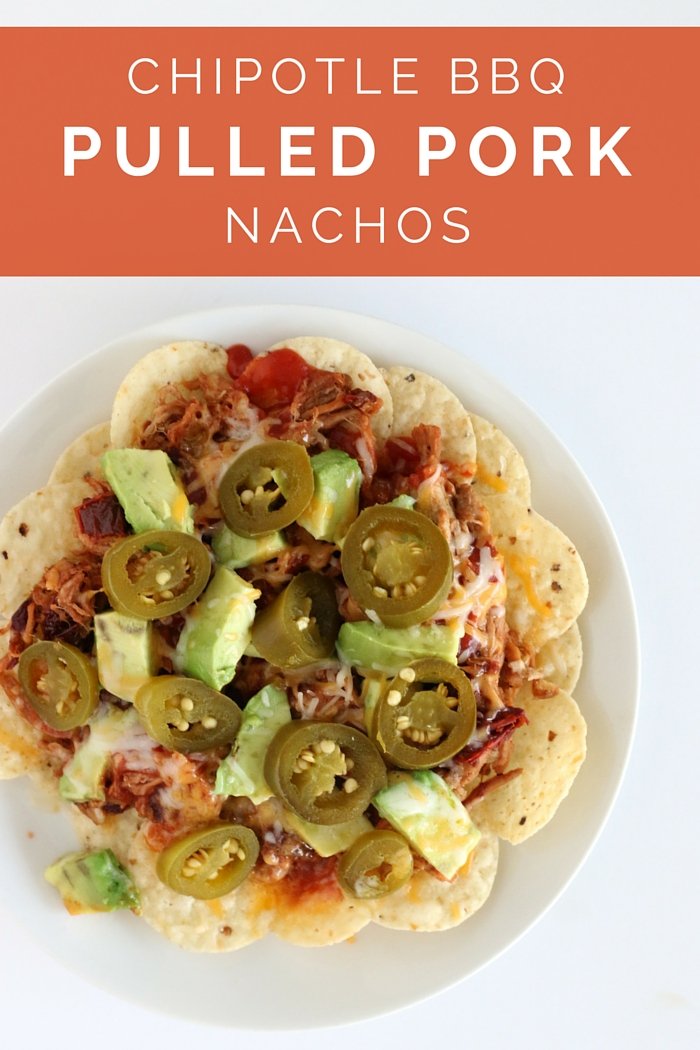 We eat a decent amount of spicy food in our house. Our boys don't mind something with a kick, and M always wants to step it up a notch with more spicy flavor.
Last Friday, M got home from work and (as often happens by the end of the week), we weren't really feeling up to cooking dinner. I plan a lot of meals in advance, but it's not uncommon to have a hodge podge left by week's end.
We scanned the fridge and M pulled together the ingredients for one of his "clean out the fridge" go-to concoctions: pulled pork (or chicken if that's what in the fridge) nachos.
I probably shouldn't call it a "clean out the fridge" concoction because we aren't afraid to have barbecue pulled pork nachos as an appetizer when we have friends over. None-the-less, it's easy and tasty, great for a quick dinner and perfect for a larger crowd.
We often cook barbecue pulled pork in the slow cooker over the weekend to have on hand during the week, so it wasn't a surprise he found it in the fridge. This time however, to mix up our traditional recipe, I had added some La Morena chipotle peppers in adobo sauce to the pulled pork when I made it. As I mentioned earlier, M always appreciates a little unexpected spice added to a dish, and the authentic Latino kick from the peppers complemented the traditional American barbecue flavor quite nicely.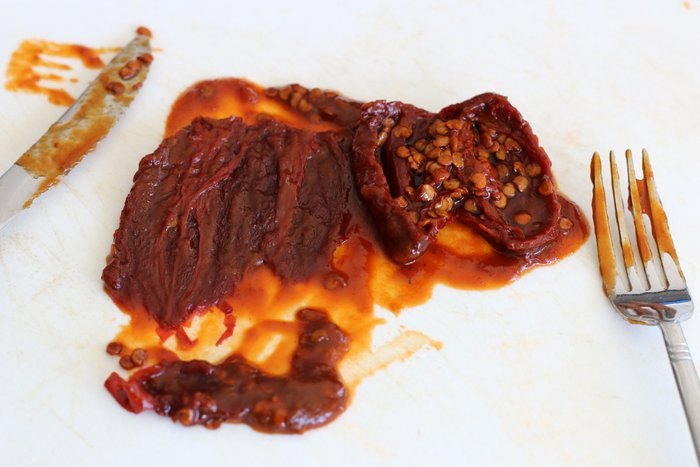 Although it may not be a staple for everyone, pickled jalapenos always have a spot in our cabinet or in our fridge. I picked up these La Morena jalapenos from the Hispanic aisle at Walmart recently. M made a special request years ago to always have them around. They're one of those easy ingredients that adds a good punch to a lot of dishes without being overly high maintenance to keep around.
Having pickled jalapenos on hand may sound like an odd wish, but I'm totally serious. He loves them! I'm guessing we all have one or two unusual favorites we like to keep on hand. His request is certainly not a hard wish to grant, so grant it I have.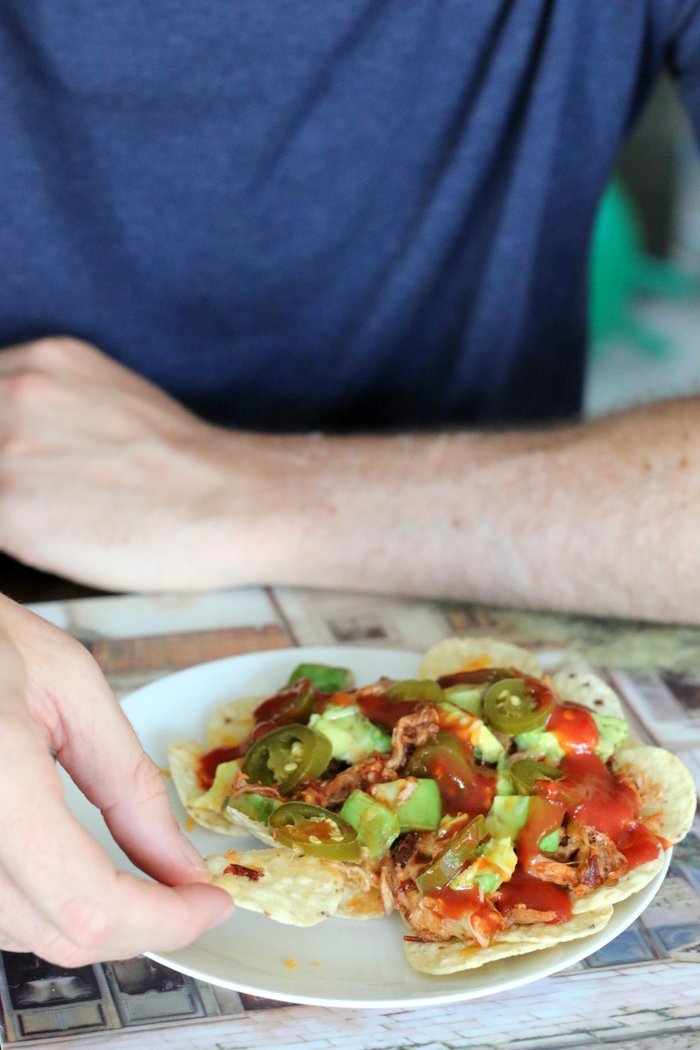 Ingredients compiled, he threw together his chipotle barbecue pulled pork nachos and went to town on them. After he finished his first plate, he said "Very good, Jennifer!" (He rarely calls me Jennifer, but these apparently warranted the extra flair.)
Then a couple hours later, he reassured me they were awesome and had another plate. They're that good!
Although it wasn't a fancy feast, we all enjoyed our various small plates compiled from whatever was stocked in the fridge and cabinets last Friday night. It may not be a traditional dinner, but it still counts and it definitely works!
Cross This Off Your To Do List: Let me know what simple yet unique dinners your family shares from time to time. Do you have any particularly potent pantry tenants that pack a nice punch without demanding a whole heap of attention? I'd love to hear about them in the comments.
Chipotle BBQ Pulled Pork Nachos
Total Time:
8 hours
20 minutes
Ingredients
1 pound pork tenderloin
1 can La Morena chipotle chilis in adobo sauce
1 cup + 6 tbsp barbecue sauce, your favorite flavor
2 cups tortilla chips
1 avocado, cubed
6 tbsp shredded cheese, colby jack, monterey jack, and/or pepperjack
1 can La Morena pickled whole jalapenos
Instructions
Place pork tenderloin in slow cooker and cook on low for 6 hours. (No need to add any liquid or other items to the pork.)
After cooking for six hours, pull apart / shred the pork with two forks in the slow cooker. If you prefer the pulled pork be a bit drier, drain excess liquids before shredding.
Slice open and scrape seeds from two chili peppers in adobo sauce. Chop up the chipotle peppers (without the seeds) and add to the slow cooker.
Add 1 cup of barbecue sauce to the slow cooker.
Mix all ingredients together and allow to cook on low for another hour or so.
When the pulled pork has finished cooking, layer tortilla chips, chipotle barbecue pulled pork, 2 tbsp of barbecue sauce, 1/3 of the avocado, 2 tbsp shredded cheese and 2 jalapenos (sliced).
Microwave for 1 minute to allow cheese to melt and serve hot.
Nutrition Information:
Yield:

3
Serving Size:

1 grams
Amount Per Serving:
Unsaturated Fat:

0g