Is Hello Fresh Right For Your Family?
Wondering if Hello Fresh or another dinner subscription box is right for your family? Here's a breakdown of the pros and cons of having a meal delivery service provide your family with healthy dinners each week. I also think it's a great gift for new parents and college students.
Long before all the blogger reviews, I started hearing about dinner delivery 'meal in a box' services like Hello Fresh and Blue Apron. We place a pretty high priority on fresh, healthy meals. As a family with two parents with full-time, corporate jobs, we were definitely prime targets for these services. For over a year, I rejected the possibility of these subscription services, convinced they were not for me.
A couple of weeks ago, my little sister decided to try out Hello Fresh and offered me a free box. I could get three meals of food for two people entirely free. I finally caved and figured I'd give it a shot. I didn't have much to lose and a box of free groceries to gain.
I had a host of reservations about trying subscription food boxes like Hello Fresh. But much to my surprise, many of my anticipated concerns ended up being dispelled.
Things I Loved About Hello Fresh
If you're wondering if your family might like to try it, here are some things I loved, a few things that weren't perfect about my first week, and why we decided to hang on to our Hello Fresh subscription.
Hello Fresh Helped Us Eat More Vegetables
We are very guilty of not eating enough vegetables (for a host of reasons). I'm a little bit picky, and my husband and I have different preferences about vegetables, so it's not always easy to find one that works for everyone.
The boys are hit or miss with vegetables. J is a pretty good sport about eating them, but T usually wants nothing to do with them. I hate making them and then seeing them go to waste.
With the Hello Fresh box, the meals all came with plenty of veggies which were cooked in new ways I hadn't thought to try before. None of the recipes or preparation skills were hard, but the planned menus offered different ideas that took us out of our routine. Even though it's a small nudge in the right direction, having them already incorporated in a meal made a big difference in helping us eat more vegetables.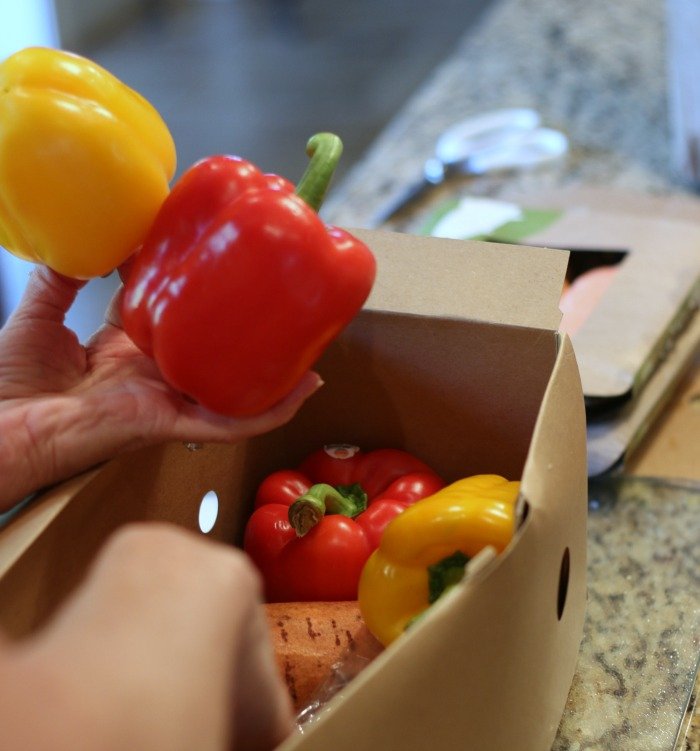 You Can Pause A Hello Fresh Subscription
I typically avoid subscription services because I feel like they result in a lot of waste. I don't receive what I want when I want it. I get too much when I don't need it, or I don't have enough and need to make an interim trip to the store.
Hello Fresh allows me to pause my subscription, week by week, so I don't have to receive food each week. We received our meal box for two weeks, are scheduled for a three-week break, and will receive another box the first week in October.
Using Hello Fresh as a meal planning supplement and not a full meal planning substitute makes me appreciate the service so much more. I don't rely on it entirely, but it adds some variety and convenience to our dinner menus periodically.
Hello Fresh Has Good Meal Variety and Tastes Great
I can be a bit picky, and we also have a food allergy in our family to work around. I wasn't sure if the planned menus would work for us. I tried one other meal planning service in the past, and the meals were not to our liking and health preferences.
With Hello Fresh, however, I chose three options from a group of six. One of the options included the allergy category, so we ruled that out right away. With the other five available, I found three great options that worked well for us. I've got no complaints about flavor, taste or quality matching our needs.
Hello Fresh Provides Helpful Menu Cards
With each box, we received recipe cards for all six meals available for the week (even though we only got ingredients for three). I love that I can reference back to these cards and make the meals again with our own ingredients. The cards are printed on nice quality paper and are just the right size to start creating our own recipe book of Hello Fresh favorites.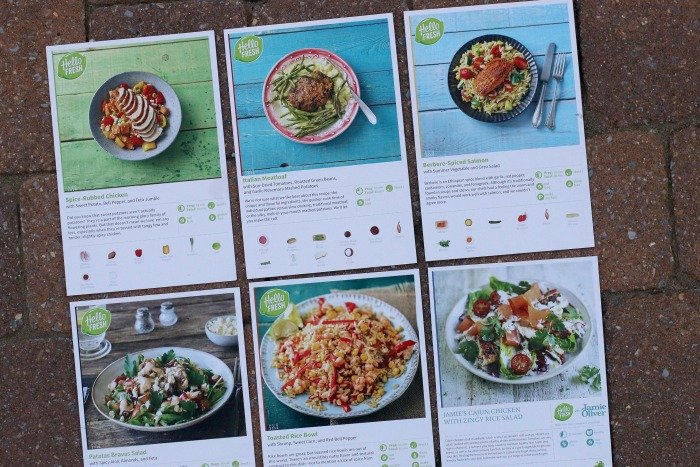 My Hello Fresh Concerns Dispelled
As I mentioned above, I've avoided subscription food delivery (fairly vehemently) for quite a long time. I was pretty sure I'd hate the excessive packaging and not appreciate the complicated or gourmet menus. I don't mind meal planning, and (crazy as it sounds), I also don't hate going to the grocery store.
I should offer up my caveat though that I have historically visited the grocery store on weekday mornings when I'm basically the only customer in the store. Because I work from home, I can grab a few things on the way home from dropping the boys at school in the morning without missing a beat. I despise grocery shopping on Sunday afternoon when everyone and their brother is also there.
Less Packaging Than Expected
I was surprised to find that the Hello Fresh box did not include as much packaging as I expected. The box itself is quite sturdy and can be composted, recycled, or repurposed.
The box included a few pieces of heavy packaging paper that can also be composted or recycled. Aside from the three large ice packs, the package included no more waste than a typical run to the grocery store.
No Excessive Dishes Or Complicated Cooking With Hello Fresh Meals
Sometimes meal delivery services require lots of dishes and long, somewhat complicated menus. I had no interest in anything like that. We generally keep dinner pretty easy (and I've mentioned before how much I hate doing dishes).
In the chicken and vegetable dish, we used one saute pan, one baking sheet, two bowls, a cutting board, and a large knife to cut the vegetables. For me, at least, that isn't much different than making any other healthy family dinner.
While the recipe card stated 30 minutes to make, it took me about 45 minutes from start to finish. It probably could be done in 30 minutes by professional chefs or those who know the recipe well, but I found it took a bit longer, particularly because my chicken took longer to cook than the recipe said. Despite the time, the steps were not difficult.
Hello Fresh Has Family Friendly Recipes
Along with my concern that the recipes might be fancy and complicated, I didn't know how the food would fare with my boys. They don't eat particularly childish palettes (i.e. chicken fingers, mac 'n' cheese, etc..), but they also aren't eating anything too crazy. The meals we've received so far have all been interesting and tasty enough for adults yet simple enough not to cause a rise from the kids.
The boys still don't sit down to dinner like angels every night, but that's certainly not because they don't like the food.
Does Hello Fresh Offer A Fair Price?
Without a doubt, Hello Fresh (and any meal subscription service) is more expensive than shopping at a standard grocery store. However, the ingredients were of high quality, and I didn't think it was materially more expensive than high-end grocery stores.
Also, I paid for more than just food. The subscription price includes a service fee, effectively, for planning the meals and delivering the food to my door. (They say there isn't a delivery fee, and technically that's true, but it's built into the pricing of the subscription, of course.)
I attribute an opportunity cost to my time and am not opposed to paying for certain services that add value to my life or reduce routine nuisances. I don't always mind meal planning and grocery shopping, but I definitely like being freed of these responsibilities once in a while. Having the meals for the week planned by someone else felt particularly worthwhile when in a rut with meal ideas.
I consider the "service fee" well worth my money on a periodic basis.
Who Might Appreciate Hello Fresh?
I liked Hello Fresh enough to conclude that I think you might like it too. We don't get it every week. We plan to pause our subscription regularly and take the box about once a month, depending on what's going on in life. I do think, if a family can afford it occasionally, it's a great supplement to a family dinner routine to make busy weeks a whole lot easier and add some healthy variety to the table.
I also think this would be a really great gift for new parents, particularly because it can be hard to find time to leave the house between all those newborn naps. New parents can barely find time to shower, let alone take a baby out to buy food.
Further, it would make a great gift for college students to learn how to cook. The recipes are easy and detailed enough for a new cook to use it as an educational opportunity as they learn their way around the kitchen.
I was one of many college students that had little clue how to cook when I showed up on campus. I ate cafeteria food sometimes, but I also had my own kitchen for a couple of years. I would have loved something like Hello Fresh when I was in school!