Great List of Airplane Picture Books for Kids
Looking for the perfect airplane picture book for children? Our boys love books about planes, so we've made the rounds with many of them. Check out this list of great picture books about airplanes for kids.
Planes, trains and… rocket ships.
Our boys haven't really gotten too into cars (except maybe a few race cars), but they love planes and trains and just about any commercial transportation vehicle with a powerful engine. Luckily, we've parlayed their interest in planes into a love of books about planes (fiction and non-fiction) and a perpetual interest in building planes out of LEGOS.
There aren't many things my boys like more than airplanes, so when we head to the library for a new stack of books, anything about airplanes is top on the request list. The library near us is pretty small, so we reserve most books in advance (to take advantage of the collection from the whole system of libraries).
Last time I reserved picture books, I searched for the keyword "airplane" and put holds on nearly all of them (at least until I maxed out my "holds" limit). Hopefully there aren't any other little kids in our area trying to find the whole airplane book collection right now, because they're out of luck for the next couple of weeks.
Our Top Six Favorite Airplane Picture Books for Kids
Hello Airplane by Bill Cotter ~ This might be one of my favorite planes books yet. It's simple, which my boys love (because they can memorize it fairly easily) but it has some really great illustrations.
How To Eat an Airplane by Peter Pearson ~ This is a cute book that offers some clever plays on words while also incorporating a few fun facts about planes into a really silly story. I had hesitations about it being overly ridiculous, but we all really liked it.
Planes by Byron Barton and Airport by Byron Barton~ Simple and perfect, much like most of his books. This is great for really little ones who aren't yet ready for complicated stories. But it continues to be relevant as children get older because they can start to read it themselves. My boys could read this over and over and over again.
My First Trip on a An Airplane by Katie Kawa ~ While I didn't initially select this book for it's cultural aspect, I like that the main family is not white. So many childrens' books, especially those about airplanes it seems, have white main characters (at least in this country). I definitely liked the element of diversity this story offered.
The Airport Book by Lisa Brown ~ This fun book with delightful illustrations (that have lots of activity in them and provide kids a host of things to examine), tells the story of a family taking a trip together on an airplane. It highlights all the things the families does as they make their way to airport, onto the plane, and then home from the airport. The story is great, and I also love the that the family is interracial. It's just an everyday story to which all kids can relate that includes characters and a family with lots of different skin colors.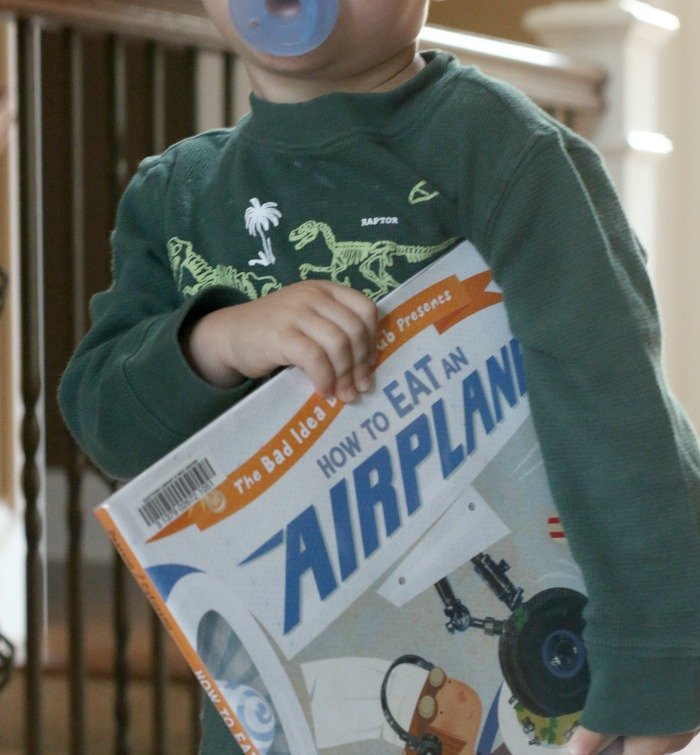 More Great Fiction Airplane Books for Kids
My First Airplane Ride by Patricia Hubbell ~ A fun book about the basics of a little boy's first ride on a plane with him mom. It also rhymes, which gets bonus points in my book.
Airplanes: soaring! diving! turning! by Patricia Hubbell ~ Much like her other books, this one is engaging for the little ones and has great illustrations.
The Little Airplane by Lois Lenski ~ In this book, Pilot Small shares the story of one of his flights in great detail, which offers readers a glimpse into how airplanes actually work. This story is a bit long and, to me, feels repetitive. It wasn't my favorite of all the airplane books, but my boys absolutely love it.
Amazing Airplanes by Tony Mitton ~ A fun way to learn about airplanes through the eyes of animals.
More Great Non-Fiction Airplane Books for Kids
Monster Airplanes by Chris Bowman ~ What's not to love about giant airplanes?!
Airplanes by Cynthia Amoroso ~ This book offers lots of fun little facts that teach kids about real-life airplanes in a way that sticks with them. My boys still recite facts from the book and talk about things they learned while making their own planes with blocks and LEGOS.