When Thoughtful Consumption Stays Close To The Heart
Want to know the very best and most interesting way to live a sustainable life? Take advantage of your friends!
Tons of our friends have cool skills and areas of expertise that we can leverage to shop and support local business in a meaningful way. Check out these two ways I've kept my consumption "micro-local" (if that's even a thing) to get exactly what I want while supporting local entrepreneurs.
Oh kids birthdays… Much ado about kids' birthdays? No fanfare for the occasion?
And what about gifts?
Remember when I wrote about how we've dealt with kids' birthdays so far? I received some fair feedback (and responded in the comments of that post). But when our boys' birthdays roled around this year, I had to put my money where my mouth was.
We didn't go all out and shower our boys with gifts. In fact, they received just a few things that I thought long and hard about buying.
Each of them got a couple books, one to two toys, and some "new to them" clothes. (I buy nearly all my boys' clothes from thredUp – If you're new to thredUP, you can get $10 off your first purchase when you try it out).
First Up… The Easel
Taking a slightly different approach for J this past birthday, I wanted to get him an easel. As I searched the Internet (everything from Amazon to Etsy), I couldn't find exactly what I wanted. So, I commissioned a friend of mine with some handy woodwork and construction skills to make exactly what I wanted.
She'd never made anything exactly like it before but loved the challenge of a new project. We exchanged texts and photos to define and refine my vision. She fine tuned my ideas with her tactical and industry expertise. And I ended up with this super cool easel that's exactly what I wanted! I'm totally in love with it.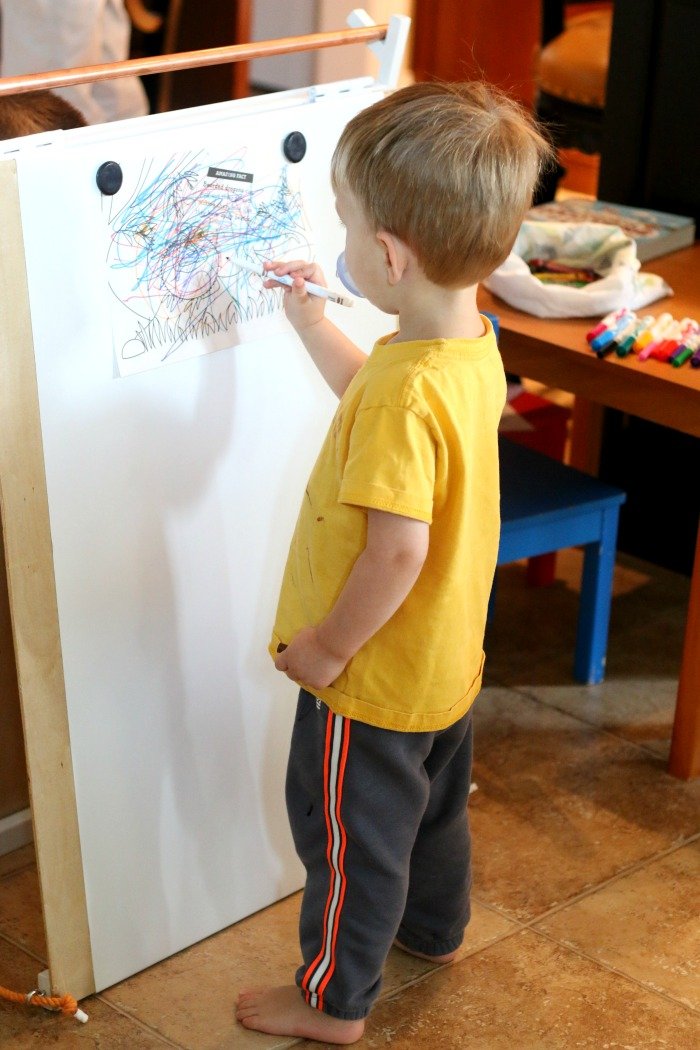 It's handmade, high quality, has magnetic boards on both sides (so the boys don't fight over who gets to use it), and includes a cool copper dowel to hold paper (when they aren't using scrap paper).
Not only do I love the easel, but I love that it's unique, exactly what I wanted, and handmade by a friend since elementary school (we met when we were 10!). How cool right?
The Renaissance Woman
Even cooler? My friend.
Her name is Maggie, and she's a total Renaissance woman. Aside from her corporate job where she kills it like a boss (they tell her she's too efficient), she's a car geek, she designs and builds commissioned wood working projects, she just finished a DIY bathroom renovation (down to the studs and back up to beautiful), and she's launching an apparel brand on Kickstarter next week. Seriously?! What can't this girl do?
You Totally Want This For Winter
All bragging aside, her current rockstar project will surely interest you if you live anywhere with cooler weather. Born and raised in Minnesota, my former stomping grounds, she's a legit expert on cold weather and the gear we need to beat it. She developed a super cool product that's gonna be a game changer for those of us freezing our faces off in Winter Wonderland, USA.
She's created a removable faux fur ruff that can be added to any hood. It attaches magnetically, so you can change it up and put it on another sweater or jacket when you're ready for a switch. Not only does it add an element of style and interest, but it also makes the hood a heck of a lot warmer.
Fashionable, functional and it's Made in the USA. Sign me up!
Next week, she launches her Kickstarter campaign to get this company, Namakan, off and running.
It's pretty sweet to be "in the know" about up and coming brands and products, at least in my opinion. So right now, go sign up for her email list so you'll know right when it goes live.
I'll wait and watch this quick video while you're gone.
While I suspect you might want one of these for the visit from Old Man Winter that will be here before we know it, I think it could make a really cool gift too. Got a teenager in your life? They're sometimes tough to buy holiday gifts for, but I think this would make a great option! How about a girlfriend who has everything? I guarantee she doesn't have one of these. 🙂
Be sure to check it out and sign up for the Namakan email list to get an update on the launch. When it's totally "a thing," you can say you were one of the first to own it.