5 Days in San Diego With Kids Hosted by Plum Guide
Want to visit San Diego with kids for a few days? Here is what we did during our relaxing, five-day trip to San Diego in the spring.
Thanks to Plum Guide for sponsoring this post.
A few weeks ago, we spent a week in San Diego for spring break. I have two sisters who live in San Diego and one who lives in Oakland (who often comes down to San Diego when I make the cross-country trek to Southern California).
We visit San Diego once (sometimes twice) each year. With family spread around the country, it's become a meeting point for us on many occasions.
We try to mix up the activities we do together each time we visit, so we've done a lot of different things in and around San Diego and the larger Southern California area. Sometimes we even make a pit stop in Oakland to visit my sister up there before heading south to San Diego.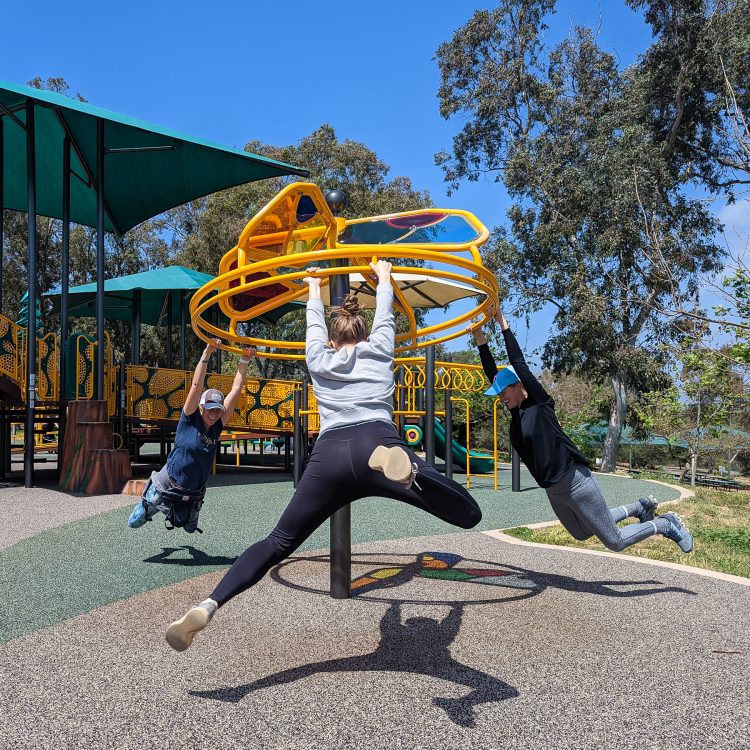 Experiences Over Things + Air Travel
As you might expect from an eco-conscious mom, we focus a big portion of our fun money on experiences over things. Especially with family living far away, travel to visit them is an important part of our entertainment budget. Our boys have plenty of stuff and don't need many more things collecting dust in their bedrooms and playroom.
That being said, experiences have their own environmental weight. Air travel is one of the most carbon-intensive individual activities in which many of us participate, particularly those of us with privilege. Shortly after getting home from San Diego, I couldn't help but dive into the debate about the carbon footprint of flying versus driving. I shared a deep dive on the flying versus driving analysis, and I was quite surprised by the outcome, to say the least.
If you have travel plans coming up, I highly encourage you to check out the analysis and consider how it might influence your travel agenda. That being said, here was our travel agenda for spending five days in San Diego, California with kids.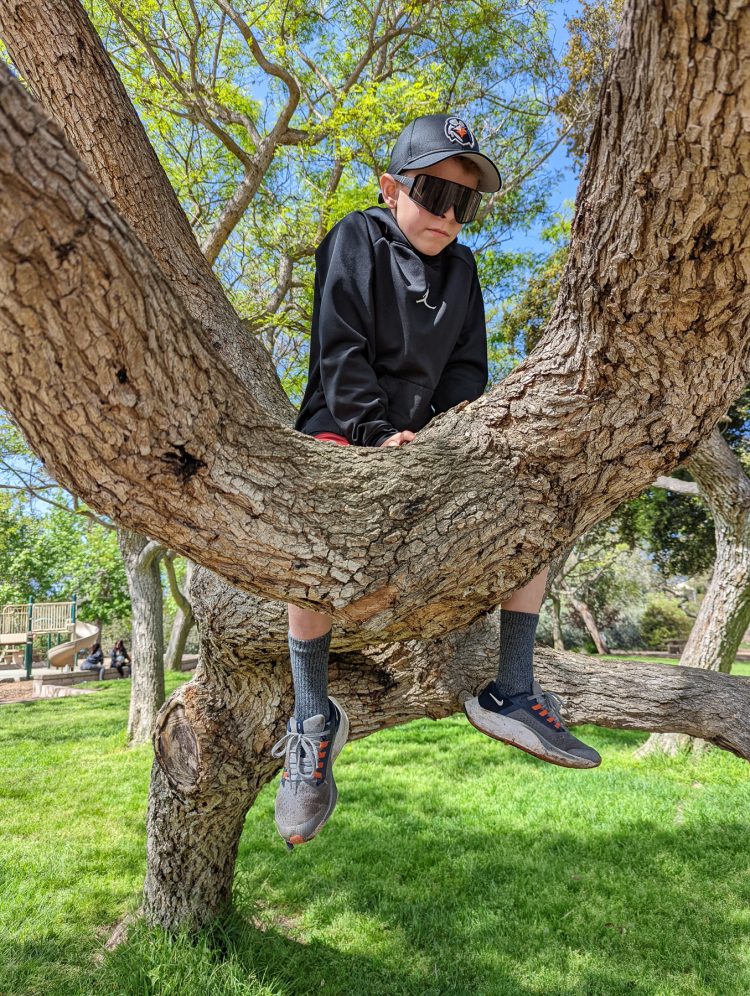 5 Days Traveling With Kids In San Diego, California
Once we landed in San Diego, we set out for five days of fun with my sisters, their husbands, and their four kids. Here's how we spent those five days in this mostly sunny and seventy-degree beach city.
Friday
Small-Group Activities With The Kids
We landed around lunchtime and took a dip in my sister's pool after having peanut butter and jelly sandwiches and cheese and crackers for lunch. Sometimes a simple lunch after a long travel day is perfect and just what the belly orders.
A much-needed shower after a flight and swimming proceeded meeting up with two of my other sisters to head out for evening plans. I took my sister's three kids to Benihana and another sister took my two boys to the San Diego Seals lacrosse game to watch them lose to the Philadelphia Wings. My boys secretly cheered for the Wings the whole game but tried to be subtle about their excitement while being surrounded by home team Seals fans.
There are five sisters in my family, so when we get together, the group can get pretty large. Sometimes it's nice to do something all together. But as the kids get older and we add more significant others and little ones to the family, we've consistently made more time for people to do things in smaller groups from time to time when we're on vacations together.
It's nice to get time to spend with my nieces and nephews when their parents aren't involved, and I know my boys like spending time with their aunts and uncles without me too. My sister and her husband also got a kid-free date night without having to pay a babysitter, so no one is arguing about that.
As often happens when we get together, I stayed up way too late talking to my sisters about whatever sisters discuss before finally crashing on my sister's couch long after the boys were in bed.
Saturday
Enjoying the Everyday Activities
We spent most of Saturday doing everyday things together. Especially when we're with family, not everything on vacation needs to be epic. Sometimes the best moments are in the seemingly mundane.
We watched my niece's softball game and then all went to my nephew's baseball game. We relaxed at my sister's house and had a lunch of leftovers.
My boys played with their cousins, riding scooters, playing soccer, jumping on the trampoline, and playing games like Ticket to Ride Young Riders edition and The Game of Life.
None of these activities will make the list of Best Family Activities in San Diego, but they're often some of the most relaxing moments on our trips.
Tapas at Cafe Sevilla for Dinner
We all showered up over the course of the afternoon, put on some slightly fancier clothes, and headed into downtown San Diego for dinner at Cafe Sevilla, a Spanish tapas restaurant. As we'd hoped, they placed us in the far back corner of the restaurant (the perfect place for a large group with six kids under ten at an upscale restaurant on a Saturday night. Parents – you know what I mean.)
Tapas with kids is pretty interesting, but all six of them were great and tried lots of new foods. One of my little guys is quite the foodie, so he immediately spotted the octopus appetizer and placed an order to share with the table. He tried a few bites and didn't love the texture, but he's always up for checking out some of the most interesting items on the menu.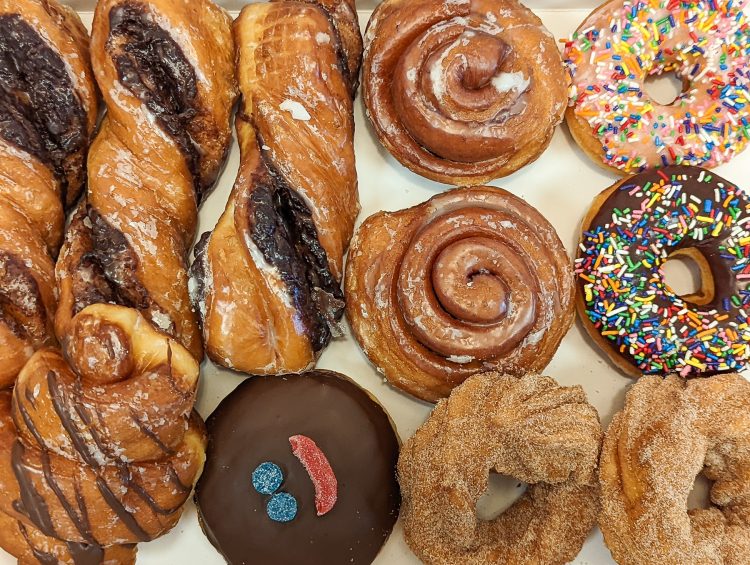 Sunday
Sunday began with breakfast at home (eggs + bacon) followed by donuts from Barrio Donas. While nothing compares to the donuts we used to get in Chicago when we lived there, these were pretty delicious. They also have some fun Mexican-inspired donut flavors, much like so many eateries in San Diego.
College Baseball Game
My brother-in-law is a huge Oregon State fan, and he especially loves their baseball team. The Oregon State Beavers player USC in Los Angeles, so we all drove up to Los Angeles to watch the game. The Beavers, ranked one of the top five college baseball teams in the country, secured the win.
A couple of the players were kind enough to autograph baseballs for the kids after the game. The two that signed autographs have a real shot at playing professional baseball, so who knows if that ball might become more valuable than a college game ball signed by their center fielder. But the kids thought it was the greatest thing ever.
Attending this game was yet another example of smaller activities that are just right for kids. Much like a minor league baseball game or a public playground, the smaller and less expensive activities shine for the kids and are more fun than more expensive and touristy alternatives.
The Packing House in Anaheim for Dinner
On the way home from the game, we stopped for dinner at The Packing House in Anaheim. It's not far from Disneyland. They had so many options (which can be overwhelming for me, especially when trying to find something the boys want to eat that they won't end up wasting). But after we got settled in with our food, I felt a lot better.
Between my sisters, their husbands, and our kids, we ordered chicken and waffles, Pad See Ewe, anti-gravity noodles, a burger, and a sandwich from various restaurant counters at The Packing House. Everything was delicious. There were so many options; everyone could find something they wanted to eat. They even have one restaurant that is entirely vegan and several dessert counters too.
There are tons of seating options, both indoors and outdoors. We all enjoyed the outdoor tables outside the downstairs exit of the building. If you're visiting The Packing House with kids and this area is open, it's a pretty perfect spot to eat with little ones. They had plenty of space to spread out, eat, and be energetic kids.
Be forewarned that the parking is a bit tight. Plan to park on the street and walk a block or two to the market.
The Packing House is also right next door to Monkish Brewery. While I don't drink beer, my craft beer-loving brother-in-law says it's an amazing brewery. He grabbed some four packs of their latest brews to take home with him. If you're into small-batch craft beer, be sure to walk next door and pick up a few beers to take home for later.
Checking Into Our Plum Guide Home Rental
After two nights crashing on my sister's couch, we got a rental house from Plum Guide for Sunday through Tuesday night. With two bedrooms, a small living room, a bathroom, and a full kitchen, this was more than enough space for me and the boys.
If you're not familiar with Plum Guide, it's a high-end house rental website. Unlike other home rental sites, every property must be inspected by a Plum Guide certified inspector before being listed on the site. While reviews from customers are important, Plum Guide strives to ensure that every single listing is top-notch and meets their first class requirements.
Plum Guide first launched in London, so they have many luxury home rentals in major European cities. They're just starting to gain popularity in the United States. You can find Plum Guide house rentals in certain destination cities for now. However, they will likely expand over time to be a premier house rental option across the United States.
Plum Guide kindly gifted us our three-night rental home. They had frequent communication leading up to our check-in date to ensure we had everything we needed. We checked in quite late, cuddled up on the couch for a bit, and I caught up on some email while the boys watched a bit of television before heading off to bed.
I read aloud to the boys most nights before bed, so I read a chapter to the boys from Sal and Gabi Fix The Universe (our current read-aloud). We were all exhausted from long days and late nights despite the time change, and we crashed pretty quickly on our first night in a space by ourselves.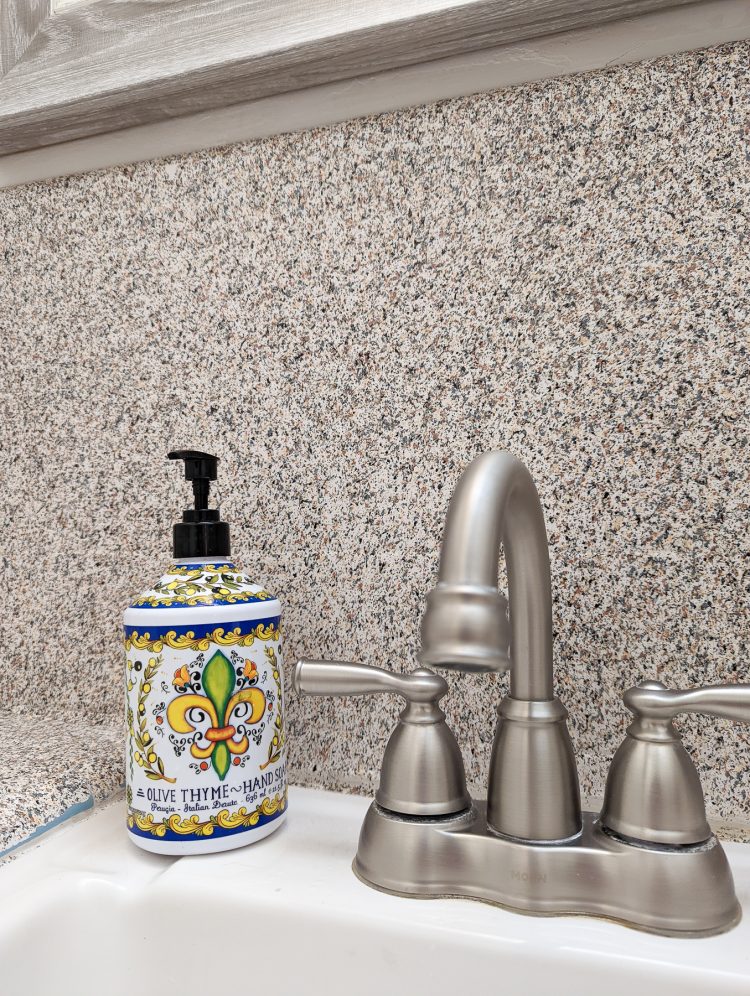 Monday
One of my sisters lives in downtown San Diego and the other lives in a suburb of San Diego. Our Plum Guide house was in Little Italy, a fun and energetic district of downtown.
In the morning, we drove from our Plum Guide house to my other sister's house in the 'burbs and had a lazy breakfast of eggs and bacon. We hung out at her house for a bit before heading up to San Dieguito County Park.
None of us had been to this awesome little spot outside San Diego. San Dieguito County Park had lots of easy hiking trails, lookout points, two rope bridges, a fun sandstone wall to climb (that reminded me a lot of Annie's Canyon), and five playgrounds. We spent almost four hours at this park, and the kids were not even ready to go home yet.
After a long day in the sun, we stopped for dinner at Oscar's Mexican Seafood in Pacific Beach for tacos while my niece had soccer practice. It's a trendy little spot with good beach food that's just about half a block away from the water.
After practice, we all met up at The Baked Bear for ice cream cookie sandwiches. The Baked Bear is a popular dessert spot right on the main street in Pacific Beach, just a couple of blocks from Oscar's. I'm not a huge fan of ice cream cookie sandwiches in general, but you can also get just cookies or just ice cream. I stole a couple of bites of ice cream from each of my boys, and that was plenty of sweets for me.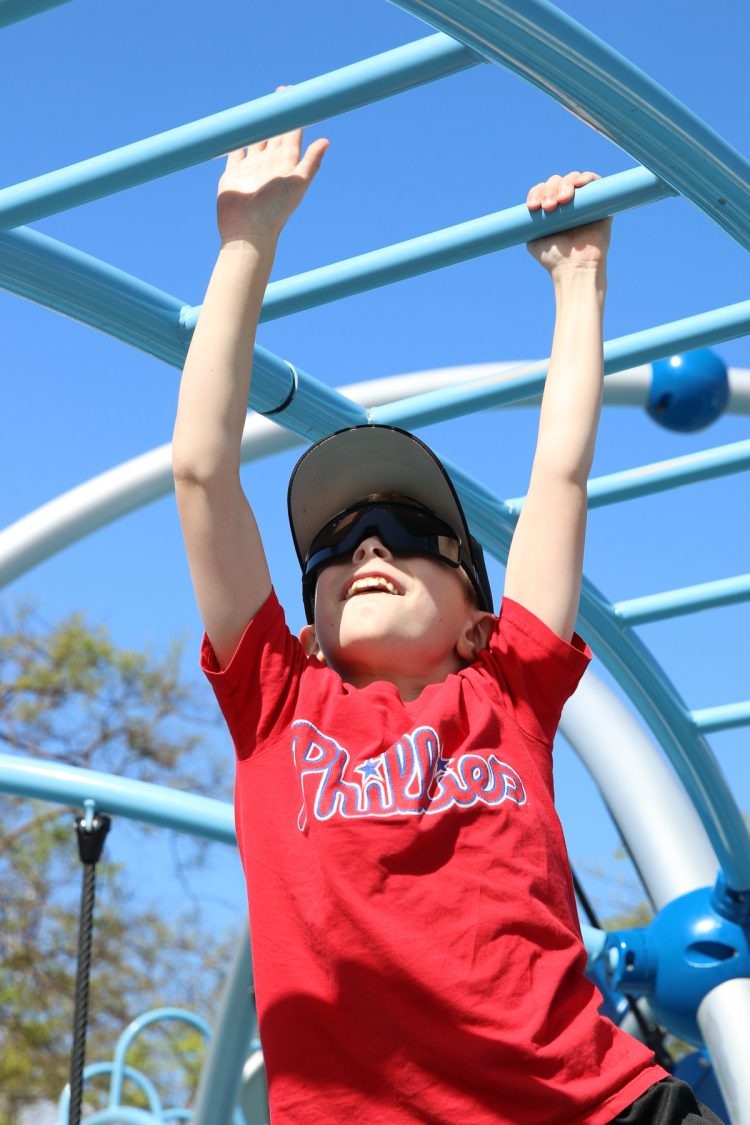 Tuesday
We spent Tuesday with my sister who lives in the city. She recently had a baby and is on maternity leave, so we had lots of time to enjoy the day without the obligation for her to work.
Our plans for Tuesday changed so many times. We initially planned to visit Legoland (something we've done in the past and the boys liked). But a couple of local friends each said the park wasn't in great shape and several rides weren't open because the park couldn't hire enough people to adequately staff all the rides.
Tickets to Legoland are way too expensive for a mediocre day, so we ditched that idea and made a reservation to rent wave runners on San Diego Bay. Unfortunately, the weather forecast took a turn for the worse, and a National Weather Advisory expecting high winds of up to 40 mile-per-hour gusts led us to cancel the reservations and change plans yet again.
After hanging at our rental house for an hour while everyone got a chance to relax and have some downtime, the boys and I met up with my sister and grabbed breakfast at nearby Frost Me, a bakery and coffee shop just a block from our rental house. The large portions made for plenty of food to bring home for leftovers.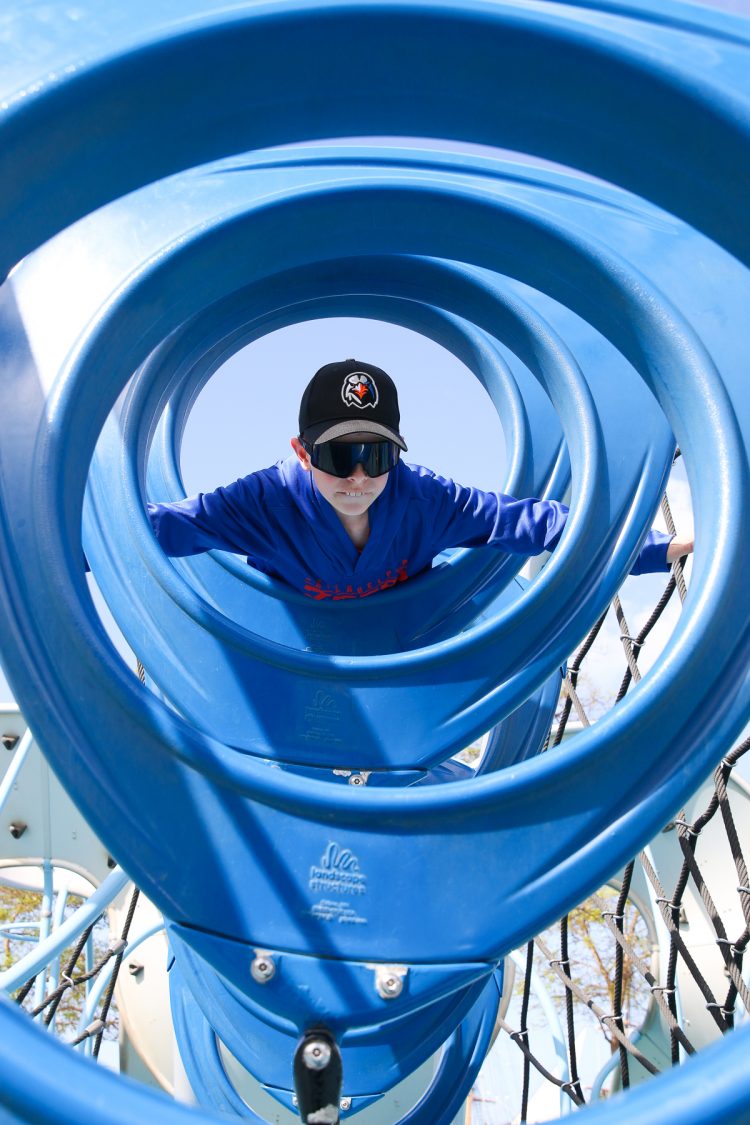 We walked back to her house and stopped by Waterfront Park before taking the meandering the boardwalk back to her place. Initially, the boys did not want to stop at the playground. But once they saw it and remembered how amazing it was, they spent 30-45 minutes climbing, sliding, swinging, and tackling obstacle courses throughout the play structure that my sister made up for them.
Back at her condo, we went swimming in her pool for an hour, hung out a bit, and grabbed a late lunch at home.
While the boys played Tony Hawk on my brother-in-law's Xbox, I took her family a few blocks away for a quick family photoshoot with their new baby. Although I'm not a professional photographer, nearly a decade of taking photos for the blog and as a personal passion makes me a good candidate for free family photos for my sisters. And I'm happy to oblige and give them a gift of a few better-than-average family photos.
The afternoon brought the piece de resistance of our plans for the day – scooter rides through the city. My sister and I each rented a Bird scooter and took the boys for a ride through downtown San Diego. We made a pit stop at Extraordinary Desserts for some seriously decadent cookies, cheesecake, and chocolate truffle loaf.
The boys had an absolute blast riding the scooters, and I can't disagree. It was really fun. But it's also worth noting that it probably wasn't my most shining parenting moment.
The Bird scooters don't allow more than one rider, so we weren't really following the rules. We also didn't have helmets. Most people don't wear helmets while riding the scooters, but it certainly wasn't the safest choice as we rolled along city streets with plenty of cars and traffic signals to follow.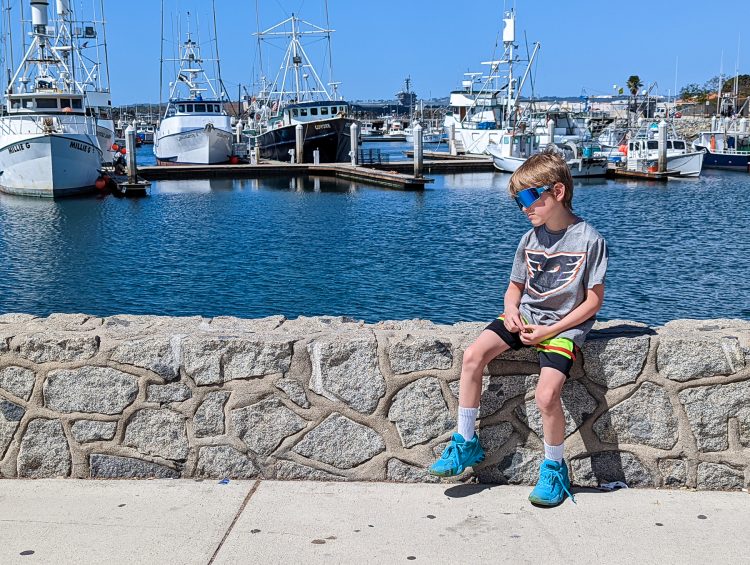 This was super fun but proceed at your own risk. I was glad my sister knew her way around the city because it would have been hard to navigate the scooter and follow directions at the same time.
We rounded out the night with dinner at Animae, an Asian fusion restaurant, with me and my two sisters. My brother-in-law planned the dinner as a birthday gift to my sister, and my boys hung out with their cousins at his house. The dinner was delicious, and it's always nice to enjoy some adult conversations without corralling the kids.
Wednesday
We flew home on a very early flight. Flying from the West Coast back to the East Coast takes up most of the day (and I don't typically choose the red-eye flight when I'm with the boys, especially by myself).
Each of our visits to San Diego is different. We try not to overschedule our days and leave plenty of time for the kids to play and enjoy their time together.
What are some of your favorite things to do in San Diego with kids? If you're planning you're own trip, I've shared about some of our Southern California trips in the past, like this visit to San Diego with kids a few years ago. Here are some other activities with kids in San Diego we've done or plan to do soon that you might love too.
14 More Fun Things To Do With Kids In San Diego
Golf at Liberty Station
My boys love golfing at The Loma Club at Liberty Station with their aunt and uncle. This course is an easy nine-hole, public course that is great for kids and adults who aren't especially great at golf. You can definitely play there if you're an advanced golfer, but expect a slow pace and know there is a wide range of skill levels on the course.
Birch Aquarium at Scripps
Right near the ocean and La Jolla Shores, the Birch Aquarium offers lots to see. We haven't been yet, but it's on my list of potential things to do the next time we visit.
San Diego Zoo
The San Diego Zoo is fun if your kids love animals. But it's also quite expensive, so be sure to budget accordingly if you plan to include this in your San Diego itinerary.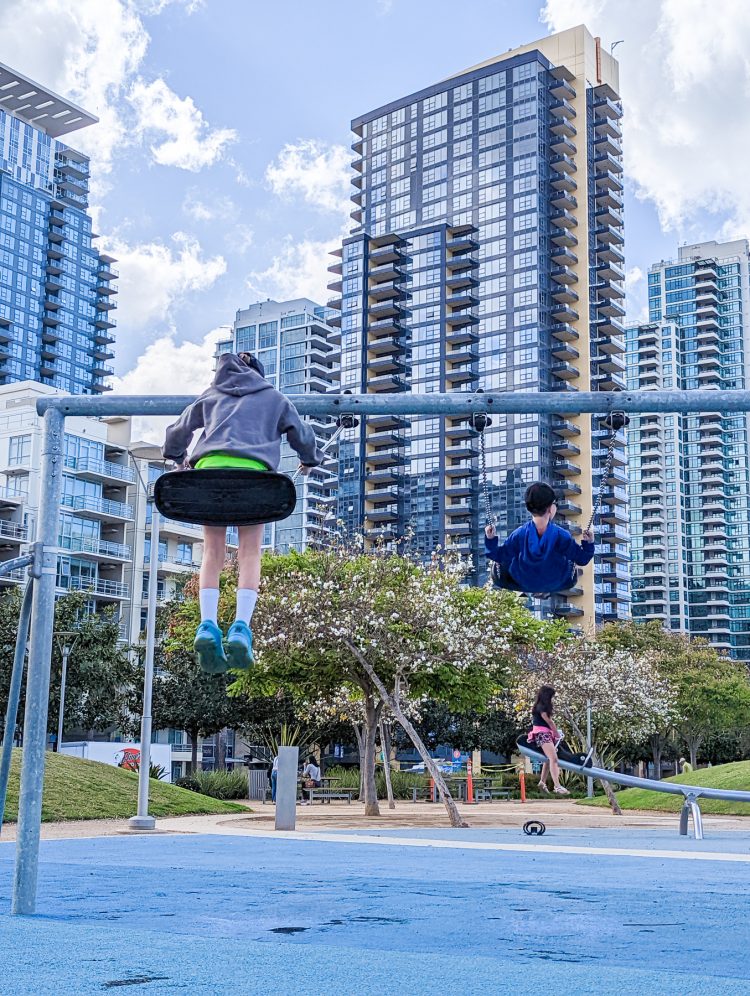 Waterfront Park
Waterfront Park is free. It's super fun (as I mentioned above). And it's a must-visit if you're taking kids to San Diego, especially if you're staying in the city.
Balboa Park Picnic
San Diego's most famous green space, Balboa Park is a huge public green space with lots of places to play and hang out. Depending on where you stay in the city, you may be able to walk to Balboa Park. We've walked and enjoyed small picnics in the grass in the past.
Air & Space Museum
If your kids are into planes, helicopters, and space, check out the Air and Space Museum in Balboa Park. We visited a few years ago when the boys were younger. It was a nice part of a day spent enjoying Balboa Park's many attractions.
Belmont Park at Mission Beach
Of course, there are tons of beaches in San Diego, and we've visited a handful of them. My older son enjoyed his visit to Belmont Park at Mission Beach last summer when he got to ride the roller coaster.
They also have lots of volleyball courts. You can definitely make an entire day out of hanging out at the beach. My husband and older son don't love the sand, and even they have a good time hanging at the beach. Just be sure to be prepared with plenty of towels, snacks, sunscreen, sunglasses, and toys to stay busy.
Check Out Tide Pools
There are some really neat places to explore tide pools along the beaches in San Diego. We've explored the tide pools near La Jolla Shores in the past, and the kids found all sorts of creatures. You can also check out the Cabrillo tide pools at the Rocky Intertidal Zone, part of the Cabrillo National Monument. Before you go, check out this guide on educational beach activities for kids to make the most of your adventure.
Torrey Pines Reserve Hikes
Grab your walking shoes (no hiking boots required, it's not that challenging) and walk along the cliffs overlooking the Pacific Ocean. The Torrey Pines trails offer some gorgeous views on a hike that's easy enough for young kids. It's a few miles, so they might need snacks and water. But it's more than doable for many kids.
"Secret Swings" of La Jolla
There are various secret swings in the hills of La Jolla overlooking the ocean. My sister took us to this swing last time we were there. They move around and have different types of swings, so search for the latest ones on the internet or social media.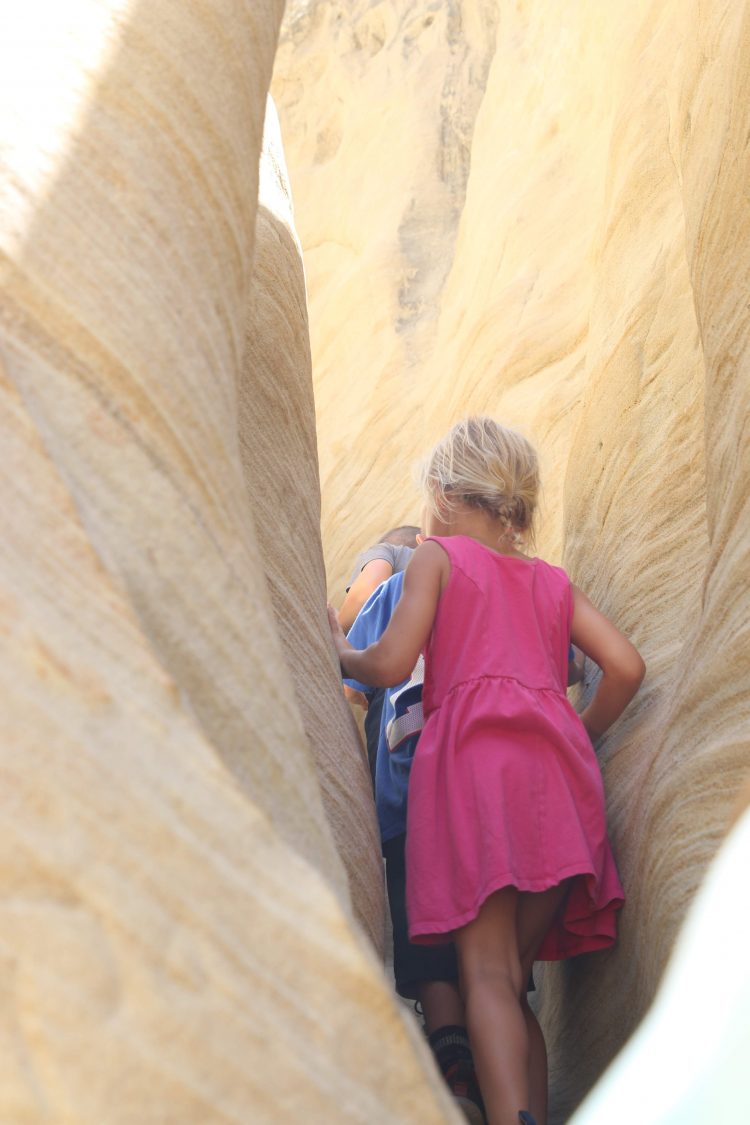 Annie's Canyon
Although it's a quick hike, Annie's Canyon hike is really unique. We walked through the entire hike in under an hour, but you'll encounter a short section of really narrow paths, one of which even requires a small ladder of steps to climb. The boys were about 5 and 7 when we did this hike, and they got a little nervous. But I think it's neat and well worth the visit.
MCAS Miramar Air Show
San Diego has a rich military history, and they have a popular MCAS Miramar Air Show to celebrate it. We've wanted to check this out but it happens during the school year, so it doesn't ever overlap with our visits. My sisters often send us videos of the show when they attend. Even as locals, they still enjoy it.
La Jolla Kayak Rentals
Did you know you can kayak through caves in La Jolla? La Jolla Kayak rentals are also on our list of things to check during one of our next visits.
Padres Game
If you're a baseball fan, hit up a Padres game. You know the drill. And the stadium is right downtown, so you can walk to lots of restaurants or meander along the San Diego Bay before or after the game.
Last But Not Least | A Little In 'n' Out Secret
In 'n' Out Burger is the famous burger chain in California (and beyond at this point). If you stop in, don't be fooled by the drive-through line that can wind around entire blocks it seems. Sometimes the lines are long inside and in the drive-through. But often, the lines are much shorter in the restaurant, so park your car and head to the counter to order. You'll save yourself a lot of time and a lot of wasted gas waiting in a drive-through line that probably wraps around the block.
Have you been to San Diego with kids? What did you do while you were there? Leave your ideas in the comments!