Plan An Awesome Family Vacation in San Diego
We visit San Diego just about every year to visit family and have found many great things to do during our vacation (thanks in large part to the local secrets from my sisters who live there). If you're considering a family vacation to San Diego, be sure to check out these ideas and include a few on your itinerary.
The sun set on our summer of spectacular travel with a sunset swim in San Diego the end of August. In addition to our California foray, we had some big adventures this past summer including trips to Park City, Utah, Zion National Park, and Banff National Park.
Related Reading: Beginner Tips for Planning a Vacation to a National Park
As I reflect on our time in San Diego, we had a really great time but didn't spend the whole week tracking down the biggest tourist attractions. To be fair, two of my sisters live in San Diego, so this isn't our first rodeo in town. They always plan our activities and put some good stuff on the calendar.
In general though, when we travel, we don't strive to see all the popular tourist sites if it means cramming our schedule with plans. Particularly with children but even without them, holding space for relaxation, play, and impromptu activities makes for much more enjoyable vacations for us. If a place has so many amazing tourist attractions and we don't visit them all, we can always return another time to hit up the goodness that we missed if it's that amazing.
If you're heading to San Diego with your family, consider some of these ideas that we have loved while spending time there and a few extra tips to make the most of your trip.
Waterfront Park
This is an absolute must if you're visiting San Diego. I don't generally like to suggest that you "have to" do something when you travel, because families and kids have so many different preferences and priorities. But I think all kids and parents will enjoy this park. We visited it several times throughout our week long trip.
The playground is really fun and designed for slightly older children with quite a few challenging climbing structures. Our kids made up obstacle courses and timed each other to see how fast they could finish the monkey bars, rope climbs and bouldering walls. The park overlooks the skyline view on one side and the harbor on the other.
If it's warm enough, let the kids wear their swim suits and bring a couple of towels. Next to the playground, you'll find a series of water fountains and a large area of 2 inch deep water perfect for splashing and playing. I can't remember the last time something brought J as much joy as those simple water fountains.
Hotel or House Rental With Pool
If you can find one, try staying at a hotel or house rental with a pool. San Diego weather is pretty steady, so you should get plenty of time for swimming. For non-beach goers like us, it's a perfect alternative to the sand and seaweed of the beach. We generally try to stay in hotels with pools (indoor or outdoor) wherever we go, because it's a great way for the kids to blow off some steam, but it's particularly nice in a place like San Diego where the weather warrants a dip in the pool.
Related Reading: How To Make Air Travel with Young Children Easier
San Diego Zoo ~ at night!
It's definitely a tourist attraction and something we've visited a couple of times, often thanks to my brother-in-law's kind parents who share their guest passes with us. This year, we visited the zoo at night. We arrived just after dinner and stayed until closing, by which time it was dark (and a little eerie in some parts of the zoo to be honest).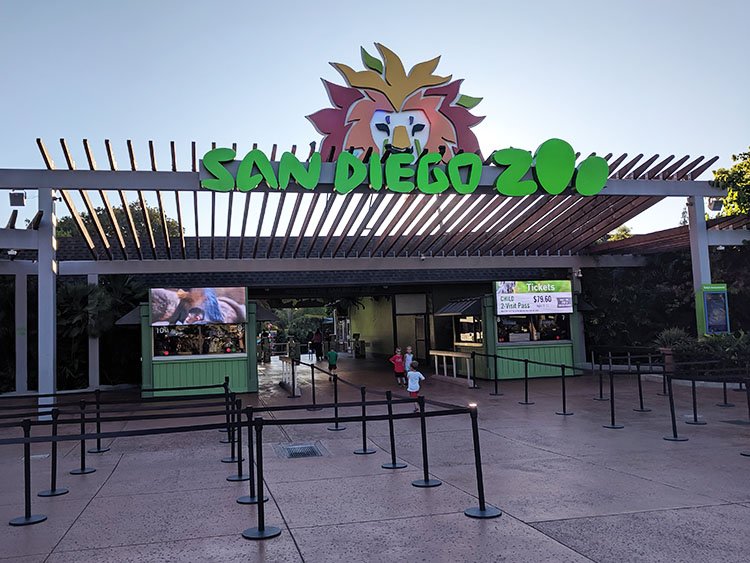 The zoo is large and incredibly popular, so it can be really busy. Visiting at night and on a weekday, we encountered no crowds so the boys got to see so many animals up close and without fighting through lines. We were much cooler, not sizzling under the midday sun. Additionally, the small crowds meant much less parenting stress not worrying about the little ones lagging and getting swept up in a crowd of visitors.
If you have plans to visit the zoo, definitely think about going in the evening (or at least extending your stay past dinner) to let some of the crowds thin out and head home.
Legoland
About a 45 minute to hour drive north from San Diego, this is a favorite activity for my boys and something we do each time we visit. It's a little pricey and takes up nearly a full day, but I think it's worth the time as a special adventure day.
I definitely recommend visiting during the week if possible. Bring water, snacks and sunscreen. I didn't see anyone with large coolers of food, but we did bring sandwiches and snacks into the park in our backpacks with no issues. They have decent food in the park, but it's also expensive. They also have water machines throughout the park to refill your water bottles, so it's well worth bringing your own reusable bottle for the day.
The park seems to be designed for older preschool through elementary age children. There is one small roller coaster and a couple mid-size roller coasters. My boys (5 and 7) love the park now, and will probably outgrow it in a few years.
On the way home, my brother-in-law recommended we grab dinner near the park to avoid traffic. This was an awesome idea. We ate at Casa de Bandini, a delicious authentic Mexican restaurant that I highly recommend! It was one of my favorite meals on our trip.
Hiking
During our visits, we've tried a few hikes in the area. In the past, we hiked Torrey Pines, which is great and not too hard for the little ones. This time, we hiked Annie's Canyon. It's a super short but so cool!
A 15 minute walk along the lagoon takes you up to a series of very narrow slot canyons. The hike through the slot canyons is only about 5 – 10 minutes but it's really unique and all four of the kids (ages 4 – 7) completed it on their own. My boys felt a little uncomfortable the first time we walked through it. We hiked it twice so everyone could enjoy it and feel a little more brave the second time around.
Annie's Canyon and Torrey Pines aren't far from each other, and Torrey Pines sits right along the beach. Together, they make a great day of outdoor adventure, a picnic on the beach, and hanging out near the water.
Liberty Station
Formerly a naval base and barracks, the government turned this area into a playground for kids and adults. Among several buildings, you'll find restaurants, bars, a 9-hole golf course and mini driving range, another great playground, and more.
This visit, my sister and I took the boys to play golf, and they loved every minute of it. We golfed pretty early on a Sunday morning, and it was not crowded at all. It's a really low-key course that's short and simple, all par 3 holes, which makes it ideal for kids.
We rented clubs and played a scramble (or best ball) format to keep a reasonable pace of play. The course isn't fancy but it's perfect for families and has great views of downtown.
Related Reading: Golfing for Beginners Series
If you're feeling ambitious, you can rent bikes and pedal from downtown out to Liberty Station along the shoreline. It's a few miles, so plan accordingly, but it's definitely doable along flat sidewalks the entire way.
Balbao Park
This city park is enormous and not far from downtown. We have visited several times. It's so large, I'm not always sure when we're "in the park" and just driving through the area. In any case, the Balboa Park website has lots of great idea for activities, including an itinerary for visiting with kids. I definitely recommend spending a half day or day in Balboa Park while you visit.
Kate Sessions Park
If you're looking for a really neat view of the city and some open, green space to play, we spent an hour at Kate Sessions park with the boys and their cousins. From the top of the hill, you get a great view of city. The kids can roll down the hill and climb back up as long as their little legs will carry them. There is also a playground here. Bring a picnic, eat on the hill overlooking the city, and then let the kids go nuts on the play structures to use up some of their endless energy.
On a side note, Kate Sessions is a famous horticulturist that founded and helped protect many of the green spaces still surviving in San Diego today, including Balboa Park. Check out The Tree Lady: The True Story of How One Tree-Loving Woman Changed a City Forever from your local library to learn more about her before your trip.
Related Reading: 25+ Fun Picture Books That Encourage Children To Care for the Earth
Check for Festivals and Farmers Markets
On our first day, we visited the local farmers market not far from my sister's house. We found a handful of great novelties and also stocked our fridge with some fruits and things for the week.
Before you go, check out what festivals and farmers market are happening during your trip. The day we arrived, they also had a Margarita festival. The day we left, the city hosted a beer festival and Festival of Books right in downtown.
Unfortunately we didn't get to check out any of them due to our travel times (and I'm not sure the margarita or beer festivals would have been ideal for the kids, of course). It would have been helpful, however, to know about these types of events in advance and planned our travel accordingly if desired.
Morning Marine Layer
Don't judge the day by the sky in the morning. Many mornings, San Diego awakes under a cover of clouds that look like fog, called the Marine Layer. By midday, this typically burns off and you'll be under full sun by lunch time. Wear layers, bring sunscreen, and trust that the San Diego sun will probably show up in all its glory.
They do have cloudier times of year, like the June Gloom season when they get less sun than other times of year, but be forewarned that the overcast mornings don't necessarily indicate the trend for the day.
Skip The Beach Day
I might be in the minority here, but I'm not a huge fan of the beach. Sand… ugh! I like walking on sand in bare feet for about five minutes, but I'll pass on sand stuck in every crevice of our bodies for the rest of the day. Beach days feel like so much work for such an underwhelming reward to me (but maybe I just haven't learned how to do it right).
A Few Restaurant Ideas
We ate many meals at my sister's house and weren't particularly adventurous with respect to restaurants. She lives in the Little Italy neighborhood, which is packed with cool spots to eat, but we know the kids cared more about playing than fancy food.
If you want to go out for a few meals, we ate at Crack Shack (which we really liked), Burger Lounge and Shake Shack. We had one dinner at Buon Appetito, a super casual but great Italian restaurant that we liked.
We spent one week in San Diego and it felt like just the right amount of time. We never like saying goodbye to family, but a week is perfect to get a taste of the city and stay busy without feeling rushed.
Have you visited San Diego? If so, what are your favorite things to do in the city? Share them in the comments!