Middle-Grade Sports Chapter Book Series Kids Will Love
Do you have kiddos who love sports and enjoy a fun book all about their favorite sport? Check out this list of sports chapter books for middle-grade readers, and grab a few from your local library!
If you know my boys or have spent much time around here, you've probably gleaned that my boys love sports. They would play every day, all day (especially my older son).
Not only do they enjoy playing just about any sport that has an ounce of competition, but they also enjoy learning about sports. They watch professional games on TV, and sometimes I think they are studying every move the players make, only to emulate them on the court or field later.
As my older son has moved into reading chapters books, I'm always on the hunt for books that will capture his interest for long enough to finish. Knowing he loves sports, I picked up a handful of different sports-themed chapter books from the library and let him peruse through the pile to pick a few he might want to read.
If you've got a kiddo in the house who loves sports, consider checking out a few of the books from any of these authors who write a variety of books about all sorts of sports.
Great Sports Chapter Books Series for Middle-Grade Readers
These fun mysteries are perfect for middle-grade readers. As you might expect, they all revolve around baseball and most highlight a particular team. You can check out the whole series on the author's website.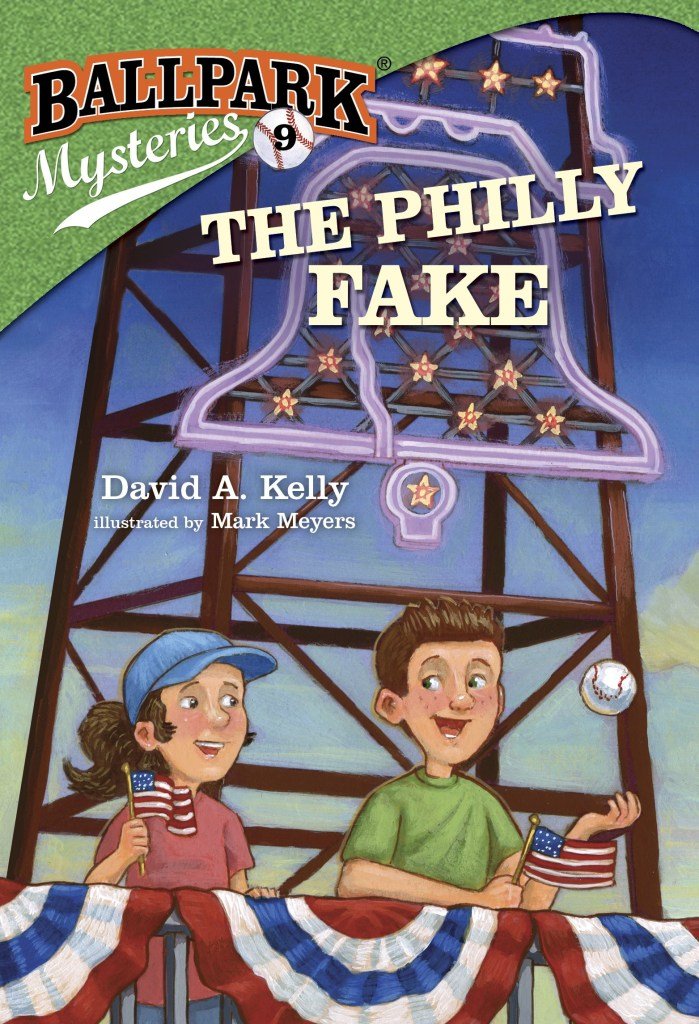 The Philly Fake
by David A. Kelly
What better city to spend the Fourth of July than Philadelphia? For Mike and Kate, the holiday is all about hot dogs, history, and baseball! But the Phillies are in no mood to celebrate. They keep losing, and some people blame the lovable Phillie Phanatic! Can Mike and Kate help the Phanatic clear his name?
Order
The San Francisco Splash
by David A. Kelly
A hit soars over the walls of the San Francisco ballpark on the bay and drops into the water. But then Mike and Kate hear another, much larger splash nearby . . . and this time it's not a baseball. It's a man overboard! And when he's pulled from the water, the old-time ballplayer discovers his World Series ring is gone! Is it at the bottom of the bay? Or was it somehow stolen by a long-ago rival?
Order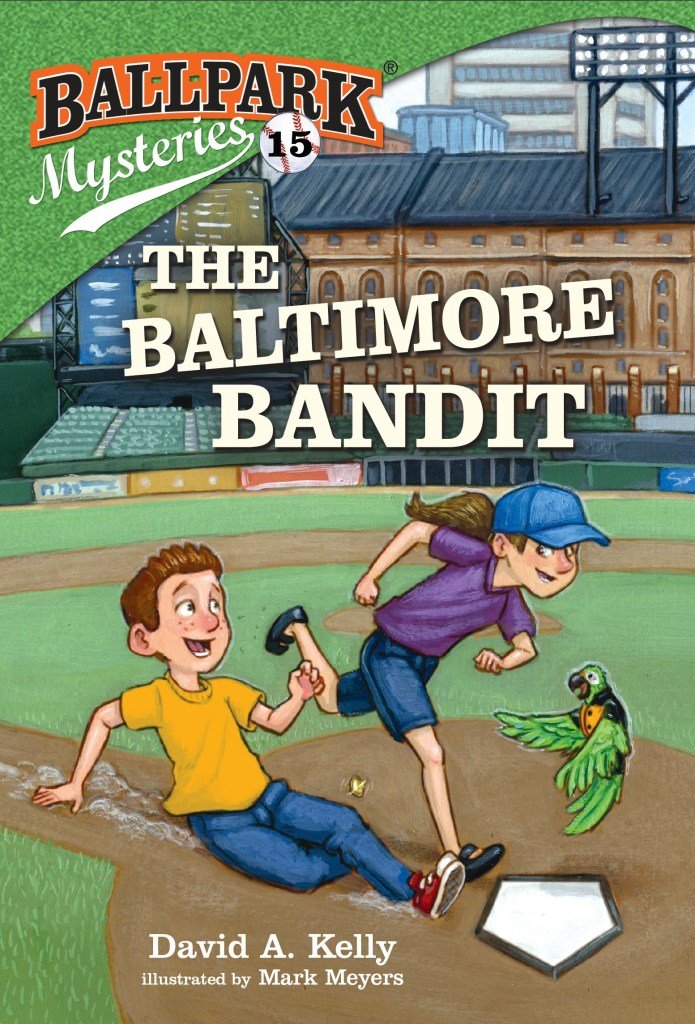 The Baltimore Bandit
by David A. Kelly
The great pitching legend Babe Ruth's first team was in Baltimore, so the Orioles' ballpark has one of his gloves on display. While Mike and Kate are eating pancakes with the Orioles' pitcher, the glove goes missing. The only clue they have is a gold coin . . . which points back to the pancake-eating pitcher! But how could he have done it? It will take more snacks at the ballpark, a talking parrot, and expert detective work to solve this mystery!
Order
Jake Maddox Sports Series
While many of the sports series books focus on the "major" sports like football and baseball, Jake Maddox includes books in his series about all sorts of sports, from gymnastics and lacrosse to soccer, hockey, volleyball, karate, fishing and more.
Blue Line Breakaway
by Jake Maddox
Jack has the talent to be a big-time hockey player―just like his older sister. Can Jack find a way to slip out of his sister's shadow and become a hockey phenom in his own right?
Order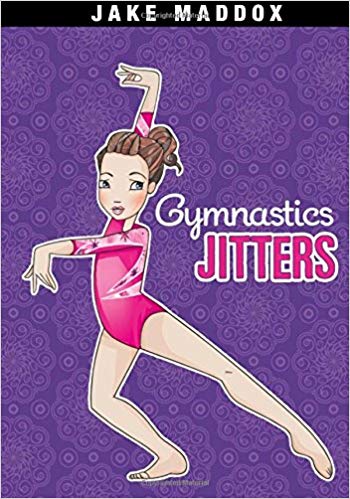 Gymnastics Jitters
by Jake Maddox
Dana and the rest of the Raiders gymnastics team must learn how to deal with their biggest rivals, the Superiors. When the Superiors don't play fair, the Raiders learn a valuable lesson in sportsmanship. Over 2 million copies have been sold in the bestselling Jake Maddox chapter book series.
Order
Lacrosse Attack
by Jake Maddox
Peter made the varsity lacrosse team, just like his best friends said he would. In fact, the coach thinks he's one of the best on the team. But Hurley Johnson, the team's captain, doesn't want Peter to take his spot. He'll stop at nothing to make Peter quit. Will Peter give up?
Order
Blacktop Series
This series highlights life challenges and their interactions with sports in the basketball courts of Oakland, California. The author, L.J. Alonge, writes stories that reflect how basketball helped him learn about his community, settle conflicts, and make friends from all walks of life.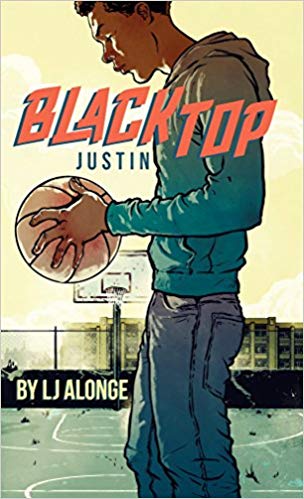 Blacktop Justin
by L.J. Alonge
Justin has a list of goals stashed under his mattress. Number 1 is "figure out life plans." Number 5 is "earn Zen Master rating in WoW." Nowhere on that list is "play the crew from Ghosttown," but that's the type of trouble that always seems to finds him.
Order
Blacktop Janae
by L.J. Alonge
Janae works every day at her Granny's Strange Goods Superstore, selling lucky rabbits' feet and other useless junk. And every night, after closing up shop, she dominates the courts with her boys. When the chance comes around to take her game to the next level, she knows she'll make the cut. It's all about skill—luck's got nothing to do with it. Right?
Order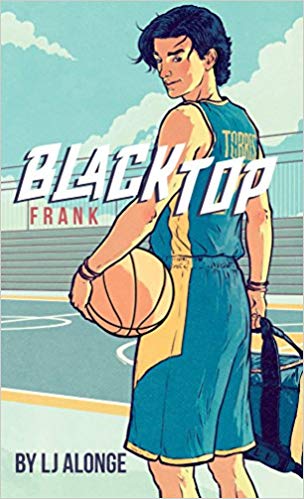 Blacktop Frank
by L.J. Alonge
Frank's not great at staying out of trouble. He's also not great at driving cars. After his joyride ends in a crash, he's stuck with a court-appointed Community Mentor for the summer. But it's not too bad. Officer Appleby's all right. And if anyone can handle a basketball team, a police officer, and a new girl on the horizon, it's Frank Torres.
Order
Tim Green has written a series of books for middle-grade readers about young football and baseball players. He has also partnered with Derek Jeter to write additional books about baseball that fit into the style of the rest of his books. These are just three of his many books, but you can check out the whole collection of middle-grade books on his site.
Lost Boy
by Tim Green
It's always been just Ryder and his mom—ever since Ryder can remember. And they make a strong pair, relying on each other through thick and thin. But one day, on the way home from Ryder's baseball team practice, everything changes.
Order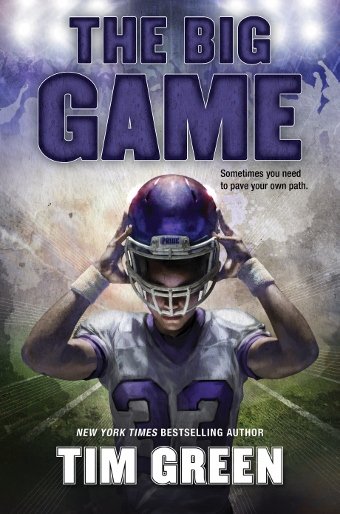 The Big Game
by Tim Green
If Danny can't pass his class, he won't be eligible to play in the big championship game that could unlock his future. While his resentment rises against the one person willing to help him win off the field, the pressure to succeed begins to weigh heavily on Danny's shoulders.
Order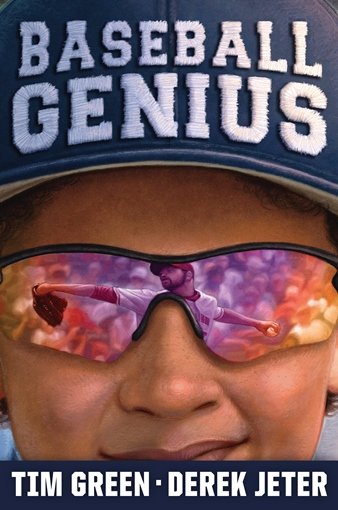 Baseball Genius
by Tim Green
Jalen DeLuca loves baseball, but there's no way he can pay the fee to get on the travel team. His dad runs a diner and makes enough to cover the bills, but not a lot for extras. So Jalen decides to sneak into the grounds of a home owned by Yankee's star second baseman, James "JY" Yager, and steal a couple of balls from the batting cage on the property.
Order
Sports Book from Dan Gutman
With a variety of books and series for children, Dan Gutman has several sports books in his Million Dollar series as well as a Baseball Card Adventure series.
The Million Dollar Kick
by Dan Gutman
Whisper Nelson hates sports–all sports–with a passion! So when by a fluke she wins a chance to kick a goal past a professional soccer star for a million-dollar prize, she is torn. Should she try it and risk humiliation, or just forget the whole thing and save what dignity she has left?
Order
Willie and Me
by Dan Gutman
Stosh thought he was finished traveling back in time. But then Ralph Branca shows up in his room one night, begging for Stosh's help. Stosh uses his power to travel in time using baseball cards one last time in a fabulous finale to the adventure of a lifetime.
Order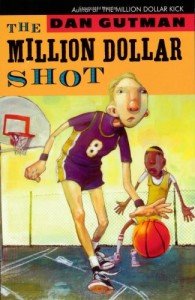 The Million Dollar Shot
by Dan Gutman
Eddie Ball believes he can solve his family's financial woes by sinking a million-dollar half-time basket at the NBA finals, but someone wants him to miss and will stop at nothing to keep Eddie from winning.
Order
Tiki and Ronde Barber, two former NFL players, have written several picture and chapter books about football for middle-grade readers.
We first learned about this series after reading Game Day by Tiki Barber. My boys have checked out that picture book from the library several times, and I agree it's a great book.
End Zone
by Tiki and Ronde Barber
When their star quarterback gets hurt, Tiki and Ronde are starting to lose their confidence. More than that, they think their good luck is going to run out. Will the team let an injury keep them from the championship?
Order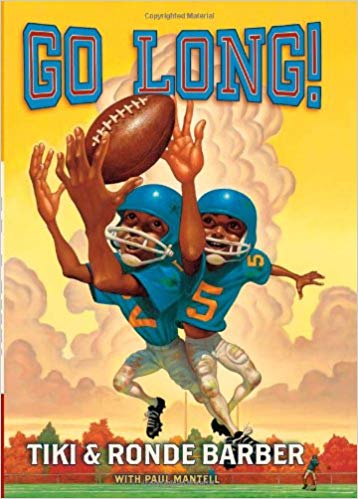 Go Long!
by Tiki and Ronde Barber
The science teacher is the new football coach. Tiki wants to give Coach Wheeler a chance, yet the team's loyalties are divided. What does a science teacher know about the game of football? Can the team work together, get behind their new coach, and play smart?
Order
Wild Card
by Tiki and Ronde Barber
With Coach Wheeler at the helm, the Hidden Valley Eagles' eighth-grade season is looking strong, until its star kicker, Adam Costa, is put on academic probation for poor grades, in a book by two NFL-star brothers that teaches the valuable lesson "grades come first."
Order
Former NBA basketball player Amar'e Stoudemire shares a series of books about life lessons learned through basketball.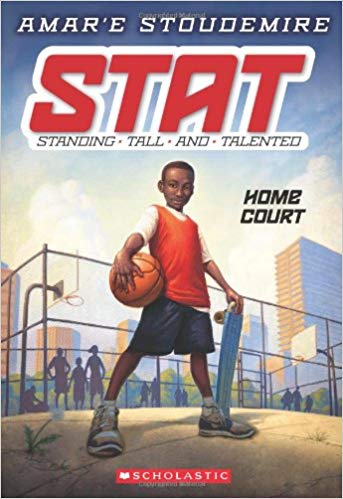 STAT: Standing Tall and Talented #1: Home Court
by Amar'e Stoudemire
Eleven-year-old Amar'e Stoudemire has a lot going on. When a group of older kids start disrespecting his boys on their neighborhood basketball court, Amar'e must step in and use his athletic ability and intelligence to save the day. This experience leads Amar'e to realize that basketball is his true passion.
Order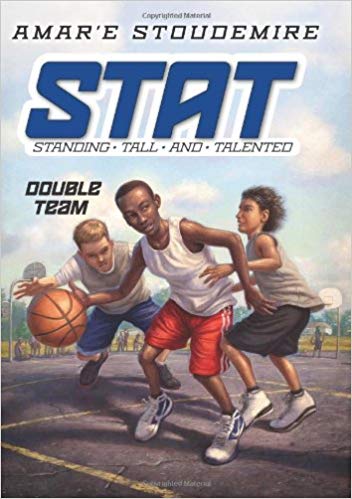 STAT: Standing Tall and Talented #2: Double Team
by Amar'e Stoudemire
Eleven-year-old Amar'e Stoudemire has finally realized that out of all his hobbies, basketball is his true passion. Amar'e starts competing in tournaments with his two best friends, Deuce and Mike, and they are winning. As he gets better, he struggles with leaving his friends behind for more competitive teams.
Order
STAT Standing Tall and Talented #4 Schooled
by Amar'e Stoudemire
Amar'e is good enough to play with the older kids, and should probably be a starter. But the players that have been there the longest, generally get the most playing time. Amar'e must deal with helping his team in a different way than he's used to.
Order
Matt Christopher Sports Books
My husband read these books growing up, and they have stood the test of time. There are so many books in this series about a variety of sports.
You can also listen to many of the books in this series on audio. T and J experienced their first foray into audiobooks listening to The Kid Who Always Hit Home Runs (… three times in a row… until I kindly declined to replay it again).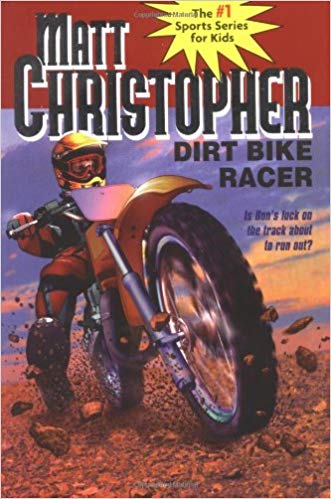 Dirt Bike Racer
by Matt Christopher
Is Ron's luck on the track about to run out? When Ron finds a dirt bike at the bottom of a lake, he can't believe his luck. But the bike needs fixing up and that takes money. When he takes a job doing yard work for a former dirt bike racer, he's convinced he's finally going to make his dream of racing come true. Little does he suspect that the job will lead him to the one person who can threaten his dream….
Order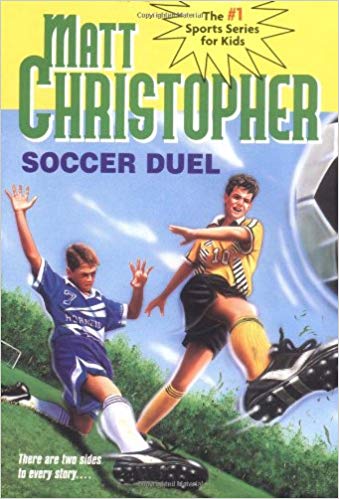 Soccer Duel
by Matt Christopher
Renny Harding and Bryce McCormack both want to win the championship. When they meet face-to-face they discover that they have a lot in common, but can friendship grow where fierce soccer rivalry exists?
Order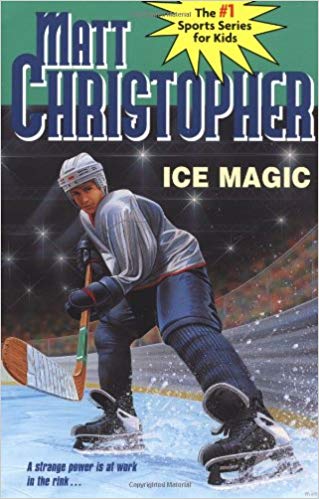 Ice Magic
by Matt Christopher
A strange power is at work in the rink… Pie Pennelli loves to play ice hockey, but he's got some problems: his hand-me-down skates are too big for him, and one of his teammates is always giving him a hard time. But Pie's troubles really begin when his next-door neighbors find an antique hockey game. They swear the game is magic and can predict every play Pie's team will make! When the magic game shows Pie immobilized in midgame, what does it mean for Pie on the ice?
Order
Derek Jeter Baseball Books
A former all-star in Major League Baseball, Derek Jeter has written a handful of books for children. He has a series of chapter books, as well as some picture books. We own Night at the Stadium, which is a fun book about a boy who meets his favorite player in the back halls of Yankee Stadium.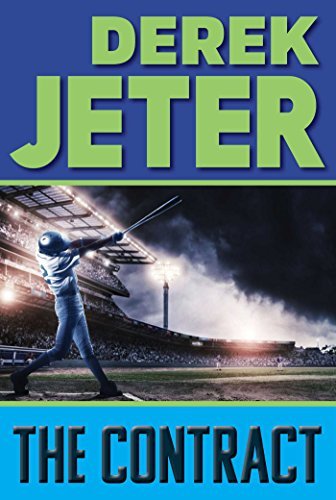 The Contract
by Derek Jeter
Derek makes the Little League team but doesn't get to play his favorite position. Still, he tries his best while he wishes and dreams of that shortstop spot. And to help him stay focused on school, his parents make him a contract: keep up the grades or no baseball. Derek makes sure he always plays his best game—on and off the baseball field!
Order
Hit & Miss
by Derek Jeter
Derek finds out, both baseball and life are hard. Before the season is over, he'll break out of a slump, bring his teammates closer together, learn a new sport, solve the mystery of why his sister Sharlee seems so quiet and suffer the consequences for violating "The Contract" he had signed with his parents. Before he can move closer to his dream, there are many lessons to be learned.
Order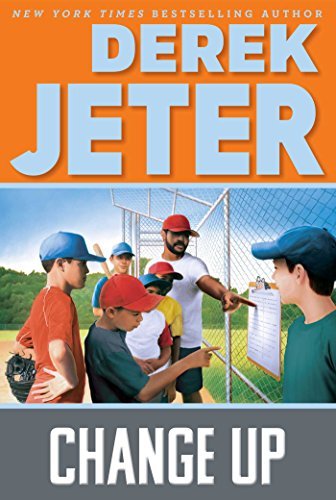 Change Up
by Derek Jeter
Derek is sure this will be the best season yet! He has it all planned—his dad will have him start at shortstop, and the team will cruise to a championship. But sometimes life doesn't go according to plan. Change Up focuses on a key life lesson of Derek Jeter's Turn 2 Foundation—Deal with Growing Pains
Order
Any other sports-themed books your kids love? Share them in the comments. We can always use more great recommendations to grab from our local library!
If You Liked This Post, You Might Also Like
9 Early Chapter Books Series To Introduce Children To Audio Books
Ultimate List of Hockey Picture Books for Kids
5 Easy Steps To Make Your Own Personalized Coloring Book