5 Great Books To Teach Beginners How To Compost
Do you want to learn how to compost or have a family member or friend who would love to try composting at home? It's easier than you might think. To get started, check out some of the books below that offer great introductions to composting for beginners.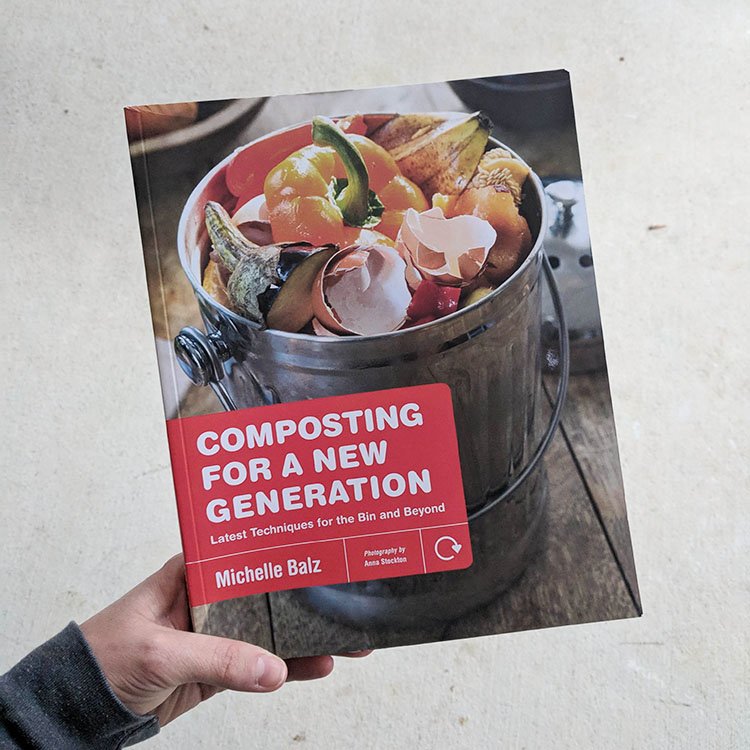 Two years ago, we moved into our current house. I had no experience gardening or composting. I struggled to keep a small house plant alive, and I barely knew what composting was. Needless-to-say, I was not an expert in gardening or composting.
The previous owners of our house, however, were avid gardeners and composters. They left a great garden and compost system for us.
Moving from a very urban high-rise apartment to the outskirts of the suburbs, I looked forward to the opportunity to try my hand at gardening and composting. I particularly liked the environmental benefits of composting to reduce waste and replenish soil quality.
A Bit of Research Goes A Long Way
But…I had no idea where to start. I read many books about composting for beginners (so many, in fact, that the librarian took notice and asked about my interest). Some of the books made composting seem very scientific and complicated while others made composting for beginners feel much more accessible.
After a bit of research and my own trial and error, I assure you that composting isn't hard, even for beginners. It takes a bit of research to understand the different types of composting. There are several types of composting systems, so due diligence up front helps determine what system will work best for you and your living circumstances. After some basic research, however, it's pretty straightforward and hard to mess up.
You Can Make Dirt Too!
In addition to the books below, also check out my You Can Make Dirt composting series. I highlight regular families composting as a part of their everyday lives in a variety of locations and living circumstances. If you already compost and want to be featured, be sure to send me details to be considered for a feature.
If you have any questions don't hesitate to leave a comment below or shoot me an email. I will do my best to answer as quickly and thoroughly as I can.
5 Great Books To Teach Beginners How To Compost
The Complete Compost Gardening Guide by Barbara Pleasant & Deborah L. Martin
This is such a great book to help beginner composters apply the principles of gardening to their own home in a low-stress way. The authors don't make the content too complex or feel overwhelming. They often discuss ways to simplify the process or include discussion about how they keep their compost piles and systems as easy to manage as possible. In a genre filled with highly technical books that can make composting feel overwhelming, this book does a great job of making composting feel accessible.
Composting For a New Generation: Latest Techniques for the Bin and Beyond
This book is, in my opinion, the best book I've seen about composting for beginners. It has such great descriptions and explanations. It isn't too technical but does explain the basic science, which helps to understand why some aspects of composting are more important than others. It doesn't suggest any "perfect" magic formula but is just really reasonable. This was the last book I read, and I almost didn't include the others on the list. Needless to say, this was my favorite! I couldn't find it at my library, but I am more than happy to have purchased it.
Composting: An Easy Household Guide by Nicky Scott
This small handbook is a quick reference guide that I think is very helpful, especially for beginner composters. This is the most straightforward and written in layman's terms. It doesn't address the nuances of composting, but definitely is a greater starter guide and handy quick reference to keep on hand.
Let It Rot! The Gardener's Guide to Composting by Stu Campbell
I highly recommend this book if you're looking to understand the basics of composting beyond knowing just what to put in a compost bin and letting it slowly turn into nutrient-rich dirt. It takes a beginner through the entry-level information and goes just beyond to provide a baseline for stepping into the next level of composting.
The Rodale Book of Composting: Easy Methods for Every Gardener
This book is a nice balance of beginner resources paired with some more technical and advanced discussions about the science of composting and more complex or larger-scale composting systems for intermediate experience. It wasn't, however, overly technical and would be very helpful for anyone looking to try composting beyond a simple bin or pile of kitchen food scraps and everyday cardboard.
Grow Your Soil! by Diane Miessler
This book is not a step-by-step guide to composting but applies the concepts of composting to managing soil in a home garden. It's a great book to read for someone who has a basic knowledge of composting and seeks to step up their attention to care for their soil and the ecosystem of plants in their yard.
This book is really interesting and had a lot of new information beyond the composting 101 that was both accessible and even funny at times. I highly recommend this book after you've learned the very basics of composting at home.
Large-scale or commercial composters really need to understand the science behind composting. Basic composting at home or for backyard gardens, however, doesn't have to be difficult. Hopefully these books and other resources I've shared on composting can help you feel comfortable getting started! If all of these families can do it, you can definitely do it too.
Complete Guide To Compost At Home
For more information about how to compost at home, check out our Complete Guide To Compost At Home with loads of articles to answer all your questions about how to compost at home. We have resources, FAQs, interviews with everyday families who compost at home, and more!
If You Liked This, You Might Also Like
Did You Know You Can Compost These?!
Shunning Imperfect Produce Costs Us More Than We Think
15+ Fun Picture Books That Encourage Children To Care for the Earth