Easy Compostable Decor Ideas for a Sustainable Halloween
Are you looking for eco-friendly Halloween decorations or trying to go zero-waste this Halloween? We've rounded up the best compostable decor ideas to ensure a frightfully good time this spooky season!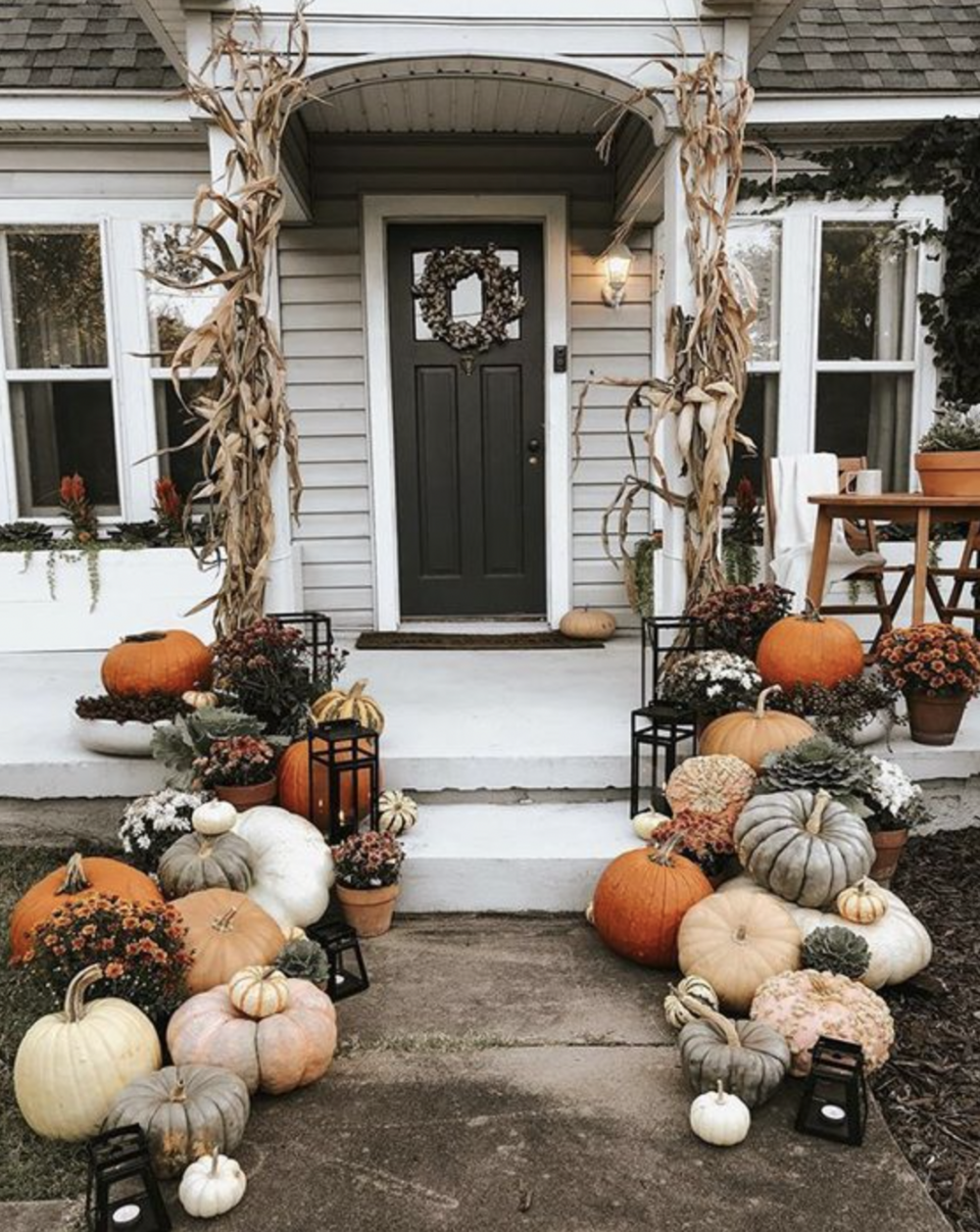 Is your attic or garage filled with the ghosts of old holiday decorations? Are you haunted by the thought of adding more cheaply made plastic Halloween decor to your collection? Decorating for holidays can be a nightmare if you're trying to go zero-waste or live a greener lifestyle, but we've rounded up 14 compostable decor ideas to get your spooky season off to a more sustainable start!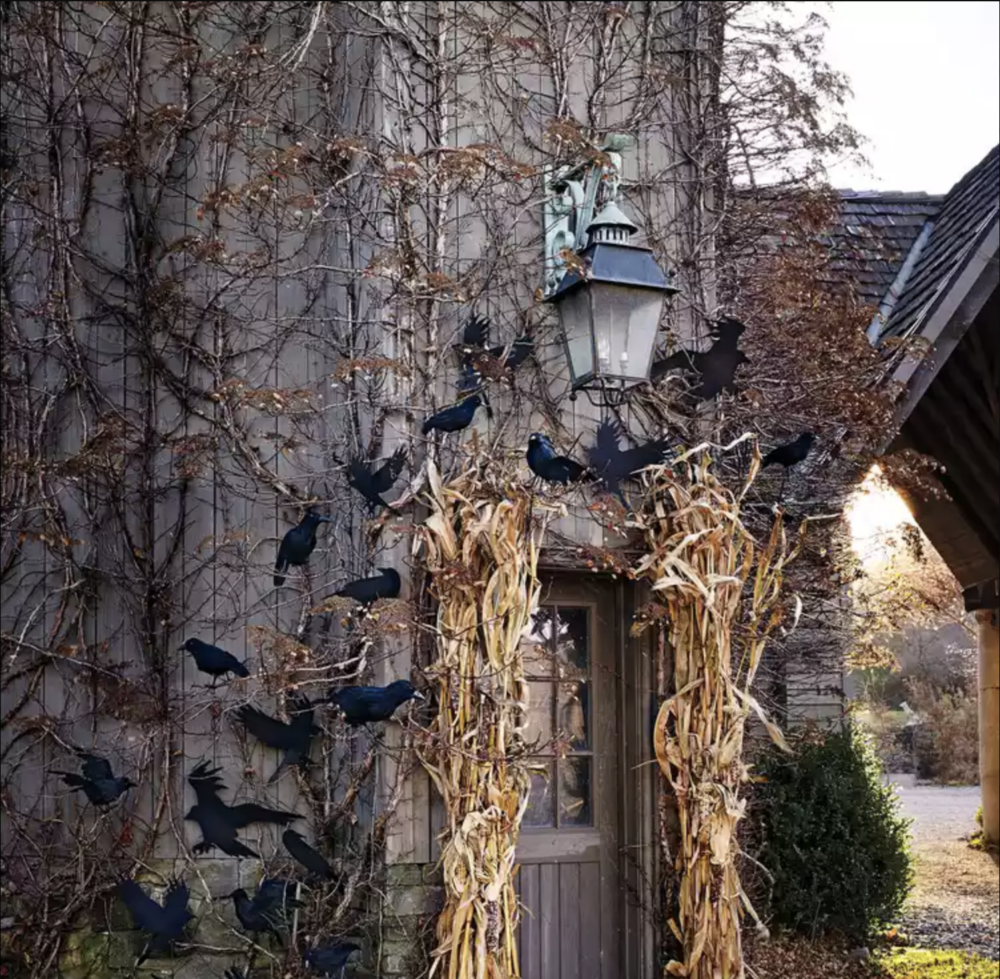 Eco-Friendly Halloween Decorations
Dried Corn Stalks
Do you find most traditional Halloween decorations to be absolutely corny?! Well, dried corn stalks are a winner for a zero-waste Halloween. The towering foliage can be both charming autumnal decor and creepy Halloween decorations, allowing you to enjoy them through Thanksgiving before tossing them into your compost heap.
Use several towering corn stalks with dramatic uplighting to frame your front door for a Children of the Corn vibe, or tie them to front porch columns or your mailbox with orange ribbons and lights for a festival fall look. You can also lean them against a wall or shrubbery as a backdrop for reusable decorations, like plastic skeletons or inflatables.
Pumpkins or Gourds
Does plastic waste have you saying, "Oh my gourd?" Pumpkins are an easy go-to for sustainable Halloween decor, and colorful, unusual, or interesting heirloom varieties are increasingly popular for the fall holidays. You can usually find traditional orange or heirloom varietals of pumpkins at your local grocery or hardware store, but if you live in an area with U-pick or locally grown pumpkins, those are fantastic options for a greener Halloween.
As you game plan your sustainable Halloween decor, don't forget to consider how you'll responsibly dispose of your pumpkins. While composting is the easiest option, you'll find 10 sustainable ideas on how to dispose of your pumpkin here.
Decorating with pumpkins and gourds can be as simple or as time-consuming as you want it to be. Cluster groups of pumpkins by your front door, mantle, or entry table for eco-friendly Halloween decorations that are festive without being fussy. To create a more contemporary aesthetic without investing more time, try using only green, white, coral, or patterned heirloom gourds.
Are you in the mood for a show-stopping Halloween display that's still entirely compostable? Spend a little time hollowing out your pumpkins as centerpiece vases, or give these zero-waste decoupaged dried flower pumpkins a whirl. If you use food-grade adhesive, you can still pop them in the compost bin after the holidays.
Wood Pallets
Wood you dare trespass with these spooky Halloween yard signs? (I know, I know. The puns are just getting worse the longer you read.) Unwanted wood pallets are easily found on Facebook Marketplace or Nextdoor, but you can also usually get them for free from local businesses such as hardware stores or breweries if you ask nicely.
This quick and easy DIY will help you whip up ominous or pun-filled signs in no time, and you can easily compost the weathered wood afterward – just remember to remove the paint and screws first. You can also try this fun pallet zombie graveyard if you own uplighting and a few skeleton arms.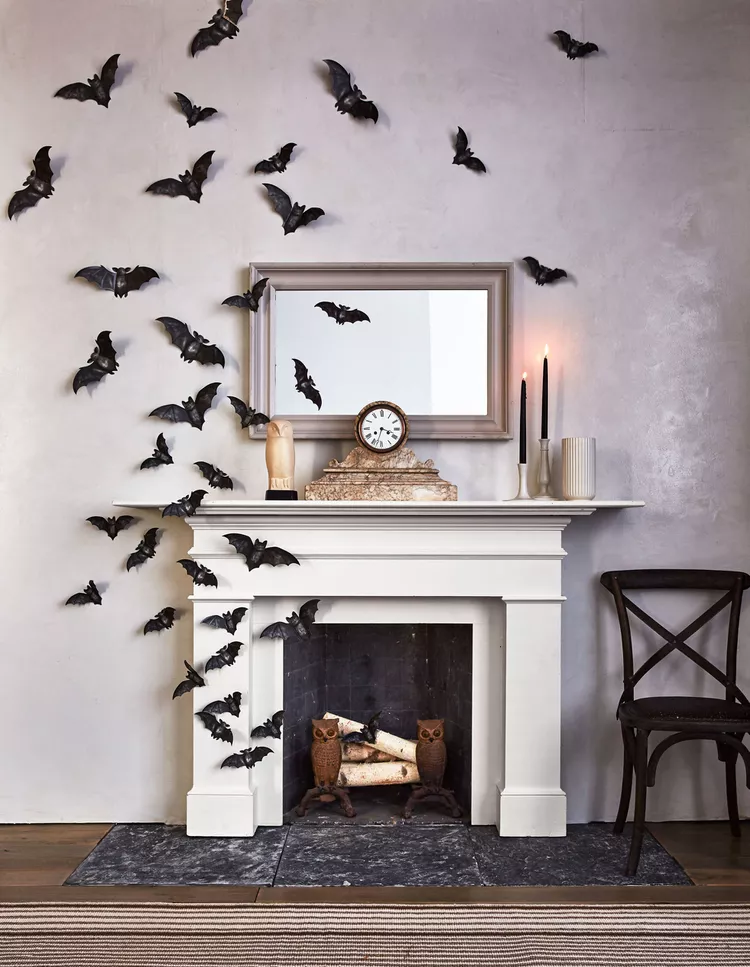 Construction Paper
If trash makes you absolutely batty, make your own construction paper bats, ravens, and silhouettes! Construction paper silhouettes create a classic and sophisticated look that's hauntingly beautiful, and you can recycle or compost these eco-friendly Halloween decorations with little or no effort.
Use double-sided tape to secure construction paper Halloween decorations to windows, doors, the inside of lamp shares, or along stair risers, or use black string to hang them from lighting fixtures or doorways – the possibilities are really endless. Just remember to remove any tape or string before you toss these paper decorations in with your compost "browns."
Hay Bales
When it comes to zero-waste Halloween ideas, decorating with hay bales is one of my personal go-to's. I love the large scale and nostalgic feel, and we usually restyle them for Thanksgiving after spooky season draws to a close. You can easily compost the hay, donate it (if it's been kept in a covered area and is free of mildew), or use it in landscaping projects after the holidays. We get ours at Tractor Supply, and many hardware or landscaping stores carry blocks of hay as well.
Stack several hay bales to create risers or a backdrop for your heirloom gourds, skeletons, or plastic Halloween yard decor, or simply place one beside your front door with mums and a pumpkin for a simple and seasonal look.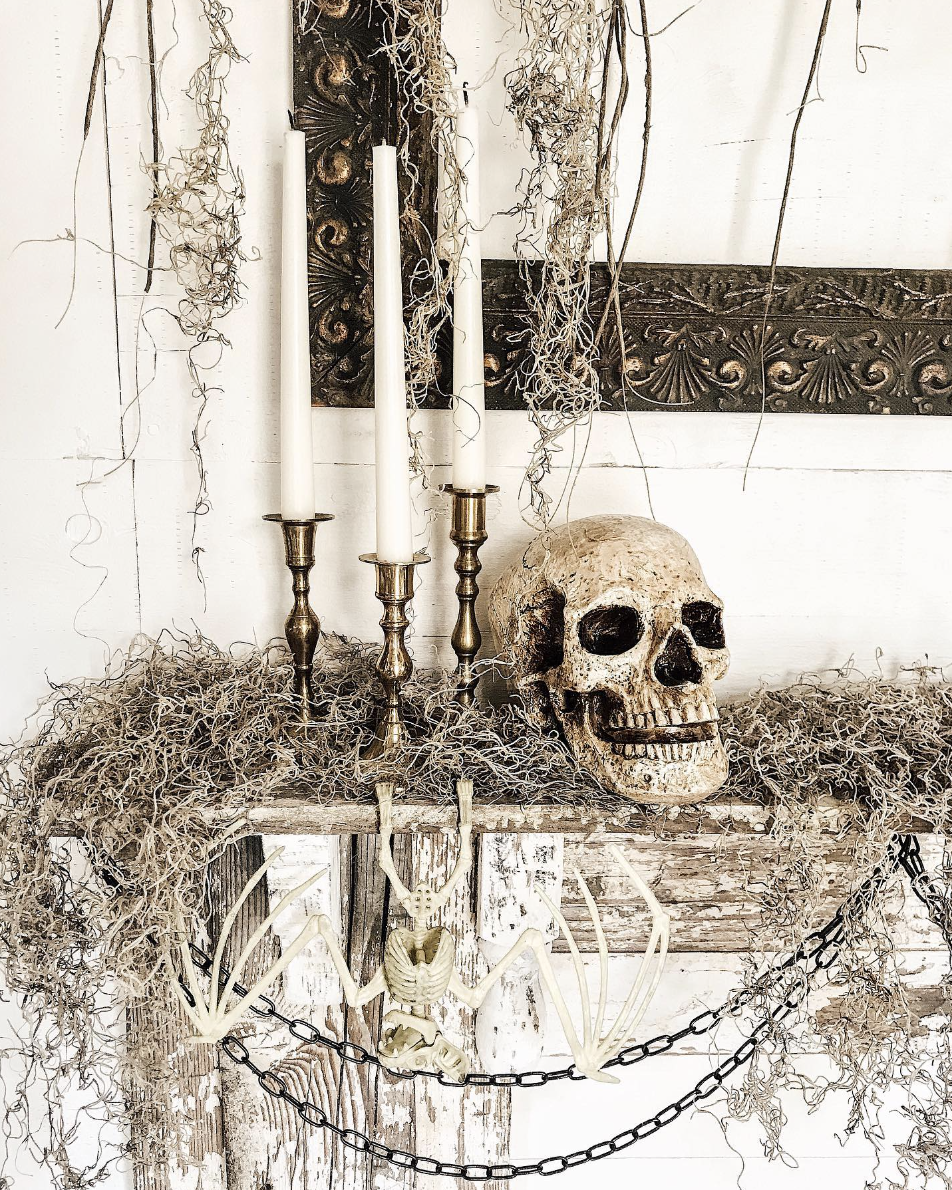 Spanish Moss
I've got to thank my mama for this one: she's been using Spanish moss in planters, floral arrangements, and seasonal decor for decades. If you're foraging your own, as she does, it's important to only collect your Spanish moss from trees or shrubs. Spanish moss that's resting on the ground may have chiggers in it, which are basically the scourge of the South and leave nasty, itchy bites.
Spanish moss has a creepy, witchy feel, and you can drape some on doorways, porch railings, or along your mailbox as a sustainable Halloween decor option. If Spanish moss does not grow in your area, you can purchase it online. Since it is a plant, you can toss your moss in the compost after the holiday is over.
Dried Flowers
For an elegant, ominous look that's all gloom and bloom, decorate with dried flowers this Halloween. With some prior planning, you can easily make your own, but you can also buy dried flowers online or from a local vendor.
Turn these old-fashioned decor accents into eco-friendly Halloween decorations by displaying dark, witchy blooms and faded filler in DIY "old" apothecary bottles and baskets, or hang them from your mantle or doorways in bundles tied with black ribbons. And, remember, dried flowers are a gift that keeps giving: if you keep them out of direct sunlight, many dried blooms will keep their color and shape for over a year.
Simply restyle these eco-friendly Halloween decorations to enjoy them year-round, then remove any non-biodegradable styling accents and toss them in the compost when they begin looking sad.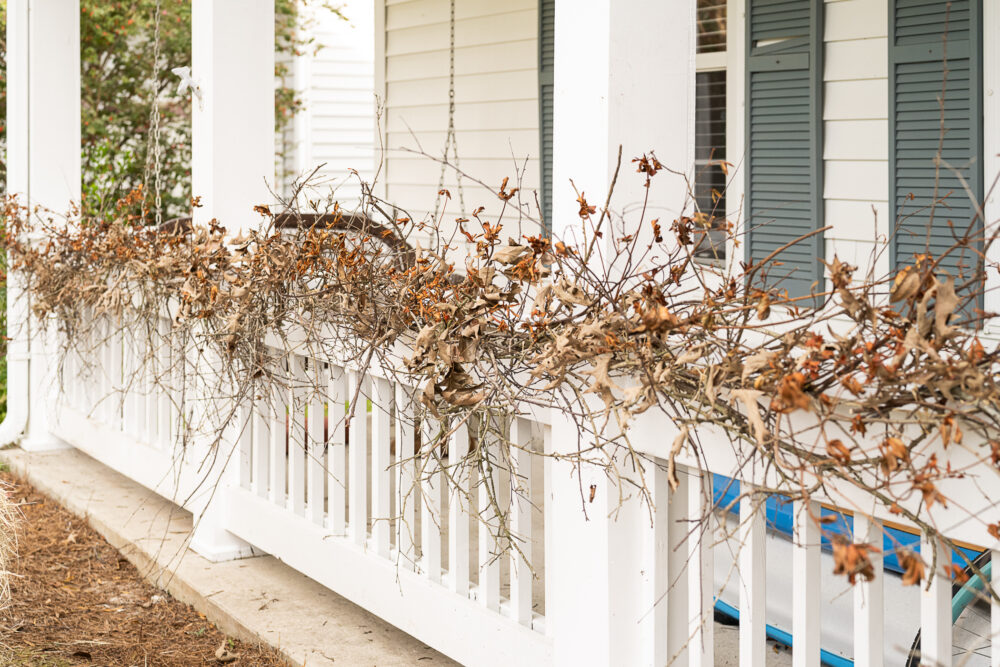 Twigs and Sticks
If you're a stickler for sustainable Halloween decor, try using twigs and sticks this year! The ultimate easy-to-find material, twigs add an eerie and distinctly autumnal vibe to any floral display or centerpiece, and you can either add them to your compost heap's browns or use them as kindling in your next bonfire and then add the ashes to your compost pile once they've cooled.
I've used twigs as eco-friendly Halloween decorations in centerpieces (like this haunted orchard tablescape) and yard displays, and you'll find my budget-friendly DIY for how to make your own twig garland here!
Fall Leaves
Turn over a new leaf by using the ultimate zero-waste Halloween decoration: fall foliage. Simply snip a few branches from your backyard or pluck your favorite vibrantly-hued leaves and press them (but make sure you know how to identify poison ivy before traipsing around in the woods).
Use leaf-bearing branches in a twig garland, centerpieces, or along your mantle. After Halloween or when your leaves begin to lose their glory, you can mix them into your compost pile or just let them biodegrade in your backyard.
Newspaper
Newspaper is a super-versatile material that you may not immediately think of when brainstorming sustainable Halloween ideas, but the thin paper and soy-based inks make newsprint a compost-friendly option.
Cut your newsprint into strips and create your own zero-waste paper mache forms with a few household ingredients, or take the easy route (no judgment) and tape ripped newsprint pages over your windows. Add "bloody" handprints with biodegradable paint, such as Natural Earth Paint, for a scary post-apocalyptic feel.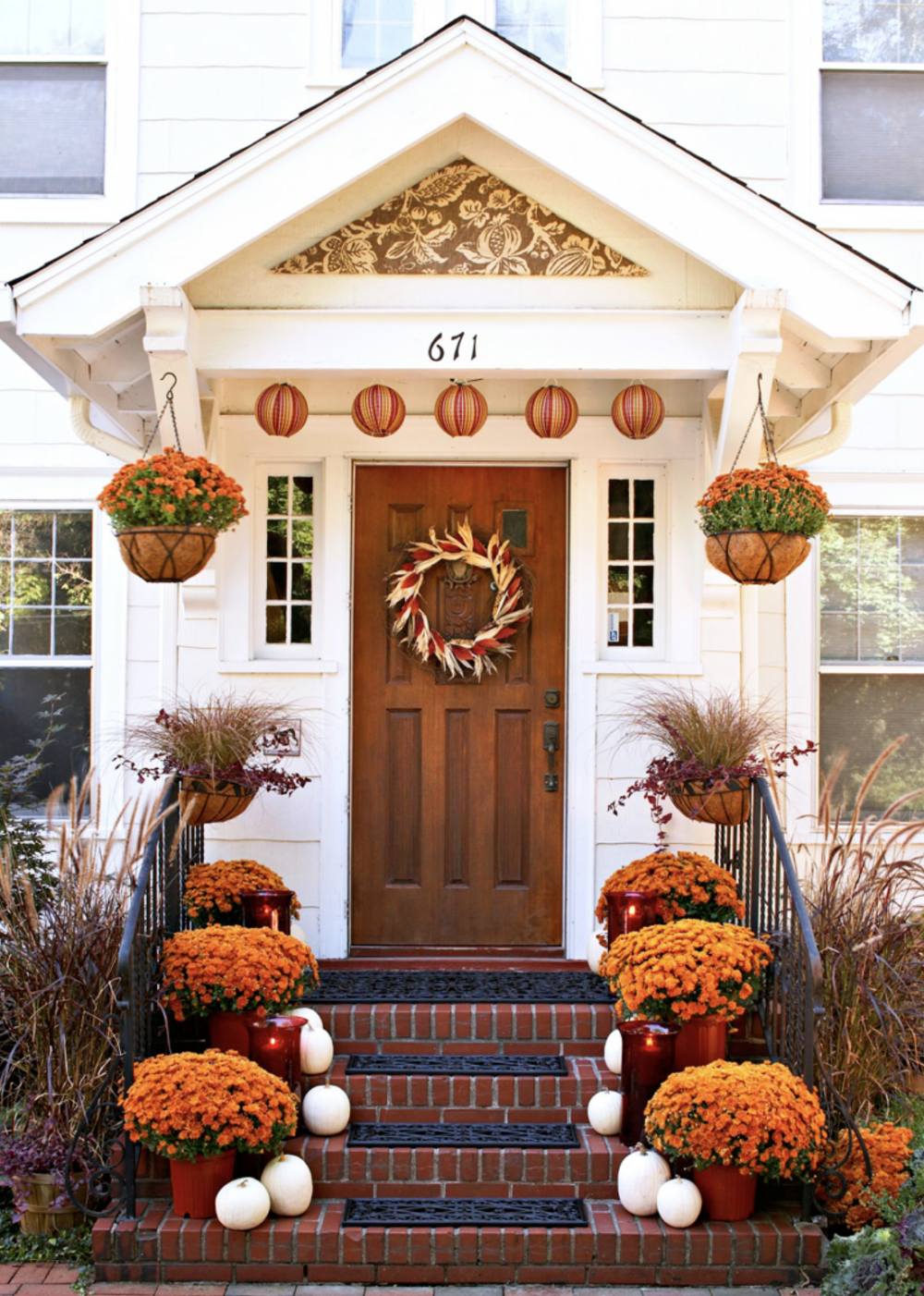 Mums
Ever a classic, mums are a beloved seasonal favorite that you can enjoy throughout the fall and well after Halloween. The vibrant potted blooms most commonly come in shades of yellow, orange, and red, and you can add the plants to your container garden once their seasonal flowers are gone or remove the plants from their pots and add them to your compost heap.
Apples
Nothing says the start of fall like the arrival of apple-picking season, and these brightly-colored fruits can easily double as seasonal decor.
Channel a "poison apple" aesthetic by selecting rich, dark red apples and trying this beautiful DIY haunted orchard tablescape with dark chocolate apples. You can also make candy poison apples or stage bobbing for apples in a galvanized bin. Pick your poison, but remember to compost whatever apples, cores, peels, or stems you don't eat.
Crepe Paper Streamers
Did you know crepe paper streamers are compostable? One of the few compostable options at your local party store, crepe paper streamers are crinkly reels of thin, colorful paper that have a festive feel and tend to "float" along with any breeze, ceiling fan, or passerby's movement.
Deck your halls and doorways with ghostly flowing curtains of black or gray streamers for a sustainable take on the traditional haunted house, or run them along a tablescape or over a mirror for extra fun this Halloween. Remember to remove any tape or adhesive before adding discarded crepe paper to your compost bin.
Salt Dough Ornaments
While most people associate salt dough ornaments with Christmas, they can also make adorable, sustainable Halloween decorations! All you'll need is flour, salt, water, food coloring, and some ghost or pumpkin cookie cutters. Hang your finished ornaments from a bare branch or string them together as a spooky season garland, and then add them to your compost on November 1.
If you enjoyed Compostable Decor Ideas for a Sustainable Halloween, you may enjoy:
Egg Carton Halloween Craft: Give Your Christmas Lights a Halloween Aesthetic
Elegant Halloween Tablescape with Upcycled Decorations
9 Sustainable Halloween Activities for Teens
About the Author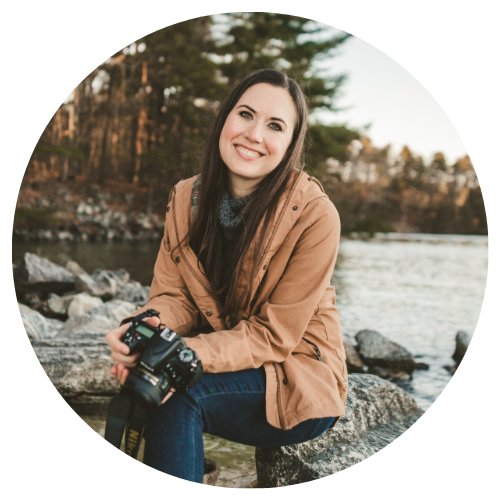 Reese Moore
Reese Moore is a photographer, content creator, and pickle connoisseur who divides time between Charleston and Lake Lure. When she's not behind the lens shooting stunning images for Reese Moore Photography, Reese loves to spend her time wandering the woods with her dog Gatsby or adventuring with her husband Logan in their Airstream Basecamp.