19 Eco-Minded Parents On Eco-Friendly Halloween With Kids
Is an eco-friendly Halloween with kids possible? While it might not be a zero-waste celebration, there are lots of ways to celebrate Halloween without destroying the environment. Check out all the ideas from these eco-minded parents about celebrating eco-friendly Halloween with kids!
What better way to gather up awesome ideas for eco-friendly Halloween with family than by crowdsourcing from some amazing eco-minded parents already practicing eco-friendly Halloween with kids at home? I reached out to several eco-blogger friends to bring you their favorite tips for going green for Halloween this year. While black and orange (and even purple) reign supreme for Halloween, a green Halloween is pretty sweet too!
There were some common themes that popped up, which wasn't really a surprise to me. Here are a few of the highlights before I send you off to check out each of the contributors.
Eco-Friendly Halloween Costumes
By far, DIY costumes topped the charts as the number one recommendation for a more eco-friendly Halloween with kids. Americans alone spent $3.2 billion (with a B!!) on Halloween costumes last year. Most of those costumes are worn for a few hours and then thrown in the trash. What a waste?!
With a tad bit of creativity, we can make our own amazing costumes and save money doing it. Here are four ways to find eco-friendly Halloween costumes on a budget. DIY costumes help our kids exercise their creative muscles and also reinforce that we can't always rely on instant gratification. Sometimes we need to be patient and use what we already have on hand to solve our problems, a lesson that goes far beyond dress-up costumes for a one-day celebration.
Eco-Friendly Halloween Decor
We're all going to tell you the same thing at the risk of sounding like a broken record but… Ditch The Plastic! Do away with cheap Halloween decorations.
So many people shared awesome ideas for eco-friendly decor from upcycled waste, recycled items, and many natural items. As a big fan of composting, I always have a special place in my heart for natural decor that heads to my compost bin after the holiday. Then it can continue to provide value to our soil, complete the circle of life, and return for Halloween next year in the form of new pumpkins, gourds, and corn stalks… oh my!
I don't have the same creative knack to find new life in my recycling bin as some of the other contributors, so be sure to read on if you're itching for some eco-friendly Halloween DIY ideas. There are plenty of them in here (and millions more on Pinterest).
Eco-Friendly Halloween Candy
There seemed to be a consensus that candy was the hardest Halloween waste stream to tackle. Between the excitement for kids of trick-or-treating and receiving ALL THE SWEETS, the risks of homemade alternatives from strangers, and the need for something packaged sufficiently for distribution, single-serving candy is just part of the fun.
Sometimes living a more sustainable lifestyle is about compromise and not letting perfection be the enemy of better or good. That's probably the case for Halloween candy. Here are some ideas for sustainable and low waste Halloween candy for trick-or-treating.
Many people had creative suggestions, however, for ways to use the wrappers or ensure they ended up in the most responsible waste stream possible. Eco-bricks, Terracycle boxes, and trash decor were great ideas. Read on for more details about each of these suggestions from various eco-blogger contributors.
19 Eco-Minded Parents On Eco-Friendly Halloween With Kids
And now.. without further ado… here are all the details from eco-minded parents who shared their ideas for eco-friendly Halloween with kids.
Halloween presents a unique challenge to living sustainably with kids – it's a nearly unavoidable holiday! Choosing not to participate was not an option for our family, so every year we discuss how to do it as low waste as possible.

Our kids love re-wearing costumes they find throughout the year at the thrift store, and happily give away ones they have outgrown to friends and neighbours.

We choose natural decor like pumpkins, gourds, straw, and corn stalks. Be sure to eat what you can and compost the rest.

Treats can be tricky though! Look for fair trade and palm-oil free options or get creative with alternatives to candy. Consider a TerraCycle box for the wrappers your kids collect – you can split the cost with neighbours or friends.

Remember that you don't have to change everything at once and do what works best for your family.

Sarah, Sustainable In The Suburbs
Halloween is by far my kids' favorite holiday. Every October, they want to top the decorations from the year before. Using what we have or what we find outside, here are some of their favorite things to make:

1. Spooky Trees – a collection of leafless sticks of different lengths shoved into a glass jar with stones at the bottom (to prevent it from tipping over). We cut out a few black bats from cardstock to glue into the trees for an extra creepy effect.

2. Mummy Jars – by wrapping and gluing tan jute ribbon around glass jars and adding two googly eyes we create our very own Egyptian guests that glow in the night via a fake candle inside.

3. Creepy Cans – Save those metal cans! With a layer or two of black paint, some holes poked in the side with a hammer and nail, and a fake candle inside, we create illumination for trick-or-treaters to find their way to our doorstep.

Jess, Thoughtfully Sustainable
We grow our own pumpkins – this offers months of interest, followed by pumpkin picking and use for decorating the house. We buy secondhand costumes for the kids. Last year, we decorated toilet roll tubes to make bats. Scraps of yarn made some fun Halloween pompom decorations. 👻🎃

Jaimi, The Hippyish Family
Set the mood with beeswax candles instead of paraffin-based ones, as most scented candles are made with paraffin, a byproduct of petroleum. When it burns, petroleum is an air pollutant that emits carcinogens into the air in our homes (acetone, benzene, and toluene, to name a few).

Decorate with the contents in your recycling bin. Ideas include paper mache spiders, aluminum candles with poked holes and candles inside, and milk-jug pumpkins.

Spearhead a costume swap so that all the moms in your mom circle can acquire costumes without purchasing a new (and single-use!) outfit.

Purchase your pumpkin from a local farm and compost it once it is past its prime. Even better: Use the entire food item by roasting its seeds and making a pie from its insides.

Stephanie, Mama Minimalist
My all-time favorite eco-friendly tip is to roast your pumpkin seeds with a bit of salt and oil and eat them for a healthy snack. Save a couple of seeds to plant in your garden for next year or buy pumpkins from a local source if you can't grow your own. And remember to compost your pumpkin when you are done with it!

As for the guts of the pumpkin, you can compost those too or use them for cooking and baking (like for pumpkin bread, pies, or purées). Pro tip: choose a pie or sugar pumpkin over the extra-large carving pumpkins for sweeter guts that taste better in cooking and baking!

Lauren, Owner of Elm Dirt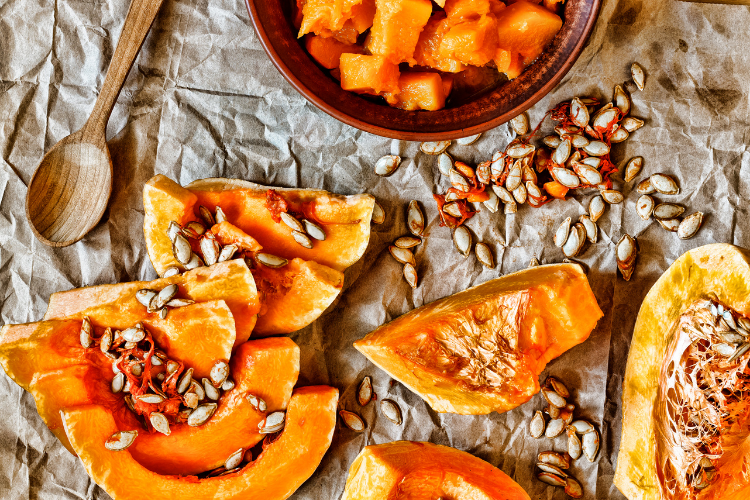 Most Halloween costumes are plastic/polyester and ridiculously expensive for the poor quality you get.

Instead of buying a packaged costume, shop your closet or DIY one! Check out Pinterest for tons of easy costume ideas using clothes you already have or can find at a thrift store.

Clothing has a significant footprint when you look at all the resources, manufacturing, transportation, and waste, especially if it's something that only gets worn once or twice. So putting together a costume from existing pieces is much more sustainable, plus it's also more affordable and gives you a chance to have fun and get creative!

Verena Erin, My Green Closet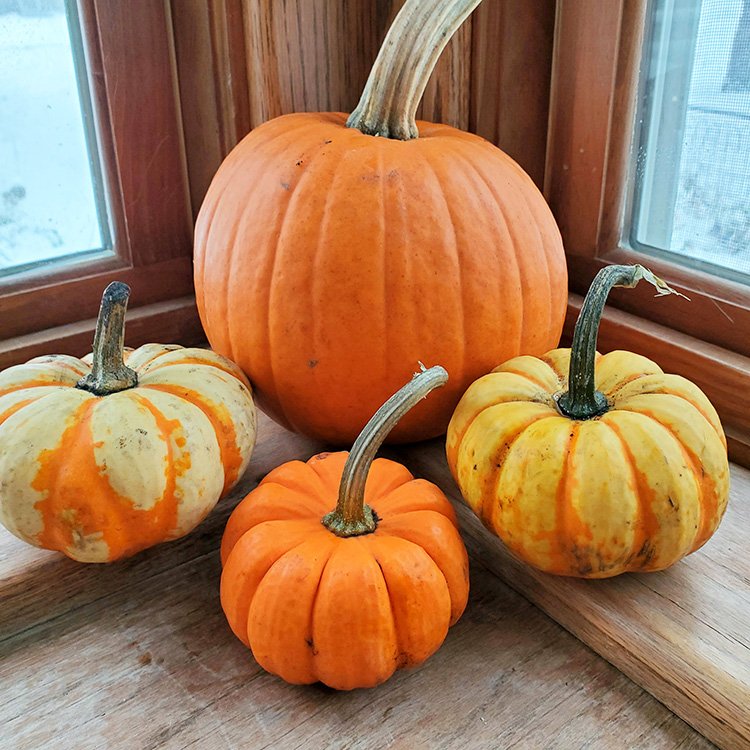 Look for decorations and other Halloween items secondhand. You can usually find anything you're looking for and more. Or ask around to friends and family to see if they are getting rid of anything that you can take off their hands.

Second, use what nature provides. Pumpkins, gourds, cornstalks, and straw can all provide a fun Halloween feel (and even transfer nicely into Thanksgiving). Also, they are also compostable after the holidays.

In the photo, I found a few fun mini pumpkins, as well as a pie pumpkin. The mini pumpkins should last through Thanksgiving. I can roast the pie pumpkin and make it into pumpkin bread, pie, or muffins after Halloween is over.

Laura, Reduce, Renew, Reuse
For Halloween, we always try to make crafts from nature, turning sticks into skeletons and leaves into bat wings. It helps preserve this season a little longer (sometimes into the next year) and helps teach kids about the changing seasons, how fleeting it all is, and the importance of protecting our natural resources.

Also, Halloween and Fall are such fun times to make treats from what's in season. It's harvest time! What better time than that to make fun, creative treats like apple vampire teeth! This also helps teach kids about eating local and within the season.

Veronica, Leaves & Littles
I recommend keeping a regular eye out at thrift stores for secondhand costumes, especially for kids. We have most of the popular characters that my kids like, all sourced from thrift stores.

As well as that, keep a few generic costume items and props that can be used for many different characters. For example, a black cape, a sword, a few styles of hats (shifted if possible), costume glasses, and so on. My kids use a special chopstick as a wand too, so often kitchen items can be great for costumes.

I also find cardboard boxes from outside grocery stores to be most helpful. We have only bought one costume new, and that was for a very obsessed little boy for a birthday gift. Every other costume has been thrifted or put together creatively from multiple-use items in our costume stash.

Summer, Tortoise and Lady Grey
Buy secondhand costumes or get your kids to "shop" what you already have in your dress-up box. Do a costume swap with neighbors and friends to avoid buying new.

Compost your pumpkin or find a neighbor whose compost you can use if you don't have one.

Give away homemade trick or treat snacks or ones that come in cardboard packets like Milk Duds or Junior Mints to avoid the plastic packaging.

Avoid balloons! They end up in the oceans or stuck in trees and bushes. I know they look great for one night but give them a miss this year.

Doing a "boo bag"? Use what you have (trust me I bet there are lots of leftover party knick-knacks around if your house is anything like mine), or collect up trinkets from your house and swap with friends to avoid buying more boggle-eyed bubble tubes or glow sticks.

Sarah, Eco Expat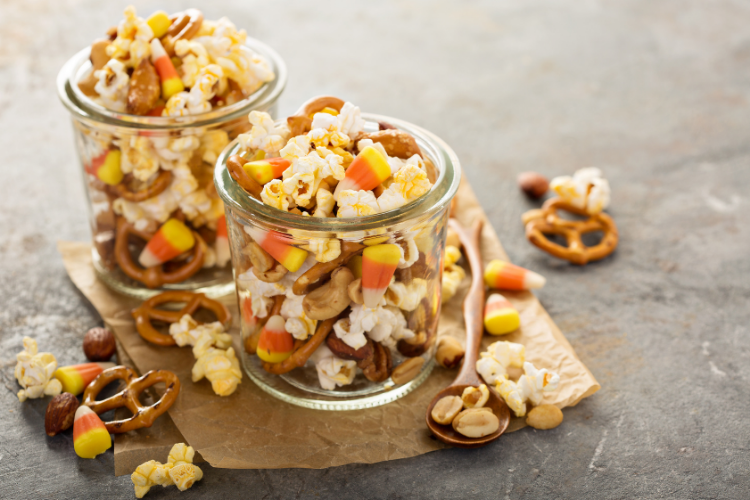 We have a pretty low-key Halloween in our house. I always buy a couple of pumpkins for our porch and then bury them in the ground once they start to decay after Thanksgiving. They might not grow actual pumpkins, but they produce leafy vines.

For costumes, I really encourage my kids to use what we have on hand. Cardboard is great for swords and Minecraft costumes. If we do need to purchase something like clothes, I try to find a secondhand or ethical option that can be worn often, like black pants or a plain t-shirt.

We actually have a Harry Potter cape that has been repurposed so many times for different costumes. 😂

Catherine, Walking With Cake
As a family of four now and growing up in a family of six, with very little money, costumes were always made with things we already owned. I can't tell you how many years I trick-or-treated as a Dallas Cowboys cheerleader.

With my kids now, we have fun challenging ourselves to create costumes with clothing and upcycled items. Last year, I turned my toddler into a tarantula using old pantyhose and felt scraps. My teen was Bob Ross, and we made the paint pallet out of cardboard! Pinterest can be your best friend for this!

Leslie, Salt Light Provision
We've shared a whole blog post about this! A couple of our favorite ideas for an eco-friendly Halloween include using the candy wrappers to make eco-bricks and decorating with natural items (many of which can be composted after the holiday). Check out all ten of our eco-friendly Halloween ideas on our blog!

Earth Mamas International
I like to start my costume planning in my own closet—what do I already have that I can make into a costume? One year I had some really cool fold-over boots that became the centerpiece for a pirate costume. Another year I turned my toddler's tricycle into a dragon she could ride. I've also shared a whole bunch of DIY Upcycled Halloween Costumes over on our blog.

Laurel, Owner of BeyaMade
Halloween might be a celebration at home this year for many people. We love to build our own scarecrow with a couple of bales of hay or straw and clothes we already have in our closet. We also might host a virtual costume parade this year or try a knock and drop if we decide to trick-or-treat. Check out all of our ideas on our recent blog post about an eco-friendly and safe Halloween.

Farzan & Jen, Lotus Trolley Bag
Grow your own pumpkins or source them from local farms. If you're carving a pumpkin, roast the seeds and eat the fruit! There are a ton of fresh pumpkin recipes out there. Be sure to compost what's left and return those nutrients back into the soil. 👌🏼🎃

Jennifer & Renee, Mindful Waste
Forget store-bought costumes! Make your own by shopping in your closet. It saves you money and cuts down on plastic waste.

Benita, Compassion Fashion
Low Waste Halloween actions for my family include creating costumes or outfits based on what we already have. If we need to buy something, it is a minor accessory which can be used more than once.

Because of where we live I don't pass out candy, but I do try to get package-free bulk candy to put in a jar for my daughters.

Maranda, Maranda's World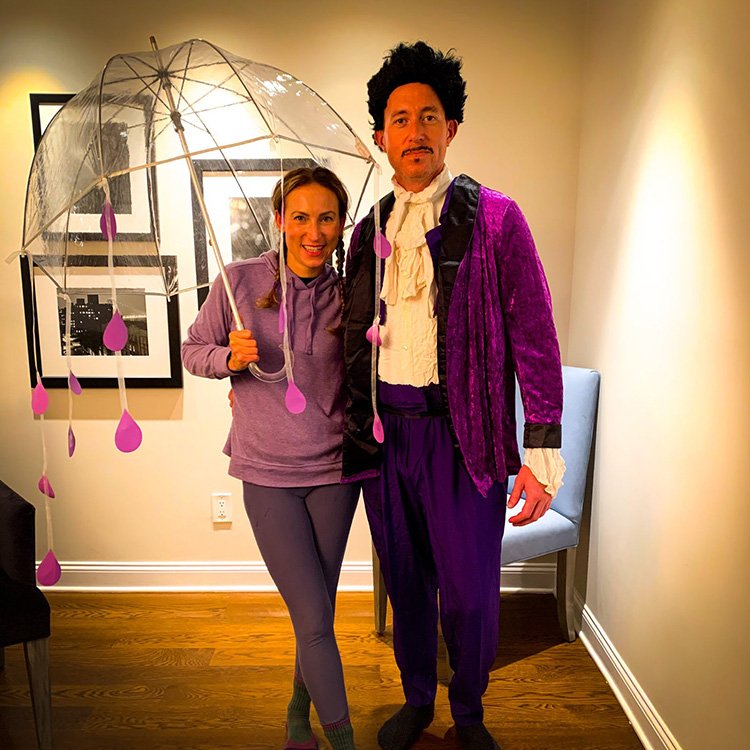 Halloween costumes are not just for kids! I also love getting dressed up when taking the kids out trick-or-treating. The best costumes are made with things you already have. My husband had this Prince costume from when we were in college. I just used one of our umbrellas and some ribbon in our gift decorating bin along with scrap construction paper to dress up as Purple Rain and make it into a couples costume!

Katie, Eco Mama Doc
Now it's your turn! How do you celebrate an eco-friendly Halloween with kids? Share all your spooky tips, creative tricks, and eerie ideas in the comments. The more the merrier (and scarier?). 🙂