Sustainable Home: A Simple Guest Room
With visitors coming into town this weekend just after moving in, we pulled together a very simple guest room including some sustainable alternatives from a few of my favorite socially responsible brands. We didn't do anything fancy but just chose a few key aspects (like a comfortable bed) to make the room ready for holiday guests.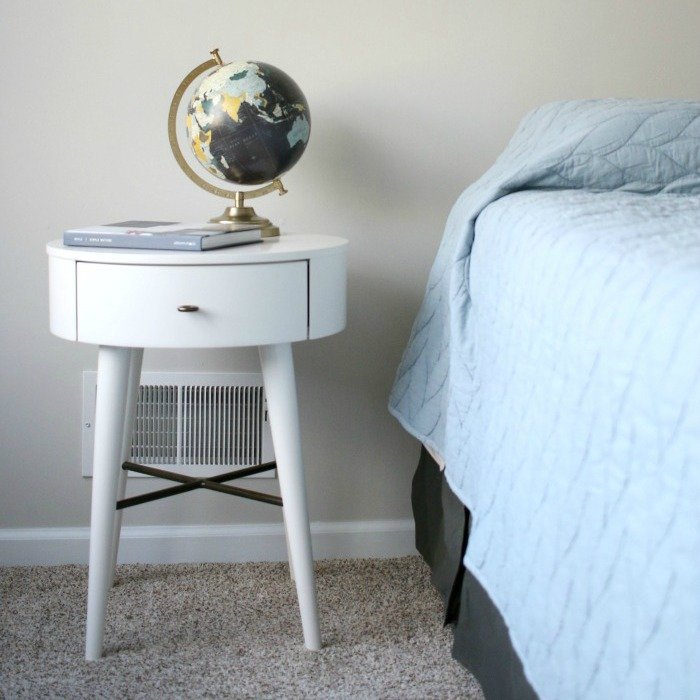 After over two years of waiting and waiting and more waiting to finalize a move for our family, we are finally moved into our totally-renovated, new house. You guys… we are so friggin' excited.
We are excited to feel settled. We are excited for more space. We're excited for our own yard, a home office, an unfinished basement that doubles as a hockey rink and a home gym, two guest rooms, and so much more.
Two true guest rooms! We are pretty excited about this, and I imagine our guests are as well. I have four sisters and my family lives all over the country. We also have friends that live from coast to coast, so we have potential for lots of visitors. I'm so excited to give them a true guest room where they can have a bit of personal space while visiting us.
With only a week in the new house under our belt, we still have a lot of settling to do. But my family is coming into town and staying with us for Thanksgiving, so we wanted to be sure the simple guest rooms were ready for them when they arrived.
I had four months of renovations to the house (before we moved in) to research and gather pieces to furnish the guest rooms. That made getting everything set up shortly after move in a whole lot easier (though still not a walk in the park).
These guest rooms were also the genesis of a lot of those online purchases that had my mind spinning about shopping online versus visiting brick and mortar outlets.
Although they are very simple (no awards for styling every little detail admittedly), our guest rooms were ready for visitors just a few days after we moved in. Celebrating small victories over here.
I was able to find quite a few more sustainable alternatives to traditional bedroom furniture and decor. A few items are from more traditional retailers, but the majority of what we brought into the room was made in the USA or made by international fair trade organizations, produced with sustainable materials, and fell within a reasonable price range.
As you might expect, I found lots of ethical options that were far beyond our budget. But I also discovered some really great brands that don't break the bank relative to traditional alternatives.
We moved the bed from Chicago and added new EcoSoft CORE Memory Foam Pillows that I received from ViscoSoft. The foam pillows are made from sustainable materials and manufactured in the USA. I may or may not have started using them myself before we moved into the house, but I'm pleading the fifth. Right now, they're back on the guest bed ready for visitors who start arriving today.
I added organic cotton percale sheets and the braided quilt from West Elm (which is quickly becoming one of my favorite furniture and linen stores). No matter how hard I try to diversify the companies from which I buy, I seem to end up back at West Elm for so many of our larger furniture purchases.
I'm not one for clutter or trinkets, but I added a few small details to give the room a little bit of depth. I suppose the nightstand reading, Simple Matters from Erin Boyle of Reading My Tea Leaves, pays a tribute to the simplicity that, for me, helps everything feel so much calmer.
I added a little decorative pillow made by Vietnamese fair trade artisans from Ten Thousand Villages. Ten Thousand Villages was one of the first mainstream pioneers bringing international fair trade products to those of us looking for more mindfully produced pieces.
Since moving out on my own, I've never lived in a place that felt put together. We always rented apartments and had a mishmash of hand-me-downs and miscellaneous things that worked for the time being. We've already started being more intentional about what we buy to furnish and decorate our new house so it looks more like an adult home and less like a college dorm room.
This room is a simple start and we still have lots of opportunity ahead for mindful and conscious efforts to bring our house together. I'm so pumped about filling each space, piece by piece, with a handful of things that continue to make our house a cozy and conscious home.
Quilt | Sheets | Sleeping Pillows c/o ViscoSoft | Globe | Simple Matters Book | Decorative Pillow c/o Ten Thousand Villages | Chair | Nightstand