Six Days in Beautiful Banff National Park
Banff National Park is a bounty of beauty. We just scratched the surface, and I can't wait to go back. Here's a little run down of ideas for beginner hikers to explore and enjoy Banff National Park.
Last week, we spent five days in Banff National Park, and I'm pretty sure we found the pot of gold at the end of the rainbow. All my sisters (except one who just had a baby), our significant others, and my parents met up in Banff for a kid-free vacation and to celebrate a big birthday for my mom.
Banff is incredibly beautiful and unbelievably large. After five days, I felt like we only scratched the surface of things to do in the area, even as beginner outdoor adventurers. We never left Banff National Park during our trip, but the park is near three other Canadian National Parks (Jasper, Yoho, and Kootenay). I'm sure those parks hold even more beauty and adventure beyond Banff.
We arrived on a Sunday, traveling in from different parts of the United States. Most of us landed around midday and my parents drove from their home in Minnesota. We spent Sunday afternoon getting settled in the house, taking a walk around town, hitting up the grocery store to fill up the fridge at our rented house, and finalizing our plans for the next couple of days.
I set a tentative itinerary after quite a bit of research about different hikes in the area and things to do at the appropriate levels of difficulty for our group. As we got to know the area, however, we altered our plans a bit along the way, based on new information and recommendation from locals.
The town of Banff is cute and quaint. One main street stretches through town with a few side streets and a few dozen streets with homes. It didn't take much to walk through most of the town and get acclimated with the area.
The next day we woke up early, and some of us headed out to Lake Minnewanka to go fishing. I have never fished before, so it was all new to me. We took a guided tour with plenty of help to show us the ropes, or the rods as the case may be.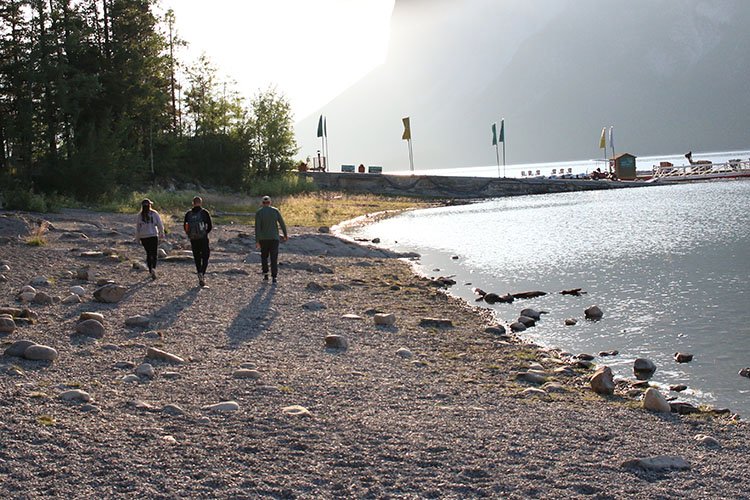 We only caught three small fish, none of which were worth keeping, so we didn't take any fish home to eat. For me, the fishing experience was less about catching a fish and more about enjoying the serenity of the lake early in the morning.
We arrived at the lake quite early and before any other tourists clamored to the shoreline. Once we were out on the lake, we had nearly the entire lake to ourselves but for a family of bald eagles who made their home on the banks of the water.
After eating lunch at the house we hopped in the car and drove to Johnston Canyon. It's a pretty popular tourist location, in part because of its close proximity to waterfalls and cascading waters but also because it is easily accessible. The first part of the hike is on a paved sidewalk right along the water and so busy that it's almost not enjoyable.
We stuck it out and continued hiking past the initial waterfall and higher up the trail. As we climbed nearly a thousand feet of elevation and several miles, we lost the large crowds and finished our hike at the ink pots.
The views and beauty from the ink pots are well worth the journey. The ink pots are small ponds of water under which air bubbles up from inside the Earth. Although the ink pots themselves are not all that impressive, the area is gorgeous and had some of the prettiest and grandest views of our trip.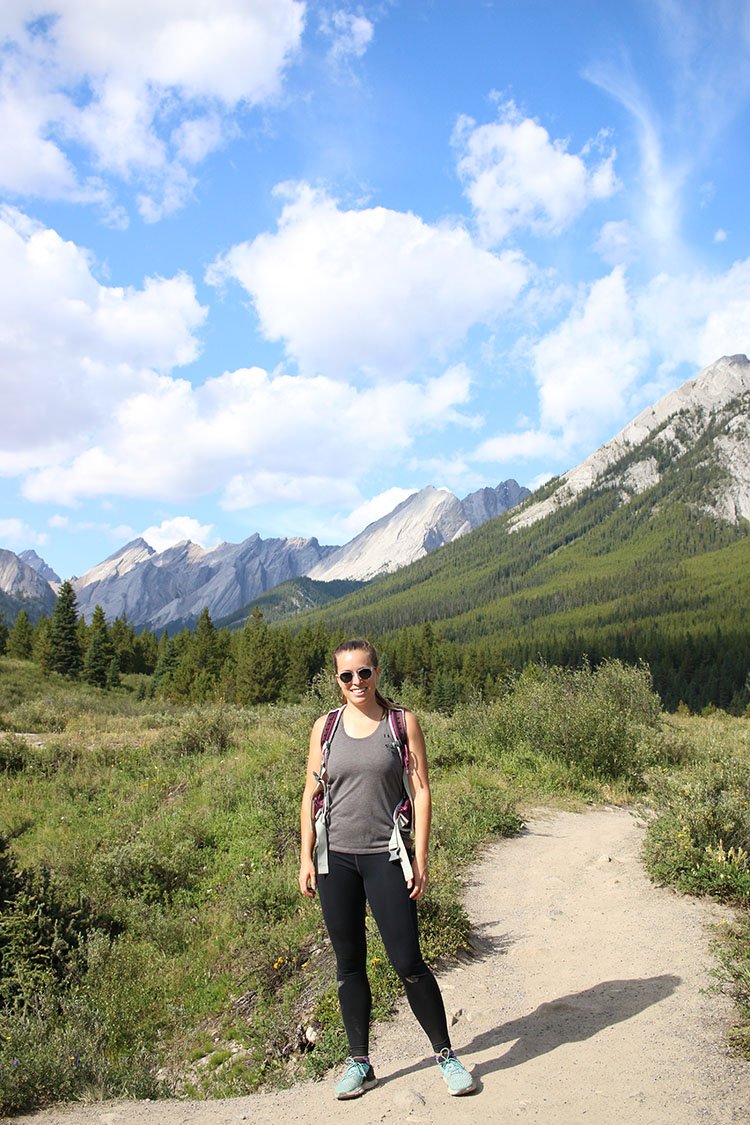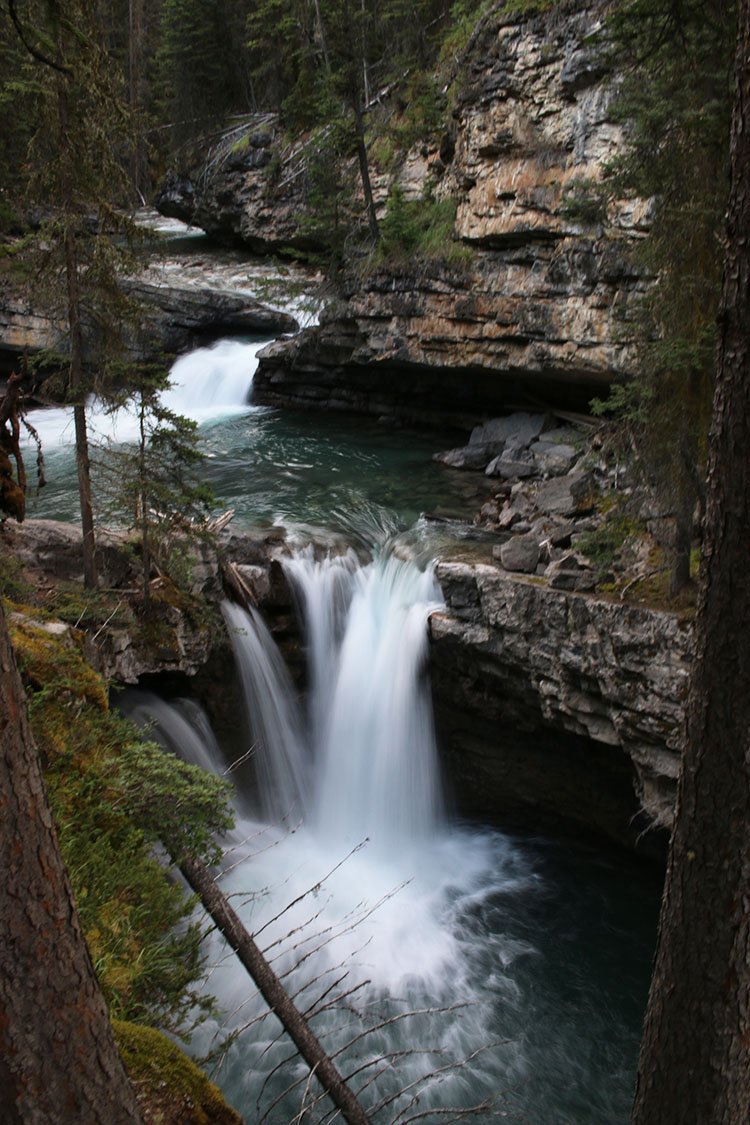 Like many hikes in the area, this hike was an "out-and-back" hike, meaning that you hike out to a point, turn around, and do it all in reverse. Some hikes are loops so you do not have to retrace your steps, but that was not the case here. Fortunately, this hike makes an initial ascent so we could walk down much of the way back when we were pretty tired.
We returned home, made dinner at the house, and went to bed to cap off our first day of adventure.
I've been running more consistently lately and my mom is a big runner as well, so we woke up early on Tuesday and ran with M and one of my sisters. As we ran, I soaked in the views and appreciated sneaking in a bit of fitness among so much of nature's beauty.
After breakfast, we hopped in the car and spent the day driving along the Icefields Parkway. The long highway runs along the Columbia Icefields. As you drive, you see endless mountains and glacier after glacier after glacier. The views are spectacular, and it's probably one of the most gorgeous places in the entire world.
Parks Canada, the Canadian national parks system, has done an amazing job of laying out guides and information to navigate and facilitate vacations and adventures through the national parks. The Icefields Parkway trip is no exception. They have a really great map of the parkway listing out all of the potential stops along the way including campgrounds, trailheads, viewpoints, picnic areas, and more.
Many travel sites suggest spending an entire day driving the Icefields Parkway, but that requires starting in Banff and spending the night in Jasper (or vice versa). We stayed in Banff the full trip, so we reviewed the parkway map guide and chose about a dozen locations at which to stop on our journey before returning to our house.
We used the plan as a guideline but gave ourselves the freedom to adjust our trip throughout the day. Leaving flexibility in our plan to make spontaneous changes throughout the day ended up being one of the best decisions we made.
We planned to hike around Bow Lake for about a mile and head back. As we walked, we decided to continue on and hiked for nearly two and a half miles to see the Bow Glacier Waterfall at the top of a steep flight of stairs. The view at the top and watching the cascading waterfall down the rocks was well worth the extra hours of hiking and climbing.
The Icefields Parkway has so many beautiful stops and views I think we could have spent days just driving up and down the Parkway, stopping to hike at various points along the way. It was definitely my favorite day of our entire trip and one we almost didn't do.
While planning the trip I hesitated about spending so much time in the car. I thought it might be a waste of a valuable vacation day we could otherwise spend hiking trails, running along the water, and biking through nature's beauty.
With some hesitation, I set aside a day to drive along the Icefields Parkway after so many travel sites, friends, and Instagram followers recommended the drive with enthusiasm. I am so glad I took their advice, and I'm paying forward the travel advice. I definitely recommend spending at least one day exploring the Icefields Parkway along the Columbia Icefields in Banff National Park.
Throughout our day along the parkway, we hiked around Herbert Lake and saw at least two bear caves, among many gorgeous views. We stopped to see Hector Lake, climb a rocky hill for a great view of Crow's Foot Glacier, picnic along the shores of Bow Lake, and hike along Bow Lake. We ended our day with a view of the stunning Peyto Lake, just as ominous clouds rolled in for some evening thunderstorms.
We returned home for dinner again, making the most of the very nice kitchen in our awesome vacation rental home. After dinner, we strolled into town for "world-famous" beavertail desserts.
I'm not sure I get the hype. M and I agreed they weren't worth the price or the calories. Maybe I'm alone in my critique, but I think a good chocolate chip cookie or a simple homemade crepe would be more delicious.
We set aside Wednesday to relax and explore the tourist attractions and activities within walking distance of our home. My mom, M and I went for another run. My sister and her husband hung out in the hot tub at our house for a while. Some people read books or walked through town. And my mom and another sister tried a guided horseback tour along the Bow River.
We visited the pop-up market in downtown Banff, and I also popped into the Banff public library to check it out. It might seem a little nerdy, but I love taking a peek at the local libraries when we travel, if for no other reason than to see what they offer and consider if some of their great ideas might also work for our library.
Less than a mile from our house, we checked out the Cave and Basin National Historic Site, the birthplace of Canada's National Parks and home to a really neat cave that's been around for about 10,000 years. The cave has been a sacred site for Native and Indigenous groups in the area for thousands of years.
I appreciated that the tour guide discussed in detail the relationship between local Indigenous people and the cave as well as Canada's current efforts of reconciliation with native groups for disregarding their relationship with the cave for so many years. The guide discussed the role of the Natives with the cave, how their story had been ignored for so long, that the cave was confiscated by Europeans and not available for sacred ceremonies for many years, and that such groups are now able to use the cave for ceremonial purposes whenever they would like.
We've started to see similar recognition of Native American history in the United States (such as I described in our visit to the Museum of the American Revolution) though not to the same extent and with such specific discussion, at least in my experience.
After dinner, we visited the Banff Upper Hot Springs. Although there are real hot springs in the area, it seems most of the tourist locations have been converted to man-made pools filled partially with local hot spring water and supplemented with heated municipal water to ensure a good experience, proper sanitation, and to protect the natural springs.
I'm not sure if I'd recommend going to the hot springs. It has a nice view, and would probably be much cooler in the winter when the hot water steams in the cold winter air. In the summer, however, the attraction was nice but felt more like a large and crowded pool than a fancy spring. If you do visit, just be sure to check out the website in advance so you know what to expect.
We spent our last day in Lake Louise. The views are amazing, but it wasn't my favorite day, and I'm not sure I'd recommend it as a must-see for visitors. It depends a lot on the type of vacation you desire.
Lake Louise is easily accessible (in theory) because you can drive close to the shoreline and catch a glimpse of the teal blue lake and glacial backdrop just a few steps from the parking lot. But… the crowds are insane. Transportation to and from Lake Louise is just short of a disaster.
Unless you're staying or eating at the Fairmont Hotel or you're on a tour bus, you can't really drive up to the lake because the parking lot is perpetually full. We stopped by the Lake Louise Park and Ride to grab the shuttle up to the shoreline, and the wait to get on the shuttle was two hours at 9 am. Luckily, we had lunch at the Fairmont, so we parked in the hotel garage which had plenty of space, but we paid a pretty penny for that lunch.
We took a Voyageur Canoe tour on Lake Louise with a national park guide, reserved through the Fairmont. The guide was very knowledgeable and had so much to teach us about the history and geography of the area, but the tour was quite pricey.
After our canoe outing, we hiked the Plain of Six Glaciers, a gorgeous but busy hike that wasn't particularly difficult as long as you're in reasonable fitness shape. We really enjoyed this, even though we missed the full menu at the Tea House by just a few minutes by the time we arrived and were ready for a snack.
It's probably for the best that we didn't get food at the Tea House though because we ate our only restaurant dinner of the trip at The Post Hotel that night. After hiking all day, the hotel manager was kind enough to let us shower quickly in the fitness center and change into something more acceptable for their fancy(ish) dress code.
The food and drinks at The Post were delicious, but it was very expensive! Eating out at the fancy, historic hotel was a great contrast from our dinners at home each night. If your budget is flexible, I definitely recommend it. If you're looking to keep costs lower, I would pass on this.
I really enjoyed our entire vacation and our day at Lake Lousie. As I look back on the photos, they are some of the most gorgeous shots from the trip. But, and I saw this with a bit of trepidation, I am not sure Lake Lousie is worth the price for a group traveling on a budget and capable of easy to moderate hikes.
At least during the high season when we visited, getting to and from the area is a mess, unless you're willing to drop a lot of money on food or lodging at the Fairmont Hotel or a tour bus ticket.
The views are as gorgeous as advertised. However, I think there are so many other amazing views you can see for free, especially if you're willing and able to hike a mile or two into the park.
The crowds are like Disney World. Our tour guide told us the average visitor spends twenty-two minutes at Lake Louise, long enough to snap a photo for Instagram and get back on the shuttle to the Park and Ride.
Lake Louise is beautiful and impressive, but I am not convinced it's worth the effort and expense if you can visit other glacier lakes in the area. I am sure plenty of people will disagree but just consider it one perspective of many based on my own experience.
Friday morning, we made breakfast of whatever was left in the house, doing our best to limit food waste. We packed up, drove almost two hours to the Calgary airport, and set off on our fourteen-hour journey back home. We arrived at our house to hug the boys and promptly send them off to a very late bedtime.
Banff National Park is incredible. Every day we were there, we talked about returning, with and without the boys. I don't often like to return to a place to which I've vacationed. There are so many amazing places to see and experience that I usually prefer to try something new with each trip we take. Without question, however, I would love to return to Banff… maybe even in the winter (and I don't love the cold). We have a long list of things we didn't do that I would love to try, and I haven't even done a deep dive to discover some of the less "touristy" attractions.
Aside from lodging and airfare, I think it's reasonable to plan a trip to Banff without spending a ton of money. Hiking and exploring the area are generally free, and food wasn't overly expensive, to the extent we shopped at the grocery store and cooked meals at our rental house. We spent the majority of our budget on lodging and loved the place in which we stayed. It was perfect for our family and could have accommodated children as well.
If you enjoy an outdoor and adventurous vacation, I can't recommend Banff National Park enough. I expect we will definitely return in a few years when our boys are older.
Have you been to Banff or the Canadian Rockies? Anything we missed that we should put on our bucket list for next time we visit?