What do you do with active kids who love sports when you also want to travel together? How do you help them stay active and expend some energy while on the road? Check out these fun tips for traveling with kids who love sports.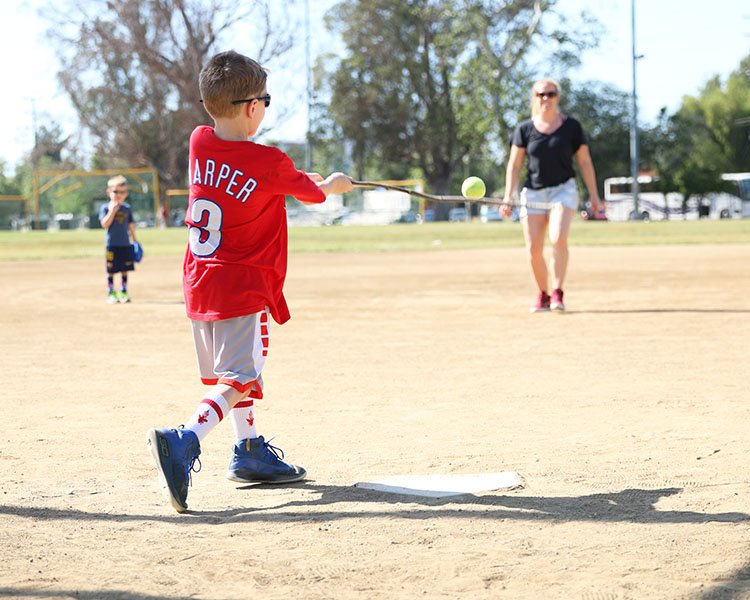 Last week, I took the boys to Los Angeles to visit two of my sisters during the boys' spring break. They are great little travelers, but they are also incredibly active kiddos who struggle to go a day without playing sports.
A dip in the pool each day satiated their hankering for playing sports for the first few days. We played baseball early in the week with a tree branch as a bat. We hit up the driving range for a late night bucket of balls midweek.
Later in the week, we met up with a friend of mine, and my boys played baseball with her boys at a local park, real bat and bases included.
By the weekend, my older son found a volleyball and ate dinner with it while he patiently waited for someone to play with him. He loved visiting his aunts, uncles and cousins, but he definitely missed playing sports all day every day back home.
After quite a few trips with our boys, we've come to expect to pack at least a few sports-related items. Planning for short breaks between vacation-related activities to kick a soccer ball, squeeze in a quick baseball game, or make up a game with a tennis ball gives us all a chance to decompress and also let our kids expend some serious energy.
We have also scheduled around sporting events, by attending a game in the area, for example.
Here are a few travel tips we use to help our energetic, sports-loving kids get their "fix" while we are away from home.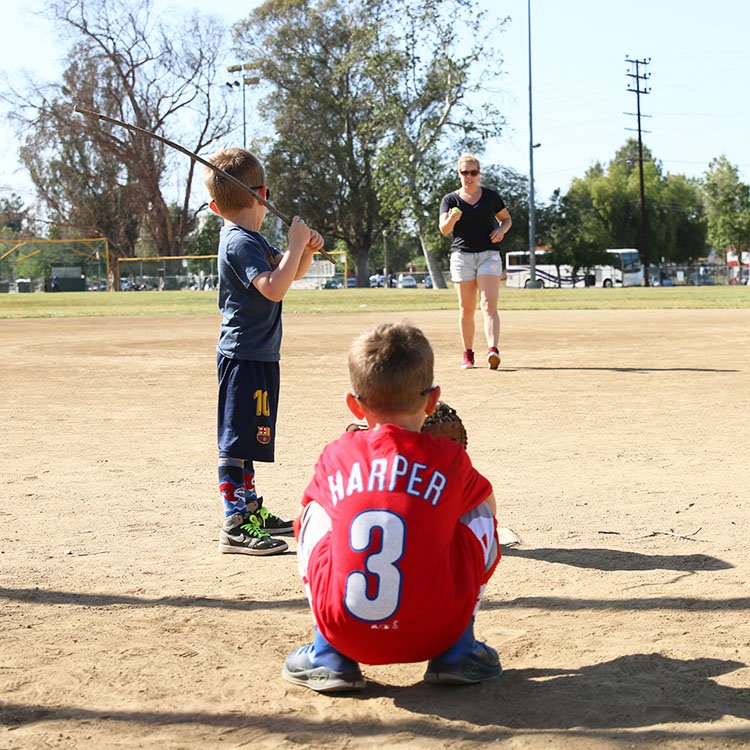 Travel Tips for Kids Who Love Sports
Pack a Small Ball
Bring a tennis ball or small ball to make up games during down times. We have packed a mini soccer ball, a small football, or even just a tennis ball (which can be really versatile). Our boys brought their baseball gloves and a tennis ball to Los Angeles knowing we planned to meet up with my friend and her family for a game.
Schedule Time for Game Breaks
Cramming in too many planned activities often results in travel disaster no matter the child, so it's helpful to plan downtime (though most families have probably experienced that for themselves). We plan for breaks to play sports or other active games. Sometimes we visit the local park or just find a green space in the area.
To find local parks, I have searched the municipal website for whatever city we are in, as they often have a Parks and Recreation section. You can also just open a maps app on your phone and find large green areas nearby. Not surprisingly, these are often parks and have at least a small space to kick a soccer ball or play catch.
Create Sports Word Searches
My boys love to do word searches and other puzzles, especially on the plane or while we wait at a restaurant. As a kid, I used to make my own word search puzzles in Microsoft Word, though that was pretty time consuming.
Now, I have an annual membership to Super Teacher Worksheets, a website loaded with all sorts of worksheets and educational materials for kids. I presume the site is intended to provide teachers with material for lesson plans, but my boys love when I download math sheets and word puzzles for them. The annual membership is reasonable (about $30 per year or so).
They have a tool that allows you to choose your own words for a word search, and then the tool creates the letter board with the words hidden throughout it. Thus, you can make your own word searches in just a few minutes and choose all words that relate to sports (or whatever your children love).
Pack in Sports Shirt Drawstring Bag
If you have children who love sports, you likely have a giant collection of t-shirts from former teams on which they have played. Use one of those shirts to create a drawstring bag to hold their socks, boxers, and underwear in their suitcases.
A couple of years ago, we started keeping these items in a separate bag instead of packing them around everything else. It's been a game-changer. It makes finding an outfit each day and getting dressed so much easier! I can't recommend it enough. You can check out this tutorial on how to make your own drawstring bag with a sewing machine or this post about a no-sew drawstring bag tutorial alternative.
Bring a second drawstring bag for dirty laundry, which makes unpacking a whole lot easier too.
Bring Sports Books
My boys love reading books, especially my older son. As of late, he relishes cuddling up with a chapter book and burying his nose between the pages. I don't love carrying a load of picture books on an airplane because they are too bulky (though we may bring a couple of paperback books to read). However, it's easy to carry on one or two chapter books that keep our boys busy for quite some time. Even if your children aren't reading at this level yet, you can read out loud from these books as well.
There are many chapter book series that focus on sports, and they range in reading level. Some series are older and some newer; some are even written by famous athletes, which makes them a bit more interesting for the sports-obsessed crew.
You can check out a whole bunch of sports-themed chapter book series your kids might like in this post. We typically check out one or two from a series from the library to gauge whether or not the boys like them. If they do enjoy the series, then we can request the library to put a few more on hold for us.
Attend a Sports-Related Event While Traveling
Our boys love attending sports games while on the road. While it's easy to find the local professional sports teams, tickets can be hard to come by (depending on the city) and also expensive.
Look out for local minor league teams in the area. Typically, tickets are much easier to buy, everything about the adventure is less expensive, and the stadiums are smaller so it's a more intimate experience. Minor league teams often have fun entertainment during the games as well. You could even stop by a local high school game; sometimes those are even better!
Beyond sports games, we've also visited other sports-related activities. A year or two ago, we visited a museum exhibit all about the science of sports. The boys really liked it.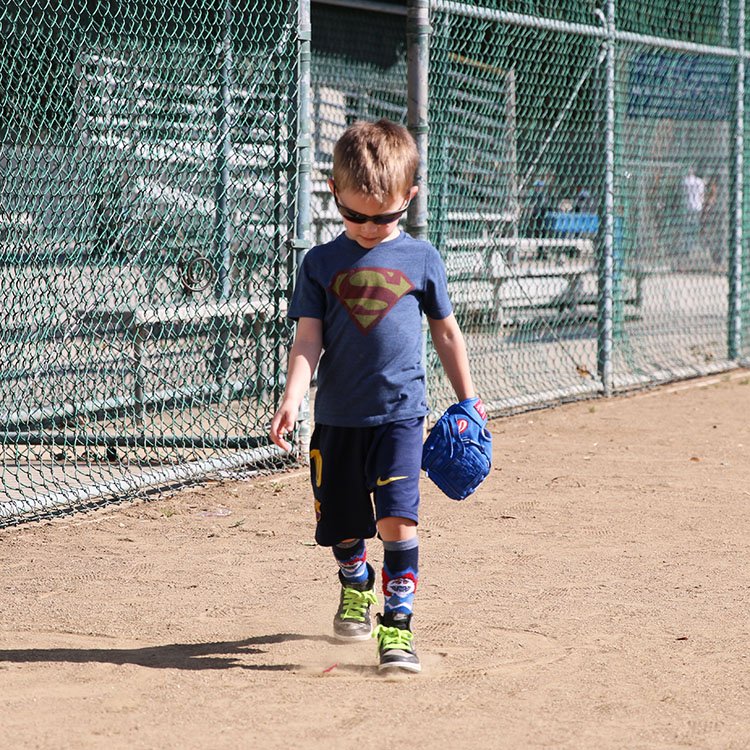 We have traveled with our boys since they were young. As they got older, we increasingly realized how helpful it is to make time for their sports passion, even when we are traveling. They get to play like we are at home and expend a good chunk of energy in between planned activities.
Although it's not really a tip, don't forget to be creative. You don't need all the fancy equipment to make up a game. A stick works great as a bat. A tight wad of paper makes a perfect ball. Anything goes if the kiddos think it's fun (and they usually love the simplest and most creative options best of all).
Does your family love sports or incorporate sports-related activities into your travel adventures? What tricks do you have to keep your sports-obsessed kids engaged while traveling?