20 Travel Tips for Active Kids Who Love Sports
What do you do with active kids who love sports when you also want to travel together? How do you help them stay active and expend some energy while on the road? Check out these fun travel tips with active kids who love sports.
This post contains affiliate links.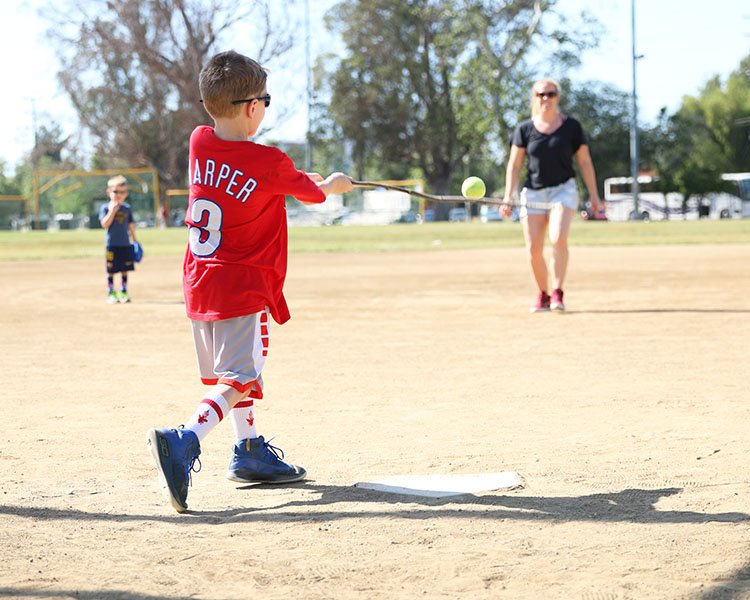 My family lives pretty spread out throughout the country. We live on the East Coast near my husband's family. My parents live in the midwest. And three of my four sisters live in California. We also enjoy traveling as a family on occasion.
We do our best to see my family at least a few times a year, so we have traveled with our boys (who are now 7 and 9) quite a bit over the years. They're expert flyers and know a thing or two about packing and lugging their luggage through the airport terminals.
My boys are also obsessed with sports and really active. Sit in one place for too long with nothing to do and nothing good comes of it. That doesn't necessarily mean we have to entertain them, but we are all much happier when they have some space and time to run around, play sports, and blow off steam.
For example, I took the boys to Los Angeles to visit two of my sisters during the boys' spring break a few years ago. We started most days with a dip in the pool each. During the first few days, we played baseball at a park with a tree branch as a bat. We hit up the driving range for a late-night bucket of balls midweek. And played countless rounds of catch with the football (or whatever ball happened to be in the vicinity).
Later in the week, we met up with a friend of mine. My boys played baseball with her boys at a local park, real bat and bases included. By the weekend, my older son found a volleyball and ate dinner with it while he patiently waited for someone to play with him.
He loves visiting his aunts, uncles, and cousins, but he definitely misses playing sports all day every day like he does when we are at home.
After quite a few trips with our boys, we've come to expect to pack at least a few sports-related items. Planning for short breaks between vacation-related activities to kick a soccer ball, squeeze in a quick baseball game, or make up a game with a tennis ball gives us all a chance to decompress and also let our kids expend some serious energy.
We have also scheduled around sporting events, by attending a game in the area, for example.
Travel Tips for Active Kids Who Love Sports
If you have kids who love sports and want to travel with active kids who need plenty of chances to expend some energy, here are several travel tips we use to help our energetic, sports-loving kids get their "sports fix" while we are away from home.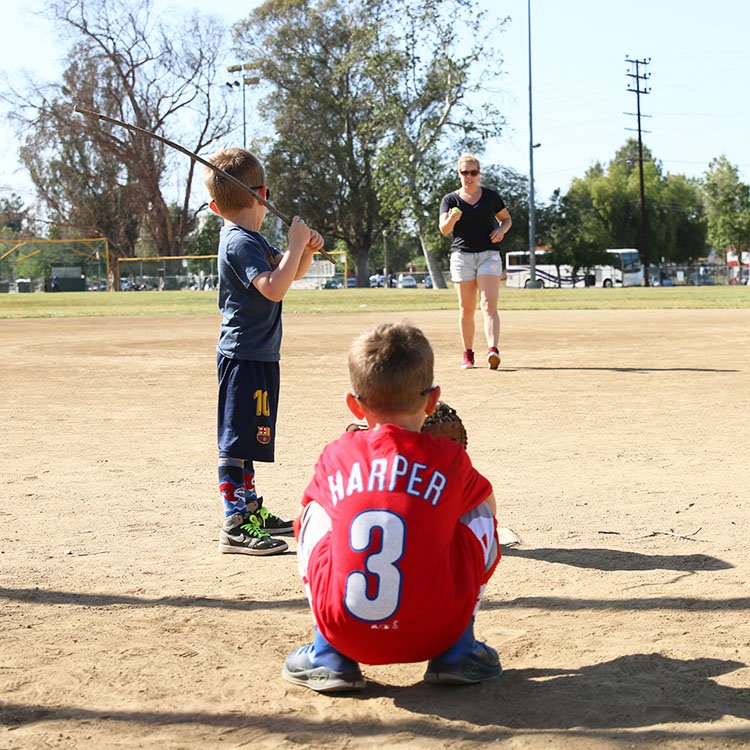 Tips To Plan For Travel With Active Kids
As you prepare to travel with sports-obsessed kids, it pays dividends to do a little research before leaving to find the right spots to expend their endless energy and engage in a few pickup games of whatever sport suits their fancy.
Schedule Time for Game Breaks
Cramming in too many planned activities often results in travel disasters no matter the child, so it's helpful to plan downtime (though most families have probably experienced that for themselves). We plan for breaks to play sports or other active games. Sometimes we visit the local park or just find green space in the area.
Find Local Parks & Green Spaces
Most municipalities have pretty good information on their websites about the parks and green spaces in their area. Do a little research online using the local Parks and Recreation information to know where to find playgrounds, open grassy areas, and spaces to run around or host a quick game of two-hand touch football.
To find local parks, I have searched the municipal website for whatever city we are in, using the aforementioned Parks and Recreation section. You can also just open a maps app on your phone and find large green areas nearby. Not surprisingly, these are often parks and have at least a small space to kick a soccer ball or play catch.
Get Sports Equipment From a Thrift Store in the Area
It's too much to pack most sports equipment, especially if you're flying on a plane. But check out the local thrift shops once you arrive. Find a few before you leave, so you know what's in the area.
Thrift shops often have sports equipment for kids at very low prices. It might not be in the best shape, but it's plenty good enough for a few days on vacation. When you're done using it, donate it back to the store so they can sell it again.
What To Pack For Travel With Active Kids
Before leaving home, there are a handful of small things (aside from the basics like clothes and a toothbrush) to pack that always help make our trip a little easier.
Pack a Small Ball
Bring a tennis ball or small ball to make up games during downtimes. We have packed a mini soccer ball, a small football, or even just a tennis ball (which can be really versatile). Our boys brought their baseball gloves and a tennis ball to Los Angeles knowing we planned to meet up with my friend and her family for a game.
Bring Hand Sanitizer
After playing outside, it's not a bad idea to have some hand sanitizer, especially if we're headed to a meal. We bring small, travel size and refillable containers of hand sanitizer from Shimmy. They make hand sanitizer refills in aluminum bottles that are easily recyclable to fill reusable hand sanitizer bottles. Ditch the plastic.
Carry Reusable Water Bottles
For the sake of the planet, please bring your own reusable water bottles, and don't rely on single-use water bottles unless you're in a pinch. Most of us already have reusable water bottles, so pack them in your suitcase or carry-on bag and use them throughout the trip. Stay hydrated while running around and playing all the games.
This will also save you money!
Gabb Watch (or Gabb Phone)
Depending on the age of your children, they may be old enough for a Gabb Watch from Gabb Wireless. This watch looks like an Apple Watch but has far fewer functions (just like we want). Kids don't need all the fancy apps and internet access of most smartphones and fancy watches.
Gabb Wireless offers cool-looking watches and phones to stay connected with your kids without giving them access to social media, endless Internet, and all the things that get in the way of kids being kids.
We have one watch that our boys share as a tool only when they need it. They don't wear it to school or for everyday purposes. Instead, they wear it when they go out to play in the neighborhood, when they're hanging out with friends in and around the hotel at a hockey tournament, and in other similar situations.
When we travel, the boys use this when they're running around a large park, exploring a water park, or running ahead on a hike. It gives them just a bit of freedom and gives us enough comfort that we can find and connect with them as necessary.
Create Sports Word Searches
My boys love to do word searches and other puzzles, especially on the plane or while we wait at a restaurant. As a kid, I used to make my own word search puzzles in Microsoft Word, though that was pretty time-consuming.
Now, I have an annual membership to Super Teacher Worksheets, a website loaded with all sorts of worksheets and educational materials for kids. I presume the site is intended to provide teachers with material for lesson plans, but my boys love when I download math sheets and word puzzles for them. The annual membership is reasonable (about $30 per year or so).
They have a tool that allows you to choose your own words for a word search, and then the tool creates the letter board with the words hidden throughout it. Thus, you can make your own word searches in just a few minutes and choose all words that relate to sports (or whatever your children love).
Pack in Sports Shirt Drawstring Bag
If you have children who love sports, you likely have a giant collection of t-shirts from former teams on which they have played. Use one of those shirts to create a drawstring bag to hold their socks, boxers, and underwear in their suitcases.
A couple of years ago, we started keeping these items in a separate bag instead of packing them around everything else. It's been a game-changer. It makes finding an outfit each day and getting dressed so much easier! I can't recommend it enough. You can check out this tutorial on how to make your own drawstring bag with a sewing machine or this post about a no-sew drawstring bag tutorial alternative.
Bring a second drawstring bag for dirty laundry, which makes unpacking a whole lot easier too.
Bring Sports Books
My boys love reading books, especially my older son. As of late, he relishes cuddling up with a chapter book and burying his nose between the pages. I don't love carrying a load of picture books on an airplane because they are too bulky (though we may bring a couple of paperback books to read). However, it's easy to carry on one or two chapter books that keep our boys busy for quite some time. Even if your children aren't reading at this level yet, you can read out loud from these books as well.
There are many chapter book series that focus on sports, and they range in reading level. Some series are older and some newer; some are even written by famous athletes, which makes them a bit more interesting for the sports-obsessed crew.
You can check out a whole bunch of sports-themed chapter book series your kids might like in this post. We typically check out one or two from a series from the library to gauge whether or not the boys like them. If they do enjoy the series, then we can request the library to put a few more on hold for us.
You can also visit the library while traveling. Have you ever tried it?
Activities To Do With Traveling With Active Kids
Here are a few of the activities we incorporate in most of our trips that help the boys blow off steam and have plenty of fun.
Visit Local Playgrounds
Take advantage of the playground in the area. It's a great way to connect with local people and immerse yourself in the local culture. Few playgrounds are tourist traps. They're also free!
Encourage your kids to play tag and get tired. We've also used the playground to do relay races and obstacle courses through the equipment. The boys love it when we create a set obstacle course and then time how long it takes them to finish it.
This may not work if the playground is too busy or there are too many young children who may get hurt, but it's worth checking out. I bet your active kids will love it!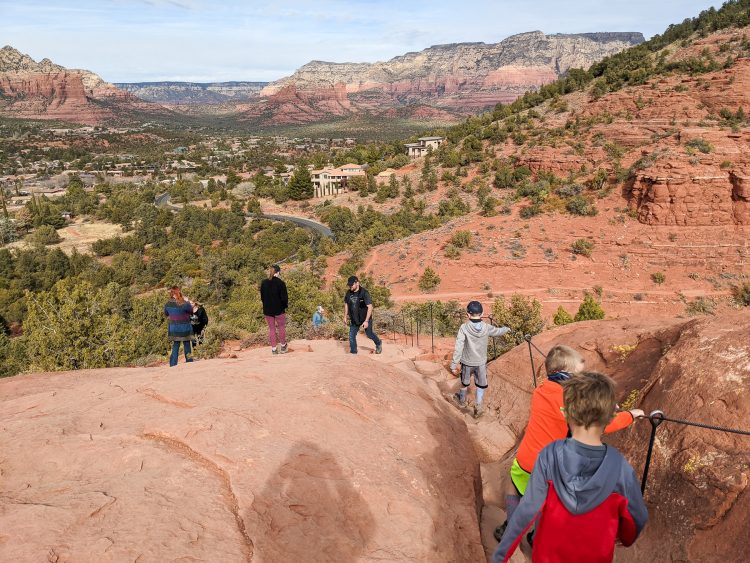 Go Hiking
You can find hiking trails (casual walking trails totally count) just about anywhere. Check out more about how to find hiking trails in your area, even if it's your vacation destination, to enjoy some outdoor exploration with kids.
Don't forget that hiking doesn't have to be a million-mile, day-long walk through untouched nature. Let your kids take the lead and set the pace. Let them stop to smell the flowers and inspect the insects. Maybe they can even take their shoes off in a creek or climb along the rocks.
Even though my boys have endless energy, they love when we find a quiet sit spot, and I let them dive into the space to see what catches their eye and their interest.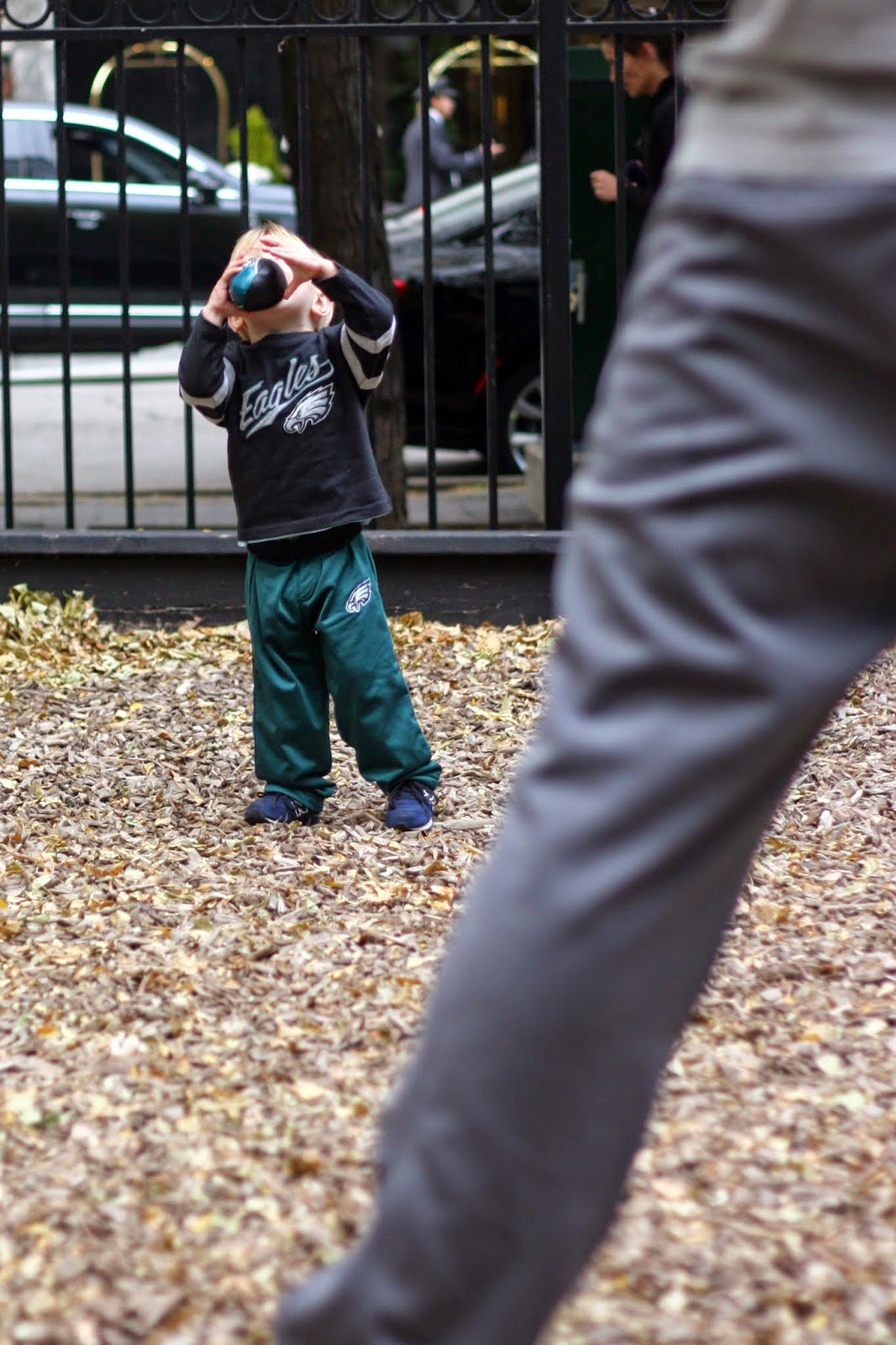 Play In Open Spaces
Take advantage of open green spaces and let kids play some version of their favorite sports. When the boys were little, we let them play with a mini football in an open green space in Manhattan. In Lake Placid, the boys started a mini baseball game while hiking in the snow. As long as it's not hurting other people or the environment, it's a fun way to let them be creative.
Workout with Your Kids
Want to get a workout in while traveling? Don't let the kids get in the way. Workout with the kids! How this works exactly depends on their age, but even young kids can get involved. Take them to the hotel gym and let them lift the little weights while you use the large version. Do a body-weight workout and have them participate next to you. The options are endless. It's certainly a great way to wear them out (in a good way).
Attend a Sports-Related Event While Traveling
Our boys love attending sports games while on the road. While it's easy to find the local professional sports teams, tickets can be hard to come by (depending on the city) and also expensive.
Look out for local minor league teams in the area. Typically, tickets are much easier to buy, everything about the adventure is less expensive, and the stadiums are smaller so it's a more intimate experience. Minor league teams often have fun entertainment during the games as well. You could even stop by a local high school game; sometimes those are even better!
Beyond sports games, we've also visited other sports-related activities. A year or two ago, we visited a museum exhibit all about the science of sports. The boys really liked it.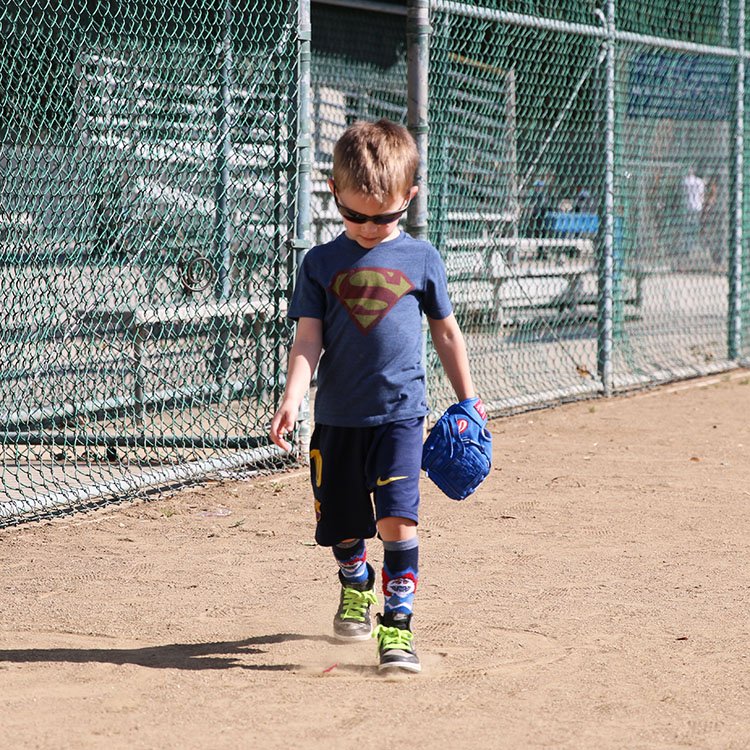 Indoor Activities in Inclement Weather
If the weather is not cooperating for outdoor activities, there are lots of places to blow off steam indoors. Look for indoor water parks, trampoline parks, ice rinks, indoor playspaces, laser tag, and ninja warrior gyms (just to name a few).
Bad weather doesn't mean you can't play outside. Skating on a pond in the winter is a blast with the right gear and clothing. Most kids love stomping around in puddles with rain boots and a jacket. But if you prefer to stay indoors for whatever reason, there are lots of options for active activities inside.
Where To Stay When Traveling With Active Kids
It took us a few trips to realize this, but your lodging can have a significant impact on the success of your trip. Beyond just being "kid-friendly", some places are much more suitable for active kids who need space to run around and play games.
Stay At a Place with a Pool
If it's in your budget, look for a lodging option with a pool. If we're staying at a hotel, we always check the Amenities or Fitness section of their site to see if they have a pool. It helps to also know if the pool is indoors or outdoors if the weather will be cool or unsafe for outdoor swimming.
If our travel plans involve staying at a rental home, we definitely look for a pool. A private pool is a luxury but one that can be well worth the investment, especially if it means that you save money on fewer expensive tourist activities because playing at the pool is the highlight of the trip.
When you're choosing a rental house, consider checking out Plum Guide. They are a unique home rental company that vets all of their listings in person before adding them to the site. Instead of relying on reviews from strangers, you know know that the house will be top-notch. They focus on vacation destinations and higher-end homes, but if it's in your budget, these places are amazing (and lots of them have pools)!
Pick a Hotel with a Gym
Many mornings while we're traveling, our boys wake up early and have loads of energy while we're still laying in bed (or wishing we could lay in bed). My husband often takes them to the hotel gym and lets them run a mile or two on the treadmill while he workouts or just oversees their energy expenditure.
For active kids who have more than enough energy to burn, this is really great trick to start the day, especially when the planned activities don't involve a lot of movement.
Rent a House With a Yard
Just like it's nice to send the kids outside to play at home, it's great to be able to do the same thing on vacation. If it's in your budget and makes sense in the location, rent a house with a yard or outdoor space where the kids can play. Even if it's a bit more expensive, much like the pool, playing outside can be one of the activities that replaces something you might otherwise pay to do.
Get Creative About Sports Equipment & Games
Although it's not really a tip, don't forget to be creative. You don't need all the fancy equipment to make up a game. A stick works great as a bat. A tight ball of paper makes a perfect ball. Anything goes if the kiddos think it's fun (and they usually love the simplest and most creative options best of all).
We have traveled with our boys since they were young. As they got older, we increasingly realized how helpful it is to make time for their sports passion, even when we are traveling. They get to play like we are at home and expend a good chunk of energy in between planned activities.
Does your family love sports or incorporate sports-related activities into your travel adventures? What tricks do you have to keep your sports-obsessed kids engaged while traveling?
If You Like Tips For Travel With Active Kids, You Might Also Like
Tips for Traveling Internationally with Toddlers
7 Easy Tips for Relaxing Travel with Children
What Not To Forget When Packing For Your Next Family Vacation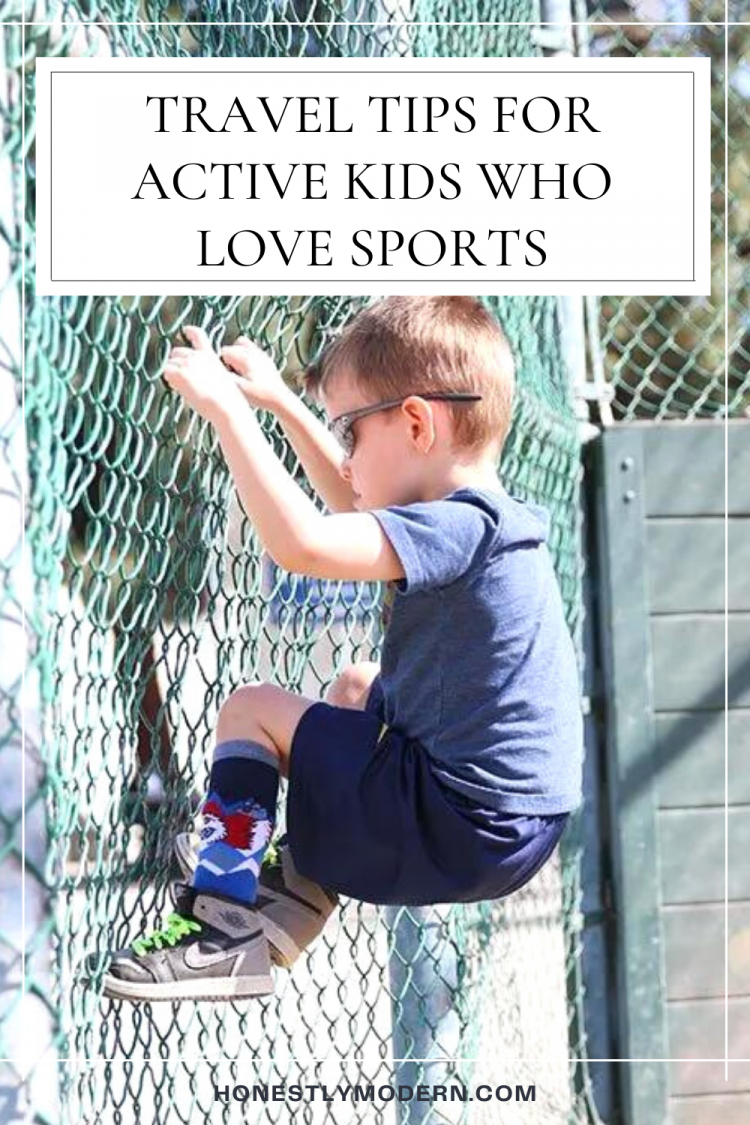 About The Author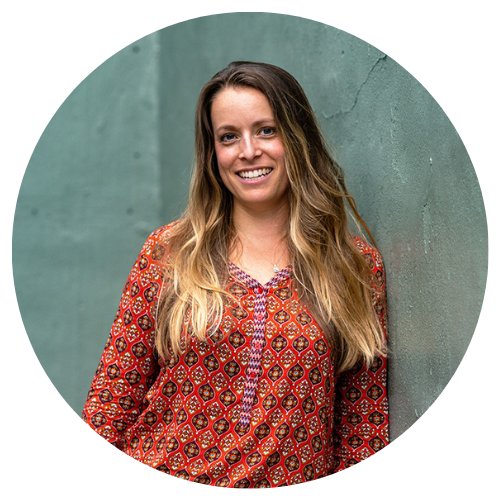 Jen Panaro
Jen Panaro, founder and editor-in-chief of Honestly Modern, is a self-proclaimed composting nerd and an advocate for sustainable living for modern families. In her spare time, she's a serial library book borrower, a messy gardener, and a mom of two boys who spends a lot of time in hockey rinks and on baseball fields.
You can find more of her work at Raising Global Kidizens, an online space to help parents and caregivers raise the next generation of responsible global citizens.