Fun Things To Do In Lake Placid
Have you visited Lake Placid, New York? It might not be at the top of your bucket list, but Lake Placid made for a wonderful vacation. We visited for four days with another family who also had two boys the same ages as our two boys. We spent plenty of time outside despite questionable weather at times and would definitely recommend it to others. Read on for more about our Lake Placid vacation with kids and things to do in Lake Placid any time of year.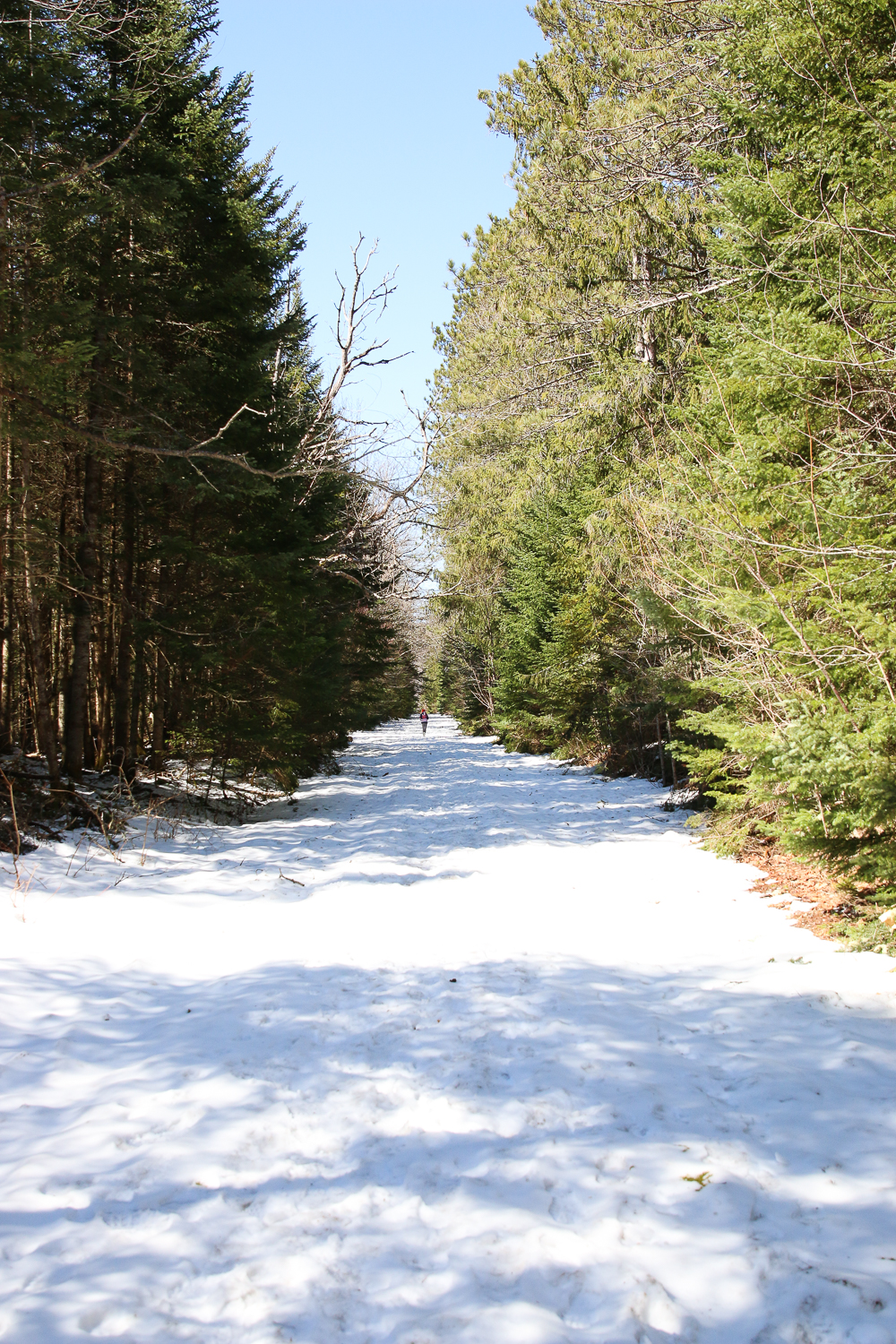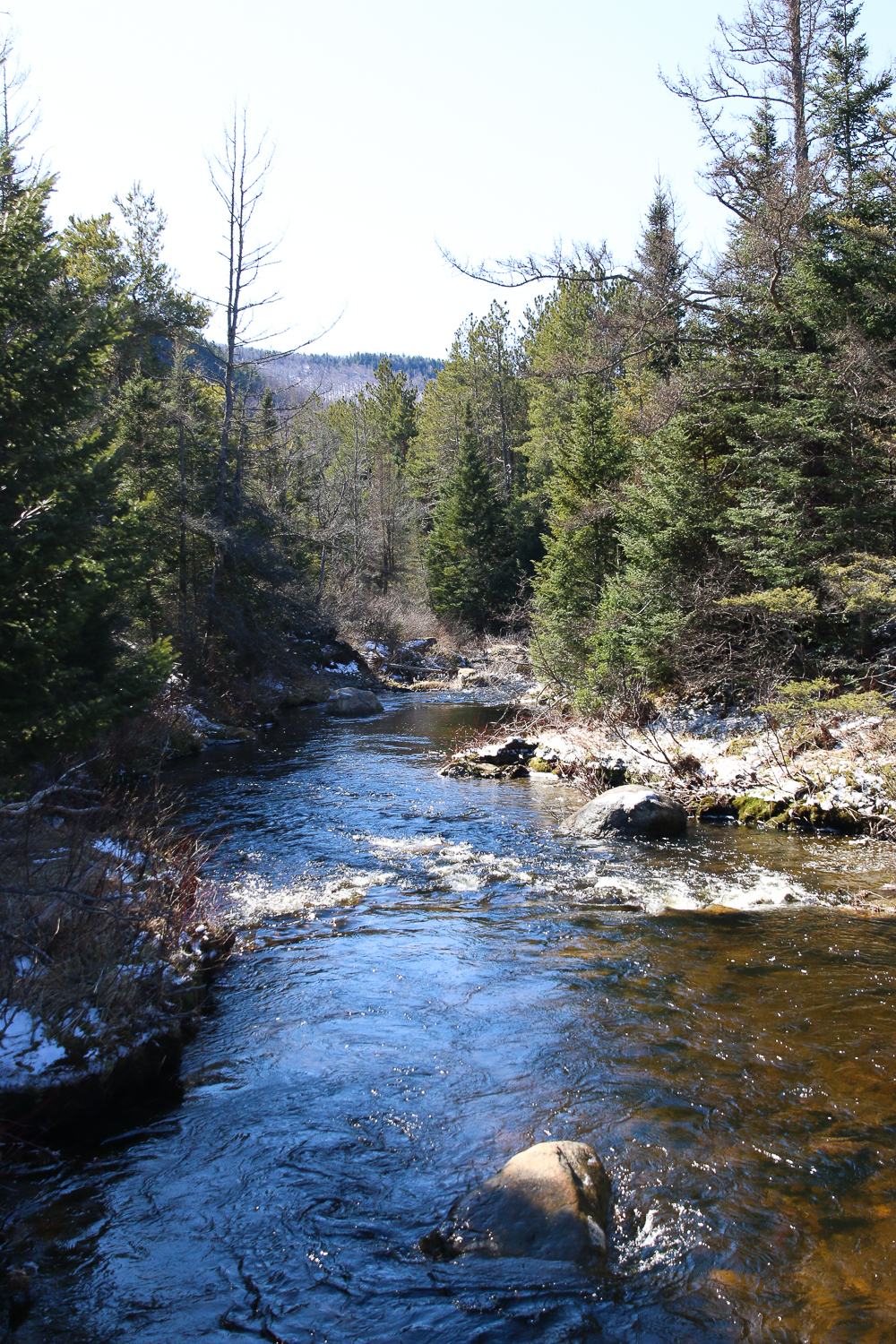 Last week, we spent four days in Lake Placid, New York, with some friends. While I never considered visiting Lake Placid (it just never popped up on my radar), we had a really great time, and I would highly recommend a visit if you're looking for a fun long weekend.
Lake Placid is a small town with about 2,600 residents built around a cute downtown Lake Placid area along Main Street. Downtown Lake Placid sits along Mirror Lake and is a quaint and gorgeous little town. Despite the small population, it was built to accommodate large tourist contingents so it doesn't feel as small as it sounds based on the population.
There are so many things to do in Lake Placid no matter the season. During summer, there are tons of Lake Placid hikes to check out and plenty of activities on and around the lakes. The hiking trails become Nordic skiing and shoe-showing trails in the winter. There are also many alpine ski resorts in the Lake Placid area with extended ski seasons due to its northern location.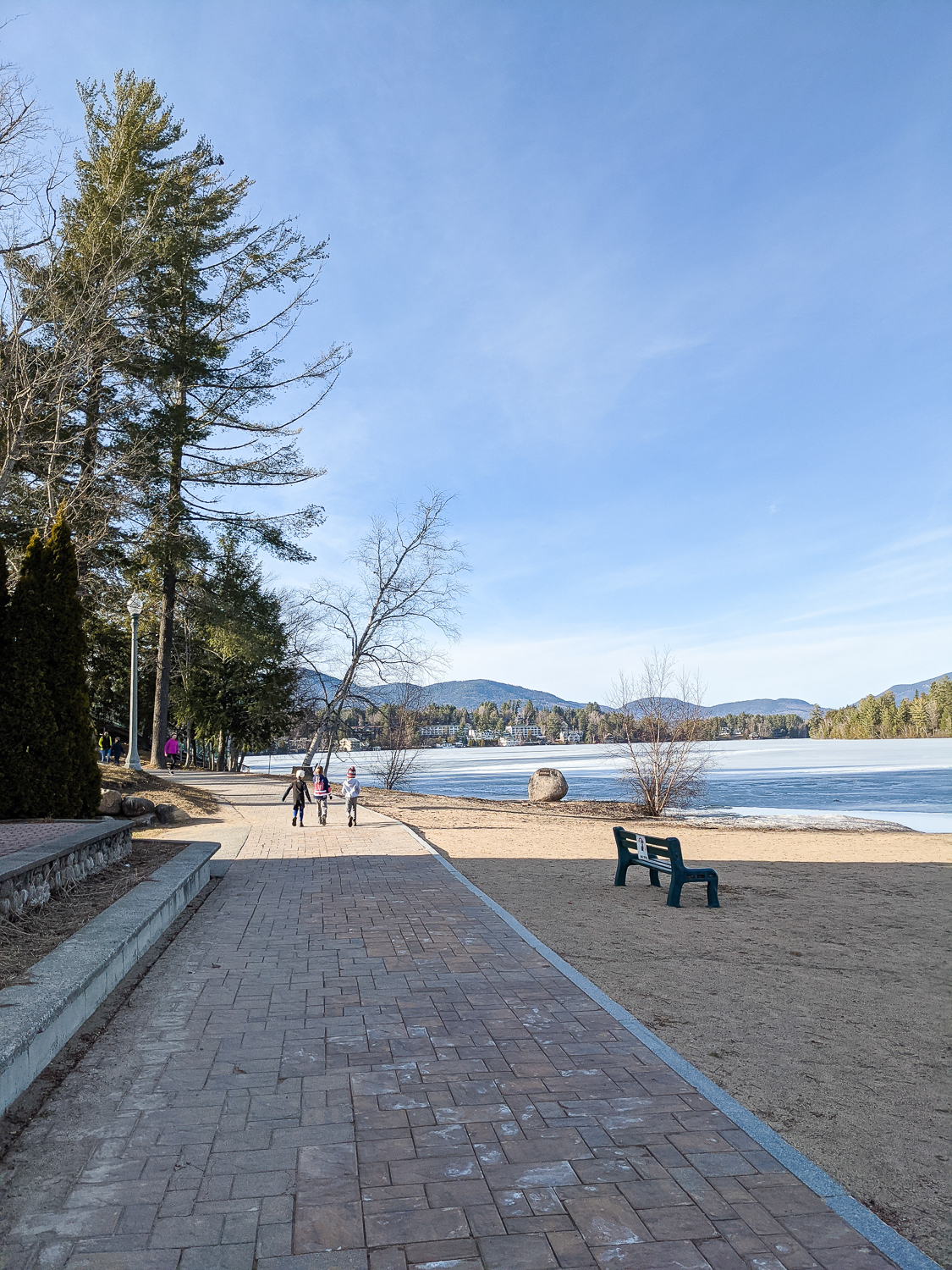 Visiting Lake Placid in Spring
We visited Lake Placid during spring, and it wasn't all that busy. Because it was between peak seasons (winter and summer), some activities were closed. Attractions like the toboggan chute and skating on Mirror Lake were closed after the winter season but attractions like kayaking on the lake, walking along the High Gorge Falls, and certain hiking trails (without special winter gear like crampons or micro-cleats) were not yet open for the summer season.
Even between peak seasons, we still found so many things to do with kids in Lake Placid. We easily filled three full days with activities. In peak winter or summer seasons, I'm sure our Lake Placid activity list would have been much longer.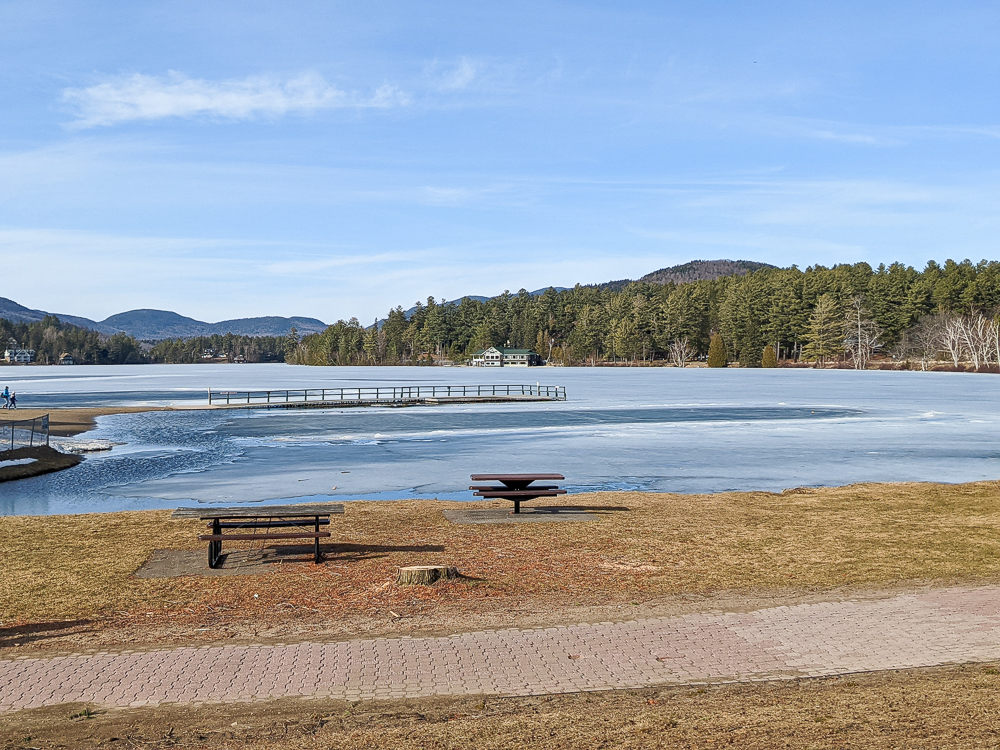 If you do plan to visit Lake Placid in the spring, be sure to do your research about what will be open. Several places were closed during our visit the last week in March. Many additional places seemed to close for parts of April, including several of the restaurants we visited (which I shared below).
As snow melts but it's not quite warm enough to enjoy summer fun, it makes sense to me that Lake Placid might be sleepy in April. If you want to visit when the town is really quiet and don't mind that many places are closed for renovations or owner vacations, I bet you can find some great deals on accommodations in the spring. But if you want to experience many of the Lake Placid attractions, be sure to check if they will be open during the dates of your visit.
If you're thinking about visiting Lake Placid, NY, here are some fun Lake Placid attractions, restaurants, and outdoor activities to consider when planning your trip. I highly doubt you'll regret it!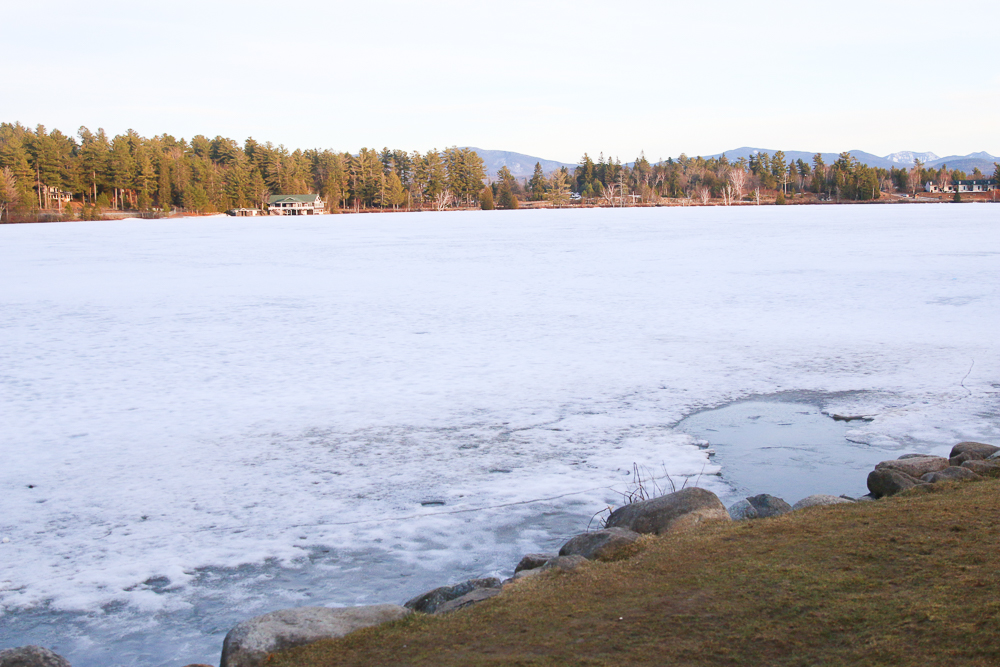 Lake Placid Olympic Attractions
Lake Placid was home to the 1932 and 1980 Olympics. While it's impressive to host any Olympics, Lake Placid holds a special place in United States Olympic history. If you're a hockey fan or just a fan of the US Olympic experience, you know the United States' college players (massive underdogs) beat the Russian professional hockey team during the 1980 Olympics on their way to Olympic Gold. If you don't know the story, check out the movie Miracle. Although you know that the United States wins gold, it's still a really great movie and worth a watch.
Many of the Lake Placid Olympic facilities and venues remain in use today. Some are used in their original form while others have been modified to cater to tourists. The town established an Olympic Center and has a central website to learn more about and book tickets for visiting various Lake Placid Olympic experiences.
Lake Placid Olympic Center
The Lake Placid Olympic Center includes Herb Brooks Arena (where the aforementioned famous hockey game was played), the Lake Placid Skating Oval, and the Olympic Museum. Unfortunately, much of this was closed for renovation while we were there. Three of the four boys are hockey players, so we planned to tour the Olympic Center, skate on Herb Brooks Arena, and skate on the speed skating Oval. We even had tickets before receiving word that renovation started just before we arrived. Although it was a bummer, we found plenty of other activities to fill our visit to Lake Placid.
Lake Placid Gondola Ride Up To Olympic Ski Jumps
Lake Placid has two enormous ski jumps that were used for the Olympics and are still used as an Olympic training facility. While we are far from qualified to use the Lake Placid ski jumps, we took the gondola and elevator up to the top of the ski jumps. There is a viewing area at the top of the ski jump which provides great 360 degree views of the Lake Placid area.
Lake Placid Cliffside Coaster
Weather permitting, the Cliffside Coaster is a unique roller coaster that runs in the mountains along the edge of the bobsled track. Each rider has their own car and can control the speed at which they travel down the coaster. We had plans to visit this as well, but the weather didn't cooperate on the right day during our trip. We'll have to come back another time and try it out (especially during the summer).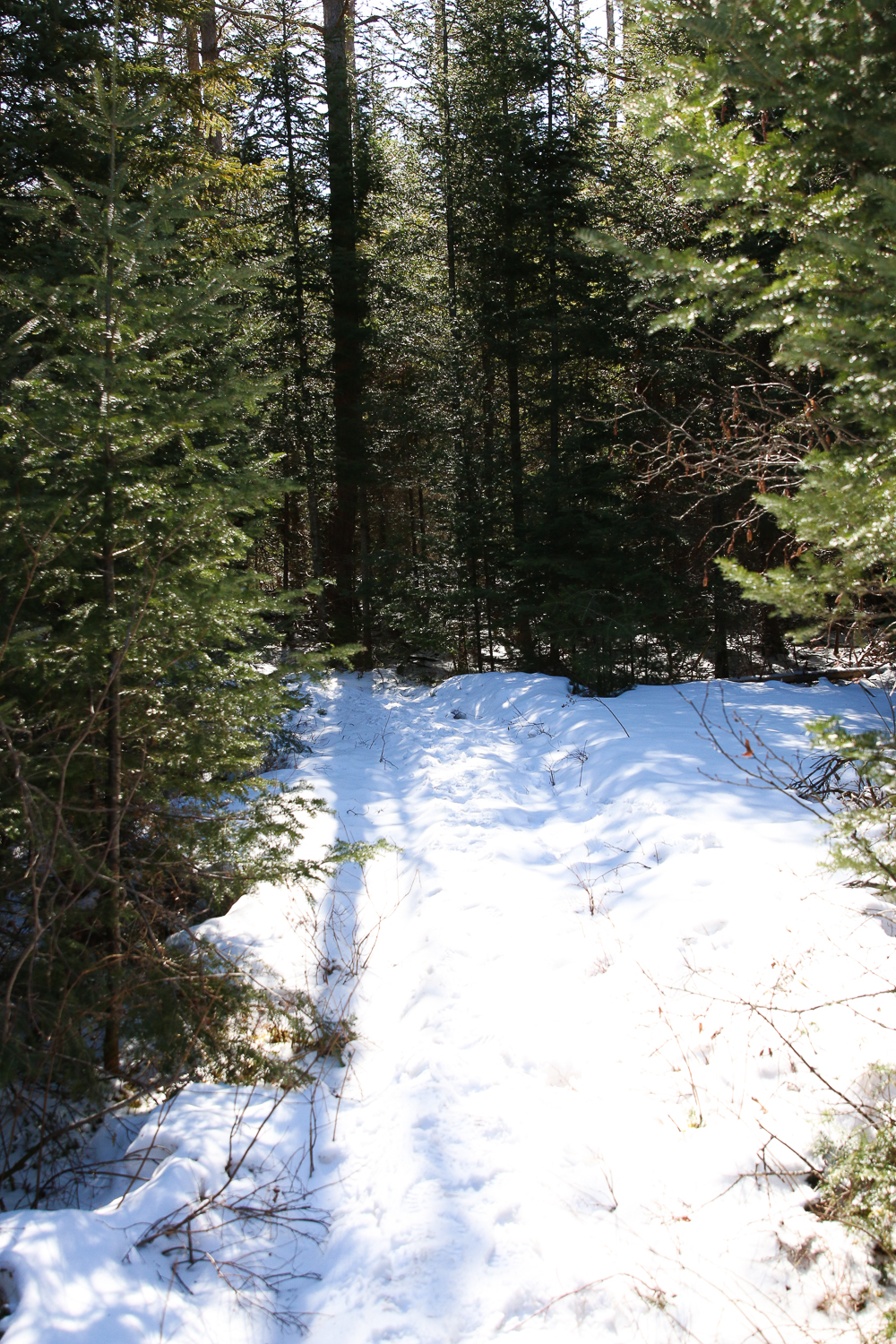 Things To Do In Lake Placid In Winter
Although spring was in the air, there were many remnants of winter in Lake Placid during our late March visit. Mirror Lake was mostly frozen (though not frozen enough to skate) and snow covered the ground in many areas. If visiting during the peak winter season, there are a plethora of things to do in Lake Placid in winter beyond the Olympic Center activities.
Skate On Mirror Lake
Main Street in downtown Lake Placid sits on Mirror Lake. When the ice reaches 6 inches of thickness, the local Park District clears off several sections of ice on Mirror Lake for skating, pond hockey, dog-sledding, and more. The skating track is 2 miles, which is pretty incredible. There are skating activities for all levels once the ice freezes enough to use, and I'm sure we would have spent countless hours on the ice had it still been frozen during our trip.
Lake Placid Toboggan Chute
Along the edge of Mirror Lake, you can enjoy a really neat Toboggan Chute if you visit during the heart of winter. For a few months during the colder months of winter, the Lake Placid Toboggan Chute flies down a 30-foot high slide onto Mirror Lake. If conditions are ideal, toboggan riders can slide up to 1,000 feet on the ice! Even after growing up in the frozen tundra of Minnesota, I haven't seen many winter activities as novel as this one.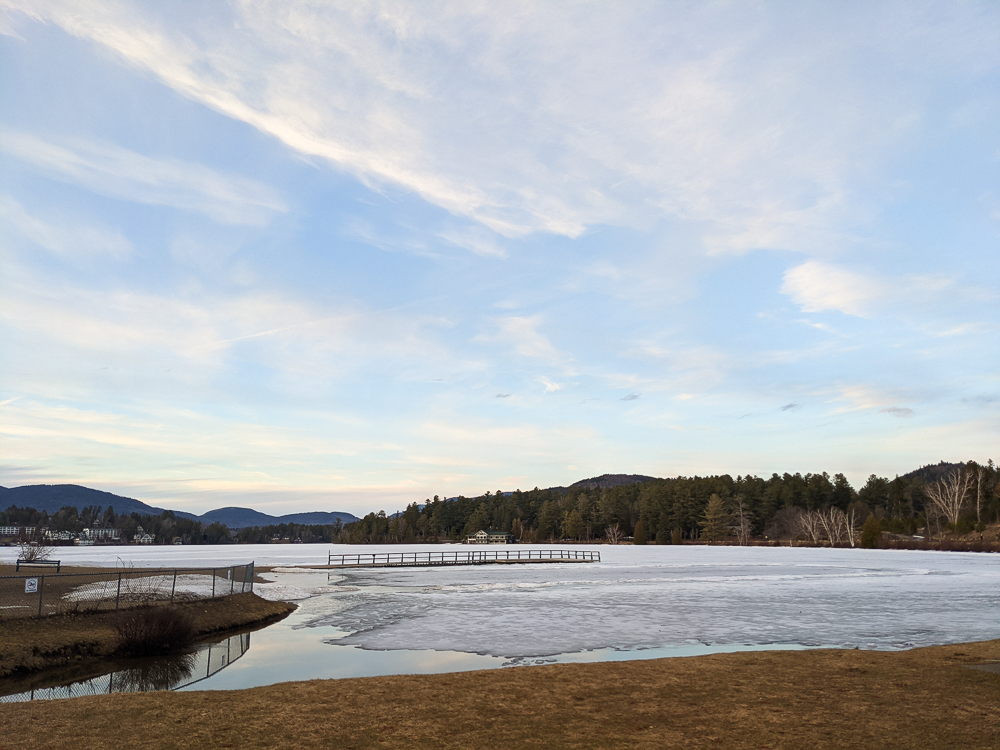 Ski In Lake Placid
There are several places to ski in Lake Placid, and Whiteface Mountain is the premier ski resort in the area. We spent one day at Whiteface Mountain and had a great time. We are beginner skiers. I've only skied a few times and the boys were skiing for the first time. Although we didn't have the boys take lessons, I would definitely recommend a ski lesson if you haven't skied before. We tried to get them lessons after a few tough runs and tears, but all the lessons were filled. Live and learn (and take a lesson next time).
I think we skied on one of the very last days of the ski season. Luckily it snowed the night before our ski day, but warm weather the previous week left several runs closed due to lack of snow. The sun came out the day we skied and warmed up the slopes enough to leave us with slushy snow by the end of the day. Slushy snow is pretty tough to navigate, especially for newbies. Despite the less-than-ideal conditions, we really had a great day and plan to do more skiing next year.
Whiteface Mountain has two lodges, a Base Lodge and Bear Den Lodge. If you're visiting with kids and are inexperienced skiers, be sure to head to Bear Den Lodge. It's quite a bit smaller but made for young kids and families. It sits at the bottom of several bunny slopes and beginner hills. They also have a couple of "magic carpets" that carry skiers to the top of the bunny slopes. We loved that the magic carpets were even covered in clear tunnels to protect us from the elements while riding up to the top of the hill.
You can access all the hills from both lodges, so you aren't limited by which lodge you choose to use. But the Bear Den Lodge is made specifically for new skiers and where you'll find all the lessons.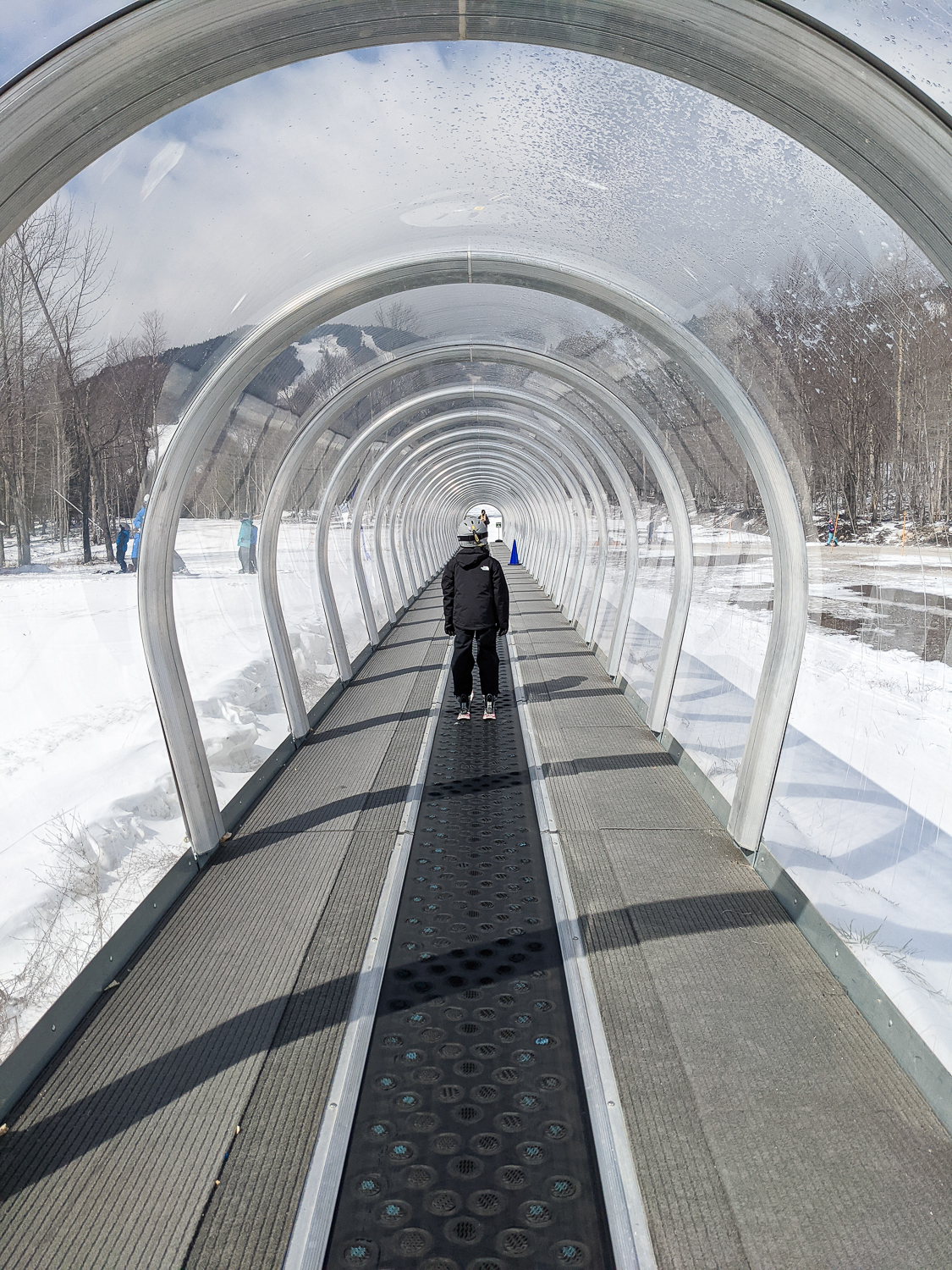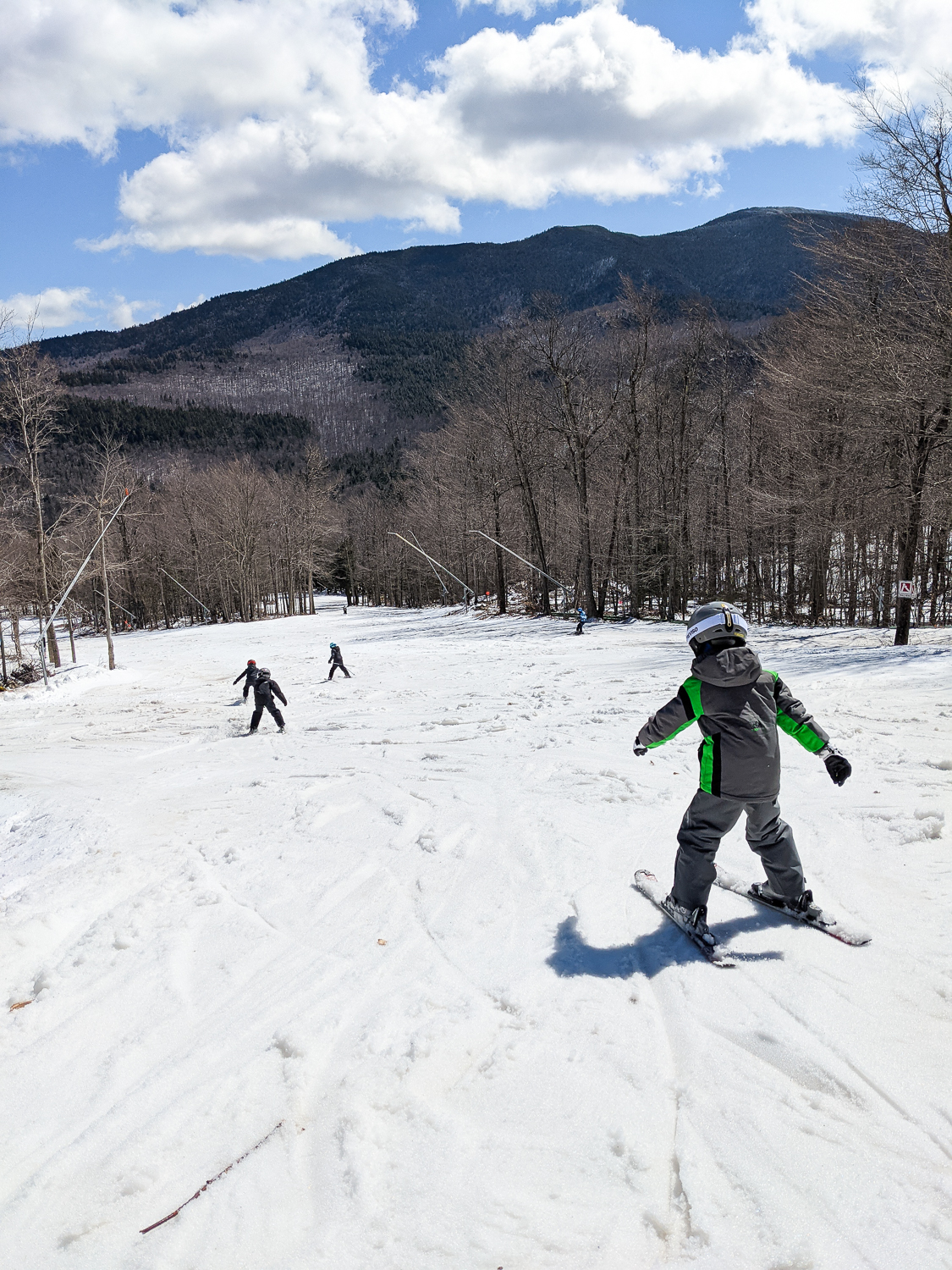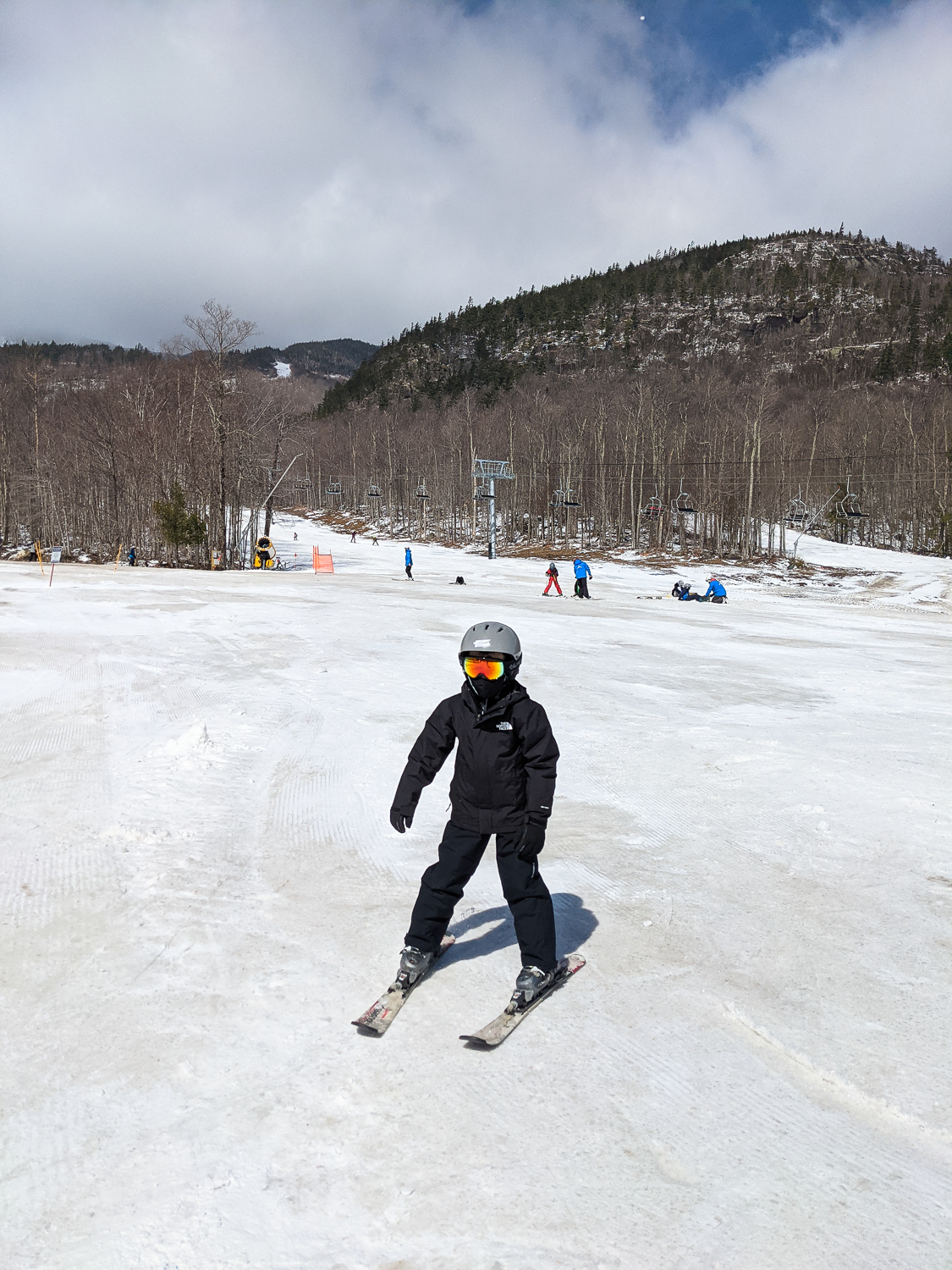 When you're ready for a real hill, the chair lift at the Bear Den Lodge has a moving path under the lift to help new riders navigate the chair lifts. This definitely made it a lot easier to help our boys enjoy their first adventure on skis.
On a side note: A few weeks prior to our trip, the boys tried snowboarding at a local ski resort. Snowboarding was a disaster (to say the least). It is much harder to learn than skiing and resulted in many faceplants in the snow. If you're just spending one day at the ski resort, I think skiing is much easier to enjoy than snowboarding without a lot of experience.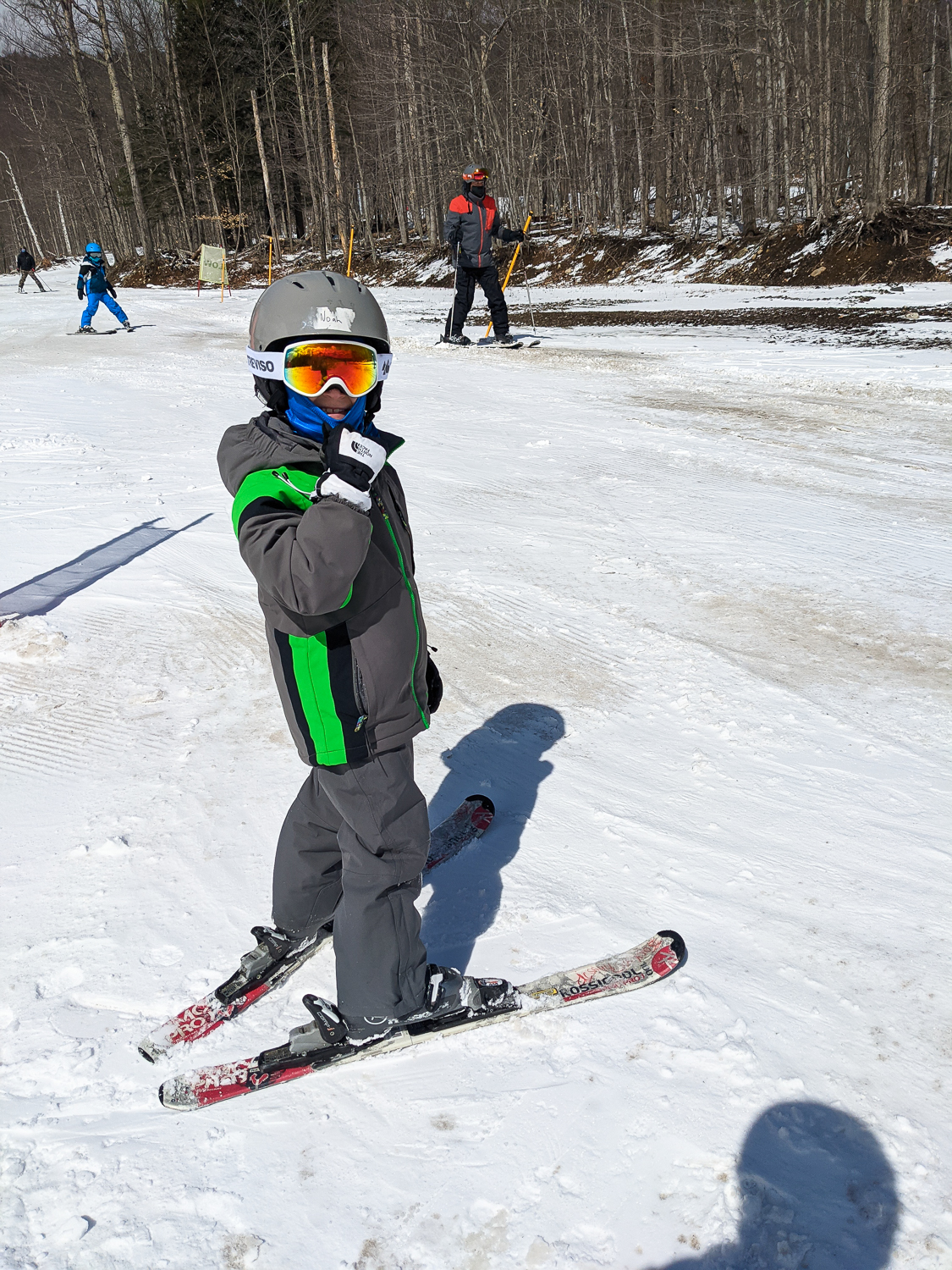 Lake Placid Hiking Trails
Lake Placid has so many amazing hiking trails at a variety of different levels. There are dozens of hiking trails in the area, many of which open for Nordic skiing and snowshoeing in the winter as well.
We spent one day hiking with four boys between the ages of 6 and 8. We hiked the day after skiing, so we wanted something that wasn't particularly challenging but also gave the boys space to run and play.
We used Alltrails to find the perfect hike and chose the Mt. Van Hovenberg trail in the High Peaks Wilderness area. This trail is listed as moderate difficulty on Alltrails, but the first mile of this out and back trail is relatively flat. We let the boys lead the hike. They stopped several times to traverse through the woods, dig into the snow and ice, and find treasures among the trees.
We turned around before climbing most of the elevation gain, which is at the end of the trail. As a result, the hike was really easy. With spring on the horizon, only a couple of inches of snow covered most of the trail so we were fine in hiking boots. We didn't need any special winter hiking gear for the portion of the trail we completed.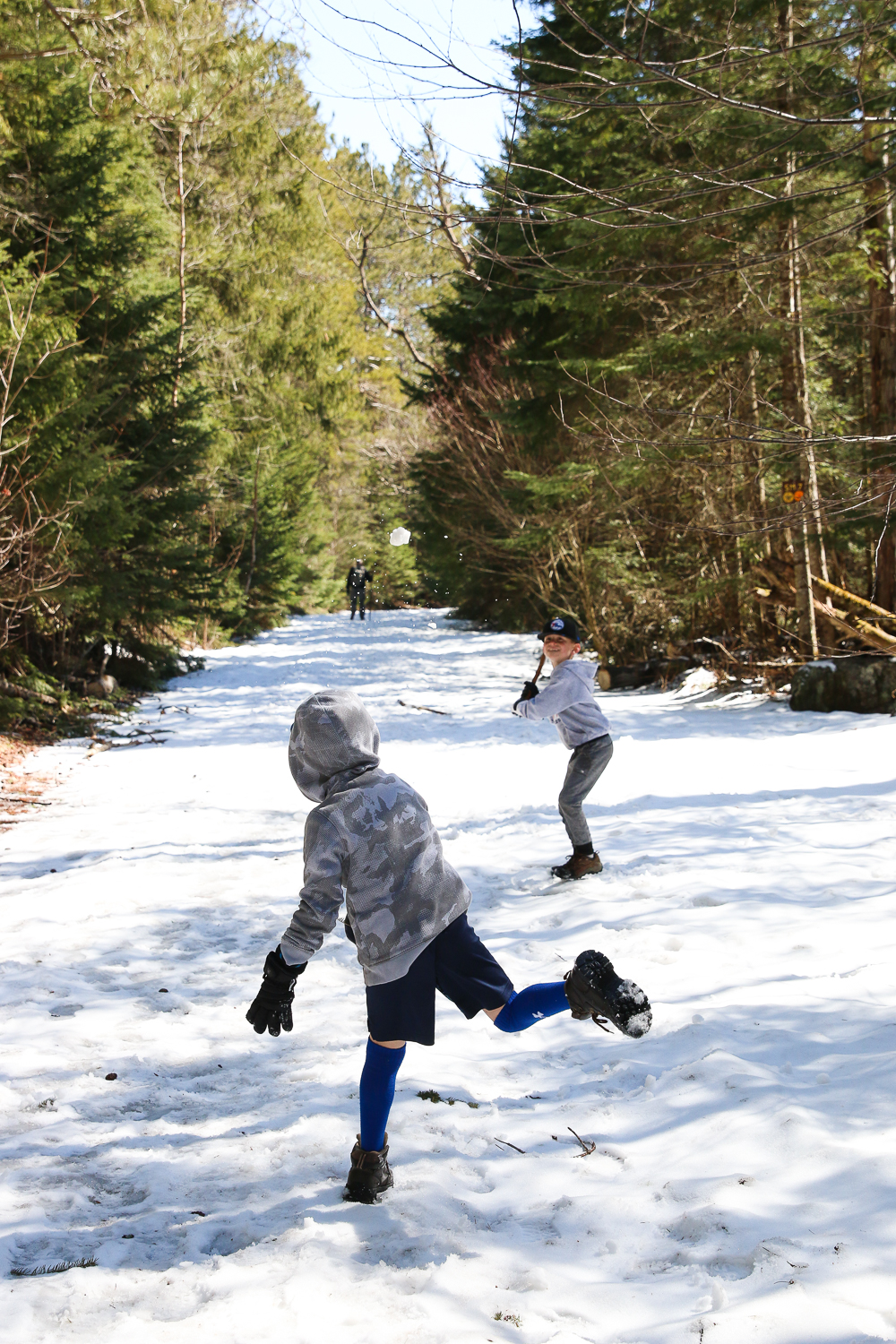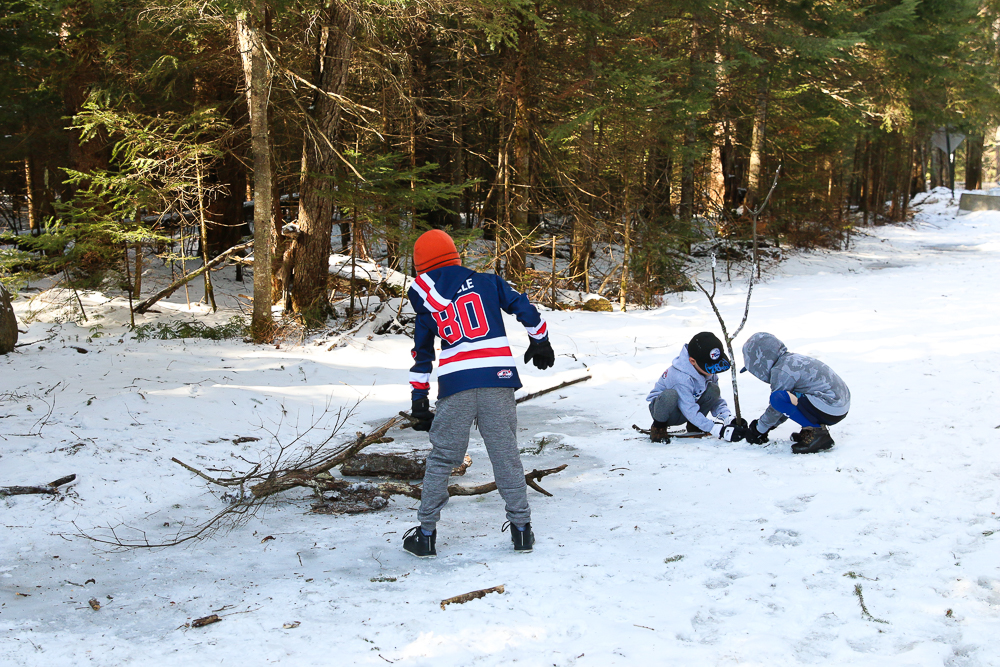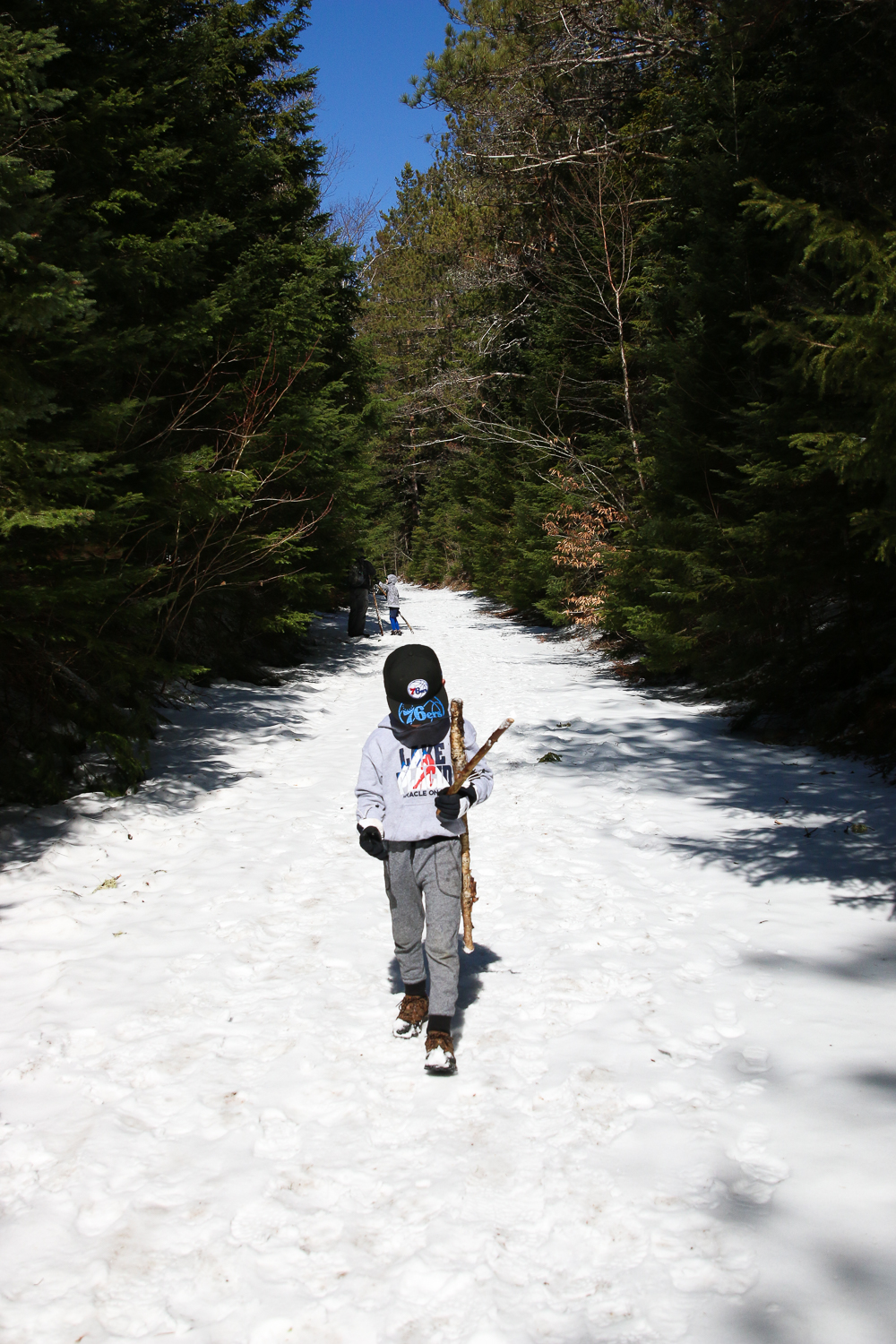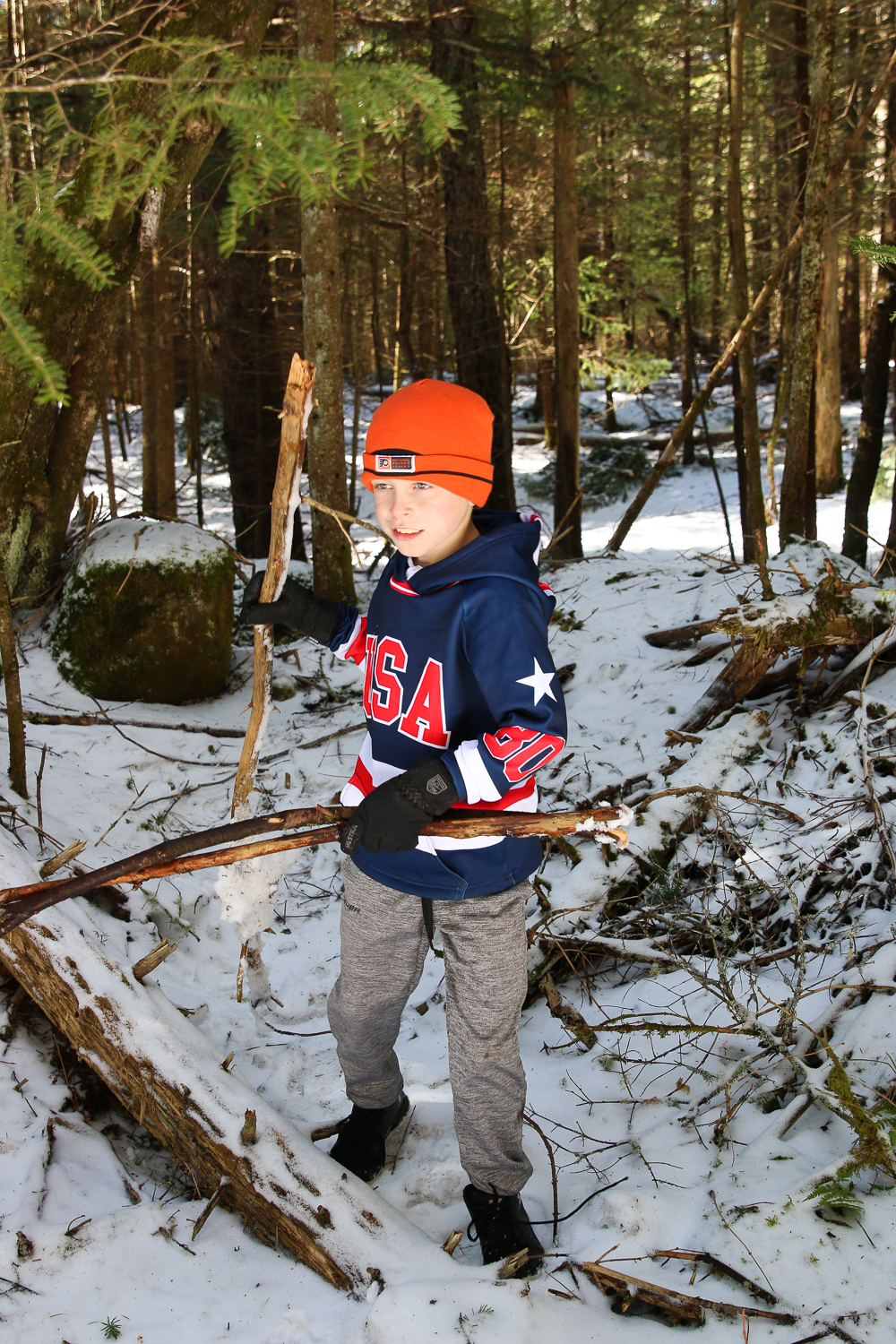 While researching for the trip, we found so many trails on Alltrails that would be great any time of year. Many of the trails require winter hiking gear (like snowshoes or spikes) in the winter. However, I definitely recommend checking Alltrails to find the right hike for your trip and your group. Alltrails listed several easy hikes around Lake Placid as well as some moderate and difficult hikes. The site ranks the Lake Placid hikes based on reviews so you can easily find the best hikes in Lake Placid with just a bit of research.
Hikers leave regular reviews about the conditions of the trails as well, which I always find really helpful when planning for our specific outing. Trails can change a lot throughout the year and based on the weather, and this is often reflected in the reviews on each trail. Popular trails often have new reviews every few days, so you can see if trails are muddy, snow-covered, or in a condition where you might need special gear.
If you want to check out other ways to find great places to hike in Lake Placid, I've shared a whole bunch of ideas about how to find hiking trails at home or on vacation.
Things To Do In Lake Placid In Summer
Lake Placid has so many outdoor activities that are great any time of year. In summer, you can enjoy hiking, water sports, waterfalls, and even some historical sites.
Lake Placid Historical Sites
Lake Placid is best known for its Olympic history as I mentioned above. The Olympic Museum offers lots of nuggets about the highlights from the town's twice Olympic host experiences.
John Brown Farm State Historic Site
Just behind the famous Olympic ski jumps, Lake Placid is home to the John Brown Farm State Historic Site. This is a National Historic Landmark as the home and final resting place of John Brown, the Underground Railroad conductor and insurrectionist. He strove to create a community in Lake Placid for freed slaves.
The site is quiet and pretty. You can visit in a short amount of time but it could be a great bit of history to take in around the same time you visit the ski jumps.
Kayaking, Canoeing, and Water Sports
Situated on Mirror Lake and not far from Lake Placid itself, it's so easy to enjoy water sports during a summer visit to Lake Placid. There are many companies that rent gear for kayaking, canoeing, and more.
Visiting during the end of winter and into early spring, much of the snow was melting. We saw rushing waters on the rivers and streams. If you're feeling more adventurous than a calm kayak or canoe on the lake, there are also whitewater rafting trips you can try. It wasn't the right season for this when we visited, but I'm sure it's amazing!
High Falls Gorge
If you're searching for waterfalls, High Falls Gorge is an easy 30-minute walk past four waterfalls. Although the snowmelt made for raging waters on the rivers (and presumably strong waterfalls as well), the High Falls Gorge Park wasn't quite open when we were there. We missed it by just a few weeks. The walk isn't strenuous but could be great for some lovely waterfall photos as well as a short nature walk with family who can't endure longer Lake Placid hiking trails.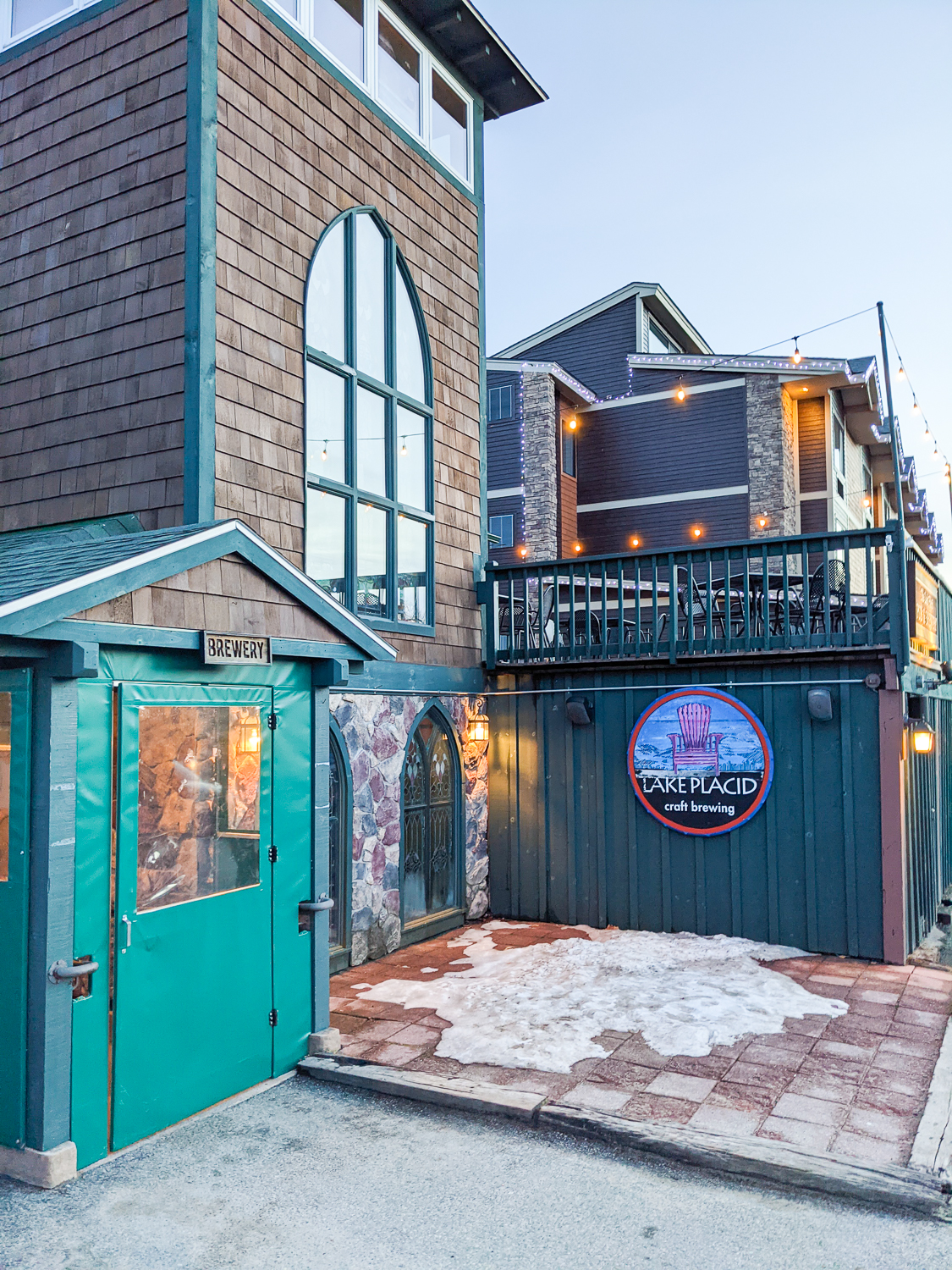 Restaurants and Breweries in Lake Placid
We ate at several great restaurants in Lake Placid, and there were a surprising number of breweries in the area. Sites like TripAdvisor and Yelp are always good places to find the most current reviews and menus for local restaurants, but these were a few of our favorite restaurants in Lake Placid during our family trip.
Big Slide Brewery & Public House
Big Slide Brewery is right on the way back to downtown Lake Placid from the Mt. Van Hovenberg trailhead. Both families were very intrigued by the vibe when we drove past the restaurant, so we stopped at Big Slide Brewery on the way home from our morning hike on Mt. Van Hovenberg Trail. It was a perfect stop and the food was really great (maybe the best meal we had on our trip). It was quite busy, full of lots of locals, and includes outdoor seating if the weather cooperates. Everyone liked their food, and the burgers were particularly delicious.
Smoke Signals (BBQ)
One night for dinner we ordered take-out from Smoke Signals and ate at home around the big kitchen table in our rental home. The BBQ food was good and definitely worth adding to your trip list. If you visit in summer, they even have outdoor seating that overlooks Mirror Lake.
Great Adirondack Brewing Company
The Great Adirondack Brewing Company had good food and some great outdoor seating. They even had heated seating and a pretty neat bonfire while we were there. It was right next to the house we rented and made for a convenient and tasty lunch/brunch on Sunday during our visit.
Lake Placid Pub & Brewery
On our first night in town, we hit up the Lake Placid Pub & Brewery (not yet aware that our trip would effectively be a pub crawl over the course of several days). While we waited about 20 minutes for our table, the boys played at the playground right across the street (we could see them from the parking lot of the restaurant). The food was good, so it's definitely worth checking out the menu.
After all these breweries, you're probably wondering if the beer was any good. How did I not mention it? Well… I don't drink beer, so I can't opine on any of it. The other adults in our group all enjoyed a beer or two most nights but it wasn't the focus of our trip. I guess you'll have to visit and do a pub crawl, with a focus on beer, for yourself if that's your thing. 🙂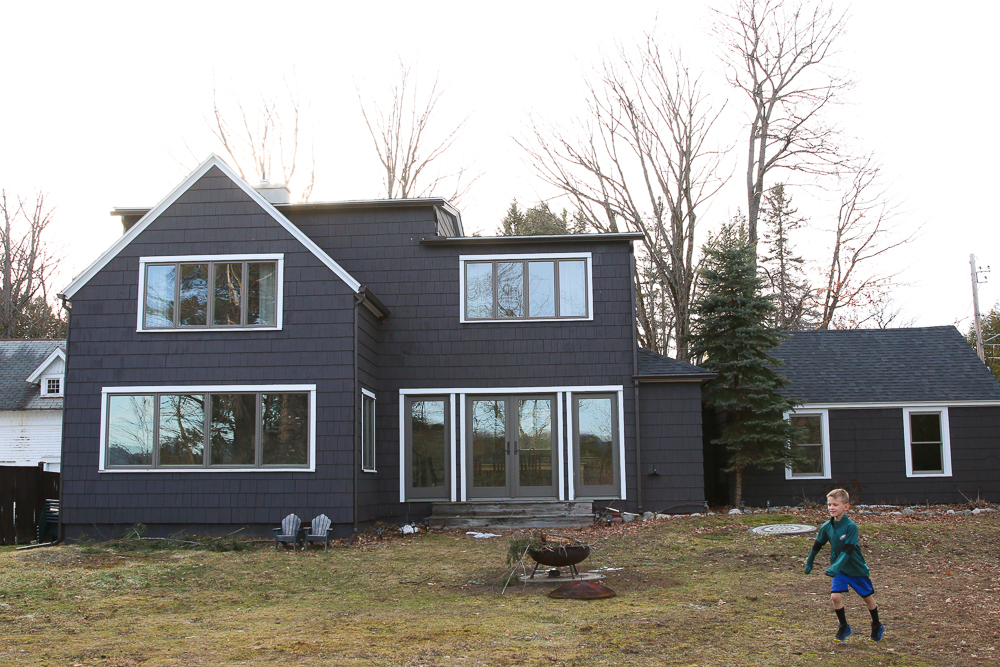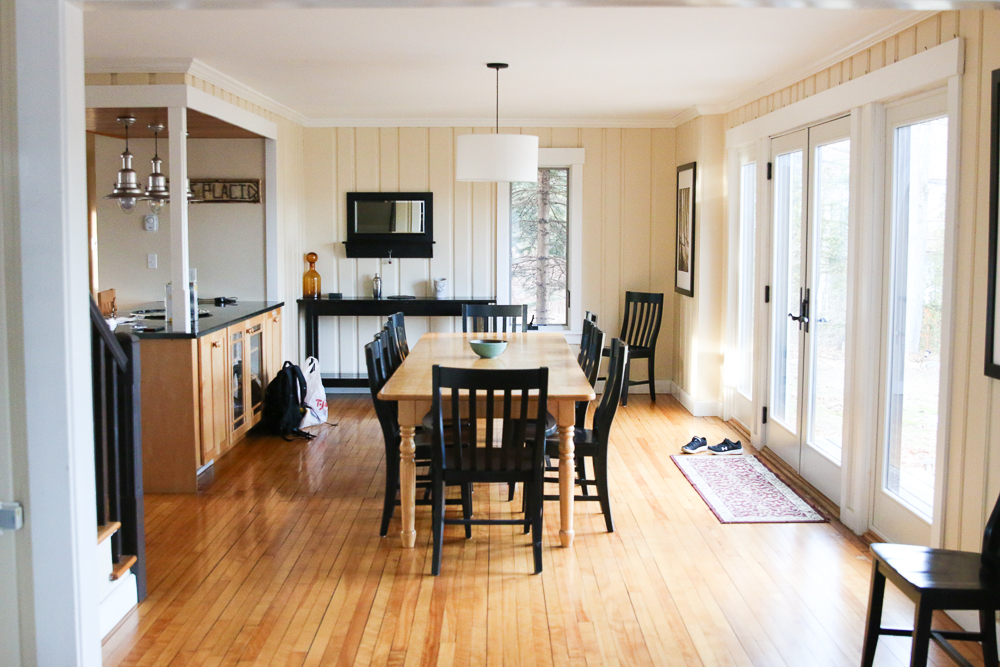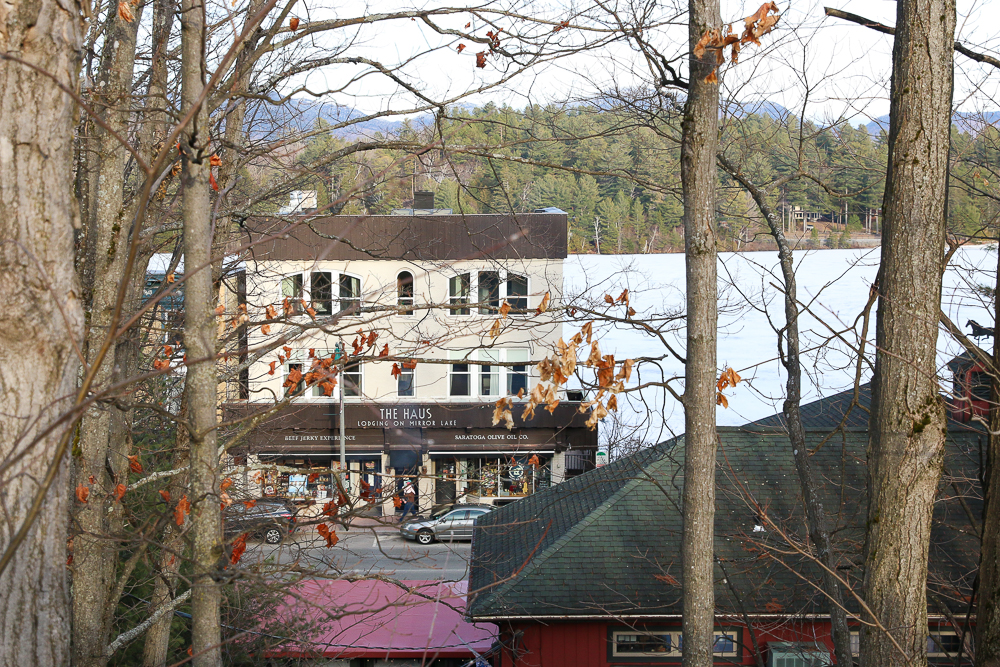 Where To Stay In Lake Placid
There are many great resorts and hotels in and around Lake Placid. However, we visited with another family and wanted to stay in a house together. Our friends, who planned most of the trip for us, chose this amazing four-bedroom through VRBO. The house overlooked downtown Lake Placid and Mirror Lake. It had plenty of space, a great kitchen, and a big table for meals. It overlooked Main Street in Lake Placid, so we could walk to downtown Lake Placid in a matter of minutes.
The house also had a nice, flat yard perfect for the kids to play outside. Big windows overlooked the backyard, so for a couple of hours one afternoon, we let the boys play outside while the adults hung out indoors and relaxed. If the weather had been a tad bit warmer, we could have used the fire pit in the backyard as well to roast s'mores or just enjoy a night by the fire.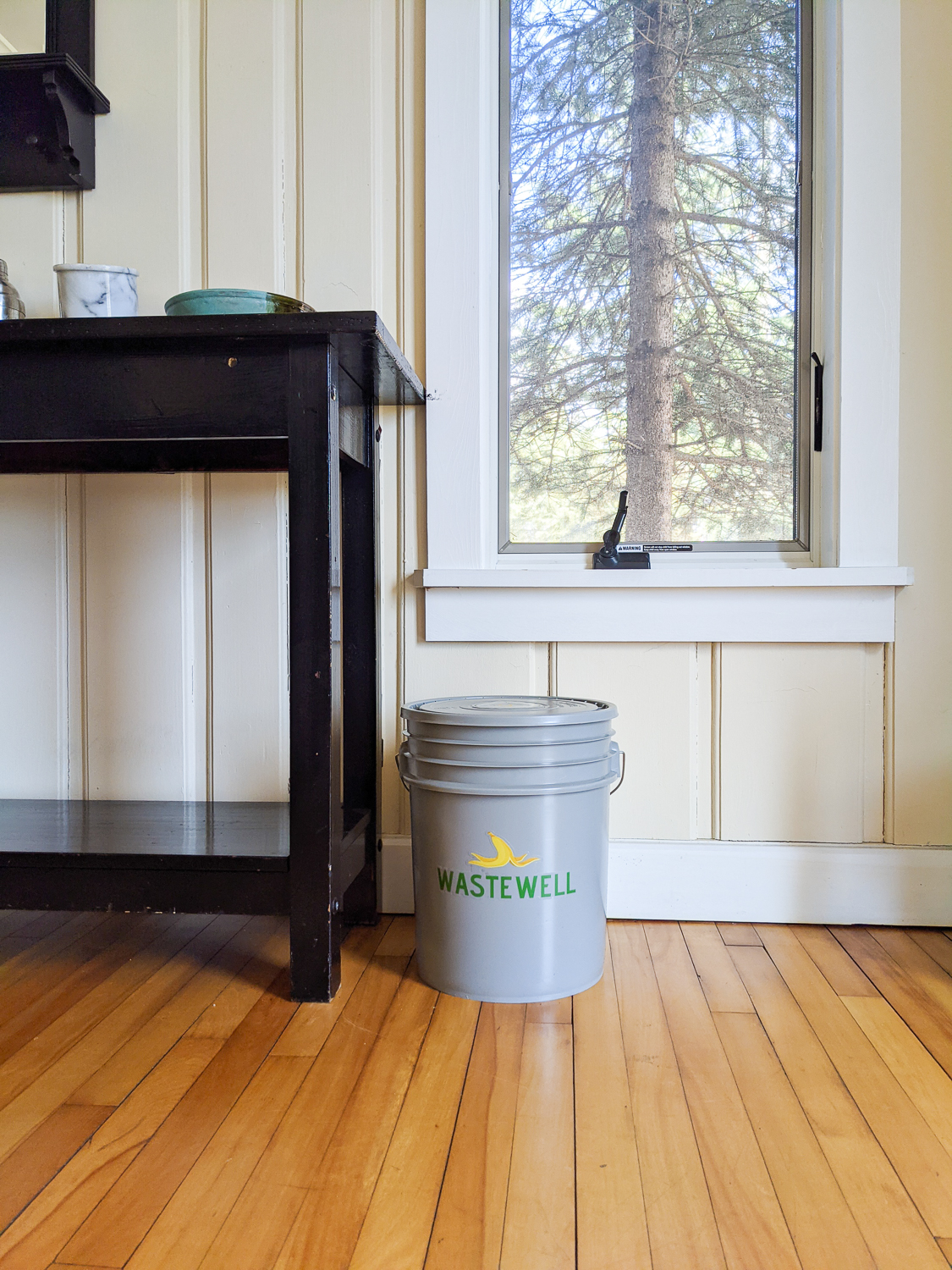 We Composted While On Vacation
As a self-proclaimed composting nerd, our vacation would not have been complete with composting. We brought a WasteWell bucket with us to collect all the compostable materials and food scraps. Not only did we reduce our waste, but I also got to introduce the family with whom we traveled to composting! Whether you take a road trip and bring your own bucket or find a ShareWaste host in the area, there are often a handful of ways to compost even when you're on vacation.
Is a Visit To Lake Placid Worth It?
We had a really fantastic trip. Lake Placid could be tough to get to if you don't live within driving distance. It was about a seven-hour drive from Philadelphia. There are local airports but no major airports that are particularly close.
If you enjoy quaint towns with lots of outdoor activities, no matter the time of year, you will love visiting Lake Placid. It will be well worth your trip. There are plenty of delicious restaurants and so many activities to fill a long weekend or even an entire week. Just be sure to do your research about what might be closed if you visit off-season.
Have you visited Lake Placid? Did I miss anything? I'd love to know your favorite parts of a trip to Lake Placid, NY, so share in the comments!