Partnerships for Goals | United Nations Sustainable Development Goal #17
Picture books are a great entry point to many difficult conversations with our kids. Read on for more about this creative project to help kids connect with and understand the global social and environmental justice goals as defined by the United Nations Sustainable Development Goals in an age-appropriate way.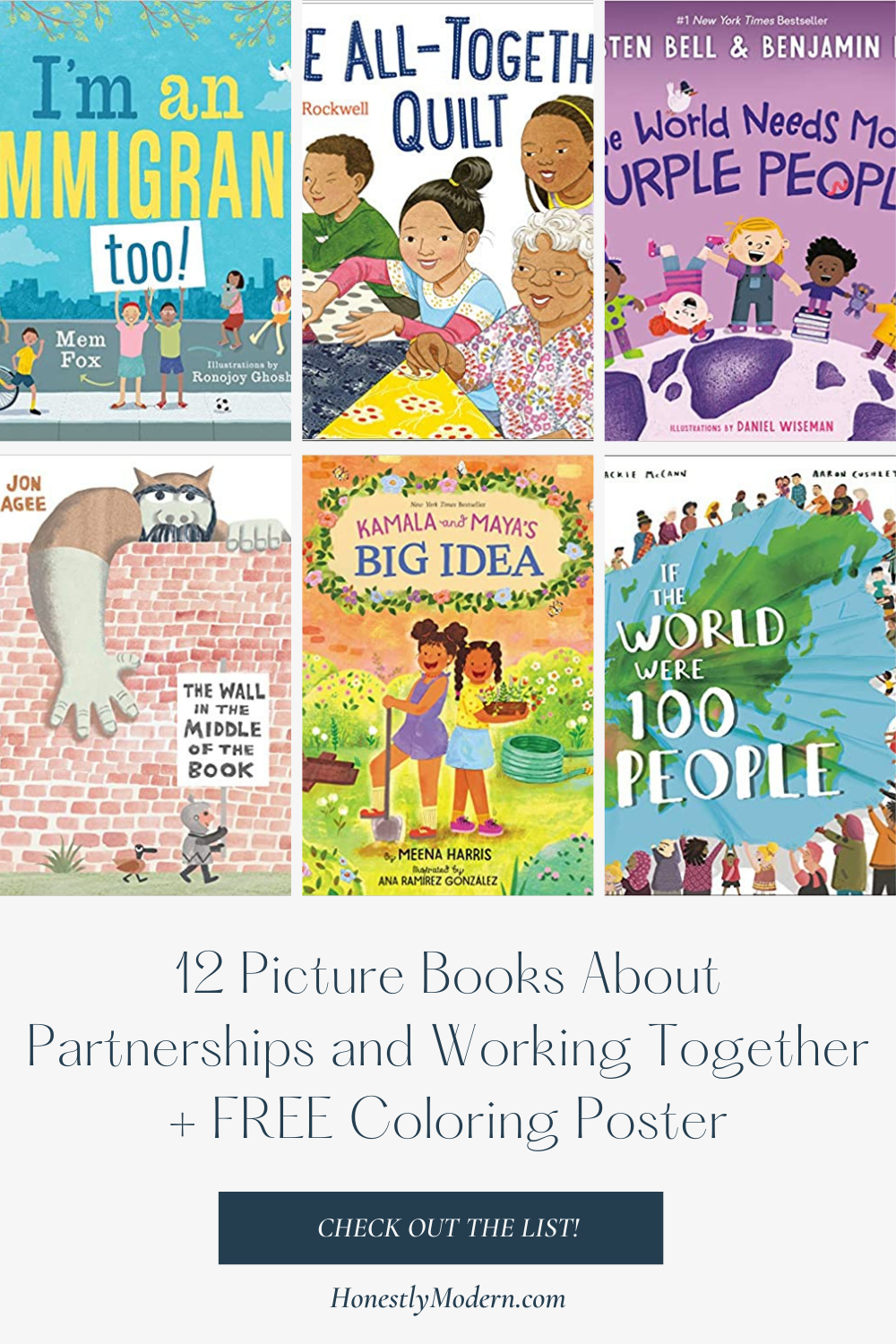 This picture book list is part of a series of picture book lists that align with the United Nations Sustainable Development Goals. We've created a picture book list for each of the 17 United Nations Sustainable Development Goals as well as a FREE coloring poster to track progress and explore the United Nations Sustainable Development Goals with kids.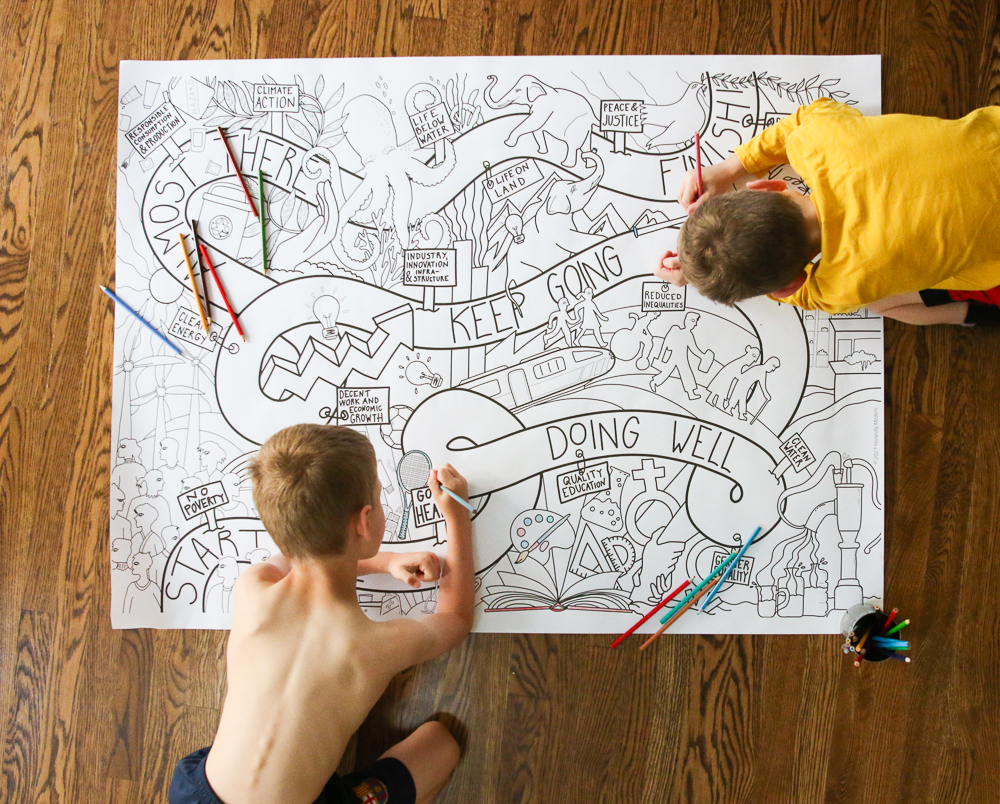 Learn More & Download The Free Coloring Poster
To learn more about the FREE coloring poster and see all 17 picture book lists, head to the United Nations Sustainable Development Goals Coloring Poster and Picture Book List homepage. Alternatively, simply sign up for our email list below and receive a link to download the FREE coloring poster.
What Are The United Nations Sustainable Development Goals?
In 2015, the United Nations adopted 17 Sustainable Development Goals (SDGs), a collective framework for peace and prosperity for people and the planet, now and into the future. The Sustainable Development Goals have broad intentions to end poverty and other deprivations while recognizing the need to simultaneously improve health and education, reduce inequality, spur economic growth, and tackle climate change.
Partnerships for Goals | United Nations Sustainable Development Goal #17
This last goal of the United Nations Sustainable Development Goals framework brings together all the prior goals. In order to achieve the desired outcomes of the framework, we all need to work together and create partnerships locally and globally to bring these outcomes to fruition. Partnerships make our efforts stronger and more effective.
A Note on Buying and Borrowing Books
We include affiliate links to books we recommend. If you purchase through one of these links, Honestly Modern earns a very small commission that has no impact on your purchase price.
If you can find the books from your local library, from a friend, at an independent bookstore, or through a used book shop, those sources are ideal. Using the library is zero waste, saves money, and saves space in your home because you can read all the books without storing all the books on your bookshelves. If you're not sure of the best way to use your local library, check out these tips to make the most of your local library. With a little exposure, your kids will learn to LOVE the library!
If you prefer to listen to audiobooks, we recommend using Libro.fm, our favorite audiobook app. We've tried several audiobook apps and love that Libro.fm supports independent bookstores and offers a great user experience.
Picture Books About Partnerships And Working Together For a Common Goal
The following books highlight many different ways that we can work together to achieve success. As the saying goes, "many hands make for light work" and this is definitely true if we all work together to uplift marginalized groups and those in the most need of assistance around the globe.
Heal The Earth by Julian Lennon
In this story, readers can interact with the book by pushing buttons on various pages to enter a magical White Feather Flier. The Flier takes them to various parts of the world to show them how climate change is impacting our planet and how we can work together to heal the Earth and the people who inhabit it.
This book is part of the White Feather Flier series that includes Love The Earth and Touch The Earth | Check out the Entire White Feather Flier Box Set
If The World Were a Village by David J. Smith
Understanding the scope of the global issues and breadth of the global community is really hard due to the size. This book imagines the world as one village with 100 members. It breaks down things like education, energy use, healthcare, and money in terms of a village of 100 instead of a world of 7 billion people. The book relies on actual data and studies but puts the world into a context more relatable for children (and all of us really).
Say Hello by Rachel Isadora
A simple hello makes such a difference. This book is great for all ages, including younger children, as it follows a girl around her neighborhood saying hello to all her neighbors in their respective languages. A simple hello can help us connect with people from all walks of life.
The World Needs More Purple People by Kristen Bell
Purple people are those that reach between blue and red (the colors that represent political parties in the United States) and bring together people who have different ideas and opinions. They bring their family, friends, and communities together, and they speak up for what's right. They are kind and hardworking, and they love to laugh. A purple person is an everyday superhero! This book helps readers walk through the process of being a purple person and helps us all better understand each other, even those who have different beliefs from our own.
We're Better Together: A Book About Community by Eileen Spinelli
We're better together when we play together, when we make music, and when everyone pitches in. This celebration of coming together to solve problems, support communities, and honor everyone's differences is perfect for young children who are learning about empathy and cooperation.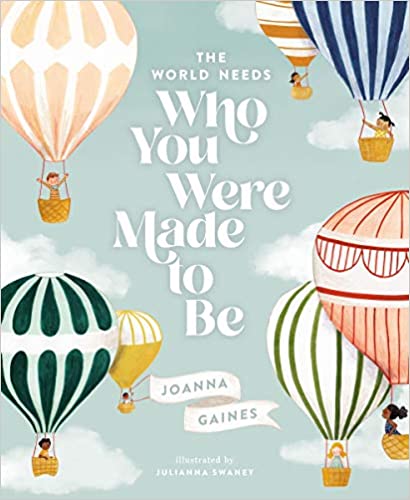 The World Needs Who You Were Made to Be by Joanna Gaines
The book follows a group of children as they each build their very own hot-air balloons. As the kids work together, leaning into their own skills and processes, to fill the sky with beautiful colors, readers see that life it's more beautiful and vibrant when our differences are celebrated. The book also highlights how each person has different types of skills and strengths to contribute to the greatest good for everyone.
The Wall in the Middle of the Book by Jon Agee
A small soldier feels very safe on his side of the wall and assumes that the "other side of the wall" is full of bad and scary people. Eventually, however, his side of the wall becomes dangerous. The "scary" ogre on the other side of the wall reaches over to save him from the danger. It's a great reminder for children that we might feel safe staying in our comfort zone. We might benefit, however, from reaching across the table to work together with the people who seem different from ourselves.
Her Right Foot by Dave Eggers
The author starts with an interesting set of historical facts about the Statue of Liberty, but soon focuses on the statue's right foot. Although most people never notice it, the Statue of Liberty is built to be in motion, moving forward. The author suggests we should pay more attention to her motion because it's sending a great message. "Liberty and freedom from oppression are not things you get or grant by standing around like some kind of statue. No! These are things that require action. Courage. An unwillingness to rest." We must work together and continue to do the work to achieve the liberty and freedom for all upon which we say our country was built.
I'm An Immigrant Too by Mem Fox
Set in Australia, this rhyming story celebrates so many different families who live in Australia but hail from various parts of the world. Each character shares a snippet about why they ended up in Australia. The book concludes by focusing on why it's important to share Australia with everyone and welcome others with open arms, no matter where they are from.
The All-Together Quilt by Lizzy Rockwell
A group of diverse community members comes together to make a quilt at the community center. They have so many different fabrics, colors, and input to the final product. In the end, the group creates something that is beautiful, warm, and lasting, much like the product of any shared effort when we come together as a community for good.
Kamala and Maya's Big Idea by Meena Harris
Based on a true story, the Harris sisters wanted to turn the unused courtyard in their apartment complex into a playground for the kids in their community. Despite being told 'no' many times, they persisted and worked together with many different people in their community to make the playground a reality. They organized a variety of people with different skills and access to resources to create a great play space for their family and their neighbors. Even though creating community areas might be a challenge, we can accomplish so much when we organize and work together.
Melia and Jo by Billy Aronson
Two little girls, one who loves science and one who loves art and dancing, accidentally discover that they make a great team as innovators. This is such a fun story about how people who seem so different on the surface can make such a great team.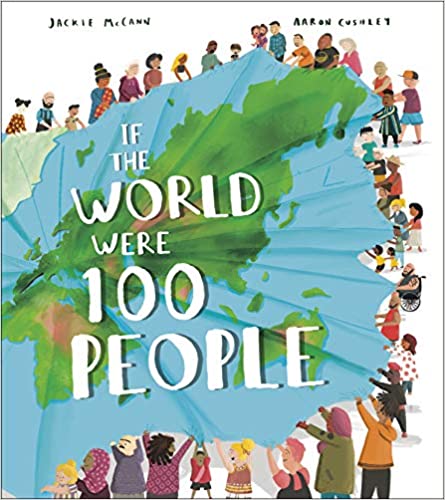 If The World Were 100 People: A Visual Guide To Our Global Village by Jackie McCann
With almost 7.8 billion people sharing the earth, it can be a little hard to picture what the human race looks like all together. But if we could shrink the world down to just 100 people, what could we learn about the human race? What would we look like? Where and how would we all be living? This book answers all these questions and more!
Reliably sourced and deftly illustrated, If the World Were 100 People is the perfect starting point to understanding our world and becoming a global citizen. If we focus on just 100 people, it's easier to see what we have in common and what makes us unique. Then we can begin to appreciate each other and also ask what things we want to change in our world.
What about books about partnerships and working together do you like? Share them in the comments!
And if you have not done so already, be sure to check out the other booklists aligned with the United Nations Sustainable Development Goals and print out the FREE Coloring Poster!