5 Fabulous Ethical Fashion Gems For Summer
Summer might be the best time to explore ethical fashion alternatives. Check out these 5 fabulous ethical fashion gems that have earned a slot in my summer style rotation.
This post contains affiliate links.
It's August. And these days, it's hot!
Although we are midway through summer (which is hard to believe), many of us still have plenty of hot days ahead of us. Whether you're walking through the neighborhood, jumping in the pool, or sitting on the sidelines of the sports field, I've got you covered (no pun intended).
Here are five ethical fashion pieces I've been wearing on repeat this summer and why each one has earned a spot in my stingy wardrobe.
Nisolo
Nisolo produces versatile and classic shoes, handbags, and jewelry made by artisans around the world who are paid fair wages and benefits for their services. They have a laser focus on providing great quality pieces at a reasonable price while respecting the people and communities impacted along their supply chain.
I have a few pieces from Nisolo, including these earrings about which I raved some time ago (and wore to the wedding I attended last week). My favorite summer piece from Nisolo is this pair of simple sandals that can be dressed up or dressed down (and I've worn as often as I expected). I've paired them with shorts yet also wore them to the rehearsal dinner last weekend.
The right pair of sandals, that's a little fancier than flip flops without any additional discomfort, really steps up a summer outfit while staying cool (or as cool as we can be in the humid heat).
Emerson Fry
Minimalist by design, Emerson Fry makes small production runs of clothes, like today's dress, in the United States using traditional techniques. Production runs last about a week, so there are always new pieces being added and it will inevitably be a unique piece in your closet.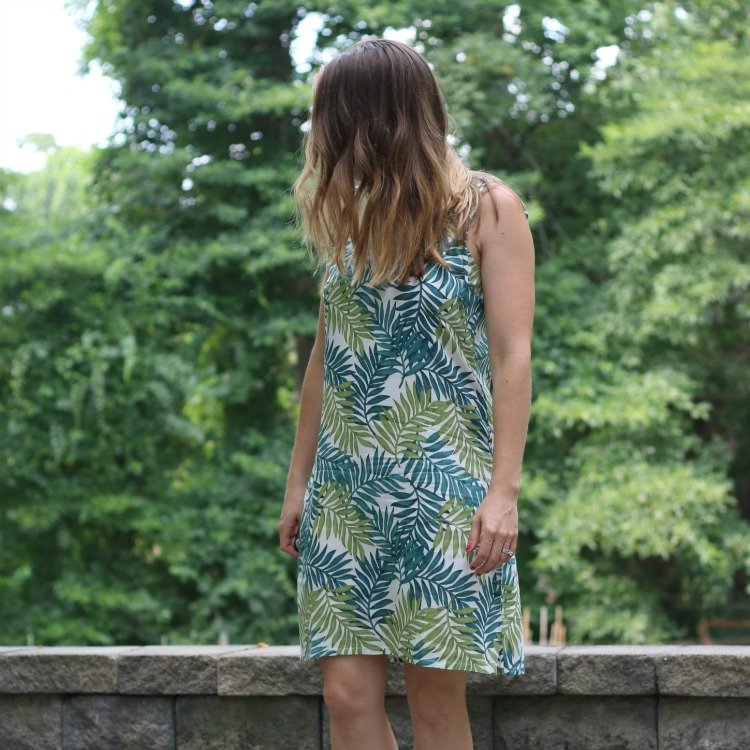 Emerson Fry has many pieces made from great fabrics for summer like linen and cotton that help keep us cool. This dress is just one example of something from their collection that is light and airy while still appearing pulled together.
So far, I've only worn it to the rehearsal dinner at last weekend's wedding (under a long cardigan), but it would work perfectly for a day at the beach, a casual weekend with the family, or even as a fan at a sports game. You might look like the most dressed up soccer mom, but you'll also be the coolest without actually having tried hard at all.
DIY Cutoffs
Denim cutoff shorts are undoubtedly one of the best pieces to get from a thrift or consignment store. Simply find a pair of jeans that fit well through the hips and waist and you're golden. You cut off the rest of the pant leg, so if the length is wrong or the style outdated (flares from the last decade, we're looking at you), no matter.
I know the perfect pair of jeans can be hard to find, though amazing thrifted jeans are possible (I have two pairs to prove it). But finding a pair of jeans to turn into shorts is so much easier.
Free Bella
Free Bella makes simple, affordable swimsuits out of recycled plastic bottles that are also manufactured in the United States. With so much consumption of plastic that continues to pile up in landfills and oceans, it's helpful to begin to find other uses to offset some of the damage it's doing.
The Free Bella pieces don't provide much support and don't have much padding (if any), so they're probably only made for certain body types. I wore my Free Bella two-piece in Malibu at my sister's bachelorette party, but it's not something I'm likely to wear when I'm chasing my boys around a community pool, for example.
If you're interested, you can also check out this article from Alden Wicker of EcoCult about whether or not it's actually sustainable to make clothing from recycled materials.
American Giant
If you've been around these parts for a while, you know I have an affinity for American Giant and own several items from their collections. In addition to two hoodies, a pair of cropped sweats, and three long sleeve shirts, I own four of their premium t-shirts (something I almost never do).
I have been eyeing their premium tank dress for months, but haven't pulled the trigger yet because I didn't have enough occasions to wear it that it made sense to invest. But it's still on my radar.
American Giant makes a wide range of classic American apparel like sweatshirts, t-shirts, and sweatpants. You can read more about the brand in previous posts (here and here) I've shared. (I'm clearly a fan of both their styles and high-quality).
Exploring Ethical Style in Summer
In my few years of exploring the ethical fashion space and brands that abound (which are definitely growing in number), I think summer is the easiest time to begin to dabble in the space and make a few fashion investments for your wardrobe.
Summer clothes tend to be a little simpler; fewer layers and complex components, relative to the styles we see in fall and winter. Because they're typically comprised of less fabric and made with simpler techniques, they're often less expensive as well, making it easier to try out a couple pieces from new brands without breaking the bank. Admittedly, certain ethical fashion is more expensive in order to support things like fairer wages and higher quality material costs.
If you are interested in trying out a new brand in the ethical fashion space, try one of the five brands or ideas above. I've had great luck with all of them and have routinely been turning to pieces from these brands for the last couple of months.
If you have tried any of these brands, let me know on social media (@honestlymodern) or in the comments what you think (good, bad, or indifferent). I'd love to hear your experience!