Style Success is Sometimes More of the Same
Want to know a style secret? All those glamorous fashion bloggers and even your most stylish friends have a style formula, a personal uniform that guides most of the outfits they wear.
On the surface, a style uniform might sound boring. In fact, it's actually quite the opposite. A personal style formula streamlines shopping and outfit creation (saving time), reduces wardrobe waste (thereby saving money and increasing responsibility), helps ensure flattering style (increasing confidence), and generally reduces the stress of getting dressed.
Over the last year or so, I've been actively paring down my wardrobe. I've spent considerable time analyzing and critically reviewing everything that lives in my closet. Along the way, I've reviewed other style blogs for inspiration, lessons, and ideas. We'll call this my very 'unscientific' research.
I've started to become keenly aware of what styles work well for me (that I like and work for my body type and lifestyle). I've donated or sold via resale many one-off pieces that didn't really fit my developing style. I'm now left with a host of similar pieces that are iterations of each other. For example, I've come to favor sheath dresses with half sleeves for work, and they make up most of my remaining work wear wardrobe.
The power of style uniforms, however, extends far beyond my own closet. When perusing popular style blogs and breaking down their outfits for all my that research I mentioned, I often ended up seeing patterns. So many of a specific bloggers' outfits, at the very basic level, were the same.
At first, this felt unhelpful. Aren't style bloggers supposed to provide all sorts of inspiration about how we can wear the latest trends? Then I realized just how insightful a conclusion I had drawn (that possibly many others have already identified). We all need a proven style uniform. We all need a go-to formula as the foundation of our personal style crusade.
From high end "aspirational" blogs to everyday "attainable" blogs, many bloggers have developed a signature style that suits them, and we have come to love their style. Popular style bloggers have developed a loyal following (us) who like their pulled together looks and keep returning precisely because we get what we expect (and like) when we arrive.
Let's take a look at a few specific examples.
Ahn from 9 to 5 Chic
Ahn clearly knows that the silhouette of skinny pants, heels, and an oversize top (sweater or blazer) work for her. Sometimes, she'll switch up the skinny pants with a skirt, but she often pulls from the same silhouette inspiration. All the outfits below came from the last couple of weeks on her blog. She occasionally mixes in some alternative options, but this style silhouette is definitely on repeat in her arsenal.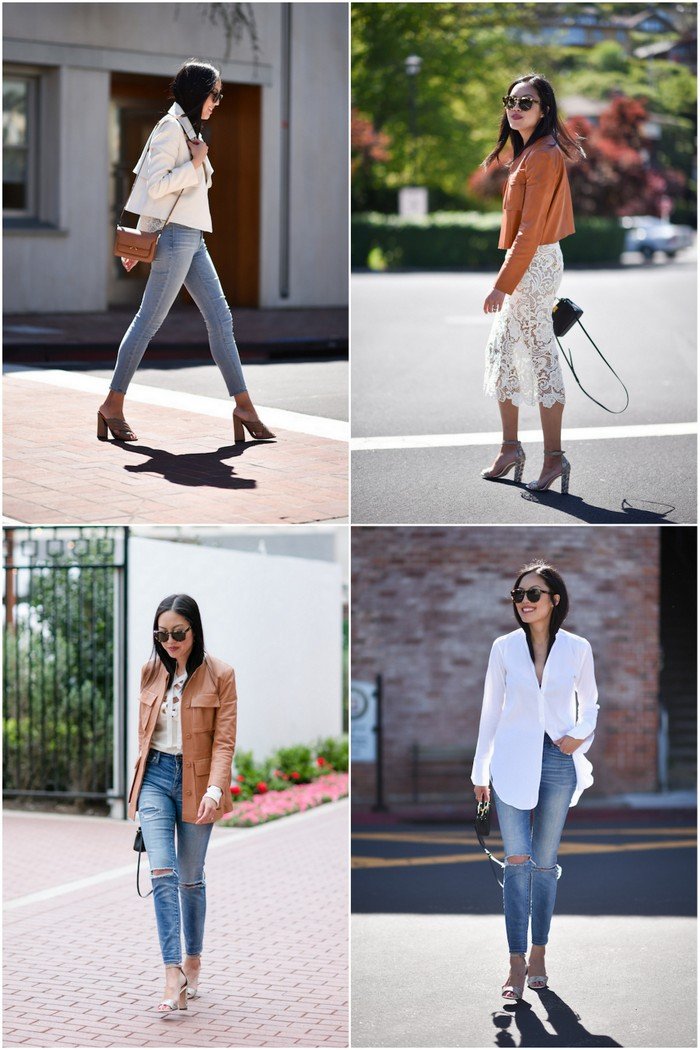 White Blazer with Light Skinny Jeans and Heels | Fitted Pencil Skirt with Blazer and Heels
Jacket with Skinny Jeans and Heels | White Blouse with Skinny Jeans and Heels
Merrick from Merrick's Art
Merrick loves distressed skinnies, a flowy blouse or sweater and ankle boots (which she occasionally swaps out for fancy sneakers). On her DIY Fridays, she showcases her hand-made, half-sleeve, knee length dresses with heels. She's pretty consistent about wearing one of these two styles. She recently had a baby, so incorporating maternity styles added a little diversity to the uniform. But in large part, she was still able to rely on the style formula that makes her comfortable.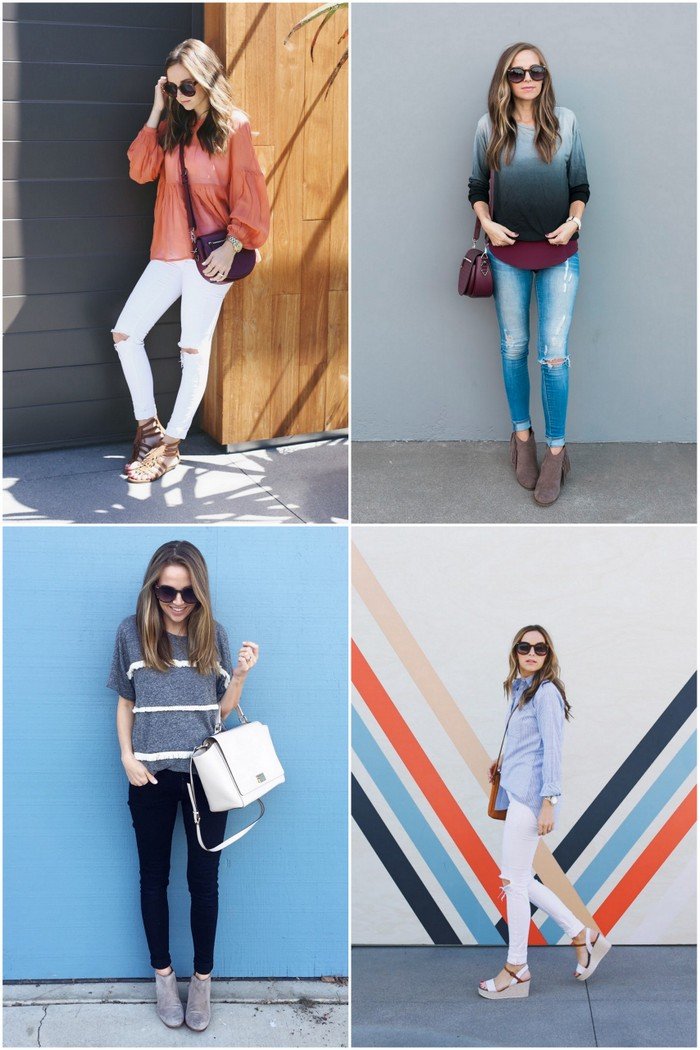 Orange Blouse with White Jeans | Ombre Sweater with Jeans
Gray Shirt with Dark Jeans | Chambray with White Jeans
Cori from Dress Corilynn
If ever there was a style blogger with a uniform, Cori is it. These are four of the last six or so outfits she's shared on the blog. Occasionally, Cori tosses in a fit and flare dress, but boyfriend jeans and a blouse are definitely her go-to. (I think she's even written about it.) These looks are all very similar, but certainly no one would accuse her of boring, repeat style with these combinations.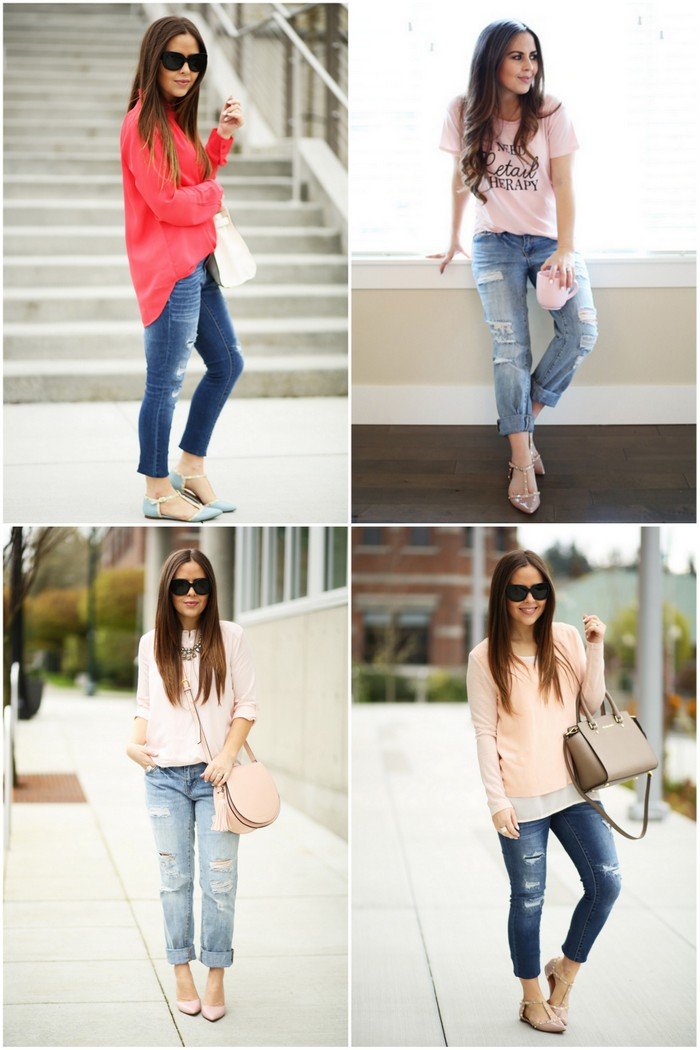 Pink blouse and cropped jeans | Pink shirt with boyfriend jeans and flats
Pink blouse and boyfriend jeans with heels | Blush top with cropped jeans
They Found Their Style Uniforms
Surely these ladies stray from their staples on occasion, but they're style experts in each of their respective niches for a reason. Each one found a signature style that works for them, and they stick to it. They know what looks good on them and what makes them feel comfortable and confident. And they don't break the mold for the sake of feeling like they have to be overly unique or diverse. Their style success often stems from "more of the same," more of what's proven to work for them.
If you check out a host of others bloggers, I suspect you'll find this pattern holds true.
Let's be decisively clear. Style uniforms are a good thing.
These ladies know what length skirts and dresses suit them. They know what cut of pants works best for their body type. They know where oversize, moderate and fitted proportions make sense for their bodies. They've devised personal style formulas, and they don't often stray. They stick to what works but for a few periodic deviations to experiment with new trends and styles.
They often use color, texture and accessories to create versatility. These elements can also help reflect many of the current trends to keep their signature style from appearing dated.
Let these stylish and successful lades be your permission to simplify your wardrobe and develop a personal style uniform. There's no need to over-complicate our closets pursuing every new trend in order to appear at the top of our style game.
Create Your Own Style Uniform
We could play with new styles and combinations and trends every day. But that becomes wasteful, expensive, and quite simply, not very responsible financially or socially.
These bloggers prove that having a style uniform doesn't have to be boring. Having a formula to follow, as I mentioned earlier, saves time and money and limits waste and stress.
If you haven't devised a personal style formula already, now's the time to start brainstorming. Here are just a few questions to get you started. Your signature style pieces should be included in answers to all of these questions.
What do you like?
What works for your body and your lifestyle?
What makes you feel like a million bucks?
What trends do you see on your Pinterest boards that continue to resonate with you?
What commonalities do your favorite pieces or favorite outfits all have?
What works in the climate in which you live?
What works for your everyday life?
Think about it! Write it down! Memorize and study this stuff!
Not only will you quickly learn to love your style and get dressed more effortlessly each morning, you'll also save yourself boatloads of money not buying all those pieces you want to love but never actually love for you.
If you really want closet sanity and style bliss, a personal formula will work wonders. Money saved. Confidence gained. Time spared (and thus, essentially created). We could all use more money, confidence and time, so what are you waiting for?!