Dozens of Thrifitng Tips from Seasoned Thrifters for On-Trend & On-Budget Style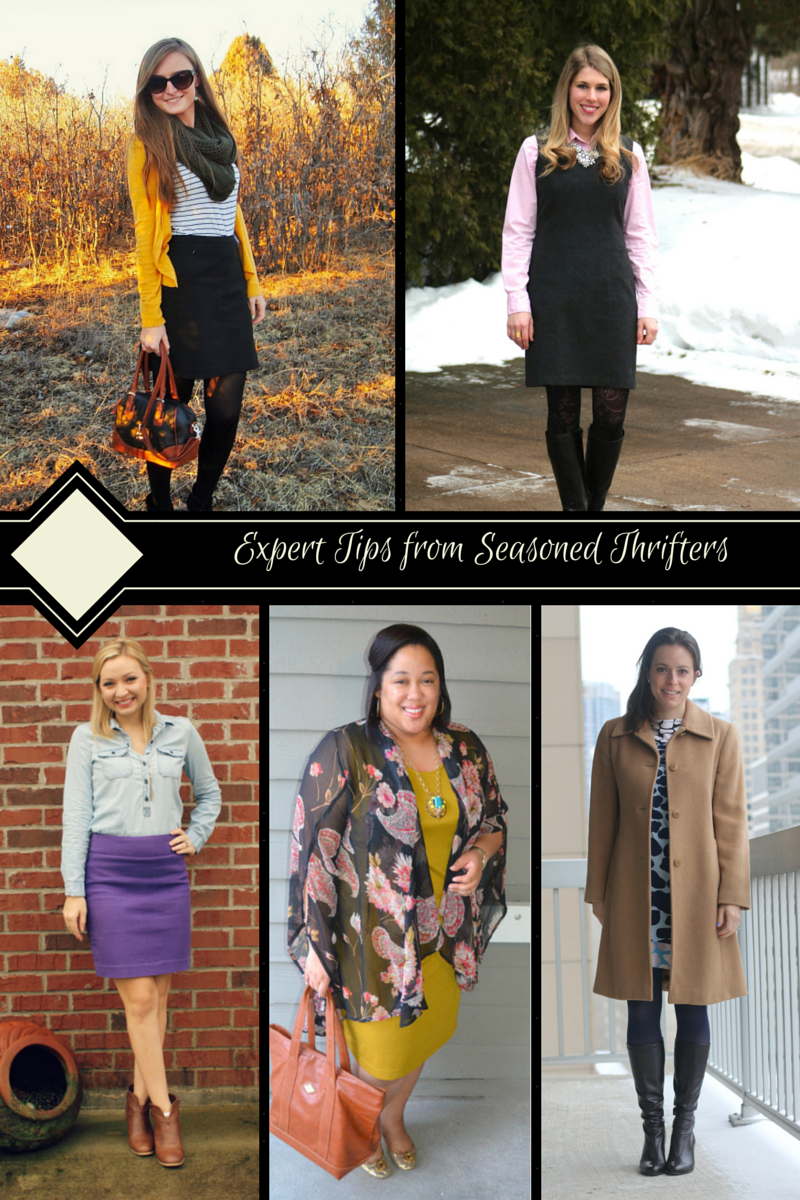 First off, if you're stopping by from another one of my thrifting friends' blogs today, welcome! I'm so excited to have you here. On to today's seriously amazing style discussion!
You arrive in the thrift store, look around, and see racks and racks and racks of clothing. Depending on the store, they may be sorted by color, style, size, or maybe of hybrid of those characteristics. As you begin to wade through racks or piles or shelves of other people's trash, the thrift search begins to feel like finding a needle in a haystack. Beyond that, if someone else threw it away, isn't it likely trash? And isn't it gross to wear someone else's old clothes?
For the sake of your bank account and adding a little unique flair to your wardrobe, I rallied five seasoned thrifting bloggers to debunk those myths. We're here to reassure you that all those preconceived notions are just not true at all! With a little practice and a lot of patience, we've all built wardrobes filled with secondhand pieces and even scored a few AMAZING diamonds in the rough. We fill our closets with wonderful, stylish finds without breaking the bank. (Let's not forget thrifting's environmental benefits as well. Fashion unfortunately does a number on our landfills and resource consumption, so we could all make a pretty big impact if we each bought just a portion of our clothes secondhand and slightly reduced the churn that fashion forces on our world's resources.)
Before heading off to meet each of these stylish and savvy ladies, be sure to check out my Secondhand Style Guide! After several years of scouring the racks and landing on a few of my own diamonds in the rough, I've learned a thing or two about the pros and cons, tips and tricks to making someone else's retired style my newest go-to statement piece. In the guide, you'll find a whole bunch of nuggets I've learned as well as some additional resources to investigate outside of my blog. I also have a healthy list of online secondhand shops so you can style your wardrobe without leaving the comfortable of your couch.
I shared last week that for the next year I've decided to take on a bit of a personal style challenge. You can read more about it in my previous post. Certainly, I'll be referring back to my guide and heading over to each of these ladies' blogs for style inspiration and new tricks to rock the thrifting world.
Read on to meet each thrifter, see an outfit from her own closet styled with almost entirely thrifted pieces, and one of her secrets to thrifting success. Stop on over to each of their blogs to find even more of their secrets that land them unbelievable style finds for a fraction of the price and ten-fold the fun.

Thrifting Tip: "I have found that either thrifting online or determining which local thrift store has the best clothing can save you lots of time when thrifting. I am a busy person and although I like saving money, I don't have extra time to visit several stores. Finding the one store near me that yields great finds again and again has really helped me with saving time and money!"
Hear more from Laura on her blog, I Do deClaire, and on social media, where she shares loads of daily outfit posts full of great style ideas, many in secondhand pieces.
Blog // Bloglovin' // Instagram
Thrifting Tip: "Travel! I love checking out the local thrift stores when I go out of town somewhere! It gives you a whole new set of goodies to look through if you've been going to the thrift stores in your area so much that you see the same things you saw before. Also, take note of the areas your thrifting in. If you visit a thrift store in a wealthier part of town, you are likely to find more name brand/nicer things. When I was in college, I'd find a lot of junior's clothes at our local Goodwill which is not surprising since it was a college town!"

Thrifting Tip: "I have several (check them out here) but the one thrift tip I'm adamant about is to be patient. To be a successful thrifter, you need time and patience. You will find that item but you may have to look a bit longer or go to another thrift store. Don't give up…your thrifted treasure is out there!" Blog

Thrifting Tip: "Try to ignore the size tags. Different brands and vintage items fit differently. If you like something (even if you aren't sure it will fit), try it on! It may look much better on you than on the hanger. You never know when you'll find your next wardrobe staple!"
Thrifting Tip: "You can find a collection of tips in my Secondhand Style Guide. One of my favorites, however, reflects the time required to find the right piece. I suppose it has two parts. First, plan plenty of time for a trip to the thrift shop, an hour or more. If you head over and feel rushed, you'll most certainly end up overwhelmed and frustrated. Second, when you arrive, start examining the racks by quickly flipping through and focusing on the material of the fabric. High end, well-cared for items will stand out quickly. This trick has saved me mountains of time examining pieces that don't meet my quality criteria."
For those visiting from blogs from the other lovely ladies, I'm a life and style blogger with a focus on style for working women. I share all sorts of affordable and socially conscious style ideas for a day at the office. You can find me here, on Fashionably Employed, and on social media as well.
Blog // Pinterest // Twitter
Hopefully you found at least a few nuggets from all of us to help you score your next great secondhand gem! Several of the other ladies have thrifting guides and tips on their blogs, so be sure to stop over and see the other suggestions they share in addition to the ones mentioned above. Among all the resources, you'll find dozens of helpful hints and ideas. Further, you can always reach out to any of us for questions. We love hearing from readers!
Also, I'm pumped to share with you the details of my outfit today. It's really a compilation of some of my absolute favorite thrifted pieces!
Hiding under my $10 vintage camel hair coat (originally from Bloomingdale's) that's in mint condition, I paired my thrifted JCrew blazer with my new-with-tags $20 Diane von Furstenberg dress. Yes, don't adjust your screen. You read that right! I scored this DVF dress off a thrift store rack, tags still attached, for less than $20. My jaw dropped when I found it, and you better believe I never set it down until I had it safely in my car. I shared much more about it when I first wore it on the blog. In that post, you can also see the dress without the jacket.
Up until recently, I never had much of an emotional connection with my clothes. I knew they could always be replaced. While I still know that's the case, having amazing finds like this dress in my closet definitely help me understand how one has deep attachments to favorite pieces in their wardrobes.
Dress – Diane von Furstenberg (thrifted via Salvation Army) // Blazer – JCrew (thrifted via Savers); Coat – Collection Fiftynine (via Goodwill) // Tights – Target // Boots – Franco Sarto