Family Dinner: Carrot Ginger Soup | Week in a Day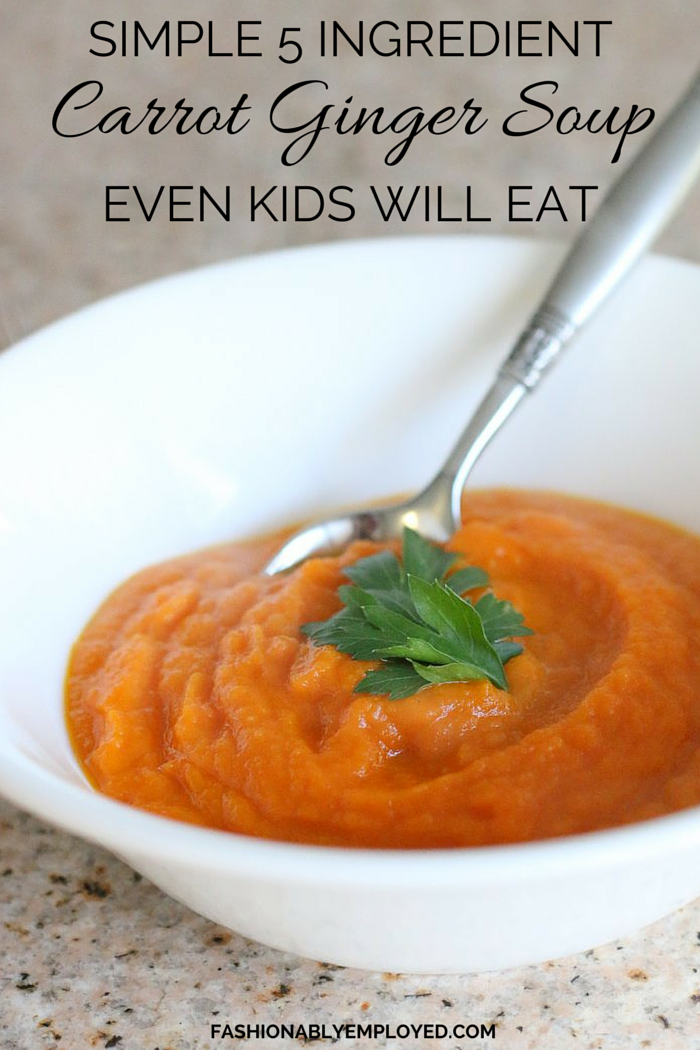 Have you figured out an effective way to get a (relatively) healthy meal on the table for yourself and your family? Especially on the weekdays after a full day at work meets two tired little boys that spent a long day at daycare, I don't have the slightest prayer of preparing a fresh meal without at least a bit of planning. We joke that if we don't at least know what dinner will be by 8:00 am, we're definitely ordering in when we get home. It's actually not really a joke though…
We order in or head to a restaurant once or twice a week typically. That still leaves five dinners (not to mention breakfast and lunch) that M and I plan and prepare. Luckily, M helps on both fronts. I do most of the planning and cooking only because I enjoy it more. But he's willing to step up and do his fair share if I ask. We've found weekend planning and preparing to be the only way for us to get decent food on the table for the remaining nineteen meals.
I suspect I'm not the only facing this dilemma. I spend the better portion of Saturday or Sunday in the kitchen preparing 3 – 4 meals that will get us through most of the week. (However, we know there will always be one day somewhere in the middle when plans just fall through and the pizza delivery guy is our best last resort.)
Considering I have been preparing my "week in a day" dinner concoctions for quite some time now, I thought I'd share some examples menu items that make great make-ahead options for us.
T loves this Carrot Ginger Soup and gobbles it right up. It's also vegetarian and basically straight vegetables so it's super healthy! T always helps make the soup. He chops the carrots with his special chopping tool (scroll down for a photo), adds ingredients to the pot, and mixes up the soup when the ingredients are soft enough to puree.
This soup is a perfect option to prepare in advance. I generally make enough for 2-3 meals at a time. I leave enough for one meal in the fridge for dinner that week and add the rest to the freezer for later weeks. We typically pair it with homemade pizza, tuna fish, or even peanut butter sandwiches on occasion. We always make it a healthy addition to a very simple "main course."
The soup doesn't have butter in it, but I wanted to show you the tool T uses to chop the carrots. This little thing from Joie allows T to really get involved without the dangers of a two and half year old using a sharp knife. The blade on this chopper is pretty sharp, strong enough to cut through thin carrots. But he has learned how to use it with ease and we've been safe so far (fingers crossed).
Getting in on the action with the hand blender is definitely T's favorite part. No matter what he's doing, he runs to the kitchen to help as soon as he hears me rev up the engine on the immersion blender. By the way, I'd definitely recommend investing in one of these if you don't have one. We've only had ours for a few months and received it as a gift. It's not all that expensive and a great tool to make so many healthy soups and other dishes!
So that's our Carrot Ginger Soup. Keep scrolling down for the recipe! For a family that doesn't eat nearly as many vegetables as we should, this packs a serious punch and satisfies everyone's tastes. Let me know if you try it or if you're a fan of this kind of soup too! It's certainly not an entirely unique flavor, but it's a tasty one that's worth trying.
If you'd love to see more Make Ahead meals, check out my Make Ahead Meals Pinterest Board. I'm always adding new recipes that make great options for cooking on the weekends and eating throughout the week (or even stocking in your freezer).
Family Dinner: Carrot Ginger Soup
Total Time:
1 hour
20 minutes
Ingredients
7 -8 medium/large sized carrots, peeled and diced
1/2 medium onion
5 cloves garlic, minced
1 tbsp fresh ginger, minced
5-6 cups low-sodium vegetable broth
2 tbsp grapeseed oil, or olive oil
Instructions
Heat olive oil in medium pot for two minutes, then add carrots and onion. Cook for about 5 minutes
Add ginger and garlic, cook for about 2 minutes
Add 2 cups vegetable broth, bring to a simmer, cover, and let simmer until carrots are soft (generally takes about 30-45 minutes depending on the size of your carrots). Be sure to check the pot occasionally and add additional broth if the mixture starts to appear dry at all.
When carrots are soft, use a hand blender (or place contents in a regular blender). Add additional broth in increments as you blend and mix until the soup reaches your desired consistency
Nutrition Information:
Serving Size:

1 grams
Amount Per Serving:
Unsaturated Fat:

0g