15 Minute Meal: Kung Pao Chicken and Veggie Pizza
This shop has been compensated by Collective Bias, Inc. and Conagra Brands. All opinions are mine, but I'm telling you, this pizza was delicious! #GrillingMadeSimple #CollectiveBias
Time to figure another weeknight meal for the family? Here's your solution. This Kung Pao chicken and veggie pizza, made with NEW P.F. Chang's® Home Menu sauce, is ready in just about 15 minutes and is so. darn. good!
Between school, work and extracurricular activities, it can be hard to make time for a wholesome family dinner, especially one that will excite hungry mouths.
We often try to meal plan for the week in advance, and M has mastered the art of using up leftovers creatively. I still feel, though, that we run out of new meal options to keep dinners interesting (at least occasionally).
Today, I'm sharing a new addition to our repertoire that can be on the table in less than 15 minutes. Despite the quick turnaround, it's still fun, really good (at least in my humble opinion) and even has fresh vegetables. That's a major score in our house.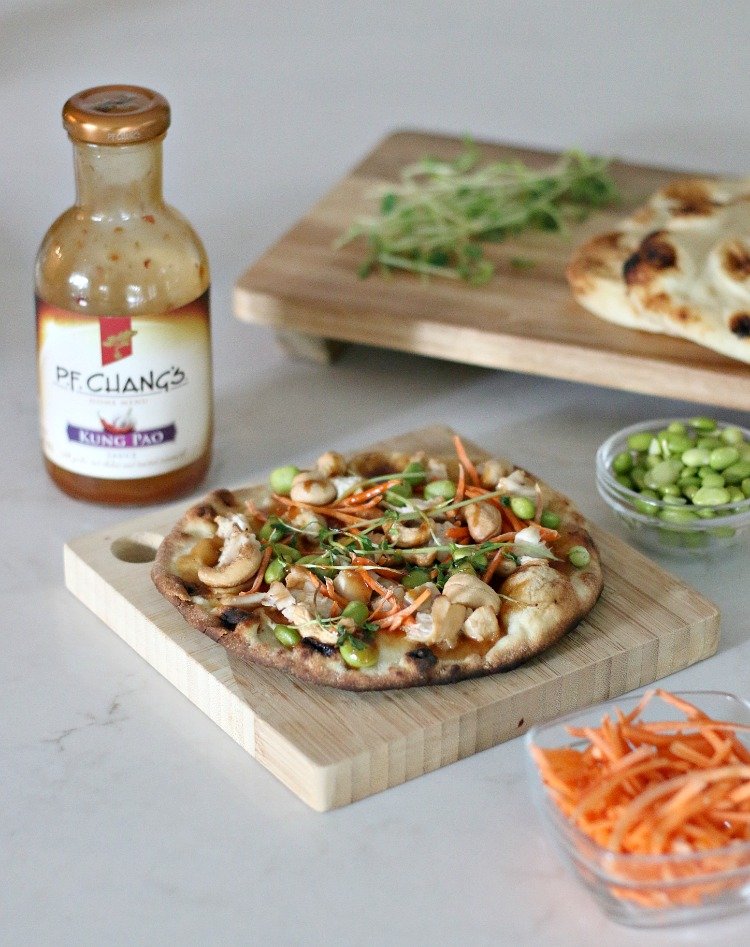 We often grill chicken over the weekend to have available throughout the week for lunches, dinners and even breakfast. We've thrown out the traditional "breakfast food" rule and consider anything fair game for any meal, as long as it's a healthy option. We use the chicken on pizzas, in wraps, on salads or even by itself (when I'm feeling particularly lazy).
This past weekend, instead of grilling plain chicken or seasoning in our standard Italian flavors, we opted for a little "Asian cuisine made simple" by marinating chicken in P.F. Chang's® Kung Pao sauce. I noticed it showed up on the shelf recently and wanted to give it a try. It looks pretty good, right?
Enjoying the last of summer before T starts school next week, we took our dinner al fresco and grilled the pizzas instead of baking them in the oven. Who wants a hot kitchen in August, after all?
We started with naan, our "secret" pizza ingredient. Naan is just the right thickness for a crispy on the outside, soft on the inside crust, and it's a great size for individual pizzas. Naan pizzas are pretty popular in our kitchen, and the boys love to help build their own pizzas on a busy weekday night.
I purchased a handful of toppings including pea sprouts, matchstick carrots, shelled edamame and cashews to pair with the chicken so each person could make their own personal pizza. It was like a little Asian-inspired family pizza bar. With plenty of vegetables, the pizzas make for a wholesome meal that is quick, family-friendly, and super simple to create (yet packs serious flavor).
After preparing our own pizzas, we tossed them on the grill for about 4 – 6 minutes to heat them up. Because all the ingredients are fully cooked, we didn't have to worry about under-cooked chicken. It just needed to get hot!
The length of time you grill the pizzas depends on how crispy you like your pizza crust, so express your culinary style.
And that's it! A few minutes of prep and gathering up the ingredients followed by 5 minutes on the grill, and you've got personalized dinner on a busy week night for the whole family.
The P.F. Chang's® Kung Pao sauce is a tad spicy, which is well-received in our house. But we also bought the Teriyaki flavor which will work if your family isn't keen on kick.
Right now, it's only available at Walmart. I highly recommend making your way over to check it out. When dinner is served this easily, I'm pretty sure you'll be glad you did.
As always, if you try it, be sure to let me know on social media @honestlymodern what you think!