One Style Formula: Five Ways to Make It Yours
Ever feel frustrated by figuring out what to wear? Inspiration is everywhere! Sometimes we just look too literally. Check out five interpretations of one outfit created by making small but meaningful changes in the vibe of the outfit.

Many of us peruse Pinterest and blogs, store window displays and magazines, and countless other sources of style inspiration. I read a whole ton of blogs here and there in small moments of free time. Ultimately, I pin to my Pinterest boards the outfits and ideas I love and use Pinterest as my go-to for style inspiration when I'm planning outfits or just thinking about what the heck I feel like wearing.
As an aside, I really love Pinterest and use it often. If you'd like to follow along for more ideas, check it out!
Visit Honestly Modern's profile on Pinterest.
Knowing how to use Pinterest to find inspiration, though, only wins half the battle of transforming curated inspiration into outfits you love from pieces primarily already in your closet. Often times, the outfits we find on Pinterest are composed of pieces no longer available in stores. Even if they were all available, we'd be racking up serious credit card debt buying all the pieces to recreate them.
You've seen me in this dress previously in the summer by itself and not long ago with tights and a red blazer. Now I've paired it with black. This outfit formula could be defined in a few different ways:
Houndstooth Dress + Black Sweater Blazer + Black Tights + Black Flats
That's a pretty specific definition. You might not own a houndstooth dress or this hybrid sweater / blazer thing that I love but have yet to appropriately name. Following this outfit formula may require some shopping. That's not really the goal, at least today.
Let's say instead you chose to define this outfit as:
Black and White Dress + Black Layer + Black Tights + Black Shoes
Option 1: This definition provides far more flexibility with respect to which pieces you grab when exploring your closet for your own combination. While a subtle change, I swapped my sweater/blazer for a ponte blazer. I could also have switched this out for a black cardigan. All three create very similar outfits with the same vibe appropriate for an office environment.
Option 2: Sticking with my ponte blazer, I exchanged my flats for black riding boots. I'm still within the confines of my new definition which just calls for black shoes. The riding boots might make the look slightly more casual. It's still works in most offices, except for possibly a more formal meeting or business professional setting.
Option 3: Who said that black layer had to go over my dress? Instead of throwing on a completer piece for warmth and coverage, I chose to make my "black layer" a button down shirt underneath the dress instead of over it. I also opted for black heels instead of boots or flats, still without any significant deviation from the second outfit formula or generally inspired look.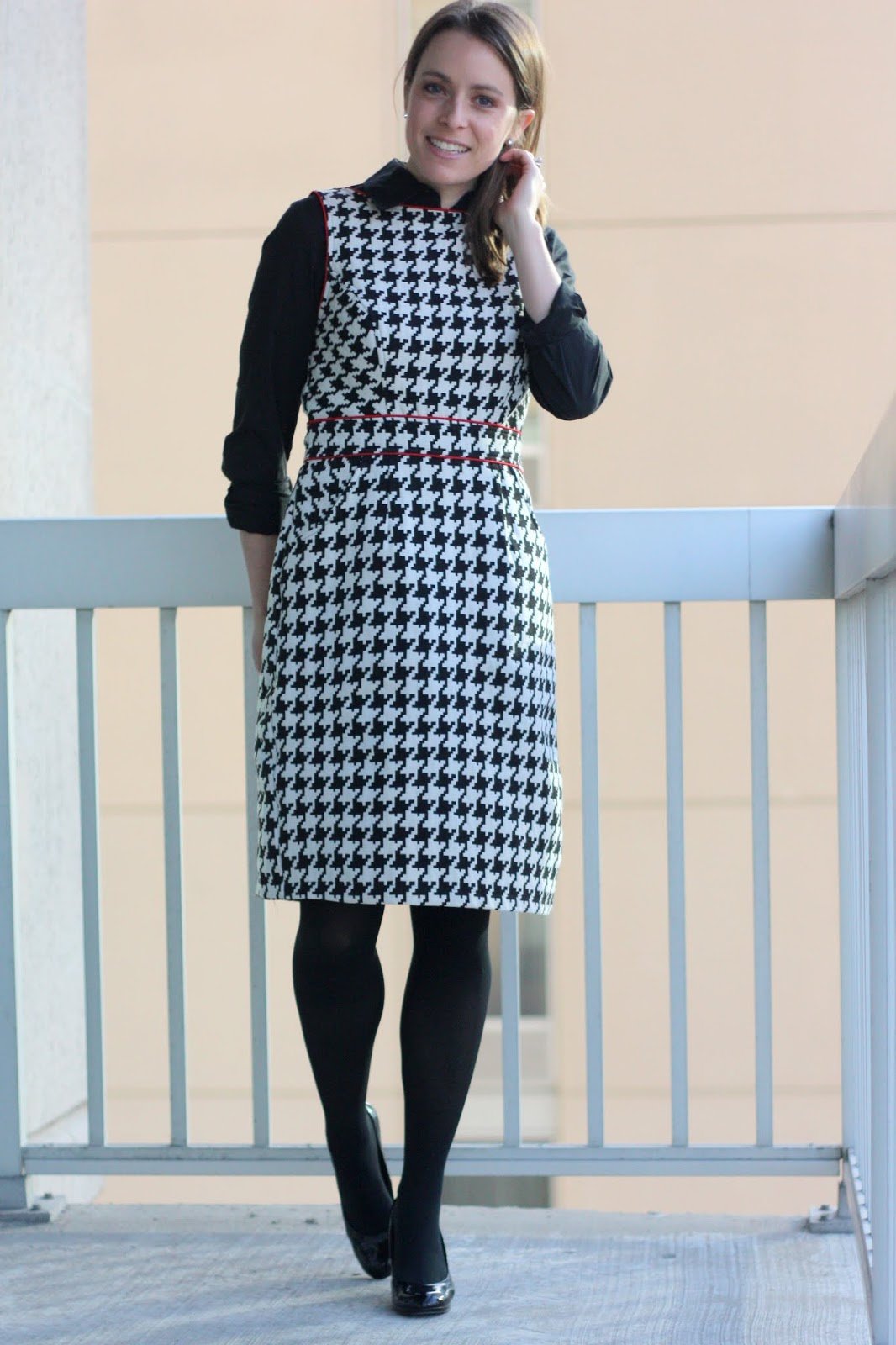 Option 4: Exchange the black and white hounds tooth for black and white stripes. With this modification, I've continued to stay between the guardrails of my formula but I switched out one pattern for another. Both patterns are similar in size and "strength" and (obviously) the same color scheme, so they're perfectly interchangeable.Because this dress already has its own sleeves, it doesn't necessarily need a layer atop it. Although, I could certainly add a black blazer or sweater over the dress, or a black button down under the dress, for that matter.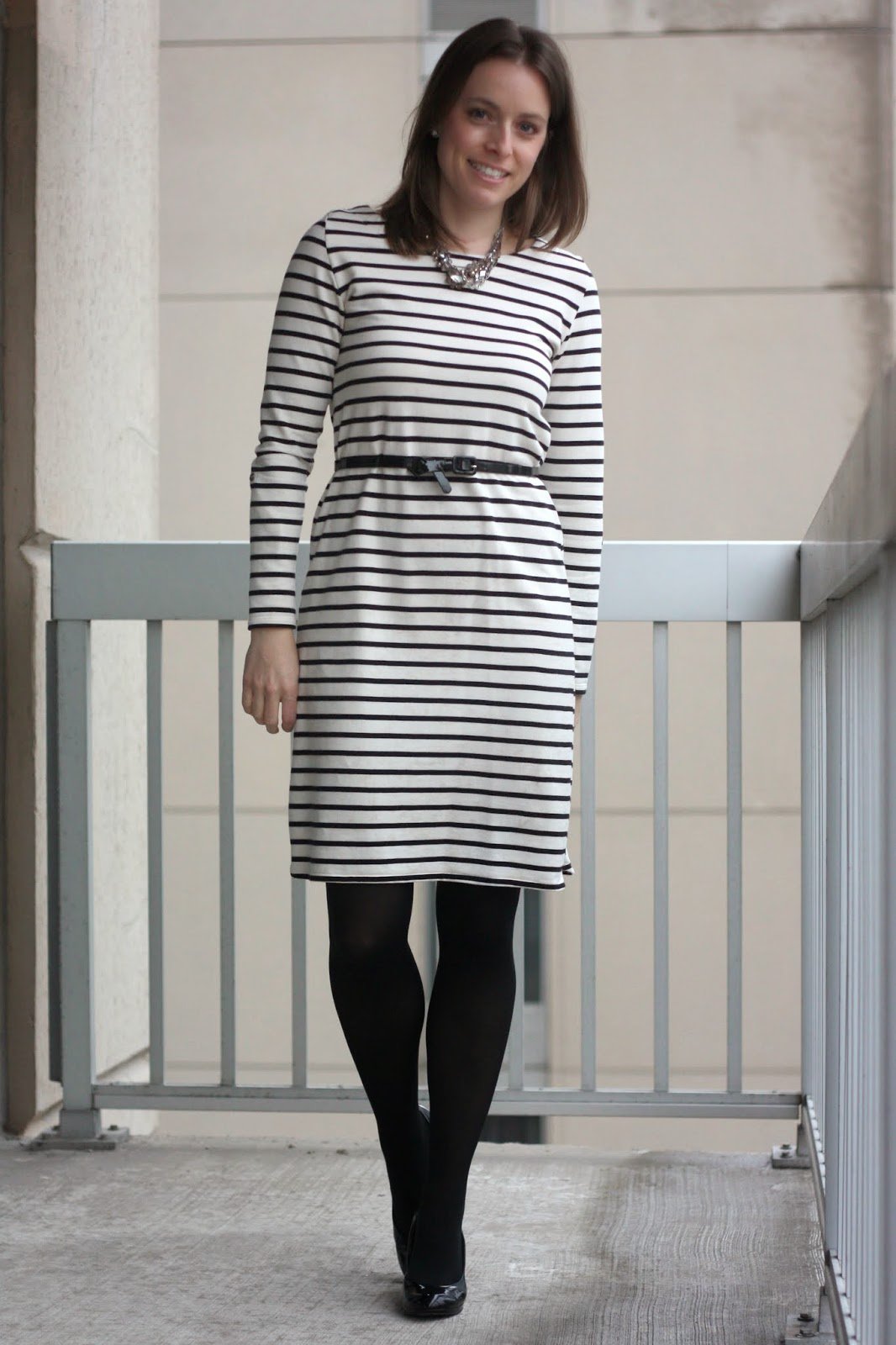 Option 5: While I haven't yet worn this black and white striped dress with tights on the blog, it's easy to see how this black and white striped dress could be swapped with the striped dress above. Add the black blazer or sweater and it's back to business as usual.
Many of these are all really subtle changes and modifications to each outfit. But that's precisely the point. By thinking a bit more broadly about inspiration, we can use it far more effectively for remixing our own wardrobes.
Share with Friends
If you found this helpful, I'd love for you to share it. You can pass along to friends who'd love it too and share it through myriad social media channels by simply using the share buttons at the top or bottom of the post. Thanks so much! Hope to see you back soon.