Conscious Consumption: Invest with Intention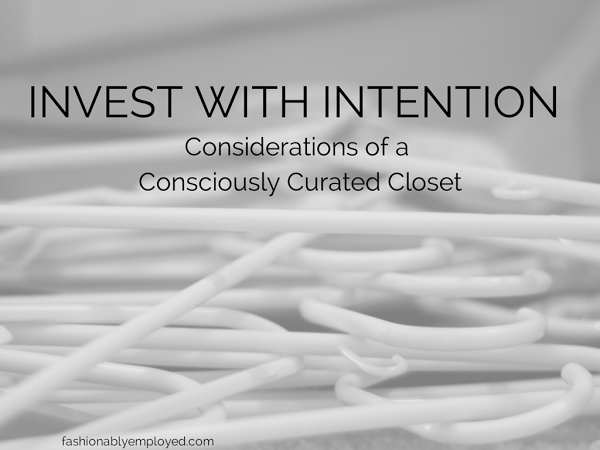 This post is the introduction to a five part series about being a conscious consumer.
Intro: Conscious Living ~ Part 1: Secondhand Shopping ~ Part 2: Invest With Intention
Part 3: Education ~ Part 4: Care For Your Clothes ~ Remixing Ideas: Remix Your Closet
For the most part, we all face choices about where to spend our style budgets. If you're one of the few who have endless bank accounts for shopping, I am wasting my time talking to you. Because you aren't likely reading this blog. But if you're in company with me and the majority of the world, you have some decisions to make each time you add something new to your closet. Where will you spend your hard earned dollars? Tops, pants, shoes, or accessories? One of each or a few of everything?
Increasingly often, I have opted for a more expensive option knowing that they will last a while. In some cases, I have stumbled upon my "investment pieces" at thrift stores, so I get the higher quality without the higher price – major score! And nearly all the rest of my investment pieces came from discount stores like Nordstrom Rack and Marshall's so the prices I paid, though still significant, paled in comparison to the original retail prices.
In general, I forego the cheaper "cheapies" and buyer fewer but better quality items. I contemplate these investments with intention and patience. And they are not frequent, not at all. But having a few pieces like these in my closet means fewer inexpensive, low quality pieces cycle from production, through the stores, into my closet, ultimately landing in landfills. (Fast fashion pieces rarely survive long enough to find a place on a secondhand store rack, so their lifecycle is seriously short-lived.) Investing with intention also means I spend less time shopping and more time working, being with my family, building my blog, and doing all the other things that add meaning to my life.
I am far from an expert at building a wardrobe. And I'm definitely not perfect! But tons of resources abound on the Internet and elsewhere guiding one to build a minimalist (or more minimal) closet, which is effectively purchasing higher quality clothes with more intention ensuring each article has a meaningful and variable presence in your closet.
My absolute favorite resource is a blog called Into Mind. The author, Anuschka, states that her blog is about "defining your personal style and rebuilding your wardrobe." In a recent article, she talks in depth about where to invest thoughtfully in your closet and how to decide what to buy. I highly recommend taking a peek at it. And she offers a wealth of other articles educating readers how to define their own style, discover their personal color palette, and learn to love their not-so-overflowing closet.
Being a more conscious and intentional consumer of style is hard, really hard! Immediate gratification tempts us day in and day out, and it's really tough to battle sometimes. But as I've asked myself many of the following questions on a regular basis, and committed to reducing the number of new items entering my closet, I've found that my will power to stand up against the "demons" of immediate gratification have strengthened.
It also helps that I have a very honest husband who offers his genuine perspective on pieces to help me better understand what truly flatters me and what I may not want to buy again. (I completely support and appreciate his honesty and know it makes me a better consumer of style over time.) If you don't have an honest person who can tell you both when things look amazing on you and when they don't, consider seeking out a friend who's genuine and understands your style. It will save you many less-than-perfect outfits as well as a few dollars in your bank account…
If you're looking to be a tougher competitor against frequent impulsive shopping excursions,
consider the following:
NECESSITY: Do I need this? Will it serve a valuable purpose in my closet not already being served by other quality items?
DESIRE: Why do I want this? Why do I really want this? Is it a passing fad that will fade with this evening's sunset? And if not, does it even flatter my body? (I'm hard pressed to believe every trend flatters any particular body no matter how big, small, short or tall. So if the answer is no, it doesn't have to be personal. It can just be.)
LONGEVITY: Will I love this piece in a year? Will this piece even last a year? (If not, then it's likely better left on the rack, in the box, or in your virtual shopping cart.)
AFFINITY: Do I really love this piece? What about it makes it so great? Is it great for me or just great for someone else? Is it consistent with my style? (If any uncertainty exists, there are better fish in the sea. Leave it. Let it go. And move on to something better.)
COORDINATION: Does it match or pair with at least a few things already in my closet? (If not, it likely won't get much use.)
PATIENCE: Will I still love it tomorrow morning? (Sleep on it. Do you still need it? This may not apply to a situation in a thrift store, for example, where you can't easily return a day later and expect to find the same piece. But it most definitely, and most strongly, applies to online purchases. And if it's not there tomorrow, it wasn't meant to be…)
What questions do you ask yourself when deciding what to buy and what to leave for another future shopper? I'd love to hear your perspective!
Further, how do you allocate your style budgets? Fewer more expensive pieces or more less expensive pieces? And why did you decide to choose that path? What makes it work for you? Or how do you make it work for your closet?
Here are a few of my favorite investment pieces that I know will last a long while in my closet and are classic enough to remain stylish for the foreseeable future.