Hot, Healthy, and Easy (Dinner, Not "That Girl" in College)
In college, everyone knew who she was. Girls knew her as "ugh… that girl (insert eyeroll)" while guys knew as "ooh.. that girl (insert eyebrow raise)".
Ok, I'm totally not talking about "that girl" today. Instead, check out this really easy, healthy dinner with a little added heat from some hot sauce. The components of the meal can all be prepared on the weekend to make a quick, easy-to-throw together dinner on a busy weeknight.
Add some baked buffalo chicken to a bowl of spinach, red and yellow peppers, avocado and some marinated artichokes and you're done. Super easy. If you'd like, we sometimes add a bit of peppercorn ranch dressing, but that's optional. The flavor from the chicken and the creaminess of the avocado can give it enough flavor and moisture that you may not need dressing.
No matter your style, give a shot. Enjoy!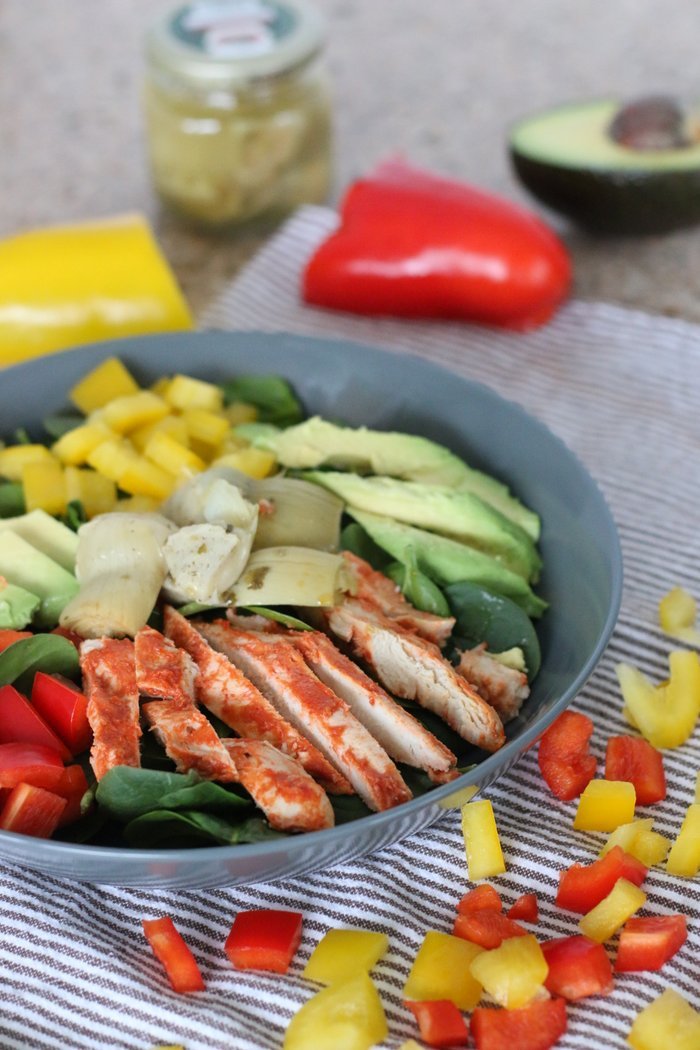 Buffalo Chicken Salad
Ingredients
1 pound chicken tenderloins
1/2 cup hot sauce
1/2 red pepper
1/2 yellow pepper
3 marinated artichoke hearts, from jar
1/2 avocado
1 - 1 1/2 cups spinach
Instructions
Preheat oven to 350 degrees
Set chicken in baking dish, pour hot sauce over chicken, and bake for 25 minutes or until chicken is cooked through
Cut peppers, avocados, and artichoke hearts into bite-sized pieces, combine with spinach and serve
Nutrition Information:
Serving Size:

1 grams
Amount Per Serving:
Unsaturated Fat:

0g