Master Simple Meals Now: 100 Days of Real Food
Need a better, easier, quicker solution to meal planning? Check out these tips along with this cookbook full of real food recipes perfect for families.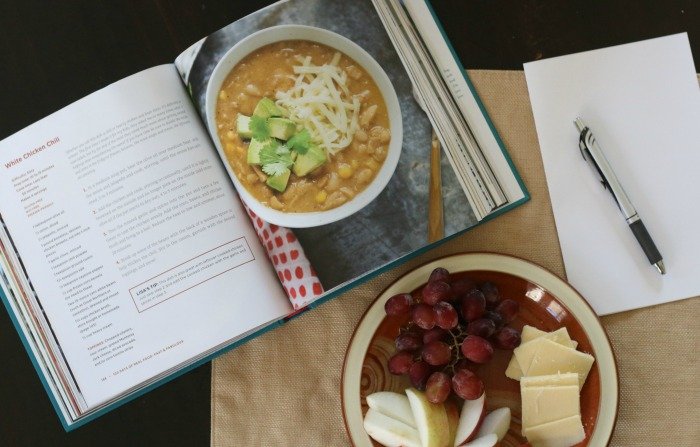 Is family meal planning not one of the most begrudging tasks for so many of us? It's a constant juggle to balance nutrition, convenience, preferences, prices, and (when we have a chance to ponder it) all the competing information about the quality and nature of our food.
I typically plan our family meals a week at a time, each weekend. We mix a variety of make ahead meals, slow cooker options and quick dinner choices to pull together a week-long plan for breakfast, lunch and dinner. I find recipes on Pinterest, a handful of blogs I read regularly, friends and family, and occasionally a cookbook.
Want to know my biggest "secret" actually? I keep all our weekly menus (which admittedly are followed only about 75%, at best) clipped in a stack on our fridge. I write them on the backs of envelopes, junk mail and scratch paper, so there's nothing pretty about them. But I regularly scan through them for ideas about things that worked yet got left by the wayside over time, and I revive a lot of good stuff. I even packed up my weekly scribbles when we moved from Chicago to Philadelphia a couple months ago because of the affinity I've developed for them.
Last week, a great new resource for real-life meal inspiration arrived on my doorstep. I was offered the opportunity to get an advanced copy of Lisa Leake's new cookbook, 100 Days of Real Food, Fast and Fabulous. Many of you are probably familiar with her work; she runs a popular blog all about eliminating processed food from a family's repertoire, and this is her second published cookbook. She started with 100 Days of Real Food: How We Did It, What We Learned, and 100 Easy, Wholesome Recipes Your Family Will Love and will release her second cookbook next week.
I love her simple and practical approach to food and feeding our families.
As I scanned through the recipes for the first time, sitting on my bed next to M, I pointed out recipe after recipe that would totally work for our family. I'm pretty sure he started to find it annoying after my list kept going and going.
For some, finding so many recipes in one book that are up their alley might not be that impressive. But me?
I'm picky. I'm picky about texture and flavor, ingredients and nutrition. I don't tolerate nor do I have the skills for too many complicated or time-consuming recipes.
I rarely open a cookbook and find more than a handful of recipes that will really work for our family time and time again. In fact, I pretty much stopped buying cookbooks because they consume too much money and space to earn their keep (especially since Pinterest blew up).
But really, this cookbook has so many easy, healthy and interesting recipes that I know my boys will like and M and I will like. I'll be coming back to this book time and again. I found plenty of recipes I can make with the boys too, which always ranks high on my list of winning factors.
If you're looking for a curated collection of "non-fussy" recipes made with real food ingredients, I think you'd like this book. I actually think it could make a great gift as well. (I have a few sisters, with kids and without, who I know would love this book.)
The price is currently reduced for pre-order, and I'm not sure how long the discount lasts. Be sure to check it out and let me know which recipes are your favorites!
Heads Up: I received the cookbook in exchange for sharing about it with readers. However, all opinions are my own and were not directed by the author or publisher of the book. I suspect you already know I would never accept a sponsorship of that nature, but just saying…