How To Make A French Toast Bar Without a Fuss
Want to make simple French Toast Bar that feels fancy but is super easy to prepare? Try this French Toast Bar for a fun and family-friendly breakfast or a brunch with friends that looks more gourmet than it feels to create!
Do most of your mornings feel a bit like a mad rush, especially on the weekdays? Wouldn't it be nice to make a special occasion out of one of those rare relaxing mornings?
Of course, you don't want to turn a calm morning into chaos by attempting some complicated and drawn-out breakfast plan. However, I have the perfect solution: a simple french toast bar that feels "gourmet" without all the fuss.
It might sound a little fancy but hang in there with me. I'm definitely not one for fussy or fancy. I promise you can do this!
Make an Easy "Gourmet" French Toast Bar
While visiting my parents a couple weeks ago with my boys, we decided to make a french toast bar to spice up the regular old morning breakfast. We made fancy-sounding french toast toppings like homemade apple cinnamon syrup and made-from-scratch orange pomegranate glaze. We decorated our challah french toast with powdered sugar. But have no fear, it was so easy that the boys helped in almost every step of the process.
If you're a kitchen guru, you can probably do this in your sleep. But if you're a little intimated by or new to the "fancy food" kitchen scene, let me walk you through the steps to ensure you that your culinary skills are up to 'Gourmet French Toast Bar' snuff.
Choose Toppings for Your French Toast Bar
Start by deciding which toppings you want to include on your french toast bar. Fresh fruits add color, lots of flavors, and look and taste lovely. Be sure to include some of these in your collection of toppings.
For the bread, we used challah, a sweet, braided Jewish bread. In my opinion, challah is by far the best bread for french toast. They don't sell it all grocery stores, so be sure to call ahead to your store's bakery if you haven't seen it on the shelves before. Cut the challah in thick slices (about a 1.5″ or so) to mimic the gourmet french toast at your favorite brunch spot or the local diner.
We chose the following toppings for our french toast bar. If you'd like some more ideas, scan the menus of your favorite brunch spots to borrow some of their ideas for unique and seasonal topping combinations.
Our French Toast Bar Topping Menu
Powdered sugar ~ This always makes it prettier, and it's super easy
Fresh fruit ~ Sliced strawberries, blueberries, and raspberries
Peanut butter and bananas ~ A classic combination
Strawberries and chocolate ~ We melted chocolate chips in the microwave, the same way I did for this Valentine's Day sweet snack with my boys.
Orange and pomegranate glaze ~ I topped our orange pound cake with the same glaze, so you can find the recipe there.
Apple cinnamon glaze ~ I tried this for the first time and loved it. Head to the bottom of this post for recipe details.
You could also add whipped cream (store-bought or homemade). But I'm not a fan of whipped cream, so we passed on it.
Prepare Ingredients For French Toast Bar
Next, prepare all of your ingredients for your simple french toast bar. Gather whatever you will need for all the toppings, the drinks, and the serving dishes. Clean and chop any fruit. Set aside all the ingredients (powdered sugar, pomegranates, cubed apples, brown sugar, etc..) from your cabinets and fridge that will be used in any homemade syrups or sauces. Measure out ingredients, where it makes sense.
The French use the term 'mise en place' which basically means 'putting in place.' Professional chefs use this practice regularly, and it works really well for everyday home chefs like us too.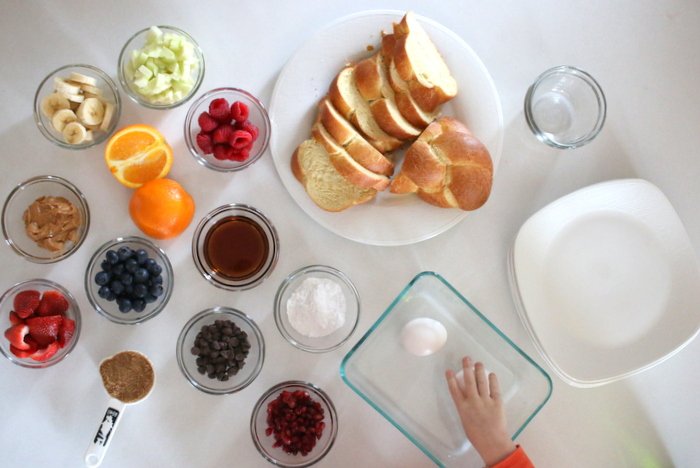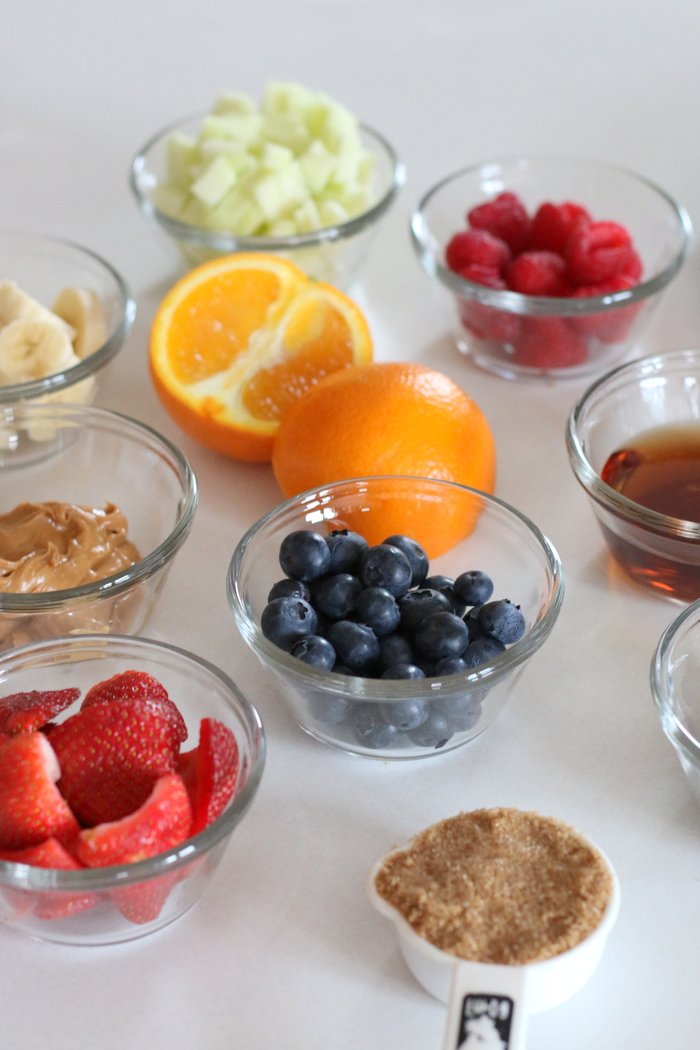 Prepare French Toast Bar Toppings
Ingredients prepped, it's time to start making the few homemade components of the spread. If you want to follow our toppings menu, prepare the apple cinnamon syrup first. While that simmers, mix and simmer the orange pomegranate glaze as well. These two components take the longest (though only about 10 – 15 minutes) and can cool while making the french toast.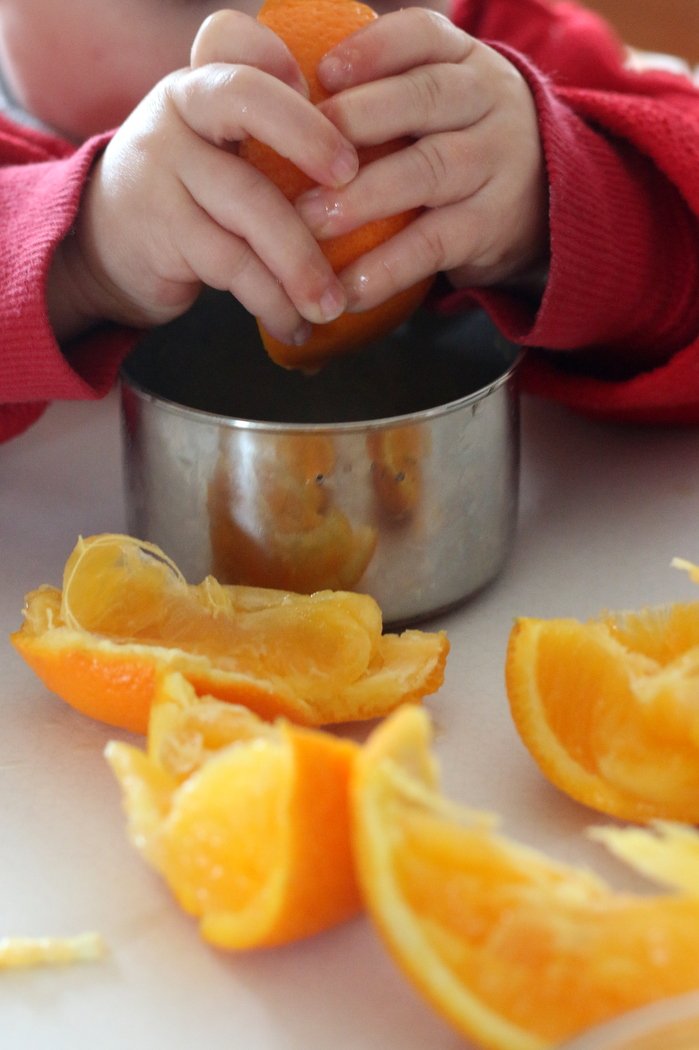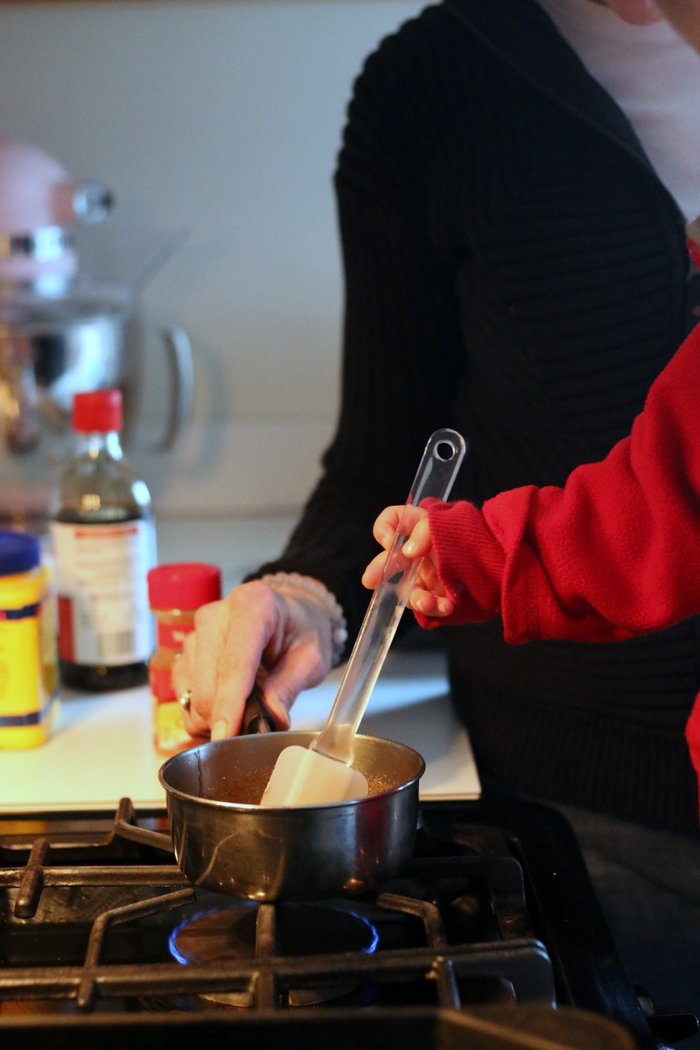 Next, whip up the french toast soak (recipe below) and cook the french toast. If you have a large crowd, you can keep the cooked pieces in the oven at about 250 degrees Farenheit to stay warm until everything is cooked and ready to serve.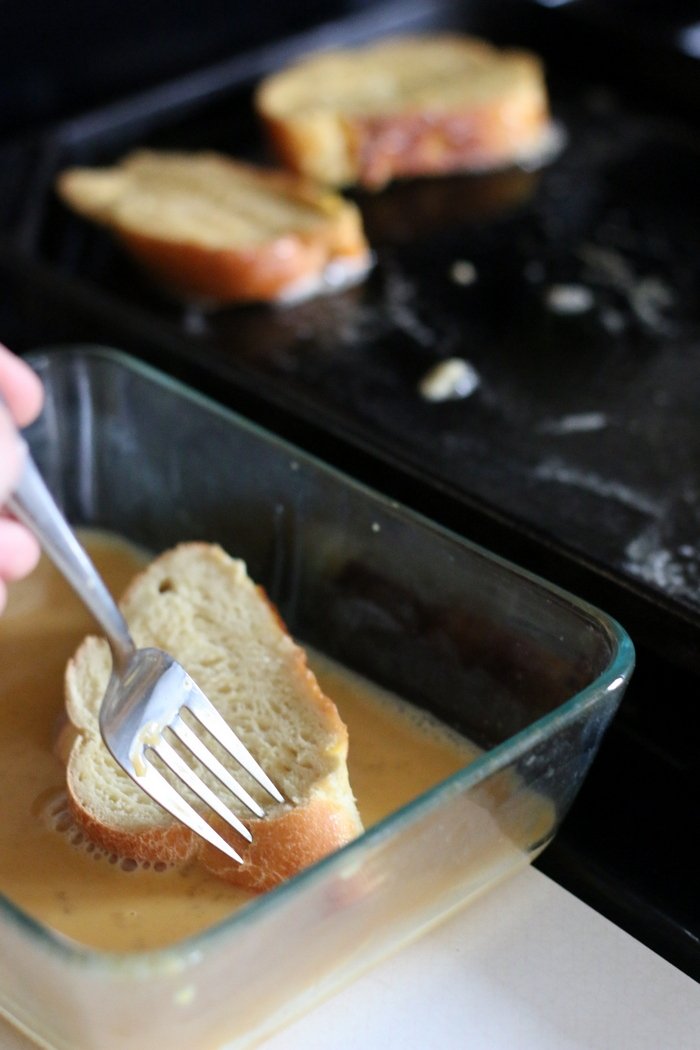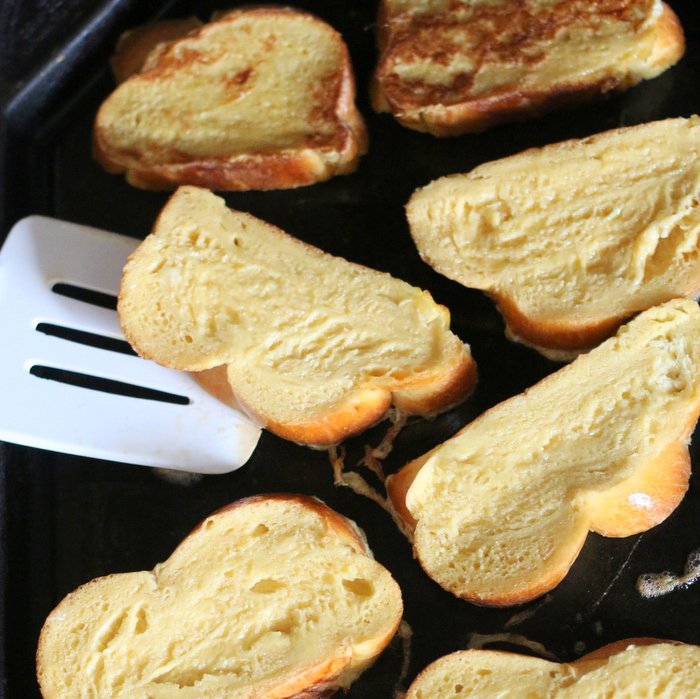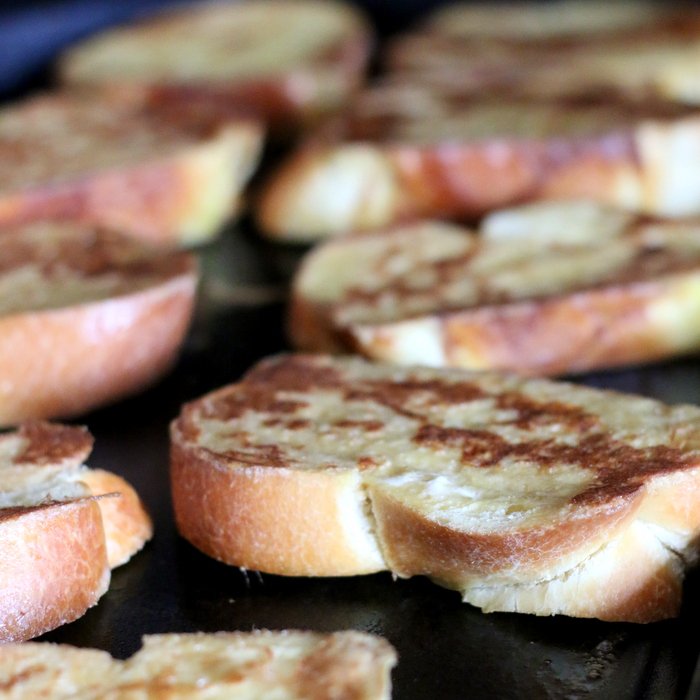 We use real maple syrup in a cup or mug with a spout and heat it up in the microwave for 15 – 20 seconds, which always looks much fancier than store-bought syrup in its original packaging.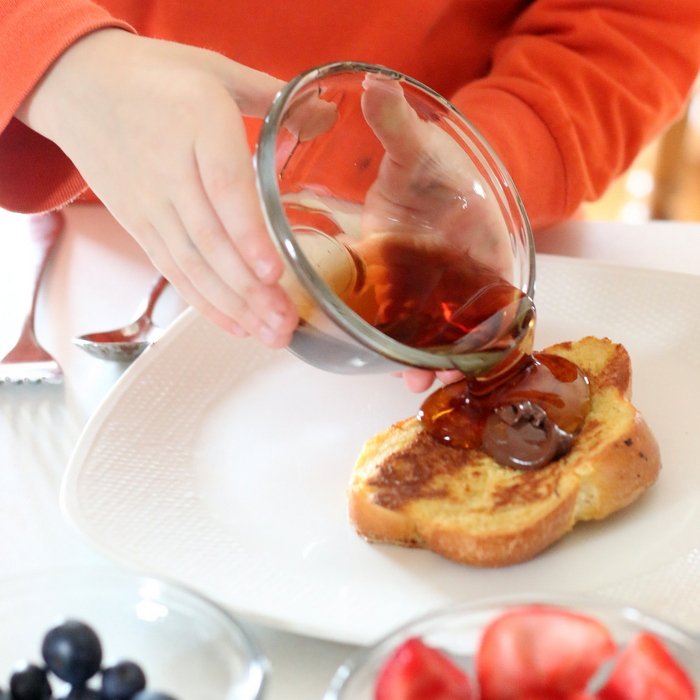 Finally, plate the french toast and round up your hungry family and/or friends to each make their own version of brunch bliss. They'll seriously be impressed with your fancy options, and even the pickiest eaters can create something they love at your simple french toast bar.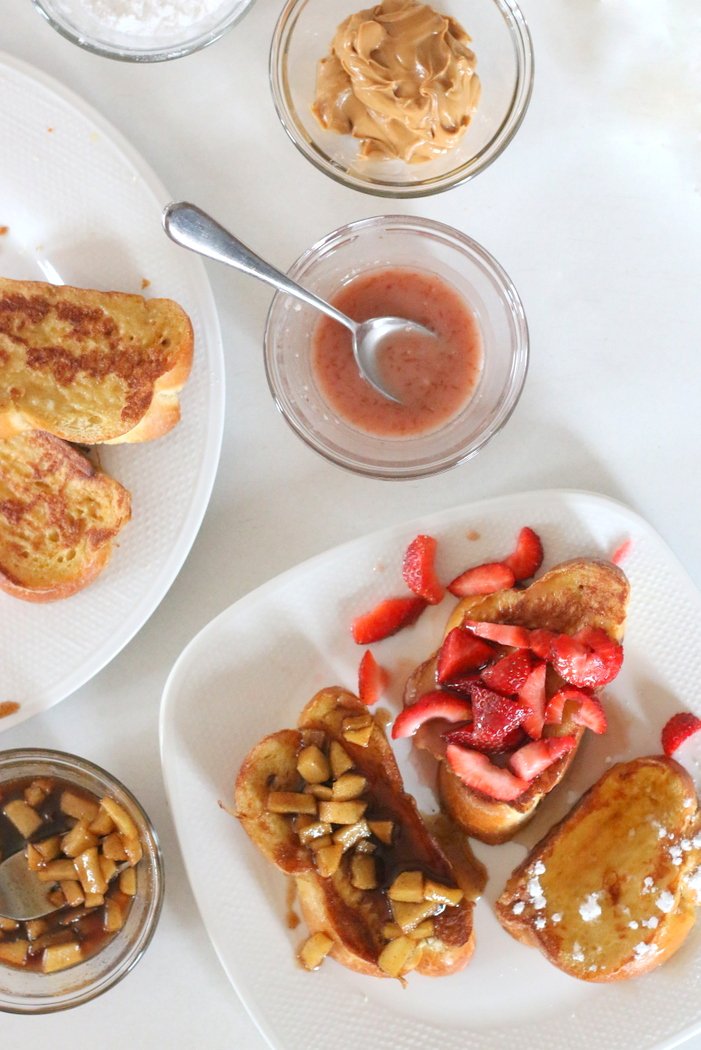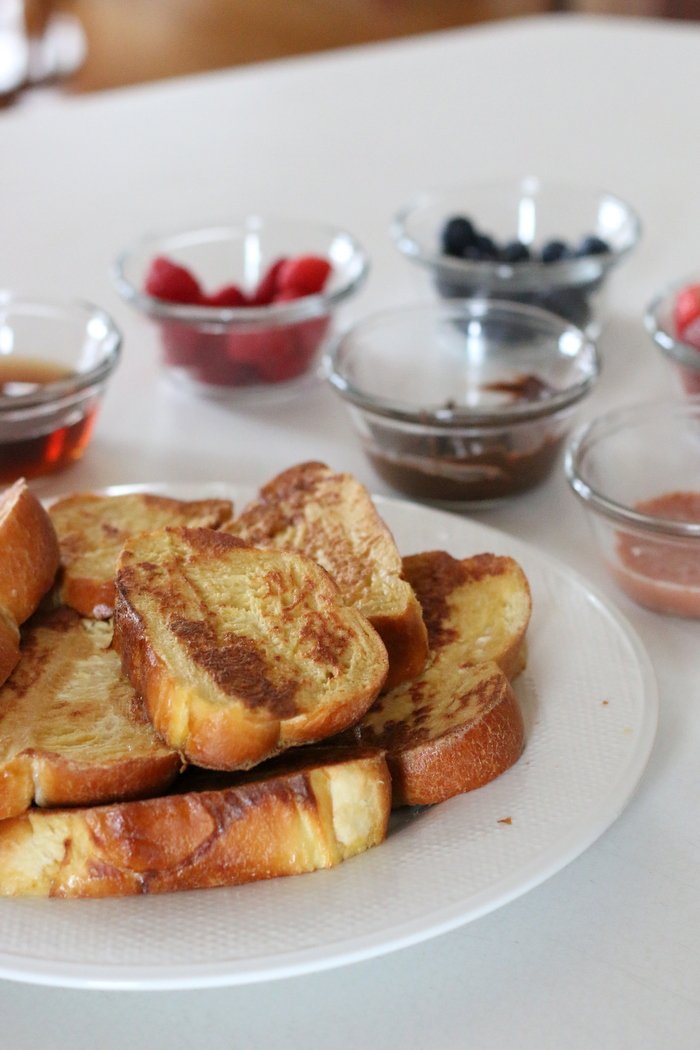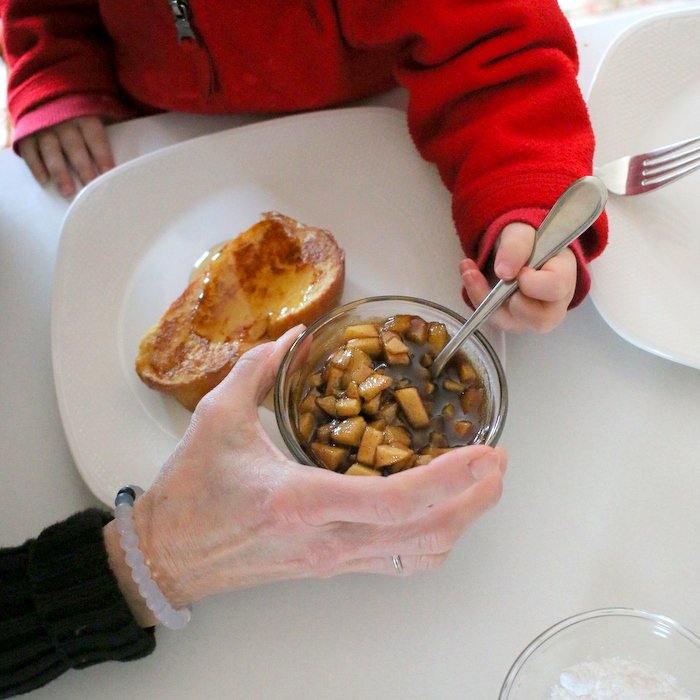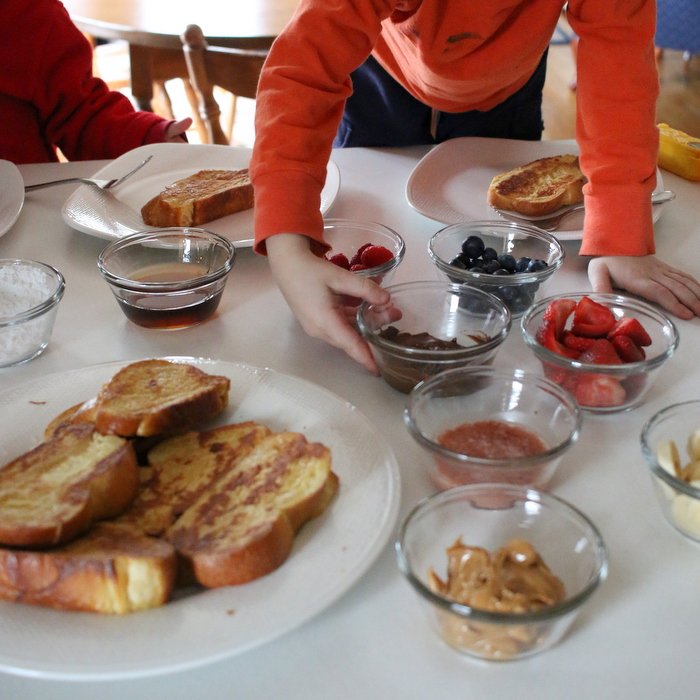 See that above? That's what happens when you let your three-year-old pour his own powdered sugar. But.. to each his own. The best part of a make-your-own french toast bar is customizing to your tastes, right?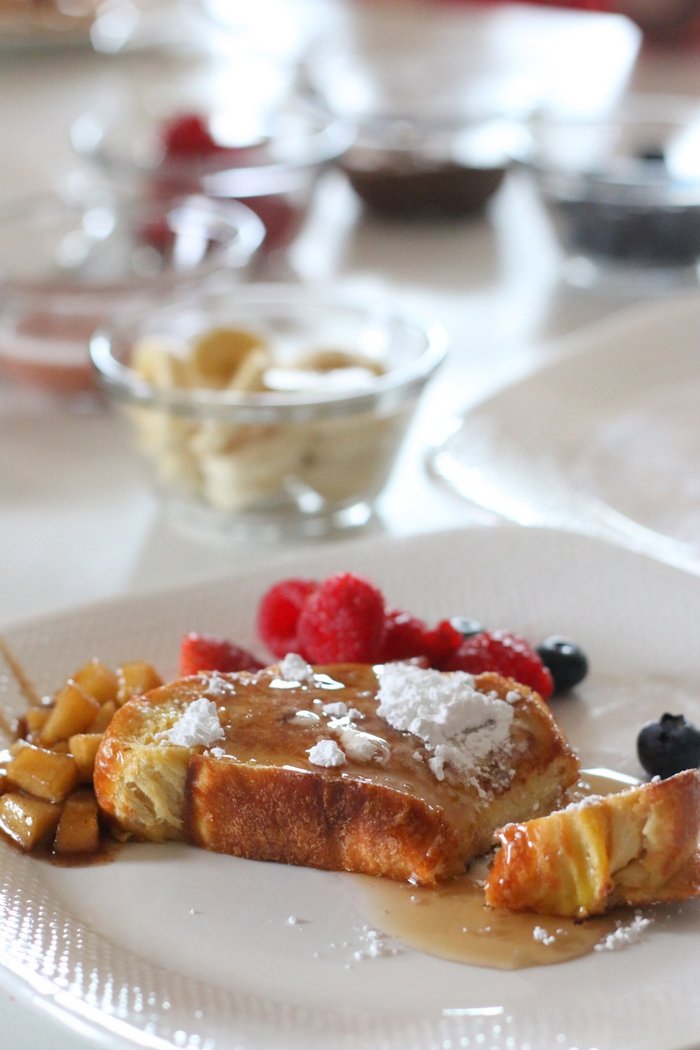 Oh… The Clean Up
Maple syrup. Raw eggs. Sticky glaze. Homemade fruit syrups. As easy as it was to prepare, I wasn't excited about the cleanup process. Letting the kids get their hands dirty (literally) made for a bit of a sticky mess. It doesn't help that I pretty much hate doing dishes.
Often times, I cook and M does the dishes. I clean so few dishes that M occasionally asks me sarcastically if I know how to clean the dishes. (For the record, I definitely do…)
This time, however, in town visiting my parents and M elsewhere visiting friends, I begrudgingly took on the dish cleaning task myself.
Much to my surprise, it ended up being not that bad. Maybe I need to give dish cleaning more of a fair shake?
We'll Definitely Make Another French Toast Bar
This was my first crack at a full-blown french toast bar. We've made french toast many times but never ratcheted our game up a notch to include an array of seemingly gourmet toppings.
I think I impressed even myself. I also loved exploring new options. I had never tried apple-cinnamon syrup. I love peanut butter and banana but always stuck with classic maple syrup on my french toast. With pretty basic kitchen skills, we opened up a whole new possibility of fun breakfast options that even the kids can help create.
French Toast Bar For Brunch with Girlfriends
You could also use the idea to make a simple yet sophisticated brunch for some girlfriends. Much of it can be prepared in advance, allowing you to spend more time chatting and less time prepping while friends are around.
If you have some friends over, add a fun punch in a pretty bowl with some champagne glasses, cut up a little extra fruit to vary the size of your bowls (and feed some adult appetites), and finish off the spread with a couple of vases of flowers from the grocery store. Your friends will be mightily impressed while you know it came together with nothing more than a few basic steps of preparation.
No matter your level of culinary expertise, a french toast bar is not out of your league. If you're up for the "challenge" (and I'm sure you are), incorporate some of the tips I shared above. I'd love to hear about how it turns out.
Apple Cinnamon Syrup
Ingredients
1 apple, peeled and cubed
1/4 cup brown sugar
2 tbsp butter
1 tsp of cornstarch dissolved in 1/3 cup of water
1/2 tsp ground cinnamon
Instructions
Combine all ingredients in a saucepan. Bring to a boil and then allow to simmer for 2-3 minutes.
Add apples and allow to simmer for another 5 - 7 minutes or until apples reach desired softness.
Allow to cool slightly and serve.
Nutrition Information:
Yield:

3
Serving Size:

1 grams
Amount Per Serving:
Unsaturated Fat:

0g