Complete Beginner's Guide to Dry Shampoo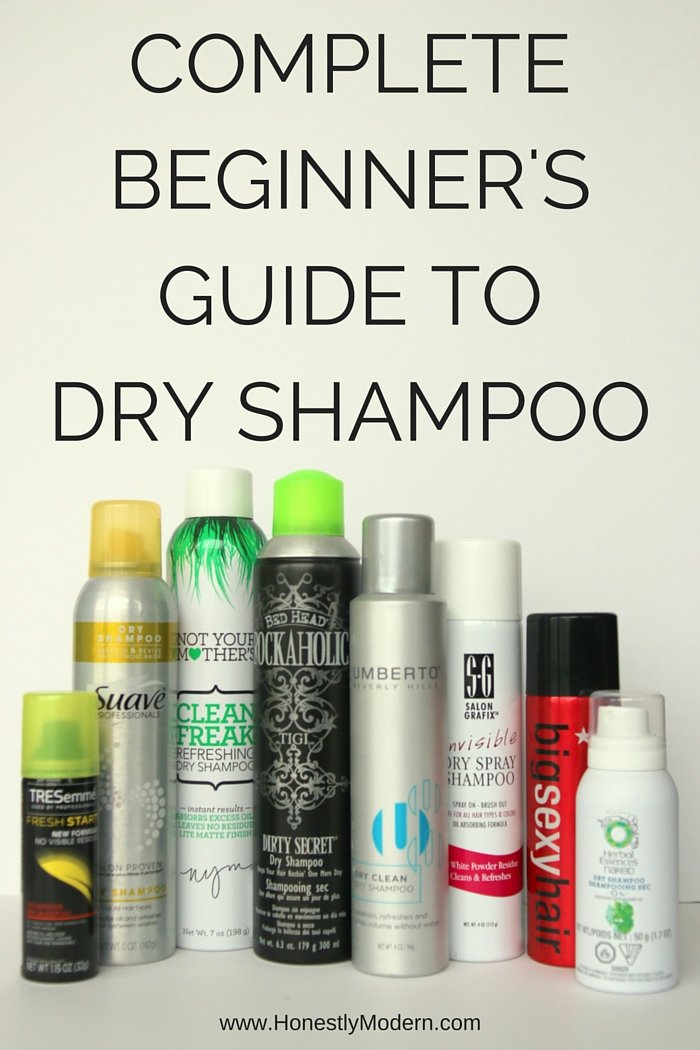 If you're a busy lady looking for a few extra minutes in your morning, you're in the right spot. Today's post is all about exploring the wonders of dry shampoo. I'm not intending to get into the real nitty gritty of advanced dry shampoo techniques. Instead, I want to share with you the results of a little experimentation and exploration I did to get my feet wet (and my hair dry, I suppose) in the world of infrequent hair washing.
What is it and how does it work?
Dry shampoo comes in a powder or a spray. In both cases, the product (whether poured or sprayed) latches on and sucks up the oils in the hair. It's really a more sophisticated version of the baby powder trick we all tried in college.
With the bottle about eight inches from your head, shake the can and spray into the areas of your hair that tend to become the most oily. Massage the dry shampoo into your hair, let it sit for a few minutes, and brush it out. Wallah!
It works best when used at night just before you go to bed. Some brands leave a bit of a white powdery residue. Higher end brands tend to do this less. No matter which brands you use, the white residue can be brushed out. Better yet, when used at night, the powder has all night to absorb oils and any white residue is long gone by the time you lift your heavy head from the pillow.
Why do I want it?
Especially for those who spend a significant portion of their morning drying and styling their hair, this allows extended time between washes. Unlike regular shampoo which strips oils from the scalp and roots of your hair, dry shampoo simply absorbs the oil at the roots of hair and leaves the scalp to go about its merry day in thirst-quenched peace. Thus, hair neither looks nor smells oily without being washed.
Do I need a shower cap?
As you use dry shampoo, the duration of time over which you can extend your washes will lengthen. After the first time you use dry shampoo, you might notice it's back to looking nice and clean for half a day. A couple of weeks into using dry shampoo regularly, you'll likely notice you can go a whole day or two longer between hair washes without needing any oil-absorbing products or washes. Your hair begins to thank you for not drying it out so often with frequent washing sessions.
Presuming you're taking showers between shampoos, it's helpful to keep your hair dry while in the shower (hence, dry shampoo). You could use a shower cap or simply toss your hair up in a towel while showering.
Does it leave a residue, discoloration or change in texture?
Maybe, somewhat, and yes. It could leave a residue if you didn't brush it out properly. That residue would fade over time as the powder absorbs into the oils in your hair.
Hair sometimes becomes a bit more dull, though I don't find it to be a drastic change.
The spray version (though not the powder version) will add a bit of texture and volume to hair. For many, this is great. I'm in that camp. It almost feels like a really light hairspray without too much hold. I've found the added texture to be a welcome addition to my hair that can become a bit flat a day or two after washing.
Before we get into the details of the which brands are best and tips and tricks to use it, I put together a guide of 13 common mistakes to avoid when using dry shampoo. Sign up to receive it for free! You'll also be signed up to receive our bi-weekly newsletter. We won't share your information with anyone else, but we're certainly pumped to keep in touch!
Time for a Test Run
Now that we've addressed many of the basic questions, I took a stroll through the Target hair care aisle. Instead of buying the one brand that caught my eye, I bought just about all the brands of dry shampoo I could find. I was on a mission to find the best everyday option that I could easily pick up when I'm browsing recklessly in a bind and running to Target to pick up the whole store a few things. (No one browses recklessly and buys the whole store when shopping at Target, right???)
I know there are many high end brands, but I opted to keep my experiment limited to brands readily available in my own beloved Target store. After all, this is just an unscientific experiment being administered by a busy mom who doesn't have time to run around town just for a can of dry shampoo. I can't get too fancy!
I bought many different brands at various price points (from $2.99 to $23.99). Here's my rundown by brand. You can see each of them in the photo at the top of the post if you're looking for a specific brand next time your browsing at Target.
The Best
Bedhead Dirty Secret ($23.99) ~ This higher end brands received good online reviews. I had high expectations, especially considering the price. It worked well, left no residue and has a bit of a lemon-ginger smell to me. I like the smell of this one the best behind only the Suave. (Update: Two years later and this is the brand I generally buy.)
Big Sexy Hair ($20.99) ~ Slightly scented like the smell of the salon (a bit "chemically" though not unpleasant), this dry shampoo spray left no visible residue on my hair. I sprayed generously to be sure. It definitely adds texture. I used enough to leave a bit of a residue on my hair. I couldn't see the residue but it made my hair feel a bit dirty without being oily. Many of the dry shampoos did this actually. I may have used more than needed. This one worked really well and left my hair looking dry for a day and a half to two days.
Does The Job
Umberto ($11.99) ~ This one worked quite well. It kept my hair dry for about a day and a half. However, it left a pretty heavy gray residue on my hair and all over my shirt. Maybe I used too much? It didn't have much of a scent to it, which would be great for those looking to avoid fragrances. I, on the other hand, wanted something to add a bit of fresh aroma to my hair, so this wasn't my favorite from that perspective. I thought this was a great value and one of the most effective while being in the middle of the price range. If you opt for this brand, try using it before bed and not while wearing your favorite shirt to ensure you don't end up gray and doused in spray powder just before heading out the door to work.
Not Your Mothers ($4.75) ~ The initial scent is nice though it doesn't last long. The product worked alright, but I wouldn't consider it a stand out. Given the price, I think this or the Suave are the best options for the lower end of the price range. It's definitely not a bad option and a great choice to keep discretionary expenses in check.
Suave ($3.99) ~ This brand smells great. It doesn't really leave a gray powder in your hair, but it's not the most long-lasting and effective brand either. You get what you pay for.
No Thank You
Tresemme ($5.39) ~ Eh. It was alright. Everything was fine but not my go-to.
Herbal Essences ($4.99) ~ I felt a bit indifferent toward this one. It was fine but not my favorite. Nothing about it really stood out to me, so I won't be buying it again.
Salon Grafix ($2.99) ~ I hated it! It smelled horribly like chemicals and didn't really even work. In fairness, I tried it once and trashed it. I couldn't bear the smell to try it again.
The Verdict
In the end, I'm sold on dry shampoo. I'll be spending a bit more for better quality and buying Big Sexy Hair. If opting for something in the lower price range, I would choose Not Your Mothers.
(Update: Two years later and I'm still using dry shampoo regularly. Washing my hair one to two times per week, and loving the effects dry shampoo has on my hair.)
I've enjoyed less frequent hair washes. I've found the biggest benefit for me to be the added texture and volume dry shampoo provides. For my hair, it creates a bit of a rustled, intentionally messy look at times, something I've definitely never been able to accomplish but do appreciate.
Other Uses
Aside from the degreasing power of dry shampoo for your hair, you can also use it for a host of other things as well.
Add Volume / Texture ~ I alluded to it above. Dry shampoo is a great way to add texture or volume to hair, so it's been great for my hair which can feel a little flat some days. Particularly with short hair, a little dry shampoo creates a bit of an 'intentionally messy' look, giving me some variety from my everyday straight hair. This same principle helps create and hold better up-dos for those days that call for a little fancy styling (summer wedding season, anyone?).
Hold Bobby Pins ~ Dry shampoo can also help keep pesky bobby pins in your hair. It's not super sticky like hair spray, but it does give the slightest bit of 'hold' to help prevent the bobby pins from slipping out.
Degrease Clothes ~ While it can degrease your hair, it can also help degrease your clothes (makes sense, right?). Spray a little on an article of clothing that may have gotten a bit of oil on it to help absorb the oil before cleaning.
Freshen Shoes ~ Using the same oil-absorbing, scent refreshing power it has on your hair, spray a bit in your shoes to freshen up the inside.
Soak Up Sweat ~ I haven't tried this yet, but I'm intrigued. Using the same oil-absorbing powers, I've read it can soak up a little sweat from your back, legs or underarms on those hot days. I'll have to report back if I give it a try.
If you've used dry shampoo, I'd love to hear any tips or suggestions you have in the comments. If you're new to the world of dry shampoo, welcome. Give it a shot and let me know what you think!
For a few more detailed tutorials about how to use dry shampoo, check out these two videos from Birchbox and New Beauty TV. They both have YouTube channels that offer a host of other beauty tutorials and guides as well.