Modbed Grow System | The Best Outdoor Urban and Balcony Compost System
Are you looking for an awesome balcony compost system to compost in an apartment? Or do you have a small urban yard and want to compost outdoors without taking up much space? Check out this new integrated raised bed and worm composting system that offers a closed-loop food waste cycle for urban and small space dwellers.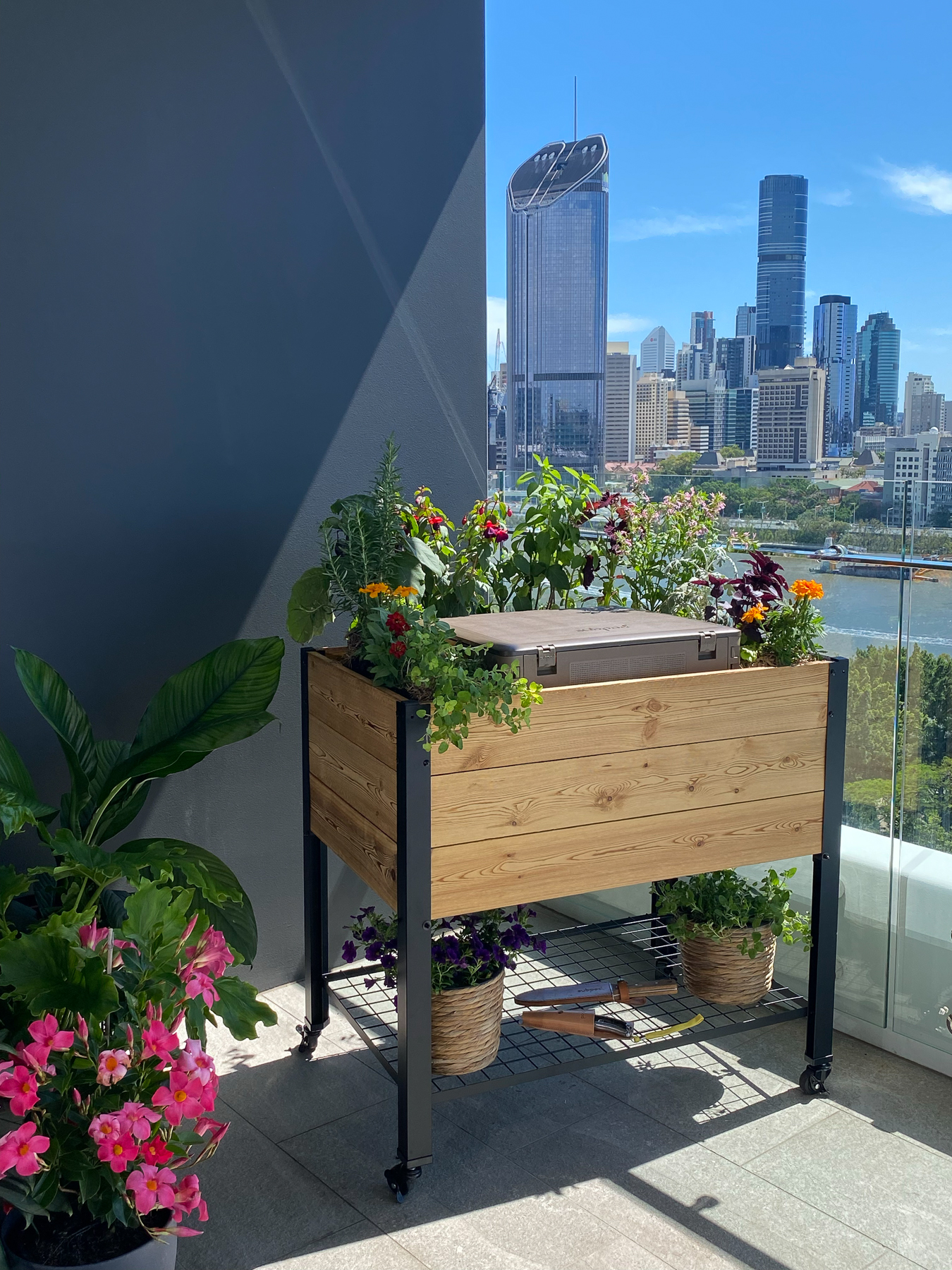 This post contains affiliate links.
I'm always on the hunt for good (and easy!) composting systems, and I've got a brand new one to share with you. I think this urban garden compost system is a perfect solution as a balcony compost system or a small, outdoor composting option that will fit perfectly into a compact urban backyard compost setup.
Modbed Grow Compost System from Subpod Now Available
Just today, Subpod launched a new product called the Modbed, a perfect solution for composting in urban settings with limited outdoor space. The Modbed Grow system is a scaled-down version of the Subpod worm composting system that is housed in a raised garden, and it's the first urban closed-loop garden that converts food waste into rich food for plants.
I have a classic Subpod in our garden that I really love. We installed it a couple of years ago inside a galvanized metal raised bed that sits on the ground. The Modbed Grow system is a raised bed with a Subpod Mini inside of it. It mimics the functionality of a Subpod but lifts the garden off the ground and comes in a smaller size so it fits well on a balcony, urban patio, or small backyard space.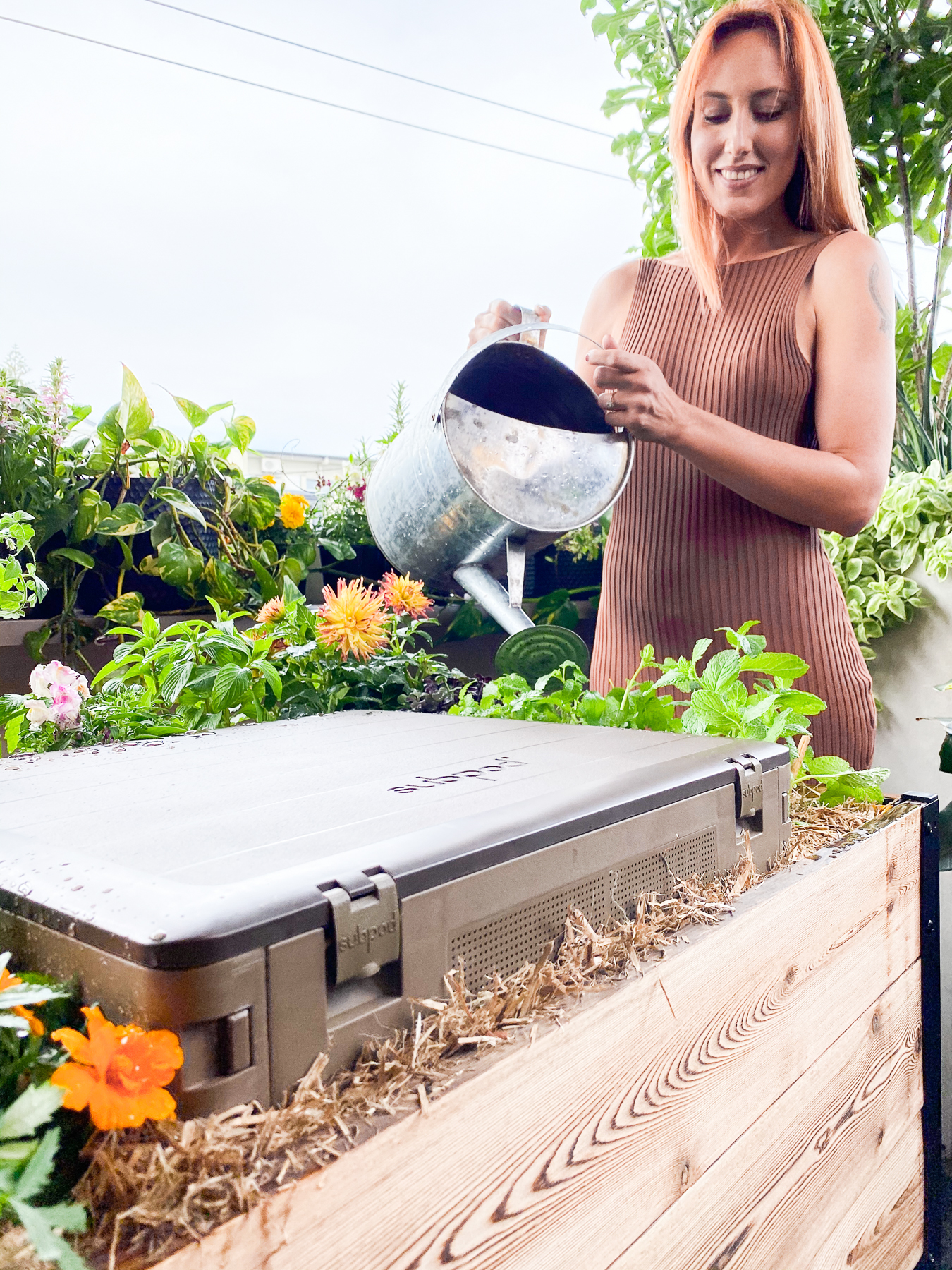 Who Should Use The Modbed Compost System?
The Modbed compost system is perfect for someone looking for a balcony compost or small space composting option that's low maintenance, portable, and requires no energy consumption to operate.
After doing a bit of research to get to know the worms, the Subpod worm composting system is really easy to maintain with little time required to manage it. The Modbed system comes on wheels, so you can move it around as needed. Further, while there are some good electric composter alternatives for urban composting, Modbed has no recurring energy consumption footprint after production.
Unlike most other urban composting options, the Modbed Grow composting system allows the user to make a finished product that is readily available to use directly on plants. It even incorporates a small garden space around the Subpod Mini (inside the raised bed) to put the finished compost to work, so this is perfect for the apartment dweller looking to grow a few of their own herbs or veggies with the most natural of fertilizers built right into the soil.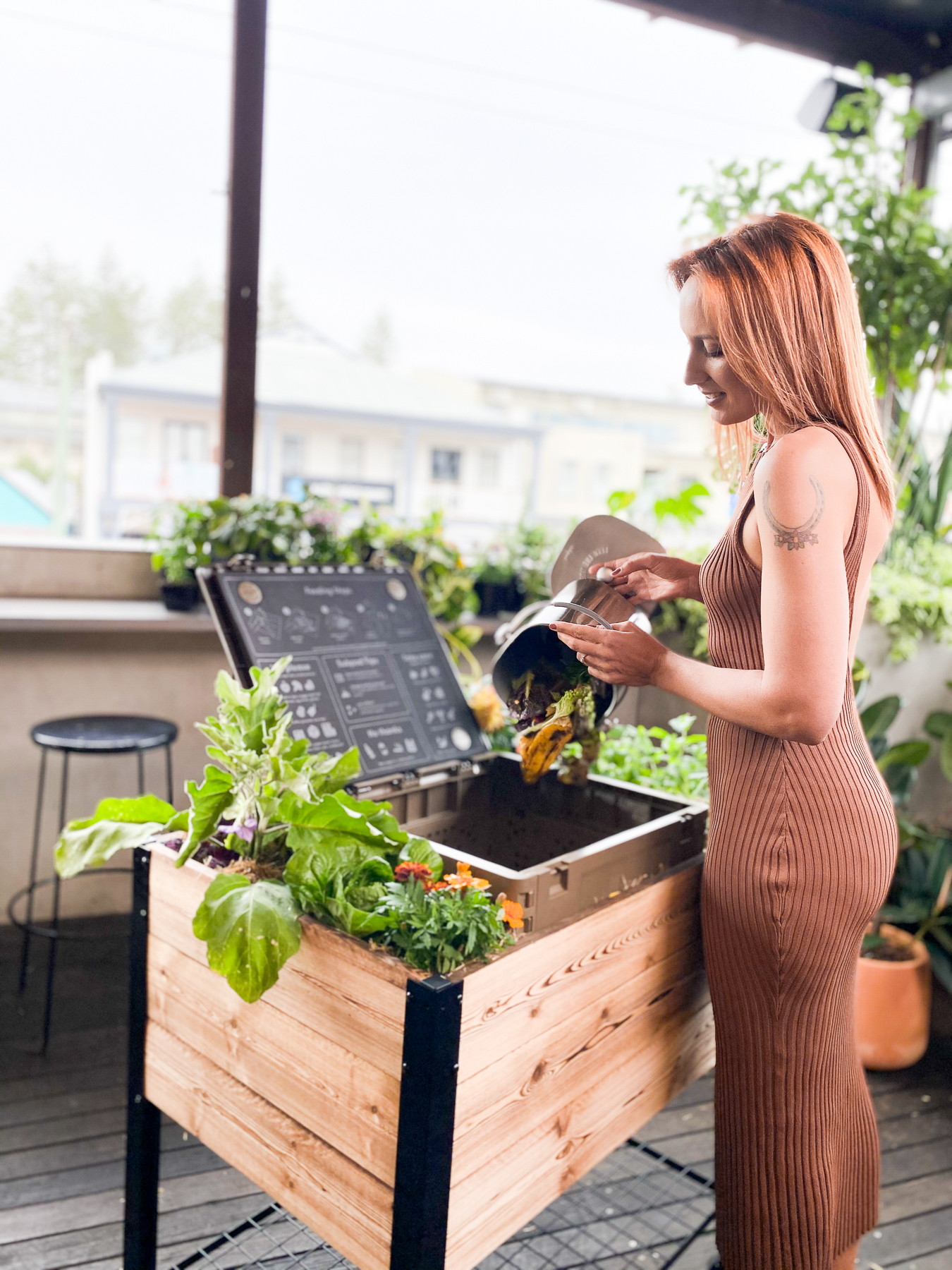 How Much Food Waste Does The Modbed Process?
The Modbed Grow system composts an average of 17 pounds of household food scraps per week. This should offer plenty of capacity for most households of one to four people.
Through my curbside composting company, WasteWell, I have a pretty decent insight into the volume of compostable food scraps typical households generate. Customers in apartments and smaller homes (presumably those who would also use the Modbed), typically compost 5 – 30 pounds of food scraps every two weeks in our collection buckets. Thus, 17 pounds of capacity in the Modbed should be more than enough for a typical apartment dweller or urban family.
While 17 pounds of food scraps per week composting in the Modbed might seem like a lot, it doesn't surprise me at all based on the relative productivity of our casually managed Subpod. I haven't been the best about managing it to maximize worm reproduction, so we don't even have as many worms in the Subpod as some others I've seen (like Giordana and her flourishing Subpod). Yet, I'm impressed by how quickly the worms consume the food scraps. Sometimes I feel like I won't feed them enough!
What Materials Is the Modbed Grow System Made From?
Like our Subpod, the Modbed Grow system has two distinct construction elements: the exterior raised bed container and the interior worm bin. These are made from different types of materials with separate construction requirements in mind, however, both are constructed with durability as a critical element of design.
Garden Bed | The Modbed Garden Bed is made of rot-resistant, carbonized cedar wood that is FSC certified, meaning it comes from the most sustainably managed forests. It also comes with a liner made of recycled plastic bottles to help the wood last longer and prevent soil from falling out of the Modbed.
The alloy frame includes a storage shelf underneath the garden bed and wheels to make it easy to move around your space as needed. Moving a raised bed full of soil and plants is no joke once that system is up and running, so the wheels are a key element in the design (at least in my opinion).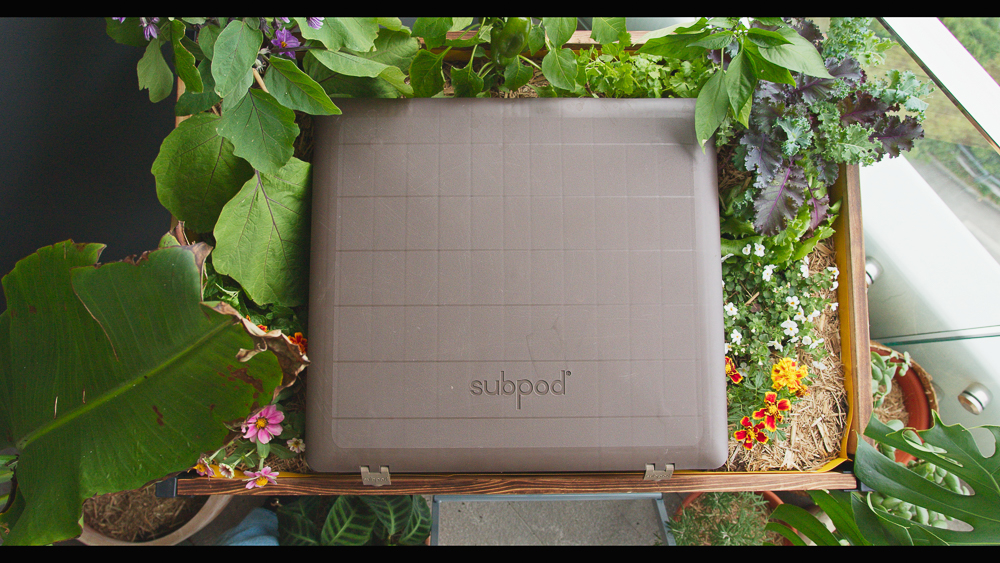 Subpod Mini | The Subpod Mini is where the rubber meets the road in this composting system. It's where the worms primarily live, where you place food scraps when they are ready for composting, and where most of the magic happens.
The cube-shaped bin is made of polypropylene, a durable plastic that's made to withstand varying temperatures, dynamic levels of humidity, cycles of organic matter breakdown, and even the weight of a human sitting on it as a bench. Yep! It's designed to act as a bench when it's buried in the dirt in your garden.
Although certain types of plastic, and especially single-use plastic, are a huge burden on the planet, plastics are popular for a reason. They offer some really good benefits that aren't worth ignoring. In the case of the Subpod and the Subpod Mini, the polypropylene material is one of the safest plastics available with respect to health impacts. It is also water and food-safe, so it won't leach contaminants into the soil where your worms live, your compost processes, and your plants grow.
How Do You Set Up A Modbed Compost System?
Our Subpod had fairly easy setup and installation instructions. I expect the Modbed will be similar. First, you construct the raised bed. I expect this will require some basic tools to screw the screws and nail the nails but nothing beyond beginner skills.
The Subpod (and presumably the Subpod Mini) arrives in two pieces, the container and the top. The container pulls apart from a flat shipping shape into the shape of a box with no top. This was quite simple to execute. Attaching the top at the hinges proved a bit more persnickety only because it took a couple of attempts to get the pre-drilled holes to align properly.
The whole construction of our galvanized raised bed and the Subpod took about an hour (and we have pretty unimpressive building skills). The design of the Modbed and Subpod Mini look quite similar, and I would expect the build to require a similar time commitment.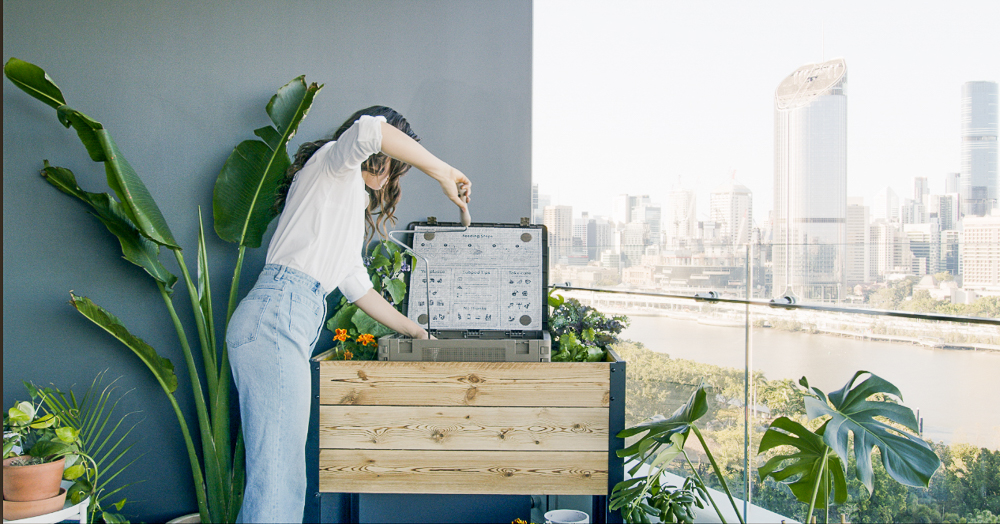 What Else Do I Need To Buy With the Modbed Urban Compost Garden?
For those new to Subpod, the Modbed Grow Bundle is the best option. It includes the Modbed Garden Bed as well as a Subpod Mini and an aerator.
Garden Bed + Subpod Mini | Subpod also offers the Modbed Garden Bed as a stand-alone option for those who already have a Subpod Mini or would like to add another raised garden bed to their garden collection but don't need any additional composting capacity.
Soil + Composting Worms | You'll also need to purchase soil to fill inside around the Subpod Mini as well as composting worms to add to the bin once it's all set up. Red Wigglers are the most common type of composting worm. Subpod's site suggests getting a variety of worming including Red Wigglers, Night Crawlers, and Tigers, as each is best suited to different conditions. I only purchased Red Wigglers, and that's worked great for us, so do what works best for your budget and what you can find available in your area.
You can buy compost worms locally or online. While it's best to buy worms locally so they don't have to ship thousands of miles, I couldn't find worms in my area. I ordered my worms from Elm Dirt. Their customer service is great, and the worms have been great.
Heads Up: Right now, in fact, Elm Dirt is having a Halloween sale. Get 15% off when you spend $50 with code TREAT15 or 20% off when you spend $80 with code TREAT20. A Modbed launch plus an Elm Dirt worm sale are quite the perfect match!
You can also check out the Subpod GrowHub Community, an online forum of Subpod owners who share tips and ideas about how to use their Subpods, the magic of composting, and more. You may find a local Subpod neighbor who has some worms to share from their bin, as the worms reproduce pretty quickly.
Let me know if you have any more questions about Modbed or Subpod products more generally. I'll do my best to answer them. I am so happy this launched because I think it's a great product to fill a void for many people who want an easy urban compost system or apartment balcony compost option.
Go check out the current Modbed crowdfunding campaign!