4 Style Tips From a 10×10 Glam Capsule Style Challenge
Do you think a capsule wardrobe has to be boring? I teamed up with a few other sustainable style creatives to explore a Glam Capsule wardrobe and debunk the myth that capsule wardrobes have to be comprised of boring, neutral colored clothes. Check out the outfits I created and lessons learned through the exercise of finding "glam" in a closet filled mostly with t-shirts and jeans.

A few weeks ago, Benita of
Compassion Fashion Blog
reached out through
Ethical Writers and Creatives
with an open call to join her and Elizabeth Cline in a Glam Capsule Style Challenge. Honestly, I was a little nervous.
Benita Robledo
, big time Instagram and sustainable style blogger, and
Elizabeth Cline
, author of
Overdressed: The Shockingly High Cost of Cheap Fashion
and well-respected voice in the sustainable style space?! And me?! It all sounded really interesting and fun to work on a collaboration with them, so I stepped up to the plate to "Glam Up" my very non-glam style. I didn't take on the challenge to show off my super stylish ways. My style is pretty simple. Instead, I wanted to experiment with creating more unique and dressed up looks from pieces I already had in my wardrobe. I work from home and parent two young boys, and enviable style does not come naturally to me. I wear leggings and tank tops
a lot
. But Benita and Elizabeth were
championing a good mission to debunk the myth that capsule wardrobes had to be all neutrals and stripes, a mission I could afford to explore for myself.
I suppose I'm not alone in being bored with my clothes right now as we wander into the end of the summer season. We're ready for fall to refresh our closets and pull out sweaters and jeans, even though the mercury still tops 85° and humid in my neck of the woods. What better way to breathe new life into my clothes than a Glam Capsule Challenge with fellow sustainability friends?
The Interview Process
Before welcoming a single piece into my Glam Capsule, each item underwent a rigorous interview process. Could I imagine wearing it in several ways? What made it Glam and not blah? What else did it match in my closet? Could I pair it with a couple different pieces? … Really, these are the questions we should be asking ourselves before we bring
anything
into our closet. I say the interview process was rigorous, but don't feel overwhelmed that you couldn't do too. All of our clothes should go through a "rigorous" interview process before we buy them. We should ask these few questions to vet each piece before we buy it, and this process becomes second-nature with a bit of practice.
The Photo Shoot Reality
Ten pieces in hand, I tromped upstairs, proceeded to move some furniture so I could snap photos in front of a white(ish) wall, and played dress up to capture each of the outfits that became part of my capsule.
Is this a real capsule if I didn't actually wear and photograph each of the outfits on the day I posted them? Heck yeah, at least in my definition.
Taking photos is a lot of work and takes far more time to do piece-meal than to do in batches. I also need good natural light because many of the rooms in our home are fairly dark, and bright enough natural light doesn't shine through our windows everyday. Doing all the photos at once was a matter of real life trumping Instagram facades (because even the most popular bloggers and Instagrammers batch process their outfit shoots).
Is this an honest capsule if I wouldn't wear every outfit while I jump on the trampoline with my boys or pound away on my keyboard while buried in Microsoft Office products (things I spent considerable time doing during the ten day period we shared our capsules)? Of course.
We need clothes for a variety of occasions, so I styled outfits for some of the things I have coming up. I'm attending a wedding soon and hadn't decided yet what to wear.
Check.
I'm attending a week long training for work in a few weeks, and wasn't set on what to pack.
Check.
I wanted something less "barre class" and more "somewhat stylish but comfy mom" for work-from-home days.
Check
. And I wanted something for my weekly date night with M that was a little fancier than leggings and a long sweater with canvas flats.
Check
.
Is this real life if I'm taking photos of everything I wear and posting it on the internet?! No!! This is not real life.
This post and the components that went into making it are a teaching tool, an inspiration post for me and others balancing
all the things
to get creative in our closets. I will come back to this post later in search of reminders that will streamline my morning dress routine. And that time, I won't be taking photos of any of it (unless it's a mirror selfie in dark lighting with my laundry hamper in the background like you occasionally find on
my Instagram Stories
).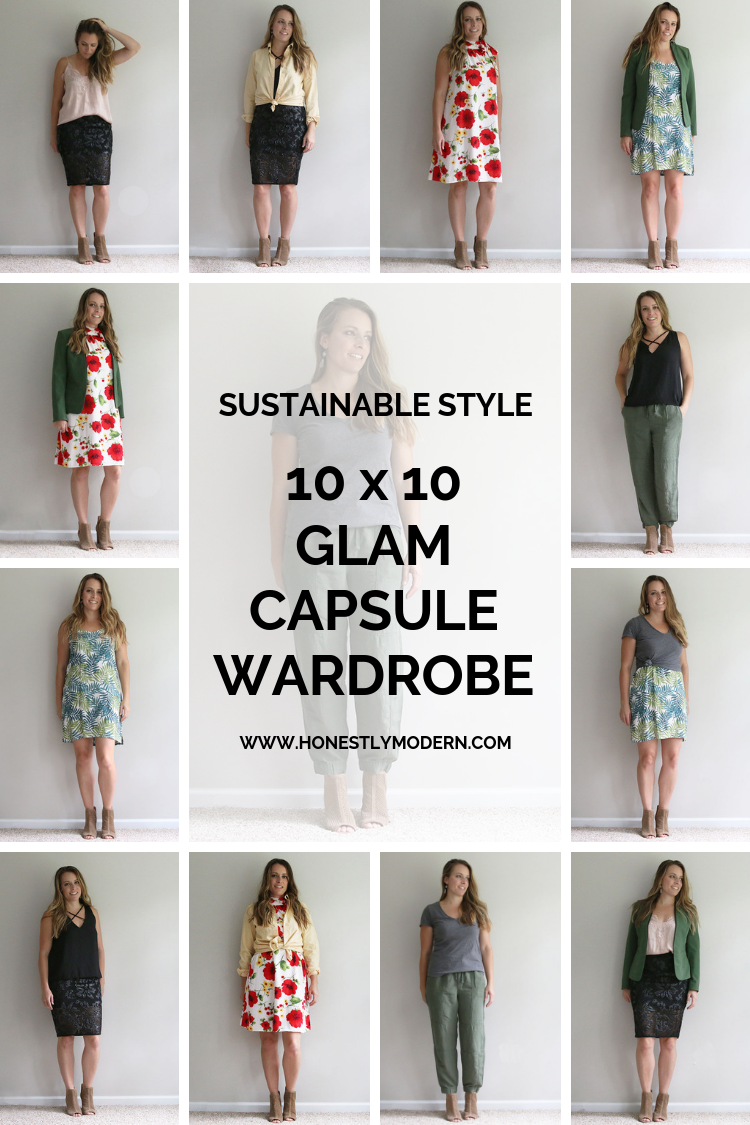 The #GlamCapsule Takeaways
So if this whole exercise is a teaching tool, what did I learn?
Secondhand is Queen
Secondhand is seriously the best. I'm not suggesting any of us will or should have perfectly sustainable style, but you guys, secondhand is so doable! Real life "doable". With a family and a job "doable". Without sacrificing style "doable". I'm not suggesting you should buy secondhand to save the world, because you won't (although it certainly doesn't hurt). Buy secondhand because it saves you money and allows you to afford higher quality items for the same price. Buy secondhand because it saves you time, streamlining the shopping experience when you use a site like
thredUP
and eliminate meandering trips to the mall.
Secondhand also drives us to focus on our own style preferences and less on fashion fads. Today's fast fashion "it" pieces aren't in secondhand stores yet, but who wants to be a puppet for the fast fashion giants telling us what to wear anyway?! We have minds of our own, so let's use them. Just buy things you like and that flatter your body, not what looks good on the super skinny, 18 year old model who was paid to wear the clothes like a hanger
(unless you're a super skinny 18 year old… then cool… do you
). Secondhand isn't what it used to be. Secondhand doesn't require sifting through musty-smelling floral, ankle-length, printed skirts that only your Grandma once wore. Consignment shops and online resale sites do all the hard work for you and make secondhand shopping enjoyable and a breeze!
Try Patterns and Textures in Neutral Colors
Adding glam to a wardrobe often involves pieces that are busy and have a lot to say for themselves. Mixing and wearing bold statement pieces together takes a serious knack for style and a solid amount of sartorial confidence, neither of which I have. I opted to incorporate a few bold pieces, like the dress with big red flowers, with pieces that had quieter colors and patterns but had fancier cuts and textures. The shoes were a neutral shade, but heels amp up any outfit, and the cutout texture adds interest above and beyond a standard pair of basic booties. The black pencil skirt gets a dose of energy from the cutouts and the shorter lining that subtly shows a bit more leg than a traditional pencil skirt. On the surface, beige boots and a black pencil skirt aren't much to write home about. But with some added texture, heels, and a little bit of skin peeping through, they're far more interesting than their basic counterparts.
Pair Colorful Patterns With Colorful Solids
Style pros can mix patterns with purpose and perfection. Me? Not so much. I wanted to incorporate some bolder patterns and colors, so I chose colorful solid pieces that also matched the patterned pieces. It's an easier way to hold on to color and patterns without getting too complicated, which would have been way out of my league.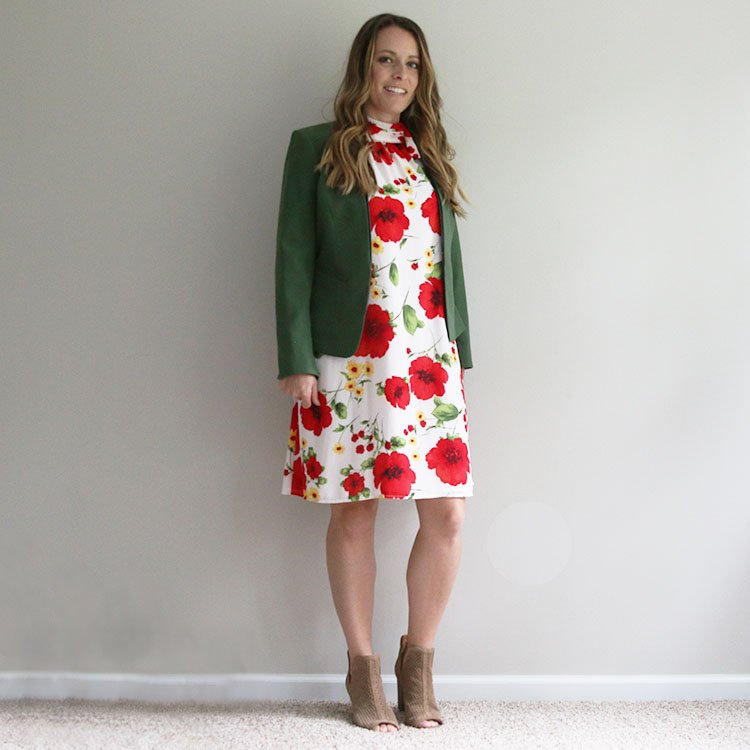 Choose Pieces That Can Dress Up or Dress Down
Many capsule wardrobes consist of a lot of everyday pieces, which makes sense because we're spending most of our time in these "everyday" clothes. There are, however, plenty of styles that can be dressed up or dressed down for a variety of looks. We see tons of these comparisons from style bloggers around the internet, so I borrowed a piece of their advice. The green floral sundress, for example, is very casual with a t-shirt or on it's own. The blazer covers the skimpy straps and really gives it a new life as something I could wear to work (
as long as I don't take off my blazer…
). The red dress looks pretty fancy, until the green blazer tames it a bit and makes it also acceptable for the office. Work to wedding, anyone?
A Capsule May Not Meet Every Wardrobe Need But…
You might find certain style needs that can't realistically be fulfilled with a capsule wardrobe. If you really need a floor length sequin gown, however, rent it or borrow it from a friend. Why spend an arm and a leg on something you'll wear once?! Chances are, though, that you can comfortably get by for most occasions with a piece that's more versatile than red carpet attire. Even this red and white floral dress can be fit for a wedding, a date night, a work function, a girls night out, a cocktail party, a baby shower and more (
provided I'm okay with the poorly placed floral print that apparently looks like boobs
). I will never have a full wardrobe comprised of just ten pieces, and I don't expect you to either. For me, a 10×10 capsule collection doesn't intend to become a complete wardrobe, but instead it highlights the possibilities of wearing something in more than the single way displayed on the mannequin or the model when we bought it. What's your experience with capsule wardrobes? Have you tried to create one that's a little more jazzed up than t-shirts, jeans, and neutral colors? A few other creatives shared about their experiences with the 10×10 Glam Capsule Style Challenge. Be sure to check them out!