Real Life Low Waste Meal Plan With Guests | Nov 12
Last week, we hosted my four sisters, two nieces, and a nephew at our house. My grandmother passed away, and they all came into town to celebrate her life by attending her funeral and memorial service.
Funerals are often such bittersweet events. Of course it's painful to lose a loved one, but we also had an opportunity to spend quality time with family who we do not often see.
With so many people at our house, I set a meal plan and bought groceries several days before their arrival to help alleviate the stress of feeding so many people for nearly a week. This bit of planning made all the difference, and we had a smooth week with plenty of tasty and healthy food to eat while also limiting food waste and making the most of the food we already had on hand.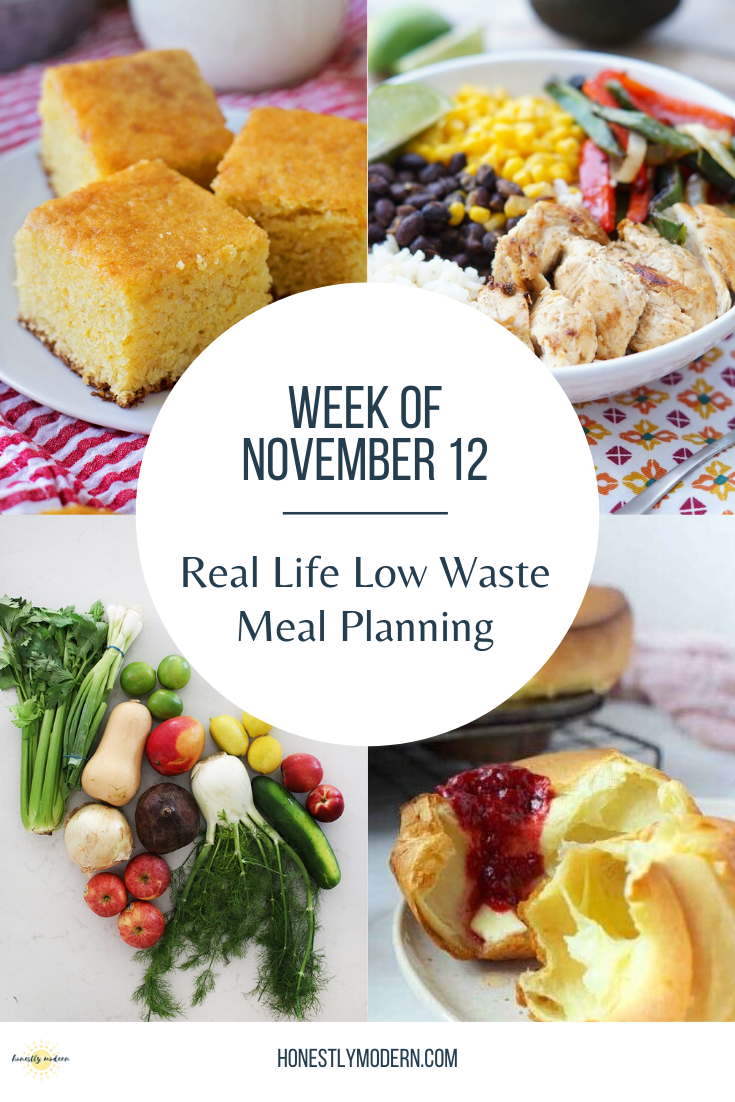 As I prepared the meal plan, I tried to include several meals that required limited preparation time or allowed me to begin preparation earlier in the day before the afternoons and evenings got crazy. Our Crock-Pot was a lifesaver, and we definitely used it a couple of times to feed so many hungry bellies.
I also planned to make extra food at dinner several nights so we could eat leftovers for lunch most days. I indicated below a few meals that became leftover lunches later in the week.
Sometimes we ate the leftovers exactly as they were and other times we breathed new life into them as something entirely different. Leftover creative for the food waste reduction win!
Without further ado, here is our real life, week-long meal plan while hosting seven guests in our home.
Thursday
We made the pulled pork without barbecue sauce so everyone would eat and it could be used as leftovers with flavors that didn't necessarily pair well with barbecue. We used it the next day for lunch to make pulled pork quesadillas.
Pulled pork (prepared in the slow cooker)
Macaroni and cheese (from a box)
Roasted Brussels sprouts
Friday
Saturday
Burgers and hot dogs
Buns
Chips and Veggies Sticks
Raw fruit
Sunday
Quesadillas, using leftovers from Friday night
Monday
Tuesday
Tilapia, in a marinade of olive oil, Old Bay, lime juice, and dried cilantro
Homemade popovers
Rice pilaf (from a box)
Roasted carrots, from Misfits Market
Wednesday
This ended up being our family's Thanksgiving, and we don't all love turkey, so we decided to have beef tenderloin instead.
Tenderloin, purchased from a local butcher (and you better believe we ate every last bite of this premium cut of meat!)
Homemade mashed potatoes, potatoes from Misfits Market
Salads, lettuce from Misfits Market with peppers, apples, cucumbers, and carrots
Sauteed green beans
Homemade bread, my Mom and Grandma's family recipe
Homemade pizza rolls, my Mom and Grandma's family recipe
Brownies
Homemade Pumpkin Bread