5 Easy DIY Scented Vinegar Cleanser Recipes
Are you interested in making your own scented vinegar for cleaning? Are you looking for a quick and easy DIY scented vinegar cleanser recipe? Read on for a practical list of dos, don'ts, and fun scent combinations to try.
We're currently in a season known to locals as "the pollening" in Charleston. Clouds of sneeze-inducing yellow dust waft through the air, turn every car into a lovely shade of lemon, and pool along the curb after a rain. Needless to say, spring cleaning is on everyone's mind.
When I set a goal of making 100 greener choices, switching to DIY vinegar cleaning solutions was a quick and easy lifestyle change. But, as I learned the hard way once, vinegar's odor can leave a bit to be desired. (I once tried washing my hair with vinegar per advice I found on Pinterest, and my head smelled like a Caesar salad for two days.)
How do you make vinegar cleaner smell better?
There are literally a million posts on the Internet that tell you how to make DIY vinegar cleaner, what to do once you've infused the vinegar, and how to turn it into an appropriate cleaner for various surfaces. This post, however, is about the 5 scented vinegar cleaner recipes I tried and which ones I liked best so you can make your DIY vinegar cleaner smell better!
Here are my quick and dirty DIY tips along with some DON'TS to find the perfect DIY scented vinegar cleanser for you.
Definitely read the DON'TS. I accidentally made a disgusting zombie orange cleaner, and a quick skim will keep you from repeating my mistakes.
The Down and Dirty DIY Scented Vinegar Cleanser Dos
DO use cheap white vinegar; this is not the place to invest funds. It's going in your toilet. Literally.
DO remember that you don't need to scent your vinegar at all to clean.
DO remember that tutorials on how long to infuse your vinegar are based on personal preference. If it smells ready by your standards? Carry on. There is not something magical that happens between day 3 and day 14. Assuming you don't accidentally grow mold in your vinegar, which is somewhat hard to do, you can infuse it virtually forever. I have a lemon tarragon salad vinegar that's been hanging out for God knows how long. It is delicious.
DO put your vinegar in glass containers. Plastic both leaches into acidic contents and will take up the smell of your vinegar.
DO remember that – depending on your vinegar scent ingredients – you can speed the infusion process by heating your vinegar and pouring it over the jarred ingredients. DO NOT let the vinegar heat to simmering or boiling. I've been infusing delicious pepper vinegar this way for years. It's quick and easy.
DO remember that there is no exact right proportion of aromatic ingredients to vinegar base – though you want mostly vinegar, and all the ingredients should be submerged. It's just an infusion. Nothing more.
The Down and Dirty DIY Scented Vinegar Cleanser DON'TS
DON'T use peels or ingredients that have visible mold. While vinegar kills an estimated 89% of mold, this is how I wound up with zombie orange cleaner. The peels literally turned black.
DON'T forget that if you use essential oils instead of infusing with fresh ingredients, you must ensure they're pet friendly. This post from Paws & Pines will set you straight.
DON'T forget to carefully wipe the lip and lids of your jars when you seal them for the infusing period.
DON'T forget to wash your jars before using them.
DON'T use ingredients that will stain, such as turmeric, blueberries, beets, etc. Be smart about this one. If it stains your hands while cooking, do NOT put it in your vinegar cleaner.
DON'T use the sugary or fleshy/mushy parts of fruits and vegetables or ground spices. They will dissolve in your cleaner and leave you with sticky or gritty surfaces. Strawberries? Bad. Ground cinnamon? Weird and bad. Lemon peel? Good.
The Down and Dirty DIY Scented Vinegar Cleanser Tutorial
Read the Dos and Don'ts!
Select fragrant peels/spices/herbs for vinegar per the advice above. Remember to inspect your aromatics for mold and wash them.
Shove your aromatic stuff in a glass jar.
Pour cheap vinegar over the stuff in the jar, covering everything completely. Seal. Shake.
Leave the stuff in the jar for somewhere between 1-14 days, as desired.
Remove the stuff from the jar.
Pour the infused vinegar through a funnel and cheesecloth or kitchen sieve into a new jar.
Dilute according to the surface to be cleaned. Clean.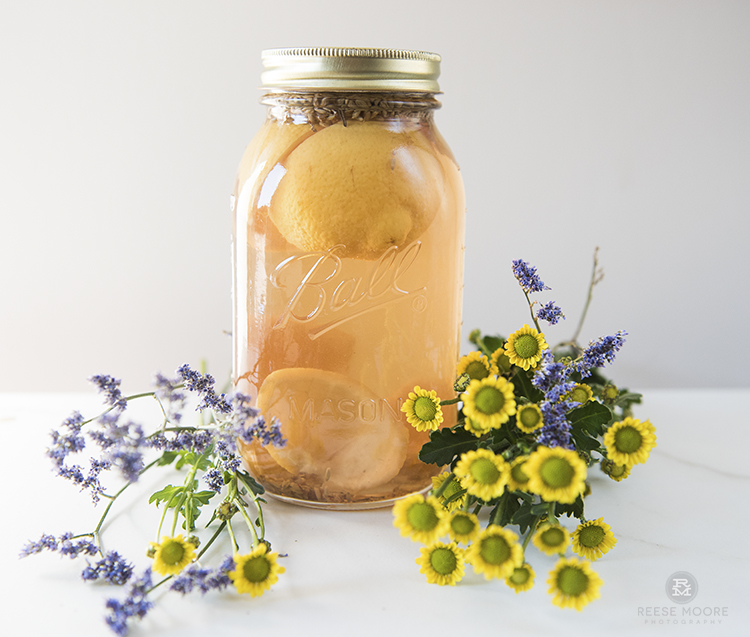 5 DIY Scented Vinegar Cleansers
(Ordered from least favorite to best.)
Orange Clove Vinegar Cleaner
I surprised myself at how much I hate this one. This entire post actually came about because of how much I can't stand this smell as a cleaning solution. It's sweet; it's cloying; it smells like Christmas; it does NOT belong in your vinegar. I love it as a home scent in a simmer pot at the holidays, and I love it in potpourri. I never EVER want to associate it with a dirty toilet.
Lemon Lavender Vinegar Cleaner
Lemon has a bright, fresh scent we've been culturally conditioned to associate with cleaning solutions, and the lavender added a delightful floral note that lingered. I enjoyed this one, and it will be well within your comfort zone. The lavender also leaves your vinegar a gorgeous, cheerful color!
Pear Cardamom Vinegar Cleaner
If you're not much for floral and overpowering scents, this one's for you! I used Bartlett pear peels, carefully shaved from the fruit, and green cardamom pods. The vinegar infusion has a simple, earthy, sweet, and warm aroma, so it won't smell like a fruit salad in your shower.
Note: The pear peels WILL discolor and age in the vinegar. That's different than mold. And the tiny bits of unavoidable fruit flesh may leave this solution a little cloudy. I use it in sinks, bathtubs, toilets, and the stove (just not glass).
Mixed Herb Vinegar Cleaner
I really love this one, and I honestly thought this would be my least favorite! I used fennel fronds, parsley, sage, rosemary, dill, and a lot of thyme from my garden, and I also threw in some wilted cilantro from the fridge. (Note: Wilted is fine to use, but slimy is not.)
The herbs will change color while they infuse, but the vinegar had a pretty, delicate pink from the fennel. And the smell? It's rich, fragrant, complex, and luscious. I don't know how else to describe it. It smells like all your favorite sun-soaked summer gardening memories in a jar.
Grapefruit Rosemary Vinegar Cleaner
Hands down, this one is my favorite. I catch myself sneaking sniffs from the jar just because I can. DON'T JUDGE ME. It's fresh, bright, and has a delightful herbal note to accompany and balance the citrus. It smells like clean counters and happiness without the cloying sweetness of many chemical cleaners. Note: One grapefruit peel is plenty for a substantial amount of vinegar!
How to dispose of infusion ingredients after making scented vinegar
After you've poured the infused vinegar into a clean glass jar and are ready to use your lovely DIY scented vinegar for cleaning your home and personal spaces, you can compost the herbs, peels, and other infusion ingredients. Even though they've been in vinegar, they will be just fine in a compost pile or bucket.
Between the reusable containers, compostable ingredients, and low-waste vinegar, this is such a simple, affordable, and easy way to incorporate a low-waste swap into your everyday life. And if your kids make it, they might even be just a slight bit interested in helping you use it!
All photos via Reese Moore Photography
If you enjoyed 5 DIY Scented Vinegar Cleansers, you may also enjoy:
11 Easy Eco-friendly Spring Cleaning Tips
7 Simple Tips for Eco-friendly Cleaning with Kids
7 Tips for More Eco-friendly Shower Habits
About the Author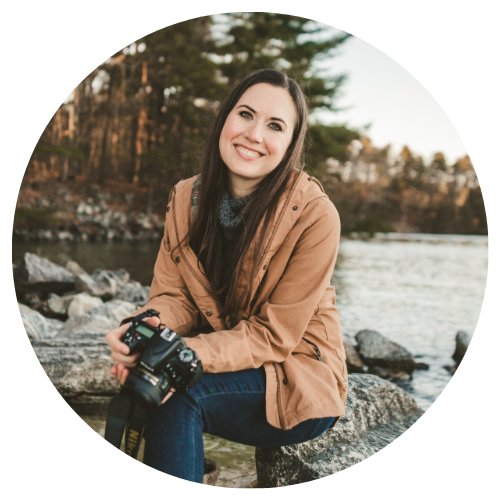 Reese Moore
Reese Moore is a photographer, content creator, and pickle connoisseur who divides time between Charleston and Lake Lure. When she's not behind the lens shooting stunning images for Reese Moore Photography, Reese loves to spend her time wandering the woods with her dog Gatsby or adventuring with her husband Logan in their Airstream Basecamp.