11 Easy Eco-friendly Spring Cleaning Tips
Are you ready to do a bit of spring clean with the change of seasons? Try some of these eco-friendly springtime cleaning tips to give your home a refresh as we settle into summer.
In the spring when the temperatures start to warm up, the urge to clean hits many of us. In fact, 78% of people who responded to a survey from the American Cleaning Institute say they participate in some type of spring cleaning – whether it be physical cleaning or decluttering and organizing (or both).
While I'm personally not one to clean at any free moment I have, there is something about the change of seasons that makes me want to clear out and refresh my home.
11 Easy Eco-friendly Spring Cleaning Tips
Are you ready to do a bit of spring clean with the change of seasons? I'm sharing nearly a dozen eco-friendly spring cleaning tips with you to help you green up your cleaning routine this spring.
Declutter responsibly
A big piece of eco-friendly spring cleaning for many people starts with decluttering. Getting rid of things we no longer need frees up space and reduces the stress of keeping all the things organized and under control. But it's important to be mindful of how we dispose of things we no longer want.
Too often, perfectly good items end up in landfills. Even donating to a local thrift shop, while usually well intended, can cause waste. Most thrift shops are overrun with donations and can't accept all that comes in. Many donated items end up in the trash or sent to third-world countries, unfairly turning our excess waste into their waste problem. Our waste doesn't "go away".
No matter how conscious we are about what comes into our homes, inevitably things pile up. It's important for me to spend a little extra time and energy to ensure that the items we declutter end up in the hands of families that can actually use them as much as possible.
As you sift through closets and cabinets during your spring cleaning, be thoughtful about how you dispose of your items. Can you pass things along to other families that can use them instead of simply tossing them in the trash or dropping them at a local thrift shop, already inundated with donations? Can you repurpose items or find organizations in your community that can use them?
Here are some ways to more responsibly declutter your home during your eco-friendly spring cleaning:
Dedicating a little extra time and effort to make sure your items are passed along responsibly can go a long way in keeping things out of a landfill.
Related post: Sustainable decluttering to start the new year
Switch to eco-friendly cleaners
Many conventional cleaners are harmful to the environment and our health. Switching to non-toxic and DIY cleaning products can be a great way to make your spring cleaning more eco-friendly (and maybe even save money).
Vinegar and water is a versatile and budget-friendly option for general, all-purpose cleaning. Some people like to add essential oils or other infused elements to enhance the aroma of the cleaning products.
There are many store-bought eco-friendly cleaning product options too. Deciding which green cleaner is best is a personal preference, and sites like ThinkDirty (also an app) can be a great resource to find the right brands for your family.
If you're looking for additional eco-friendly spring cleaning tips, specifically for the bathroom, check out these easy swaps for a greener and cleaner bathroom.
Reduce junk mail
Did you know that the average American receives 26 POUNDS of junk mail a year? And we never even read almost half of it. Think about all of the energy and resources that go into creating, transporting, and sorting that junk mail. What a waste…
Luckily, there are a number of resources available to opt out of many types of junk mail. It can be a bit tedious to unsubscribe from all the sources of junk mail, but if you tackle one thing at a time, it's very doable (and worth it).
Learn more about how to get rid of junk mail once and for all.
Bonus: the effort put into reducing junk mail will benefit your eco-friendly living goals well past spring!
Switch up your cleaning cloths
Ditching your single-use paper towels is an easy eco-friendly spring cleaning swap. Not only will you save money by giving up your paper towels, but you will also reduce the amount of trash you produce on a regular basis.
Options for unpaper cleaning cloths abound. Combine your spring cleaning efforts with decluttering your closets. Upcycle stained or holey kids' clothes, old towels or bed sheets, or any other textiles that you no longer need but aren't in good enough condition to pass along to a friend or neighbor.
You can also look into options such as Swedish dishcloths, secondhand dish towels, or store-bought unpaper towels. Here is an entire post comparing Swedish dishcloths and unpaper towels if you'd like to learn more.
Upcycle cleaning tools
Before rushing out to buy new cleaning tools, take a minute to think about what else you can use instead. Do you already have something else that will work, saving you shopping time and money?
For example, you may not need Swiffer cleaning cloths. I used to buy replacement Swiffer pads regularly, even though I scoffed at the cost of them each and every time. It did not initially occur to me that I could upcycle things I already had on hand, reducing waste and clutter all in one!
Here are some ideas for items you can replace by upcycling things you already have into cleaning tools. We've included just a few ideas though the list is endless. Get creative to benefit your bank account and the planet.
Dusters: old clothes, rags, old socks, or towels
Swiffer pad: old t-shirts or rags
Scrubber: old toothbrushes for precise scrubbing, for places like crevices and grout
Mirror cleaner: use newspaper for a streak-free shine!
Skip the dryer
Did you know that the dryer is one of the most resource-intensive appliances in the average household? According to the EPA, the average American dryer uses nearly a third of total appliance energy in a household. Because it uses so much energy, it also makes it one of the most expensive appliances to run in the house.
Air drying clothes and textiles can save a lot of energy and money. If you live in an area where the temperatures fall below freezing during the winter months, drying your clothes outside may not always be an option. But once spring hits, drying items outside can help save on energy usage and cost.
Spring is a great time to do a deep clean of textiles and many seasonal items. Here are some specific categories to include in your eco-friendly spring cleaning washing routine that also are great options to air dry on a clothesline or hang outdoors instead of drying in an energy-intensive dryer.
Bedsheets
Towels
Winter gear being packed away for the season
Seasonal clothing being packed away
A bonus to drying items outside? All those items pick up the fresh, clean smell of sunny nature!
Reduce your vacuum usage
Instead of vacuuming your rugs and mats, consider shaking and beating them outside for a more eco-friendly spin on the task. Not only can you save on energy, but you also benefit from that fresh, spring air. Use the moment as an opportunity to listen to the birds, look for any pollinators, or simply enjoy the sunshine.
Refresh more than just your home
One not as obvious eco-friendly spring cleaning tip is to get major appliances such as your furnace filters, air conditioners, dryer, and air vents tuned up and refreshed.
Like regular oil changes for our cars, seasonal tune-ups for appliances ensure longevity and increase energy efficiency. Regular "check-ups" for your major home appliances help keep them working as efficiently as possible – saving you money and reducing energy usage. Additionally, if there are any underlying issues, catching them early can prevent more costly repairs in the long run.
Bonus tip: some energy companies offer "tune-up" plans. For a small monthly fee, service providers offer regular maintenance and checkups. If you haven't already, check with your local company and see if that's something they offer.
Be mindful of your water usage
Drought is a known consequence of climate change, and droughts are becoming more severe as the planet heats up. In the United States, places such as California, Utah, Arizona, and other western states have major water shortages. Unfortunately, this isn't going to improve any time soon.
As we move into the warmer months, water usage increases as well. There are many ways to decrease your water usage, and a quick Google search will bring up resources to help specifically in your area.
With respect to eco-friendly spring cleaning, do your best to limit water usage (without increasing single-use waste, of course). When you can, use cold water for cleaning to reduce the energy required to heat hot water. Limit the amount of water used for cleaning bathrooms, kitchens, and other water-intensive areas of your home.
If you're curious about how much water you use at home, check out this water usage calculator. Additionally, try some of these homeownership decisions that can help save energy and money.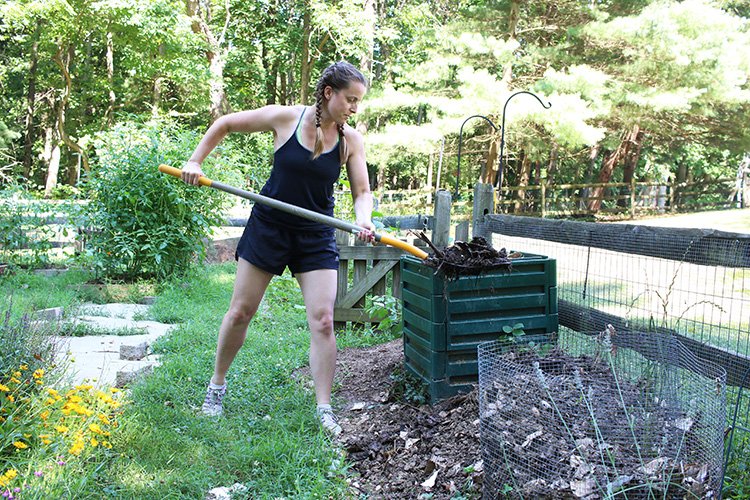 Stir the compost bin
Spring is a great time to refresh and stir your compost bin, especially if you live in an area where the compost may freeze over the winter (hi, Minnesotan here). Get your compost activated after winter to keep food scraps out of your trash and have less smelly trash year-round.
Composting can be a useful element of your eco-friendly spring cleaning routine. You can compost many items, including non-food items, from spring cleaning practices. To help you determine what can be composted or not, here is a super helpful interactive "Can I Compost..?" guide with tips on which items from your eco-friendly spring cleaning activities you can toss in the compost bin.
Open the windows
If you're looking for a quick and easy way to freshen up the air quality in your home, ditch artificial air fresheners and open the windows. According to the EPA, "opening your windows is an important factor in improving indoor air quality, and removing indoor air pollutants."
This is dependent on the quality of your local outdoor air, of course. But even if you live next to a busy road, for example, the EPA still recommends opening the windows but suggests waiting until the evening, or a time when there is less traffic to do so.
One benefit to regularly opening your windows is energy efficiency. In fact, if used properly, the EPA mentions that "natural ventilation can at times help moderate the indoor air temperature, which may become too hot in homes without air-conditioning systems or when power outages or brownouts limit or make the use of air conditioning impossible."
Related post: Eco-friendly ways to organize your garage
Many of us do some sort of cleaning in the spring which can produce more waste than we would like. But with a little foresight, we can make changes towards a more eco-friendly spring cleaning routine. The best part? Doing so not only benefits the planet, but also our health and budget.
What are some of your favorite eco-friendly spring cleaning activities or tips?
If you like eco-friendly spring cleaning, you might also like
7 Simple Tips for Eco-friendly Cleaning with Kids
Reusable Paper Towel Alternatives | Swedish Dishcloths vs. Reusable Cloth Rags
8 Eco-friendly Ways to Dispose of Yard Waste
About the Author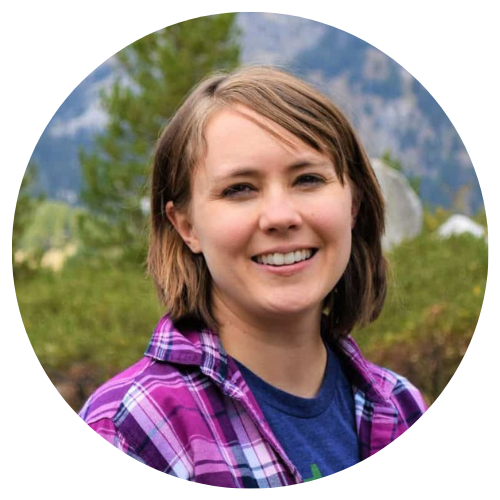 Laura Durenberger
Laura created her platform as a guide to help women live with less in a sustainable way. She is also the creator and host behind the podcast Raising Eco Minimalists, a podcast that acts as a resource and community for those raising kids who care about their mind, body, community, and planet.
Laura is an avid home gardener, with a passion for helping grow their own food through her free seed library. She is an avid mental health advocate, often sharing her own journey through anxiety and depression. Finally, she believes that building and connecting with the local community is the key to solving a lot of the big issues we (and our kids) face today.