Make Money Decluttering Your Closet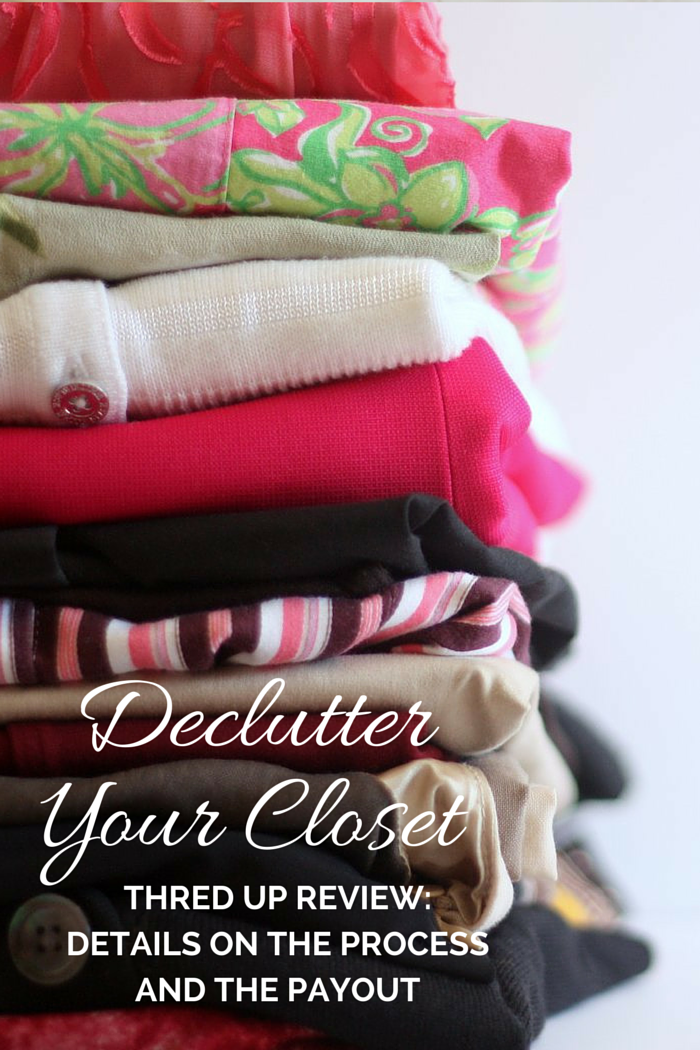 Clothes, clothes and more clothes. It's pretty crazy the volume of clothes so many of us churn through regularly. I'm making progress and have been letting go of far more than I buy recently, but I still have quite a full closet. Just a couple of days ago I shared about my most recent thoughts and growing disgust for fast fashion. While I can't change what I purchased in the past, I can definitely make changes going forward.
Recently, I completed another round of decluttering from my closet. With the "low-hanging fruit" already donated or sold to secondhand outlets, the collection of items I gathered included newer items, more expensive brands, better quality items, and such than some of the previous closet clean outs I completed.
I've often just brought all my clothes to the local thrift store. It seemed easy enough, and I enjoyed sifting through the racks for one or two new things after donating several boxes of items. This time, however, I sent all my clothes to thredUP, an online clothing resale outlet about which I've written before. (I also shared more about it in my more comprehensive Secondhand Shopping Guide.)
This is the second time I sent a bag of clothes to thredUP. I've chosen thredUP because I like their selection the best for purchasing items. They seem to have more items in my style than some other online resale sites. For those interested in learning a bit more about the process, I thought I would share about the details of my experience.
Sending In Items
The hardest part about sending thredUP your clothes that are ready for a new home is deciding what to pull from your closet. Seriously. We all know sorting through and cleaning out a cluttered closet can be time-consuming and emotional, depending on what's in there. Thankfully, thredUP made the rest of the process easier. Simply head to their website, pop over to the Sell section, and add a clean out bag to your cart (just like you were online shopping). This video they created gives a great overview of that process.
Because I enjoy a little insight into the behind the scenes of the process, I also enjoyed this video about what happens once the clothes arrive at their facility.
They share more
on the site about the thredUP selling process
too.
Be forewarned that it takes thredUP a while to review the contents of your bag and determine what they will accept. The first bag I sent in took nearly 8 weeks to turn around. The most recent bag took over a month. The site provides fair warning that the high volume of bags they receive slows down the process a bit. But it's helpful to know what to expect so you aren't waiting and waiting. I got an email when they reviewed the contents, so I pretty much sent it and forgot about it until I heard back from them.
What They Accept
As you might imagine, they have strict rules about which items they accept. After all, they only want to accept items others likely will buy. Thus, there might be a good reason why you don't love it anymore but someone else will. Maybe it doesn't fit any more or it's just not your style. But if it's a little worn or dated, chances are others won't want to purchase it. It doesn't make sense for thredUP to accept those items.
As thredUP states on their site, less than 50% of items received are accepted. You can see my acceptance rate below based on what they took and what they declined. You can also see the total payout I received upfront as well as the additional amount I may receive if the one piece they chose to sell on consignment is purchased.
Especially considering the limited effort I put forth, I felt the price I received was quite fair. I had no desire to sell each piece on my own through a local consignment store or an online option like Poshmark or eBay. It's too much work for me even though it may yield more fruitful results. Now I've got $90 to spend on new clothes from their site or to cash out through Paypal, albeit at a slight discount to the amount of store credit I'd receive.
Accepted Items
Gap – Gold blouse
Style & Co – Brown and black sweater tunic
Albeto Makali – Brown and black sweater
Via Spiga – Unopened tights (never wore)
Romantic Soles – Navy heels
Lululemon – Yoga pants (2 pairs)
BCBG Maxazria – Pink and black lace dress
Total Earned Upfront – $90.30
Total Consignment Potential Earnings – $27.25
Non-Accepted Items
Marine Layer ~ White blazer
ana – Striped dress (never wore)
WHBm – White tank
Tahari – Multi-colored/ black tank
Audrey Brooke – Black flats
The Limited – Brown blazer
Karen Scott – Gray vest (never wore)
LK Bennett – Dress (wore once)
Narcisco Rodriguez for Design Nation – Pink peplum top (never wore)
Ann Taylor – Gray suit
J Crew – Brown blazer
North Face – Pink jacket
BCBG Maxazria – Orange blouse
Mossimo – Gray pencil skirt
Banana Republic – Green midi skirt (never wore)
Quick Note: Do you see how many items I never wore or wore only once?! Ugh. So annoying. Live and learn. If you have the same experience, know that you're not alone. I'm getting better, but there's always room for progress!
What Have You Tried?
I'm always curious to see how others make the most of what's in their closet that they no longer love. Which donation or resale outlets do you use when getting rid of extra clothes? How have you experiences been? Share in the comments!
And don't forget to check the secondhand selections first next time you want to go shopping. It will almost always be less expensive and certainly more environmentally friendly to buy something secondhand. When you go shopping, be green and save yourself some green!