This is part of a series on successfully navigating the world of secondhand style. Stop over here to get started and see the rest of the series. This section highlights some of the best online secondhand shops as well as a bit about finding the brick-and-mortar thrift shops in your area.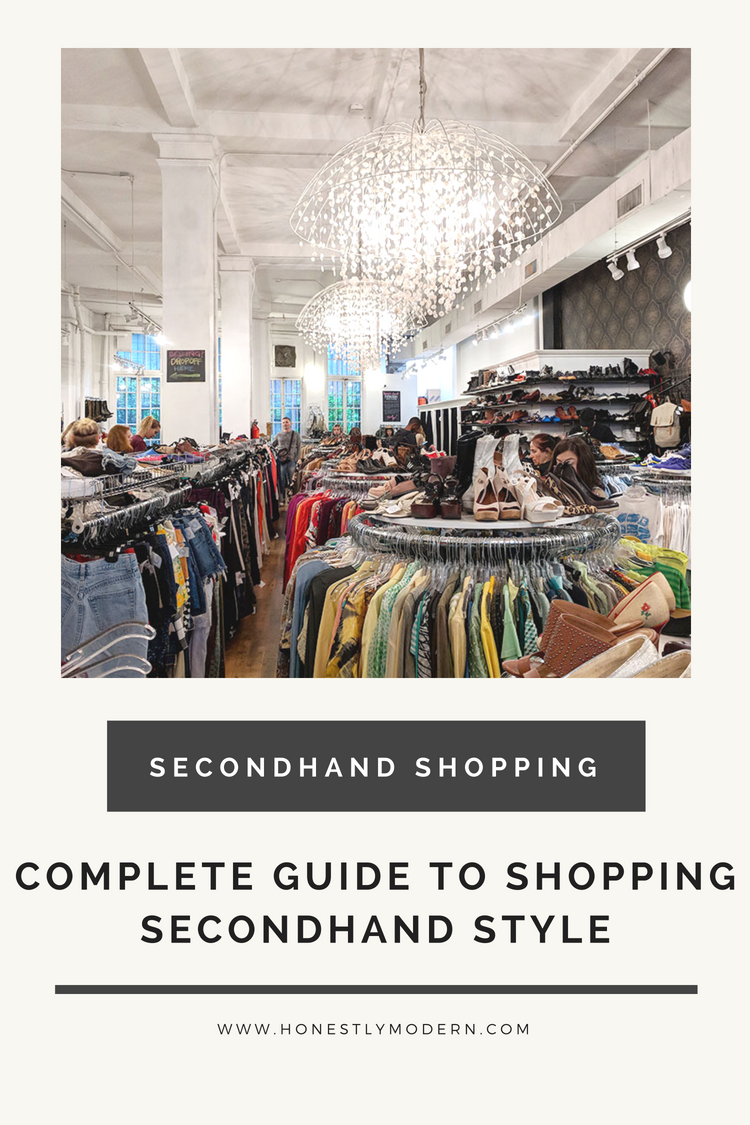 Secondhand Shopping Options
In today's shopping market that offers myriad options for brick-and-mortar as well as online shopping, secondhand style has followed suit. Some stores stick to brick-and-mortar, but if you don't live near your favorite secondhand shops, the Internet hosts a plethora of options as well.
Below, I've included some of the best options I've found as well some information about each of the sites. I've noted whether the stores sell designer or everyday brands, if they have a charitable component to their business model, and whether they use consignment or resale models (or a hybrid). Not sure of the difference between thrift, consignment and resale? This should help!
Online
ThredUP
Designer, Everyday, Resale, Consignment
This site combines resale and consignment. Sellers send in clothing and, depending on the anticipated resale price, items are marked for immediate payout or posted on consignment. The more expensive items typically are consigned and offer far greater payout ratios, if sold.
I've had decent luck with this site. I've used it both as a seller and a buyer.
As a buyer, I received generally what I expected. They provide high quality photos that are true to condition. They offer transparency about small flaws. And they have a ton of filters for everything types of product and details about the product (like necklines for sweaters, lengths for dresses, etc..), sizing, color, brand, etc.. I really like the filters! Finding great products in a secondhand store is already like finding a needle in a haystack, and when that process is taken online it can make one's head spin. They have made the search process very very and effective. Further, they have separated their higher end brands noting them as Designer, which is a fantastic way to filter for quality of brands and price without having to filter individual brand by brand.
My only hesitation about this site relates to their limited information about sizing. They offer a "size equivalent" feature but it's not all that helpful. Especially when buying secondhand, it seems so important to try things on. I NEVER buy something in a thrift store without trying it on, no matter what the tag says. I think they could offer more information about the product, like measurements of widths and lengths, to provide more clarity on sizing and help bridge the gap of uncertainty when shopping online to prevent surprises about fit upon receipt. I generally only buy products from this site either from very familiar brands whose sizing I generally know or items where exact fit isn't necessarily imperative to loving the item.
As a seller, I thought I received a fair payout for my items. Given the simplicity of tossing all my items in a pre-paid shipping bag (easier than dropping things off at a thrift shop), it all seemed quite fair.
The turn around time for receipt and review of my bag took a very long time! I believe I sent the bag in before Thanksgiving and heard back about review of the contents just after the new year (about 6-8 weeks). I received several apologetic emails throughout the process acknowledging the delay in processing, which I appreciated (as I started to wonder after some time if my bag had gotten lost in the mail). They affirmed they intended to hire more people, so this could be a function of their rapid growth that will be resolved in time. But know that if you do plan to sell through their site, you'll have to be patient.
Swap.com
Designer, Everyday, Resale, Consignment
This site combines resale and consignment, and is very simliar to Thredup. However, I think they have a slightly better selection because it's a little bit bigger. I haven't sold anything to this site, but I've had really great experience as a buyer. I definitely recommend checking it out.
Schoola
Everyday, Resale
While offering secondhand options for women and children like the two previous outlets, Schoola donates 40% of the proceeds to the school designated by the donor. If you gather several parents from a school, it can be a really great way to raise some extra money for school programs.
While I really like the mission of this company, I don't think the photos are as high quality as some other sites nor do they have the same volume of high end items. I suspect this is due, at least in part, to sellers (or donors, as the case may be), not seeing any portion of the sale come back to them. They are more likely to bring their higher quality wares to consignment shops where they will receive a portion of the sale price.
To be sure though, it's definitely worth a peak. I think the prices are also slightly lower than the aforementioned competitor sites, so you might find a diamond in the rough (the most rewarding part of secondhand shopping)!
Poshmark
Designer, Everyday, Consignment, Social
This consignment site is even more of an open market than Threadflip. All items are uploaded directly by sellers and the market for buying and selling ensues. The site hosts "parties" that focus on certain types of products or brands and sellers can have their products included in those parties. Users can also share items and gain followers so any new items you post are automatically shared with others who've already decided they like your style and might like your items. Contrary to the resale sites above, this option is much more interactive and more like a social media community.
Items sold on this site will run the gamut in terms of quality and brands, just like the community of people who post to the site. So you can likely find a wide range of pieces. But the site does offer search and filter functions to help you narrow down and find the perfect item on your wishlist.
The site also offers a guide to help users navigate the entire process. I haven't yet used this site yet, but I know several others who have and had great success with it. Erin, from Loop Looks, has used both Poshmark and ThredUP and wrote a great comparison review you can check out for more detailed information about how the two experiences compare.
In the video above, Lorena gives a great overview of getting started with the site.
I Do Now I Don't
Luxury, Consignment
This company focuses on high end jewelry, watches, and engagement rings. I shared much more about the brand in a collaboration I did with them. Check out all the details and why secondhand engagement rings might just be a thing of the future.
The Real Real
Designer, Consignment
The Real Real offers curated sales of luxury consigned goods. This site sells primarily high end designer wares, so be ready to pay up. Surely the prices will pale in comparison to buying the items brand new, but they still aren't cheap. Dedicated secondhand luxury shoppers can pay $10 per month to gain access to sales 24 hours before regular members. If you have high end goods you're ready to part with, you can also head over to the site for more information about consigning what's in your closet.
Luxury Garage Sale
Designer, Consignment
This shop has a brick-and-mortar store as well as pop up shops around the country. But they also have an online inventory of their high end goods curated from some fashionistas who love great designer products!
Portero & Circa
Designer, Consignment
Serious luxury can be found on this site! I haven't ever purchased anything from here. It's WAY out of my price range. But for those who like to spoil themselves with some major designer items, I've included this for you. The two sister companies sell handbags, watches, and jewelry. Beware, this is not thrifting! Ha.
Brick-and-Mortar Stores
Consignment, resale, and thrift stores abound in just about any neighborhood throughout the country (and I suspect around the world in various fashions, but I'm no expert on that).
Unfortunately, I don't have a great option for finding local consignment shops aside from using old fashioned tools like your eyes and word-of-mouth. You can look them up online too, but I don't always have the greatest of luck finding them all. I've searched on sites like Yelp and recognize that many about which I know from passing them on the street or hearing from friends aren't listed. So I use online searching to add to my list, but acknowledge it's not a complete resource. (Know though that I'll be searching and will update here if I find anything better.)
Some dedicated thrifter, however, has taken the time to compile a growing list of thrift stores across the country at The Thrift Shopper site. I compared the list the site offered to those I already knew in my area and found it to be pretty complete, at least with respect to my familiarity. So definitely pop on over and check this out if you're searching for places in your area.
To get you started, you can always search the websites for store locations of these national and regional chain thrift shops:
Savers
Unique (IL, OH)
Unique (CO, KY, MD, MN, MO, VA, NY, NJ)
Volunteers of America
Goodwill
The Salvation Army
The NCCS
In summary, this should be a pretty good starting point to help you find some secondhand styles that you love no matter your price point, tastes, or preferred method of shopping! Now head back to read the rest of the series and find out where you can reach me if you have any questions. I'm always happy to help and love hearing from readers!